I would like to say that I am probably the only cabin-camper who travels with a Silpat. For our stay at the northern Minnesota cabin for Handyman Tim's family reunion, I knew we'd be on our own for breakfasts. Our cabin came stocked with a full (if tiny) kitchen–oven/stove, sink, refrigerator, pots, pans, dishes, etc.
I thought it would be a special vacation treat to have a warm breakfast instead of just travel-easy cereal and milk. So, I planned ahead and found an awesome recipe for scones from Annie's Eats. I pre-measured the dry ingredients and put them in a zip-top baggie. The only thing left was to add 1 cup heavy cream which I easily packed in our travel cooler.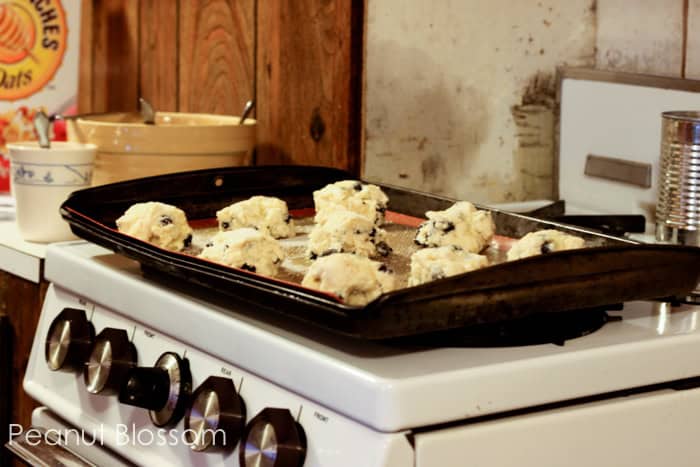 Annie's recipe called for chocolate chips but since we were already traveling with cookies, I decided to mix things up a bit and added dried blueberries I had found in the nuts/dried fruit section of Target. They worked perfectly! Once baked, they tasted just like fresh berries but without the messy juiciness while mixing the batter.
This recipe was so insanely easy it will be making the weekend rotation here at home for sure. We served these with scrambled eggs and fresh fruit.
____________________________
Blueberry Scones
adapted from Annie's Eats
Ingredients:
1½ cups plus 2 tbsp. all-purpose flour
¼ cup sugar
2 tsp. baking powder
Pinch of salt
1 cup dried blueberries (raisins or craisins would also be wonderful options)
1 cup heavy cream
2 tbsp. butter, melted
Additional sugar for sprinkling (optional)
Method:
Preheat the oven to 375˚ F.  Line a baking sheet with parchment paper or a silicone baking mat. Combine the flour, sugar, baking powder and salt in a medium bowl; stir to combine.  Toss in the dried fruit and stir to blend. Add the heavy cream to the flour mixture, stirring just until a dough forms and the dry ingredients are incorporated.
Using a large spoon, drop rounds of dough onto the prepared baking sheet.  Brush lightly with melted butter and sprinkle with additional sugar (if using).  Bake 15-20 minutes, until lightly browned.