Need to keep kids busy while you work at home? Get this great list of tips from a work-at-home mom.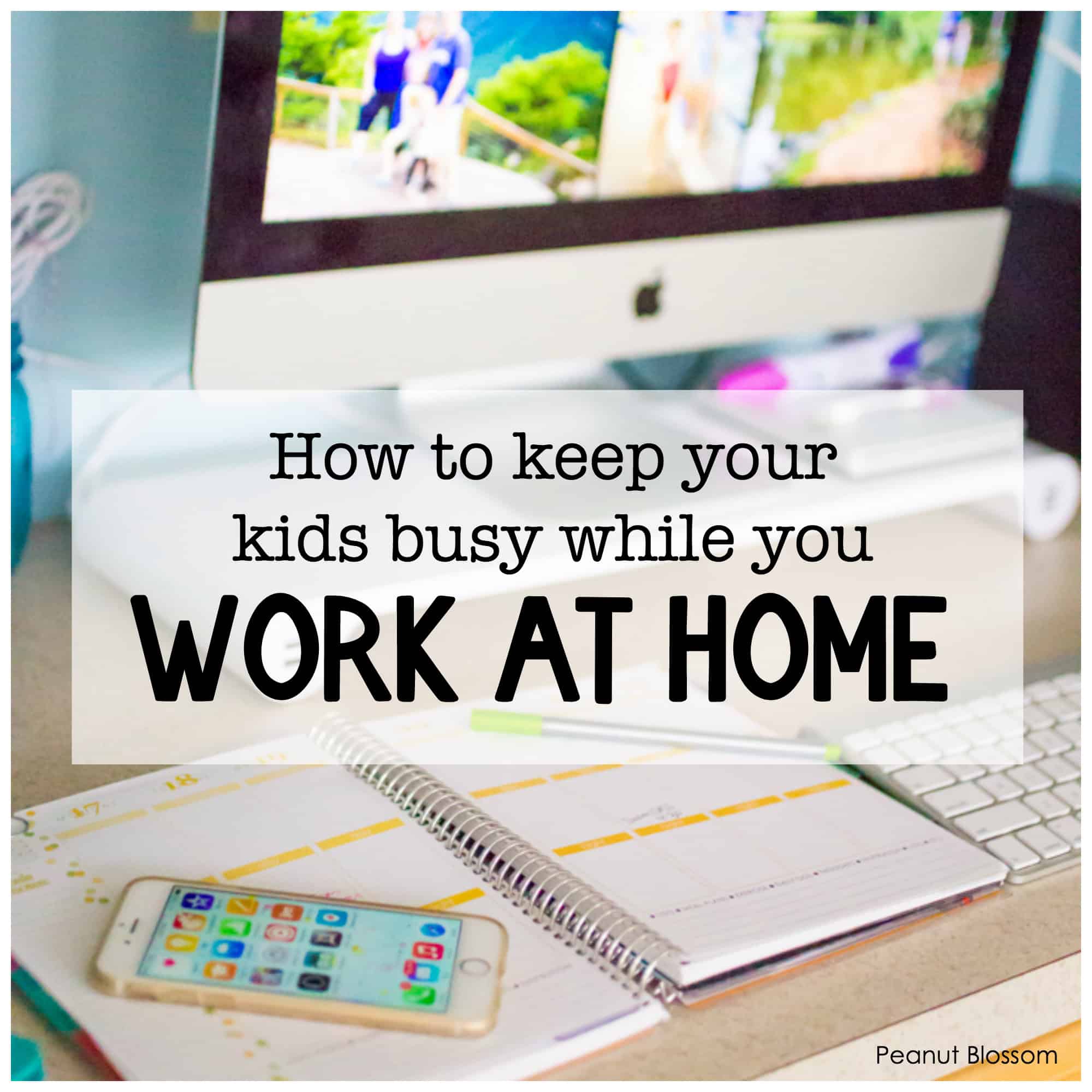 Do you suddenly find yourself home with your entire family for an extended quarantine because of the Coronavirus pandemic?
If your school has been cancelled and you're trying to balance working from home with all your kids around, you need to find a way to keep everyone occupied and still be productive yourself.
It's a huge challenge. I know because I found myself unexpectedly homeschooling last fall while trying to still maintain my business. My daughter and I went through quite a learning curve as we tried to find a pattern for each day that works. We're still figuring things out, but here is my most useful tips for families trying to adjust to all the sudden togetherness.
The key to surviving your kids home non-stop for an extended period of time is providing plenty of options for independent work they can do while you take a break or work on something that you need to get done.
You simply CANNOT give them undivided, one-on-one attention and focus all day long and not completely lose your mind.
Your kids need to learn how to work independently for a period of time every day so you can take a break or get something necessary done for work.
How to keep your kids busy with independent work while you work at home: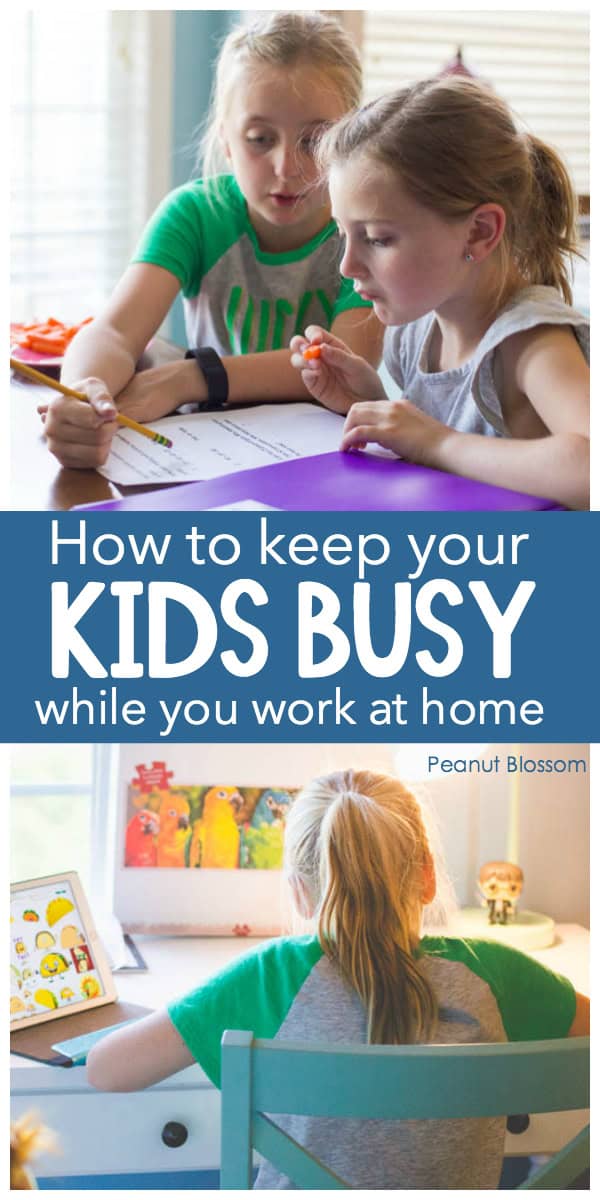 Each morning, take 5 minutes or less to create a checklist for your kids. I type mine out with check boxes next to each item using Google Docs and print it off, but a handwritten to-do list on a notepad works just as well.
I give my daughter a customized list of options and explain that she needs to cross off at least 3 items from the list before she is allowed to come and interrupt me when I'm working.
I like to require that she pick one item from each of the following categories:
Educational
Creative
Family Support
Divide the task options on your list by category and only provide the ones you want for that day. Don't give them the entire list of options every day, help narrow the field a bit so they don't get overwhelmed.
By providing just a short list of options for each category, your child will have some control over how they spend their day but they'll still be doing the things that you specifically want or need for that day.
You also have the option to mark a task or two as Non-Optional. Put those on the list as a fourth category to keep them separate from the rest of the list.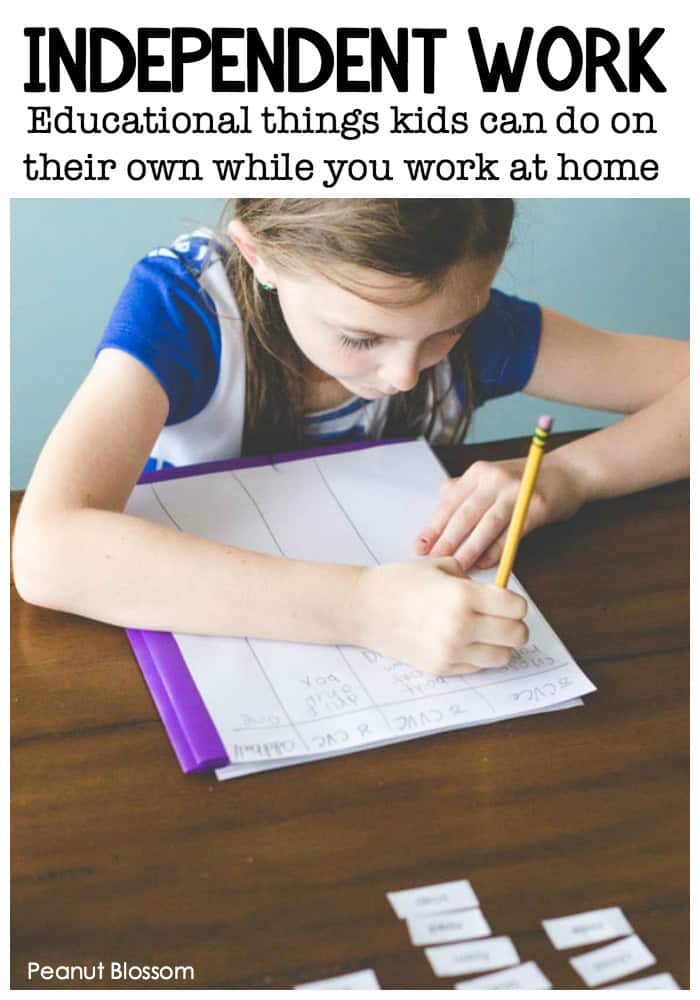 Educational activities kids can do independently:
Your school may have provided work for your kids to do. That obviously takes precedence over the items listed below. But, if your child doesn't have any assigned work, these are things our family tries to do as much as possible:
Typing lessons: I highly value strong typing skills. If your child can only hunt and peck for the keys, now is a fantastic time to encourage legitimate typing skills. We use typing.com which is free and excellent.
Handwriting: Many schools don't have time to teach cursive. Even if yours has, how polished is your child's handwriting? We love this fun crafty book that encourages cursive skills but for older kids, this hand lettering book is a more playful approach.
Reading: Quiet reading time is provided with no limit. If your child struggles to independently read, provide headphones and an audiobook while they color or play with Legos.
Math practice: Keep their math skills sharp by providing math sheets, apps, games, or a free account on Kahn Academy. Be specific with your child about their options, don't just say "Math." Let them know which apps or games are acceptable for this use.
Watch a documentary: Not all screen time is equal. You'll get a much longer burst of personal time if you have them watch a long documentary. For great options, check out this list of 10 documentaries you can stream for kids.
Write a letter: Do your kids know how to address an envelope and put on the stamp, too? This is a great way to practice handwriting while staying connected with family and friends.
Listen to an approved playlist: Sure your kids have their favorite tunes, but check out Kristi Hill Music's awesome playlists of classical music for kids. She has assembled playlists on themes and by month and you can listen on Spotify. Kids can listen while doing one of their more creative tasks to kill two birds with one stone for extra credit!
Do an exercise video: Yoga, aerobics, cardio kickboxing. Bring PE to your living room once a day.
RELATED: How to homeschool for free with 1 easy site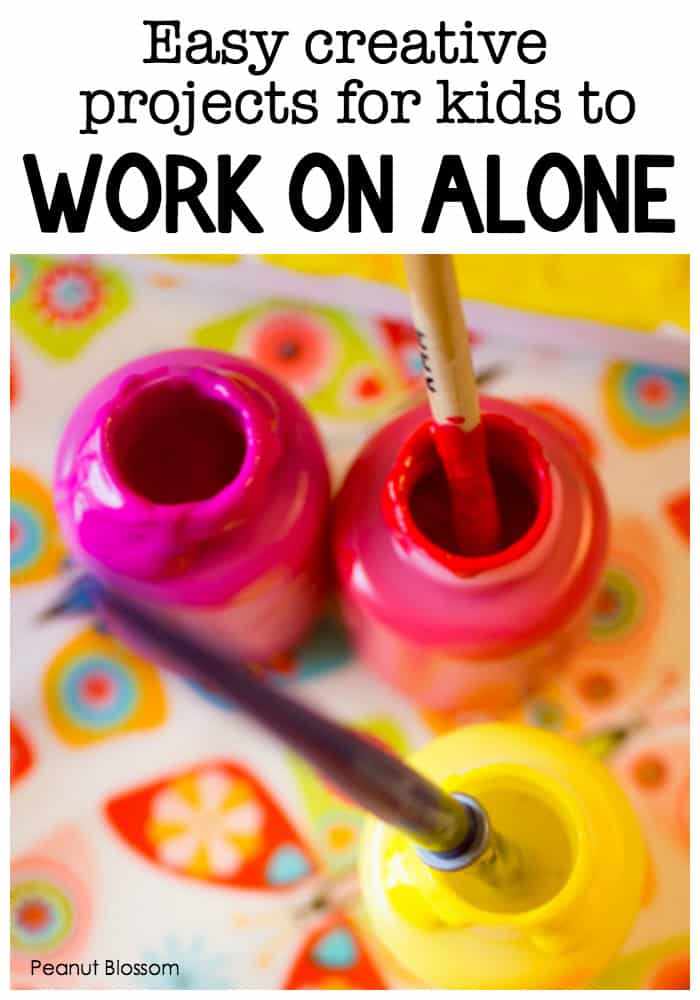 Creative activities kids can do on their own:
Just because we're quarantined doesn't mean we can't have some fun. Encourage your kids to use the creative side of their brains and watch what they come up with to do on their own.
Build something with Legos: Free play is great but they could also use these awesome lego books by Sarah Dees.
Work on an art project: You might need to set up some supplies first or think ahead and keep them in an organized place where the kids can help themselves. But once they get going, this is a great way to fill in on the lack of art class in schools. You can read more about how we do art class at home here.
Work on a puzzle: They can listen to an audiobook or approved music playlist while working.
Practice their instrument: We love the piano tutorials from Hoffman Academy (free on Youtube) but you can likely find great tutorials online for almost any instrument you have at home.
Make a stop motion video: Using Legos, any small toy, or even craft materials from a bin, your child can create amazing stop motion videos using this free app here. I provided my phone and a simple tripod for this use.
Dig out the rainbow loom: That craze may be over, but if you're like us, you've got one of these hiding in a closet. You'll be shocked to see how much fun your kids have with this when they've taken a break from it for so long.
Bonus: Younger siblings who may not have been old enough for it during it's peak can now be taught by the older siblings how to do it.
Play Solitaire with a deck of cards: Don't underestimate this addictive card game and it's power on kids. They can listen to audiobooks or the music playlist while playing.
Learn about photography: I've been teaching a photography class for a local homeschool group this spring. I've already shared the first video, but will be publishing more over the coming weeks. You can follow along with my photography lessons for kids right here.

Family Support activities every kid should learn:
This might be the biggest benefit of a widespread quarantine: Your kids will finally have time to learn adult life skills that are often skipped altogether with normal busy family life. Even if you do all these things for your family during the school year, teach your kids how to do them independently during this break and they'll appreciate your efforts more later.
Cook a meal for the family: Breakfast, lunch, and dinner. You're about to be cooking for your family a whole lot during quarantine. Put the kids in charge of at least one of those every day. Honestly, my kids' cookbook is the best book you'll find for this goal. With 75 REAL MEALS your whole family will love to eat, this book will teach your kids how to prep a meal you'll actually want to eat. You can grab a copy here.
Clean out their closet and dressers: Pick one area every day. This is a fantastic time to weed through clothing as we change seasons. Bundle up everything for donation, tossing, or selling.
Vacuum the house: This is an easy enough task to teach one and hand over.
Dust the house: Even little ones can handle this chore.
Wash the dishes and/or Empty the dishwasher: Don't nitpick over it not being done exactly as you do it. Just get them doing it.
Wipe down counters in the kitchen and bathrooms, sanitize all door handles in the house: Even more important to keep on top of germ duty right now.
Laundry duty: Now is a fantastic time to teach your kids how to do the laundry. Believe it or not, my 12 year old loves to be able to throw in some of her clothes without having to wait for me to do it. Kids could even be in charge of bedding or towels if you don't trust them to sort clothes properly yet.
Pro Tip: Laundry duty deserves some fun tv watching. The kids are welcome to watch a movie or show of their choosing as long as they are folding the clothes or towels, etc. and putting them away.
Weed the yard: Here in the south we already have yard maintenance to do. This is great because it gets the kids outside but still helping.
Looking for more tips on how to handle the surprise quarantine?