Wondering which Kindle should I buy? This full review of both the Kindle Paperwhite and the Kindle Oasis from someone who has owned and loved both will help you finally decide.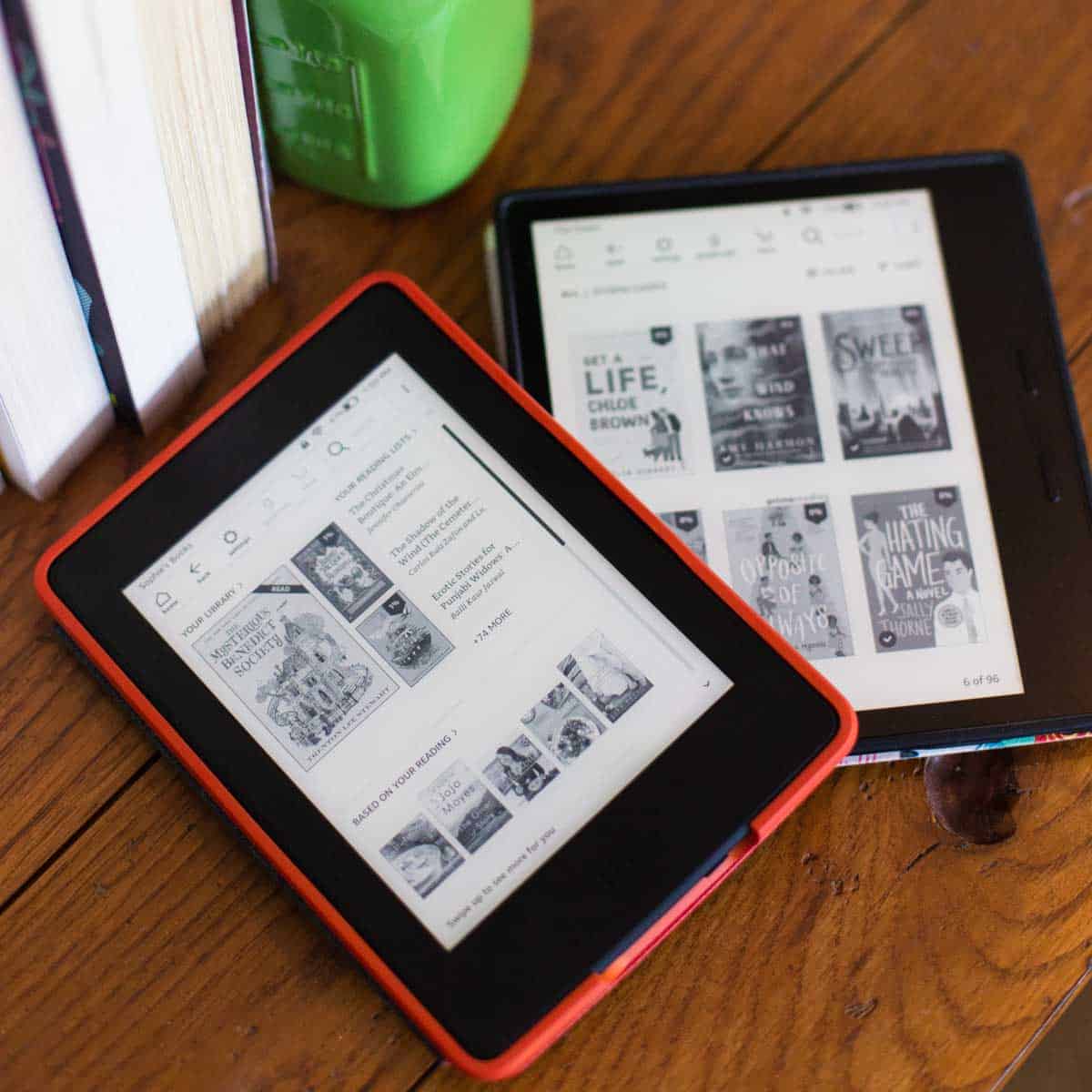 One of the questions I see most often in the Peanut Blossom Book Club group is "Which Kindle should I buy?"
The feature charts on Amazon can be a little overwhelming and often focus on technical specs that don't really let our members know which Kindle is best for their budget and needs.
I was initially reluctant to buy an e-reader, but once I made the jump in purchasing my first Kindle Paperwhite, I was completely hooked. The convenience and ability to read in bed at night while my husband goes to sleep without an unwieldy book light meant I was able to read far more books in a year than I otherwise would have.
As much as I loved my Paperwhite, my family gave me a shiny new Kindle Oasis for Christmas two years ago and it was utterly game-changing for me.
Since I have first-hand experience with both models and it is almost always the case that Kindle will be on sale for Prime Day and Black Friday, I wanted to share some tips on choosing the just-right Kindle for you.
Which Kindle is Best?: Kindle Oasis vs Kindle Paperwhite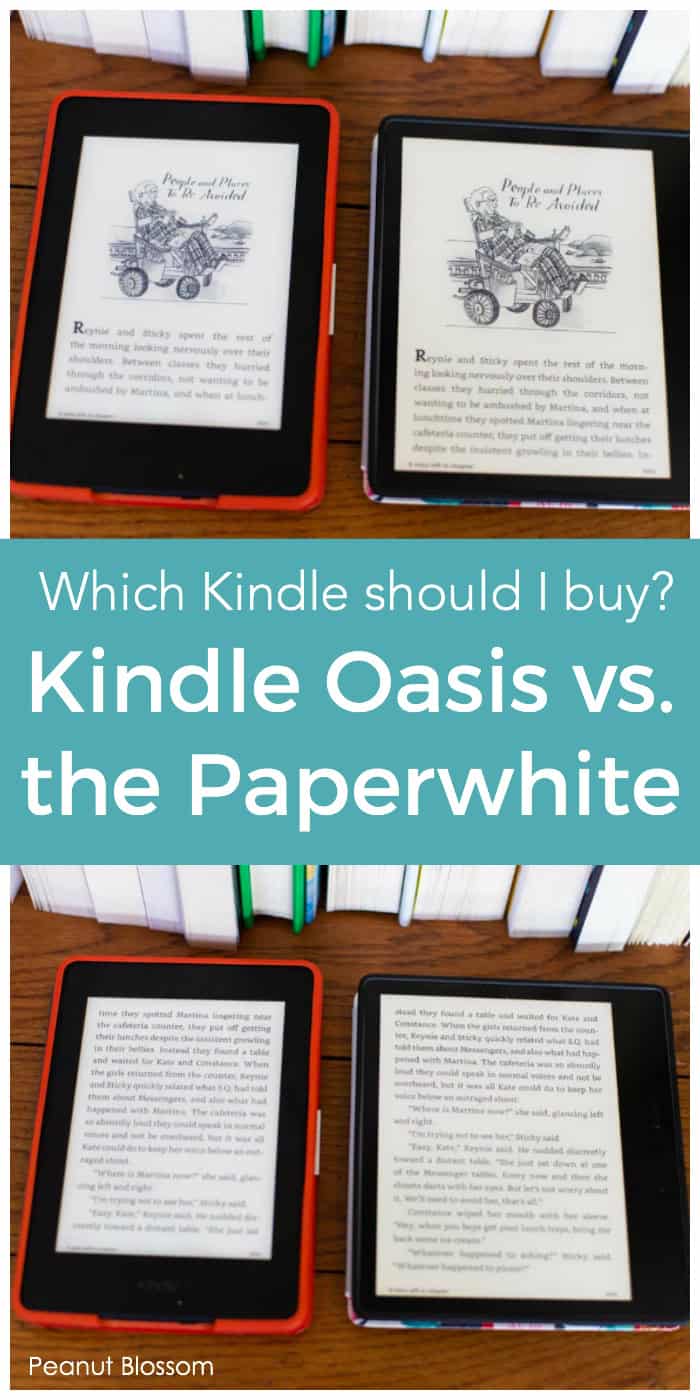 Before you buy any Kindle, it is best to think about where and how you want to use it:
Is the Kindle for you or for one of your kids? (This review includes features adults will enjoy.)
Will you read at night in a dark room?
Do you want to read in the bathtub or a hot tub/pool?
Do you ever listen to audiobooks?
Features They Share
Some of the greatest benefits of reading on a Kindle are the same whether you end up buying the Paperwhite or the Oasis:
1. Lightweight and extremely portable
With a sleek cover to protect the screen, all Kindle models are very light and fit well inside a purse or backpack.
You will easily be able to carry hundreds and hundreds of books with you wherever you go.
2. Awesome built in light for reading in the dark
Both the Kindle Paperwhite and Kindle Oasis have an adjustable front light that allows you to read in any lighting conditions from a pitch-black room to a directly sunny day.
However, the Oasis does have the option to adjust the light to a warm tone to help with your sleeping.
3. Pairs Kindle with Audible audiobooks
Both the Paperwhite and Oasis use the Whispersync technology to seamlessly pick up your book wherever you left off when you switch from the Kindle book to the audiobook.
This is one of my all-time favorite features of my Kindle devices.
Using Kindle and Audible together have helped me to increase the number of books I read every year.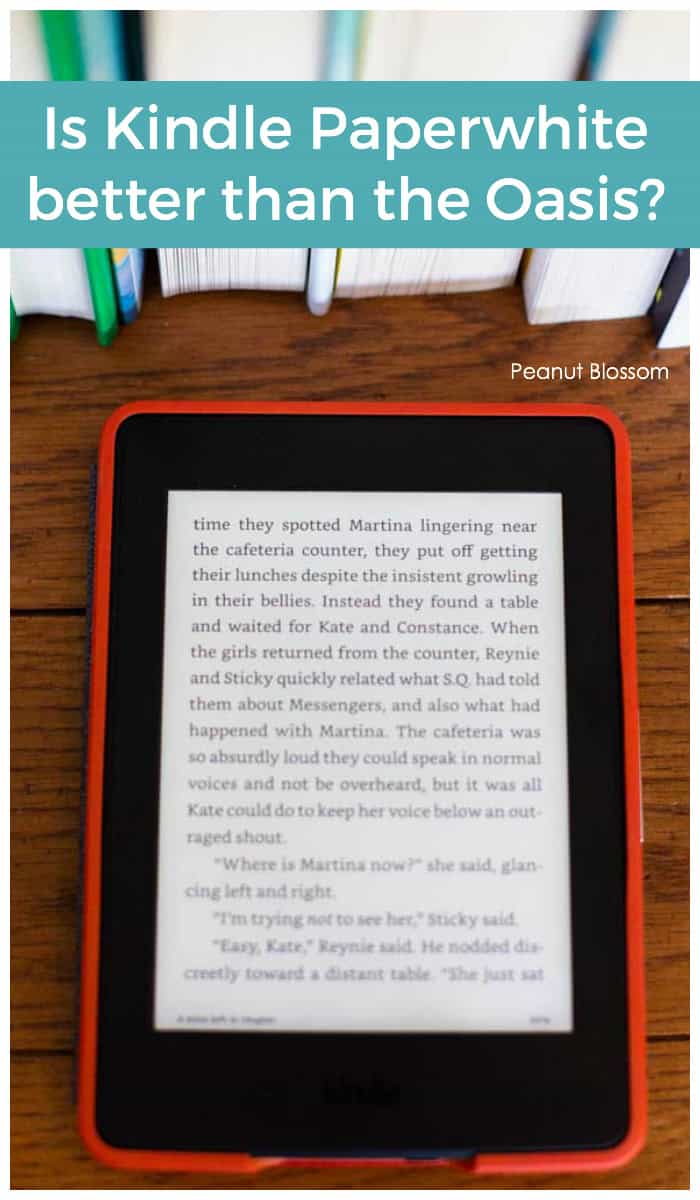 Should I buy a Kindle Paperwhite?
The Kindle Paperwhite is a perfect choice for anyone who:
Has a tighter budget
Wants to read outside in the sunshine AND, now in the newest model, the bathtub or pool
Has a short attention span or really struggles to stop and make time for reading
Doesn't read books with graphics: maps, charts, illustrations of any kind, etc.
Isn't quite sure they're ready to make the leap into reading on an e-reader and still plans to enjoy lots of paper books
The Kindle Paperwhite is definitely the more budget-friendly choice from the Kindle family. You get all the awesome features of a Kindle at an introductory price.
A few important features to note:
There are no buttons on the front of the device. To turn the page, you tap the screen.
Only the NEW models are waterproof.
There are 4 color options for the current model to choose from, all will have black fronts.
If you order it with Free Kindle Unlimited, you will be automatically charged when the trial date ends unless you remember to cancel it first.
8 GB is fine if you only plan to read books. Get the 32 GB if you think you'll ever want to listen to an audiobook from the device or want more graphic-heavy items.
Why I Upgraded
I loved, loved, loved my Paperwhite for a long time but eventually, these are the things that made me consider an upgrade to the Oasis:
1. The screen size
The Paperwhite display screen is sized so that you are only going to see 2 - 3 paragraphs at a time while reading.
This is fantastic if you want to be encouraged to read in shorter bite-sized chunks. "Just one more page" is easy to do when they are displayed like this.
At some point, I started getting frustrated with how often I had to tap the screen for the next page.
I began to miss the feeling of really getting lost in the pages of a book.
Any books with really long chapters started to feel even longer because there were so many screens to get through before the end.
2. The weight in your hand
The Paperwhite is very light, which is great. It never felt heavy in my hand.
That said, I did start to miss the feeling of a solid book in my palm.
The way my hands wrapped around the Paperwhite was fine for a quick read but for longer sessions, it started to feel a little awkward.
3. Interacting with the display
As I learned more about the awesome Kindle features, I started to get frustrated with how difficult they were to use on the smaller screen size.
Highlighting favorite quotes: often, the quote would be cut off at the end of the page and require highlighting across two screens
Browsing my library: I have several Collections to organize my Kindle library that were hard to see properly on the screen
Adjusting the font-size: I wanted to increase the font size for my tired eyes but once I did, even less of the book would appear on the screen making me tap the next page even faster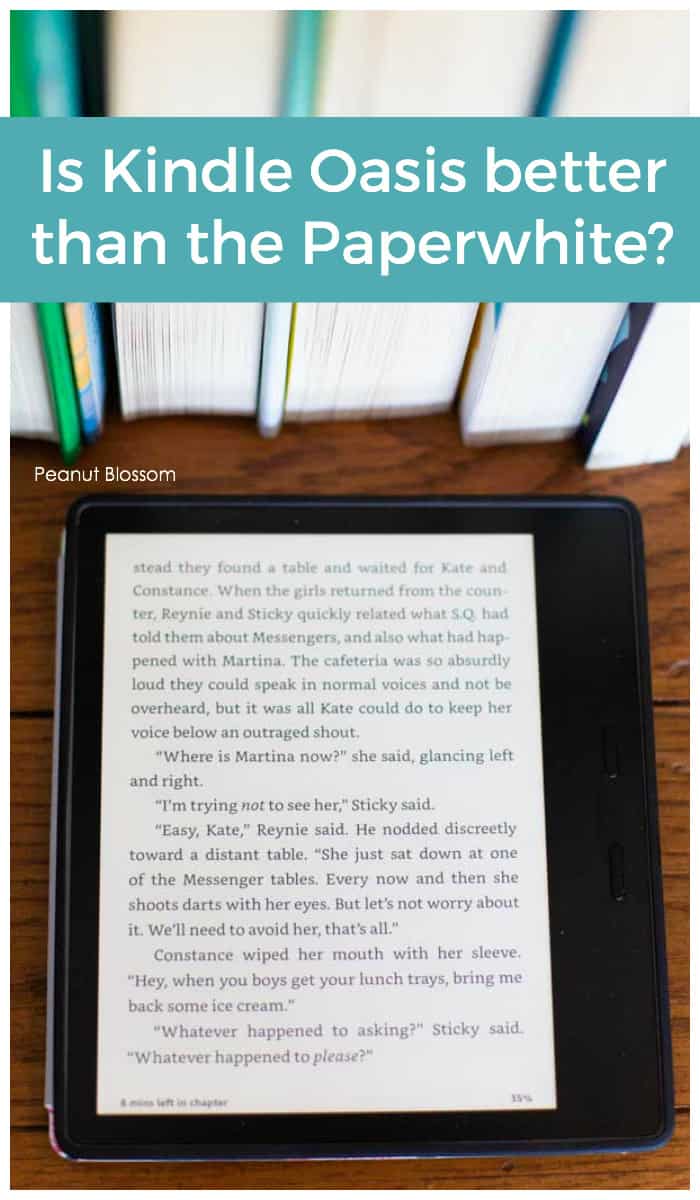 Should I buy a Kindle Oasis?
The Kindle Oasis is a perfect choice for anyone who:
Has a little more room in the budget or is asking for a special gift
Wants to read outside in the sunshine AND perhaps in the bathtub or a pool
Wants to feel lost in the page of a book without disruption
Reads books with a few light graphics: maps, illustrations, etc.
Loves the convenience of e-readers but misses paper books
Once I started reading about the upgrade features on the Kindle Oasis, I was intrigued.
It was out of my budget for a regular purchase for myself, so I asked for it as a Christmas gift from my family.
Is the Kindle Oasis worth the extra money?
I didn't know just how much I would love my new Oasis until I started using it. Absolutely, it was my favorite gift that entire year.
I would say it is absolutely worth the extra investment for anyone who is serious about reading.
A few important features to note:
There are two buttons on the front of the device. To turn the page, you can tap the screen or just click the button.
Only the NEW model has a warm light option for nighttime reading to help you sleep.
If you order it with Free Kindle Unlimited, you will be automatically charged when the trial date ends unless you remember to cancel it first.
8 GB is fine if you only plan to read books. Get the 32 GB if you think you'll ever want to listen to an audiobook from the device or want more graphic-heavy items.
The following features are best experienced with a Kindle Oasis in your hand, but I'll attempt to describe why they matter:
1. The screen size
Instead of just a couple of paragraphs, the Oasis screen allows you to see something that is much closer to the actual page of a book. You can relax and read a solid chunk of text before needing to tap the next-page button.
If your book has a map or other light graphics, they are much easier to see and feel more in the context of the book versus an interruption.
Though the screen size is larger, the device itself is not that much bigger or heavier than the Paperwhite.
2. The weight in your hand
The Kindle Oasis has a unique design where one portion of the device is slightly thicker than the rest.
This allows your hand to curve around it in a more comfortable way than when holding the flat Kindle Paperwhite.
If your hand tires, you can simply switch hands by rotating the screen and the display will flip right-side-up again. It is perfect for both right-handed people and lefties.
The next-page button is placed right where your thumb will rest. You literally don't need to lift a finger to be able to advance to the next page as you do with the Paperwhite.
This may sound insignificant, but it is HUGE when you want to really relax and focus on your book.
3. Interacting with the display
There is almost nothing I want to do that can't be done on the Kindle Oasis screen:
Browsing your library is easy, it showcases 6 book covers per display page
Highlighting quotes is easier to do in larger chunks
The pop-up screen for word definitions is easier to see
You can increase the font size without losing too much content on the screen
Should I get the Kindle with or without special offers?
No matter which model you choose, Amazon offers a discount if you purchase a Kindle that is "ad supported" or otherwise known as "with special offers."
This means that when you open your Kindle, the wake-up screen will be an ad. Usually, I see ads for books or Amazon devices.
Nothing terrible and it is nice to save money that may allow you to upgrade your memory size.
I suggest getting the Kindle you really want with special offers if it means you'll be able to afford it better. You can always remove the special offer ads later with a simple $20 purchase.
I never removed them from my Paperwhite, but since I got the Oasis as a gift, I removed the special offers a couple of months later.
Everything you need to enjoy your new Kindle:
Be sure to check your Kindle listing for the accessory starter packs. The charging cords are not automatically included anymore.
The Best Amazon Book Deals: So you can load up your To-Read folder with lots of budget-friendly books.