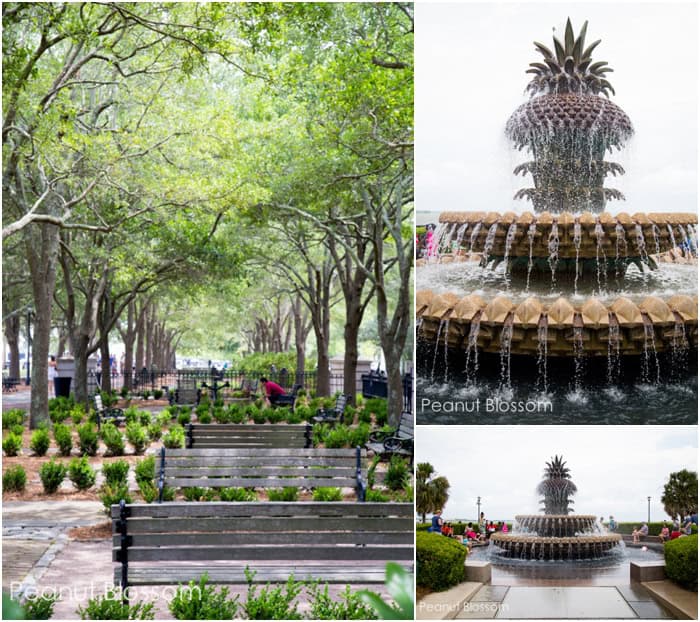 Normally I am a Type A planner when it comes to our adventures but with our last-minute trip to Charleston I didn't have time to do my research. I thought it might be fun to just wing it and explore in person. We had no idea what to see in Charleston other than the fact that there are tons of historical landmarks and the famed pineapple fountain to visit.
Armed with some advice from a very informative concierge, a handful of pamphlets and a map, we set out by foot to explore the city and stumbled upon an easy list of must-see things! Our visit was short and light. I know we could delve in so much deeper into the history of the city but please keep in mind this list was part of a romantic getaway, not a fact-finding mission.
If you are looking for a simple taste of what Charleston has to offer, you're definitely in the right place!

What to see in Charleston, SC
1. Take a Horse & Carriage Tour: There are five tour companies operating horse and carriage tours of the city. We were told they all offer similar services, similar routes, and similar guided information. They are heavily regulated by the city and only 20 carriages are allowed onto the streets into 3 separate zones at any given time. This means you may not know which zone you're heading into when you purchase your ticket, but the ride was absolutely worth it.
Most of the landmarks I recommend below came from our carriage driver Bubba from Palmetto Carriage. As a Charleston native, Bubba shared wonderful insight into the buildings we had passed earlier in the day. I wish we would have started our weekend with this carriage tour so I am listing it first. Consider making reservations to snag your spot early in the day if it will be a busy holiday period, but even on July 4th weekend we managed to get seats.
2. The Pineapple Fountain & Waterfront Park: (Image at top of post.) The only site I knew about before our visit to Charleston was the pineapple fountain. We started our weekend with a walking tour from our hotel to the waterfront park where the fountain is located. From this spot you get a lovely view of the water and enormous cargo ships passing to the port, there's a huge pier to walk out and get a shot of the Charleston city line. The fountain is actually a darling splash pad for little kids. They are welcome to swim in the water around the base. There's a lovely green shady park with lots of bench seating to stop and watch the boats pass by--perfect for a hot sunny day.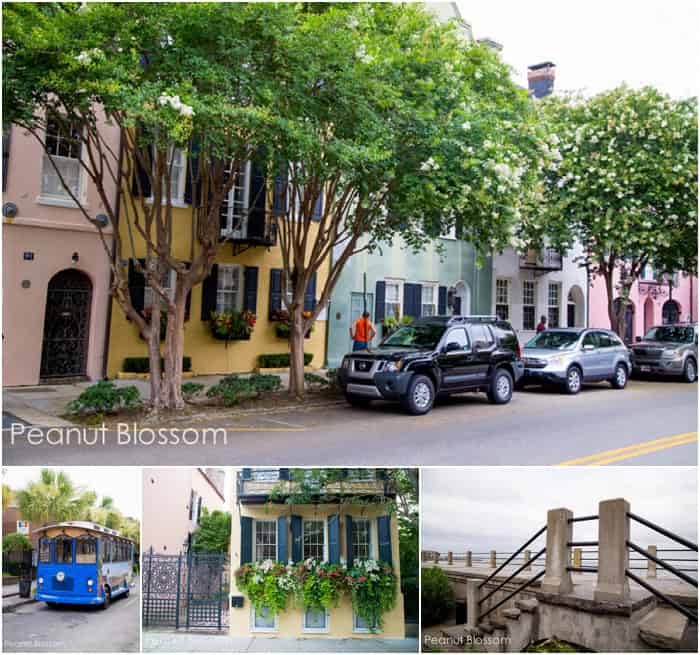 3. Rainbow Row:  If you've done any research into Charleston you've likely stumbled across images of the pretty pastel homes all in a row. This has been nicknamed "Rainbow Row" and is a must-see spot for sure. I love how all the homes are painted up and then manicured with flowering window boxes and blossoming trees. I wish we had time to head back on foot to see the spot up close, but I was forced to snag the only shot I have from the moving horse carriage!
4. United States Customs House: Charleston is a port city and the Customs House controls all that goes in and out on the ships. Featuring massive steps and columns, this building is a truly impressive spot to visit. You can get an awesome view of it from the rooftop bar at the Pavilion. Fruity umbrella drinks and history at the same time? Score!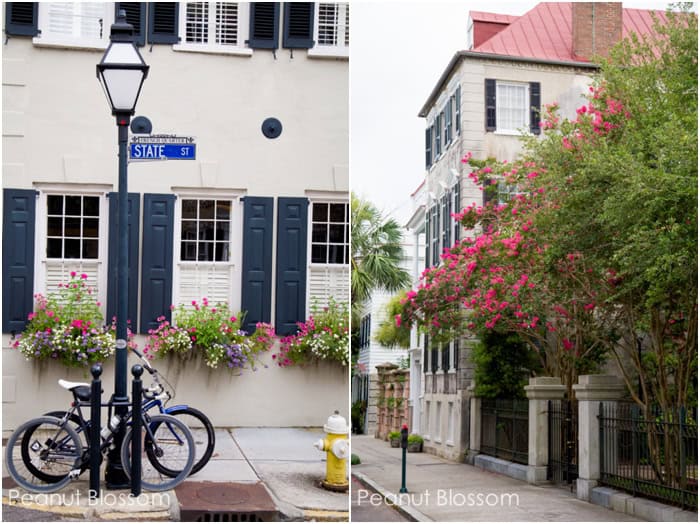 5.  The Four Corners of Law:  The intersection of Broad and Church Streets hosts four buildings that each represent one of four houses of law: local, state, federal, and church (God's law.) You can read more about this nickname here on Wikipedia but the buildings are each beautiful in their own right.
6. Old Exchange Building:  While you could stop and take time to tour this building, we were just as happy to enter the lobby and simply take a peek. This National Historical Landmark housed prisoners of the Revolutionary and Civil Wars and is in easy walking distance from the water front.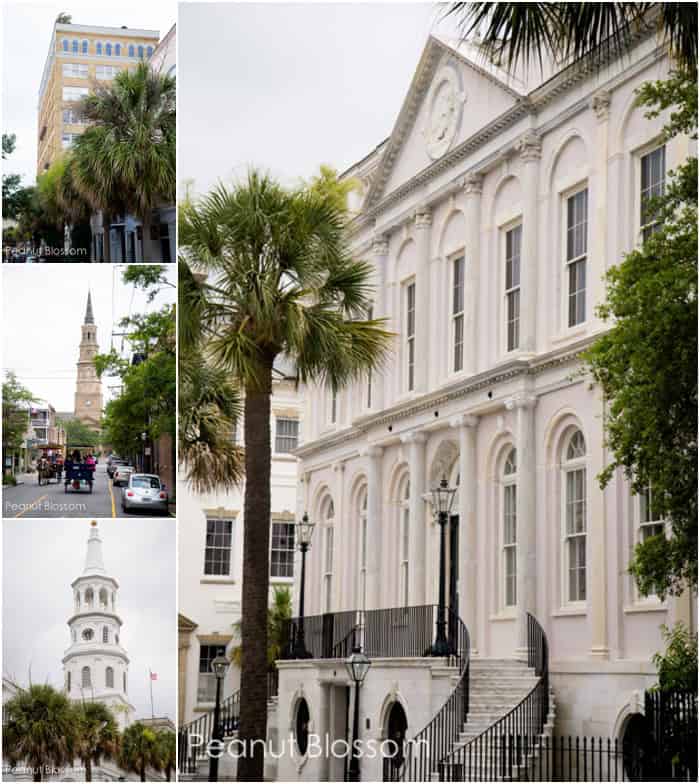 7. The Historic Charleston City Market: Right next to the starting points for the carriage tours is an open air market that features local artists and craftsmen selling their wares. The market is open 7 days a week and only closes on Christmas Day. This is the perfect spot to pick up some local souvenirs. Be sure to grab a bag of grits and check out the BBQ sauce!
8.  The Battery & White Point Gardens: Canons and mansions and flowers, Oh my! Tim was impressed by the military displays, I was in love with the historical houses. This section of the city has a little something for both of you. We only glanced it from our carriage ride, but we'd definitely stop by for a better look during our next visit.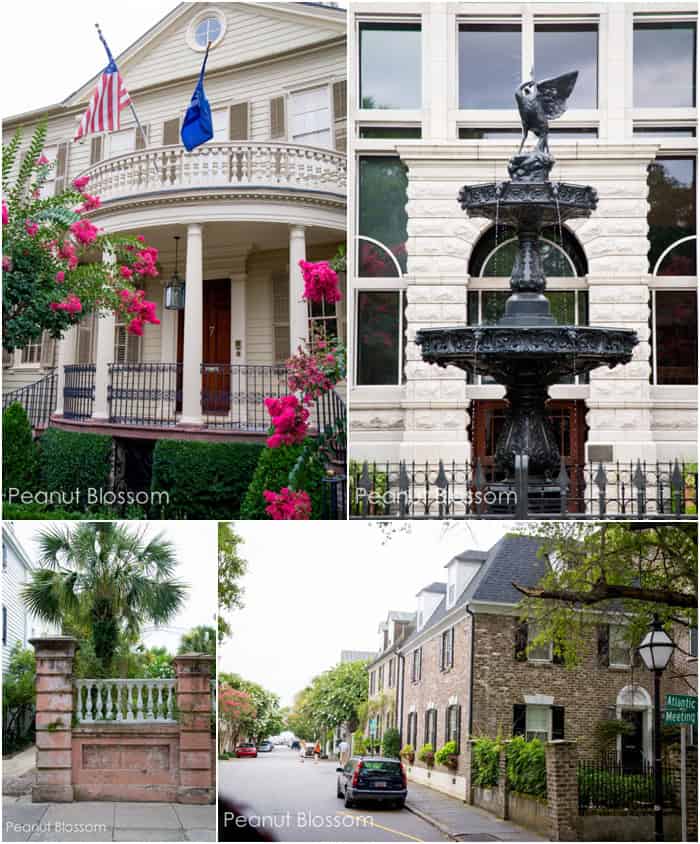 9.  Shopping on King Street: There are dozens of adorable shops along King street. I was dying to spend a little time window shopping (or more!) but that's not up Tim's alley. If you're looking for some retail therapy you'll find fashion, antiques, book stores, cosmetics, and much more in this charming shopping district.
10. Take a ferry to Fort Sumter: Tim was very interested in taking a boat to view Fort Sumter up close. This is where the first shots of the Civil War took place and it is not a military museum. We will be adding this to our next visit for sure. (Maybe with the hopes that he'll consent to a little King Street shopping in exchange??)
Bonus Activity: Take a side trip to Isle of Palms beach. I'll be sharing more thoughts about this hot spot in a coming post but it was definitely one of our favorite things to do in Charleston!