The Union Street Bakery is the official August 2015 pick for the Peanut Blossom Book Club for Recovering Readers.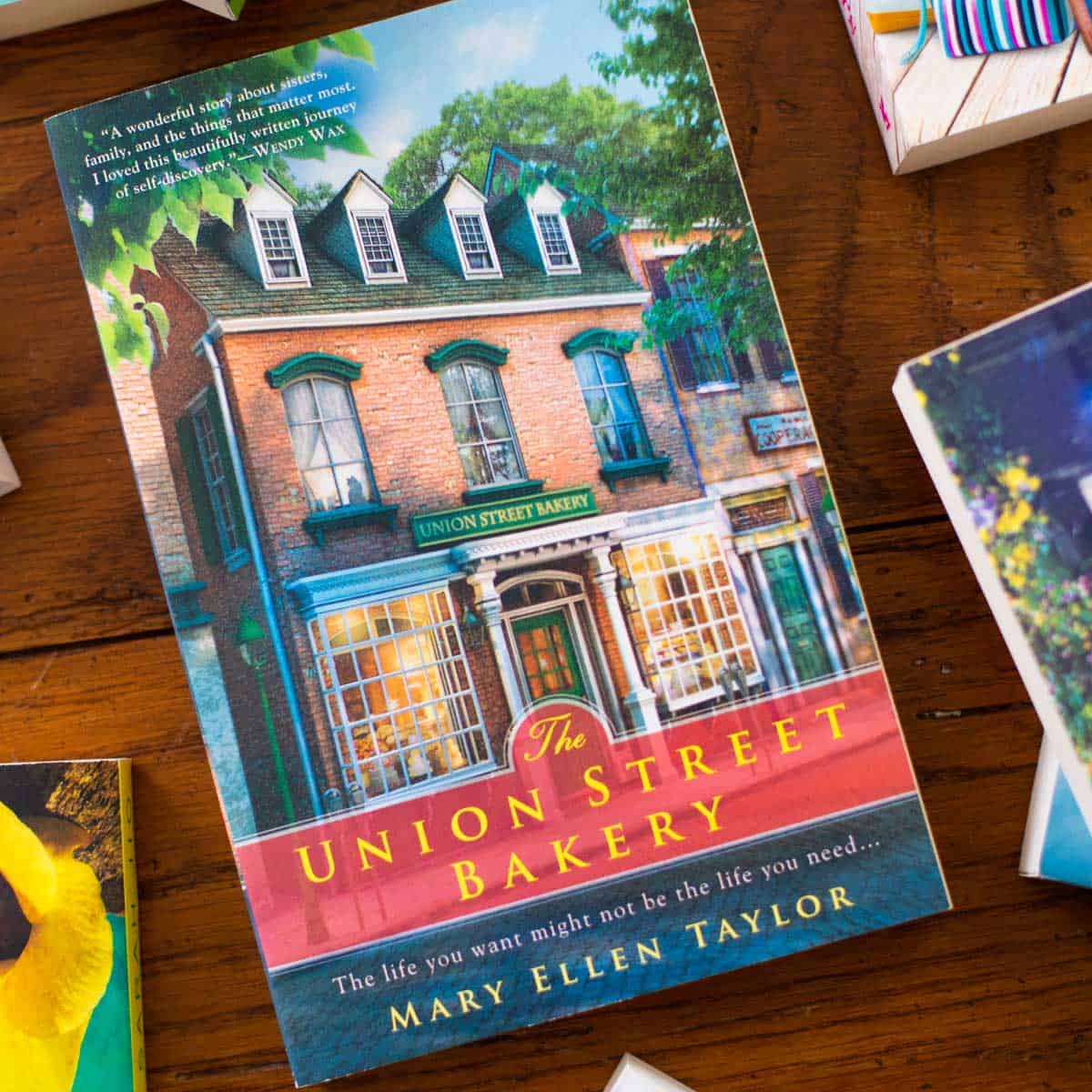 Welcome to the August event of the Peanut Blossom Book Club for Recovering Readers!
This month I'm pleased to welcome you to the discussion for The Union Street Bakery by Mary Ellen Taylor.
I was drawn in by the adorable cover of this book and the thought of the story being set inside a bakery.
One of my first jobs in high school was working the counter of a local bakery and producing hot apple pies which were our most popular item.
I wasn't expecting the touches of historical fiction and haunted ghosts elements of the book at all, but they were an interesting surprise.
I also didn't realize the book was the first in a series.
I was relieved to discover that the story stands on its own which makes it still a great pick for a book club and then those who are drawn into the characters can continue on with the next books if they wish.
I know I definitely want to check out the follow up story Sweet Expectation soon!
Peanut Blossom Book Club
This book club pick is one of the awesome books from our first year of book club.
We're still going strong! Want to join us?
You can get all the details on the club here:
Want Free Reminders for Each Book?
Sign up for my book club newsletter right here:
What is The Union Street Bakery About?
"Suddenly without a job or a boyfriend, Daisy now lives in the attic above her family's store, the Union Street Bakery, while she learns the business.
It doesn't help that, as the only adopted daughter, her relationship with her sisters has never been easy.

When an elderly customer dies, Daisy is surprised to inherit a journal from the 1850s, written by a slave girl named Susie.
As she reads, Daisy learns more about her family—and her own heritage—than she ever dreamed. Haunted by dreams of the young Susie, who beckons Daisy to "find her," she is compelled to explore the past more deeply.

What she finds are the answers she has longed for her entire life."
The Union Street Bakery Discussion Questions
I believe the best book club questions to spark a lively discussion in your group help readers make personal connections to the story.
You can read about how to write the best book club questions on your own here, but hopefully these will get you started!
Question 1:
What did everyone think of this month's book: The Union Street Bakery??
Question 2:
Family connections were very important to the plot line of our book, are you interested in genealogy? Have you ever researched your family's lineage? How far back can you trace your family tree?
Question 3:
Each of the sisters had their special talent in helping run the bakery, which one would you most identify with? Would you prefer to manage the business, be the baker, or help the customers & do the marketing?
Question 4:
If you owned a bakery, what would be your signature item for sale?
Question 5:
How did you feel about the ghosts that haunted the bakery as a plot point? Did they add to or distract from the book?
Question 6:
Daisy tells Margaret that she was turning down a "Smithsonian level" job to stay and help run the family business -- meaning, her ultimate dream job. What would be YOUR Smithsonian level dream job?
Question 7:
The McCrae family has their ups and downs with getting along and running their bakery. Could you work with your family to own and operate a small business?
Question 8:
Daisy and Gordon's relationship didn't survive their corporate job priorities. Do you think they have a second chance now that they are both in different lines of work?