So last week, a few *little* things happened around here . . . Fair warning, I don't think I've ever shared so many photos of myself within one blog post ever before. You've been warned.
The Ultimate Kids' Cookbook, my dream project, became a real world thing on Tuesday. Insert <shocked face> emoji here!
In the midst of our last week of summer vacation and back to school prepping, I made room for plenty of celebrating to mark the enormous occasion.
The Ultimate Kids' Cookbook on Charlotte Today
First, the girls and I pulled on our Big Girl Pants, got over our nerves, and did our very first television appearance on the local Charlotte Today morning talk show.
You can see our spot here:
This was such a fun learning experience for the girls but the behind the scenes of this was totally hysterical.
We had to drag in all our food props in a red wagon and make those waffles on a coffee table in the green room while surrounded by other featured guests waiting for their turn on the stage. The entire set smelled like pumpkin spice waffles!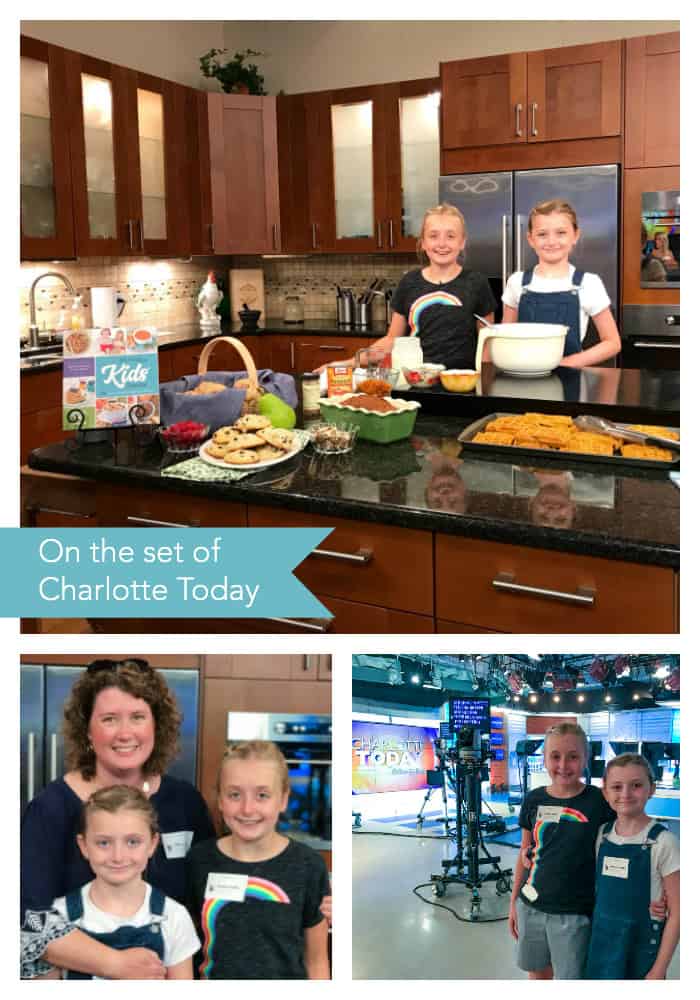 Thank goodness for body mics, the girls got a bit nervous and spoke softly, but the microphones picked their adorable voices right up. The Peanut was more than a bit embarrassed about her egg answers, but I reassured her that we all could easily slip up when cameras are pointing right into our faces like that! To her credit, she laughed it all off when it was over.
I couldn't be more proud of how well they answered Eugene and Colleen's questions and presented themselves.
The Ultimate Kids' Cookbook on the shelf at Barnes & Noble!
Then, the moment I've been waiting over a year for . . . the visit to our local Barnes & Noble to see my book on the shelves.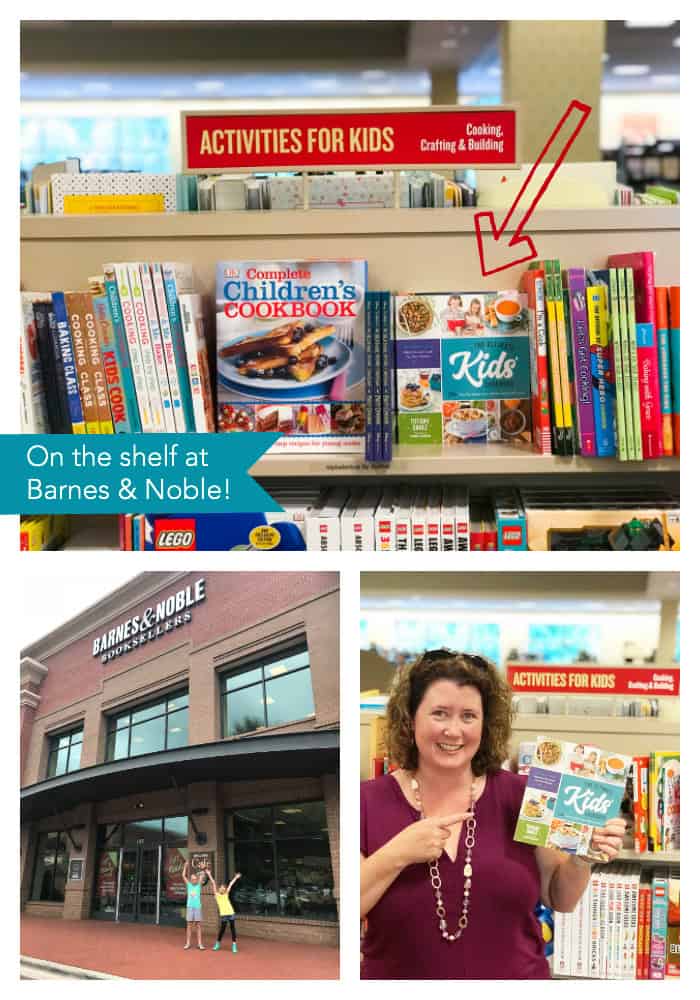 Tim met us at the store on his lunch break, it was a whole-family affair. All this time, I thought this would be the highlight of the launch for me. The most exciting and happy thing. In the end, it was overwhelming beyond words! We found the book, took a few photos to celebrate, and then I HAD to get out of there. I felt faint! And not the "I'm so happy I could faint"-faint, but the "I'm so overwhelmed I'm going to be sick and pass out"-faint.
I think it was too much build up for something that meant just so much to me. My nerves couldn't take it.
By that point in the afternoon, my phone was exploding with congratulatory texts and messages from friends and family, the reviews were starting to post on Amazon, and many lovely readers were commenting that they couldn't wait for their copies to arrive.
I'm not used to all this attention! I was surprised by my own reaction but there I was in Barnes & Noble with all these people around and I started to feel panicky.
I drove my kids home, we all put on our jammies, and I curled up under a blankie to watch movies for the rest of the afternoon. Essentially hiding from the world.
The BEST Place to Celebrate a Book Launch In Charlotte:
By Thursday, I was feeling much better. Just in time for the awesome launch party my local food blogger group pulled together to help me celebrate.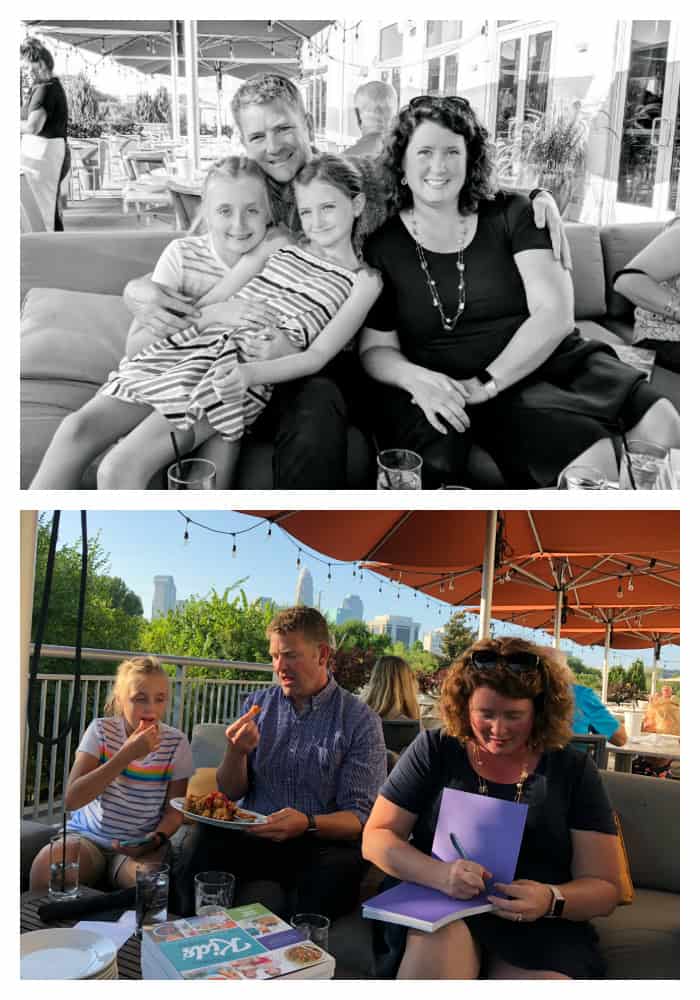 We met up with friends, neighbors, and bloggers at Charlotte's Vivace restaurant for some delicious appetizers and wine. "Vivace" means "lively" which describes our get together perfectly.
I brought a huge stack of books to sign (still can't get over how crazy that feels!) and just relaxed with some real-world friends who have been so supportive and excited for me over the last year.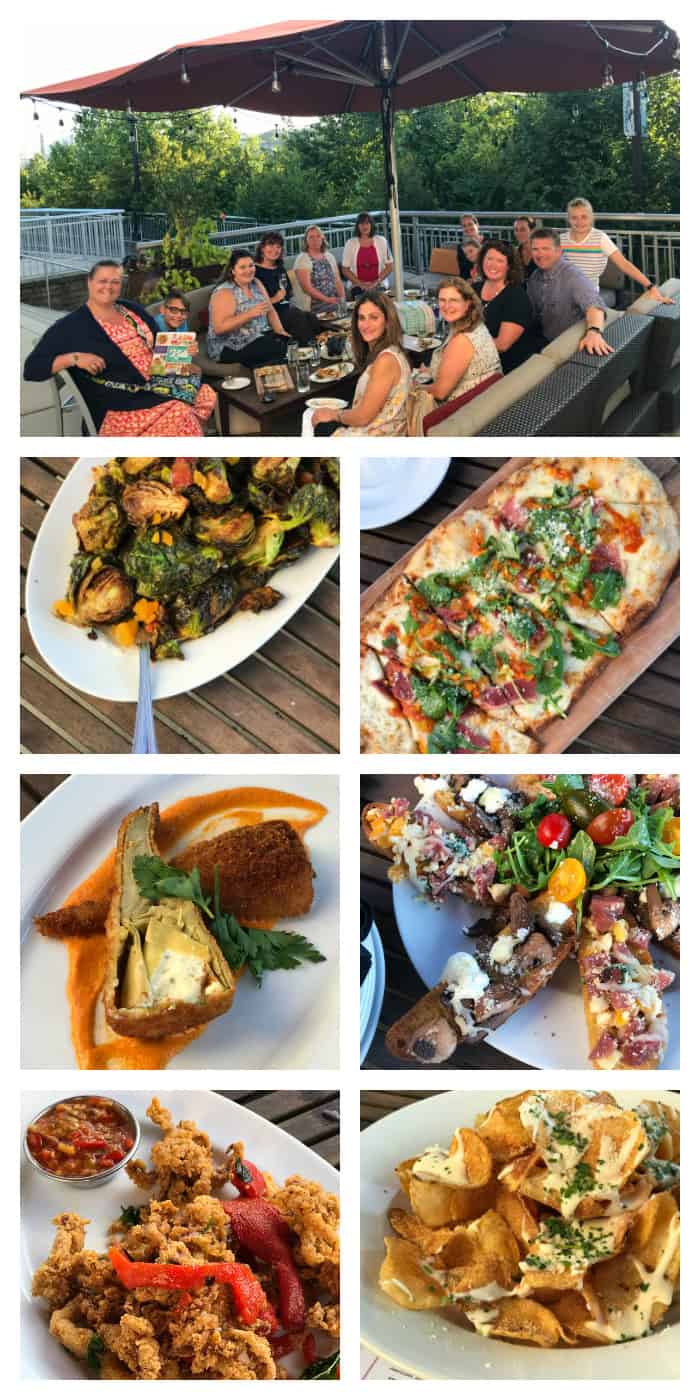 The waiter kept bringing platters of delicious northern Italian themed goodies for us to sample including:
fresh calamari
generous mediterranean bruschetta
crisp pizza with duck, apricots, arugula, and more
salty truffle chips
creamy stuffed artichokes
crispy roasted brussel sprouts with bacon (my FAVORITE!)
Sitting on their gorgeous outdoor patio enjoying the company of friends and amazing food was the perfect end to a crazy week.
If you want to take advantage of the beautiful weather in Charlotte this time of year, don't miss dining on Vivace's patio that overlooks the Charlotte skyline. You can get more details on their menu and hours here.