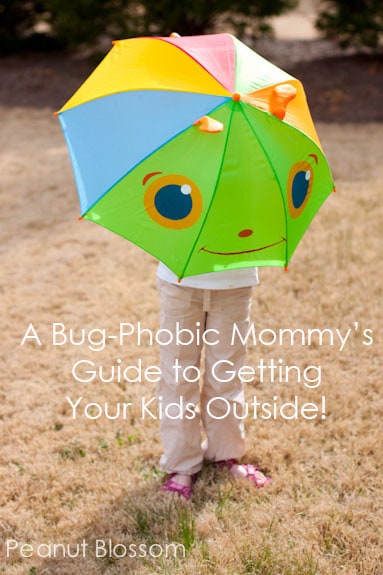 It's no secret to anyone who knows me, I am just not a fan of being outside. I know that statement leaves many of you gasping, but it is true. I vowed to spend 15 minutes outside with my kids every single day this year, you can read about my resolution here. Little did I realize what bad timing that was for easing into the routine--we've had nearly constant rain and sickness for months. The weather seems to have finally turned a corner so I've been easing back into this goal with the help of a few Melissa & Doug outdoor toys and I've learned a few tricks along the way.
Here is my Bug-Phobic Mommy's guide to getting your kids outside!:
1. Basket of books: It can be as simple as taking one of your favorite pastimes and just moving it outdoors. I love to read. Love it, love it, love it. The Peanut is now actually reading on her own quite a bit, so I fill a basket of books and send her outside with a chair and a sun umbrella to get her reading practice in. It buys me some precious time with my own Kindle and a Diet Coke in a patio chair.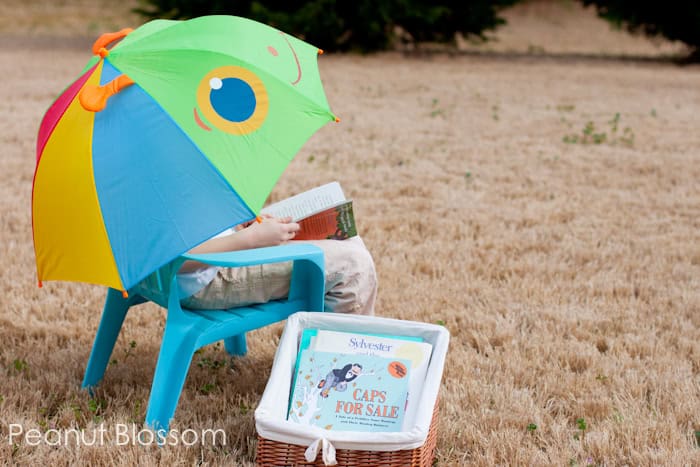 2. "5 Interesting Things!": I hand the Peanut a bucket and instruct her: "Go find 5 interesting things in the yard and put it in the bucket. Bring it back to me and we'll explore the objects together." This sends her off for a bit of independent exploration (i.e. gets her digging into the weeds and brush while I stay safely on the paved patio) and buys me more precious quiet time with my Kindle. When she returns, I stop for some one on one together time looking at her "treasures."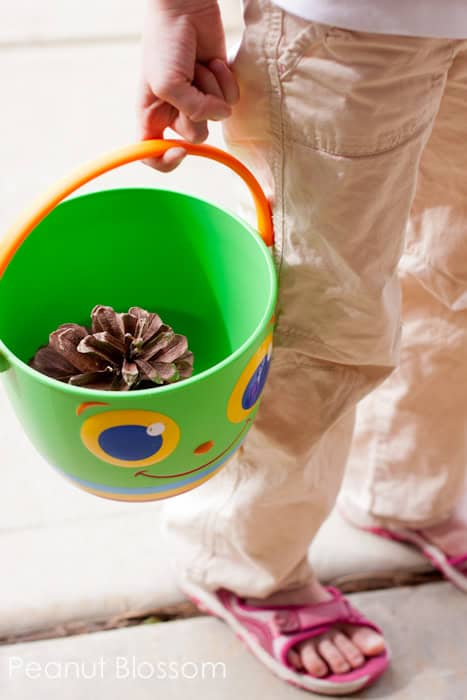 3. Practice "your moves": The Peanut loves her PE classes at school. Her awesome gym teacher has been working on ball bouncing/dribbling skills. I hand the Peanut a kickball and ask her to show me all the skills she's been learning about in gym. She's proud to show what they're teaching and loves to practice her moves.
4. Mom's favorite fallback--Bubbles!: When I really really really don't feel like doing our 15 minutes of outside time, bubbles have been my go-to activity. I love how excited both girls get when they play with bubbles. It is such an easy activity that they can get their fill of in the 15 minutes and not be begging for more. When we're short on time or shorter on patience, these little guys are what we grab.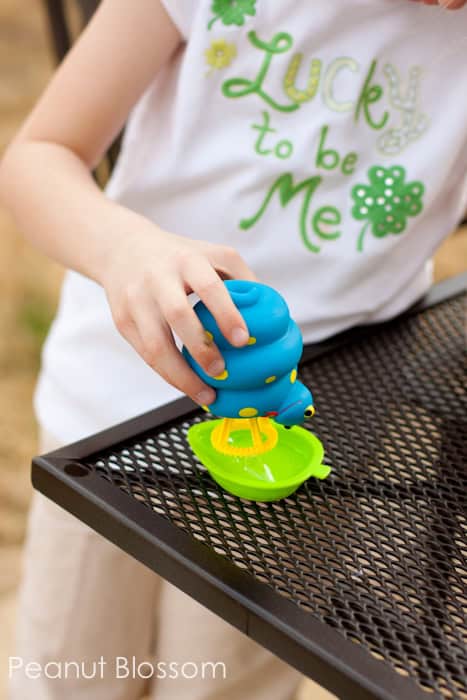 5. Last-minute idea for the procrastinator: There are days where we're so busy with other things that I realize late in the evening we haven't done our 15 minutes outside. On the days when I'm really sticking to my guns and trying to keep to this resolution, I turn to late night flashlight walks. I hand the Peanut this huge flashlight and we head into the backyard while she's in her jammies. Once Little Pea is older, I'll let them do a quick game of Flashlight Tag, but for now we just explore what the bushes and yard look like after hours. It's a nice way to end the day and get that little burst of fresh air in before bed.
The key to success for all of these is just how little hands-on time there is for me. I love setting the girls up with an activity they'll love and be engaged with all on their own while I sit with them. I have noticed in the last few weeks that I'm starting to crave the fresh air in a way I haven't before. So even this gentle easing into a new habit is having it's positive effects for me as well.
Do you have a bug phobia like I do? How do you overcome your general outdoor aversions for the kids? Any great tips to share? Leave me a comment below!

___________________________________________
This post was sponsored by Melissa & Doug. I was provided the products to review and compensated for my opinions but all thoughts are my own. I truly adore every single thing in the Sunny Patch outdoor line, those happy smiley critters have definitely encouraged a greater amount of time outdoors than we might otherwise have had!