We are one week into my proposed summer schedule and it has been going like gangbusters! I promised to share some of my sources for activity inspiration and today I'm thrilled to be reviewing Tinkerlab: A Hands-On Guide for Little Inventors.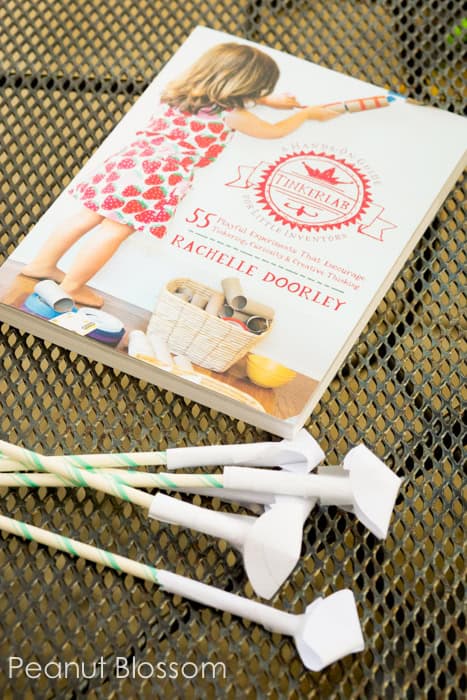 When my friend Rachelle over at Tinkerlab announced her book was being published, I knew right away I wanted to check it out and share it with you. If you haven't already been introduced, you should definitely go check out her site here.
"Creative experiments for makers + tinkerers." How awesome is that mission??
Rachelle's book includes "55 Playful Experiments That Encourage Tinkering, Curiosity, & Creative Thinking" but it is so much more than just a list of suggested activities. The introduction of the book walks a parent through the steps in setting up a creative space in your home and discusses why tinkering is so crucial for young minds.
As a mom of two little girls, I am absolutely on board with Rachelle's mission. While there is finally a small swing in toys marketed for girls towards engineering and tinkering themes, I want so much more for them. I love that this book gave me tools for simple activities I can set up for my girls that they can work on both independently and together.
For this review, we sampled the "Straw Rockets" on p.106. I was able to sit down with materials we already had laying around the house and set up a little work station for the Peanut within minutes. I showed her how to make the first rocket and then she was an assembly machine!
I had her make a little fleet of rockets to share between herself and Little Pea and then out into the yard we went: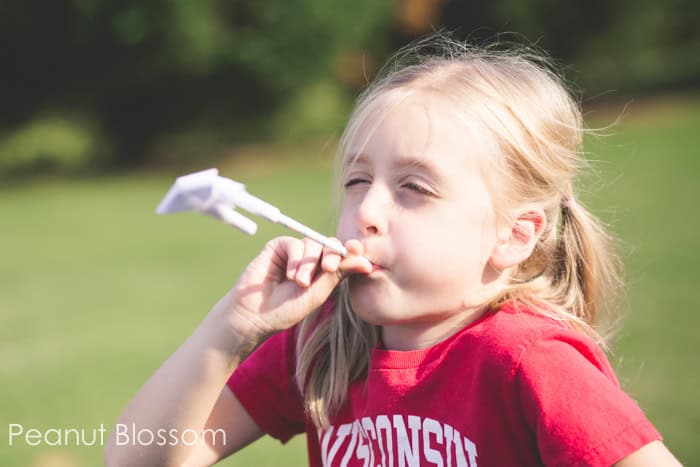 My favorite part of the book is how Tinkerlab sets up the initial activity but then pushes your children further with an "Experiments" section meant to extend the learning. A series of open-ended questions lets the little tinkerers explore what they've created in new ways.
This prevents the "So I've made a rocket, now what?" This simple crafty activity turned into endless fun because they were engaging with the series of questions posed after the activity instructions.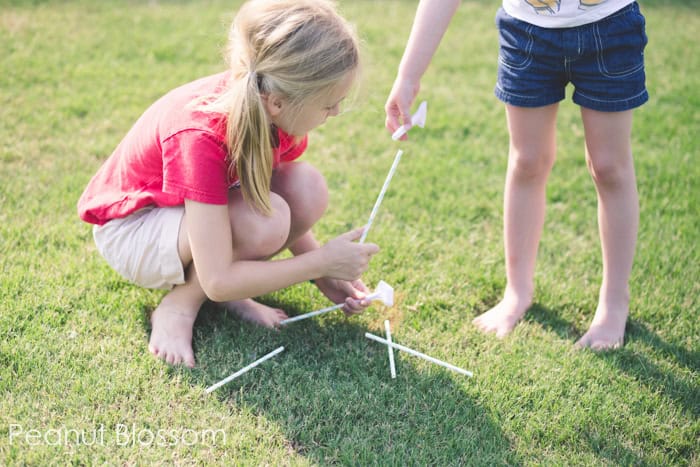 Thursdays are our official "Arts & Crafts" day at home and this book is filled with activities to power us through summer and beyond. I love that there is a mix of science and art and kitchen fun. Truly there is something in here for both boys and girls, little ones and independent readers, and interests of all kinds.
Grab your very own copy of the book at one of these booksellers:

P.S. Are you already a fan of Tinkerlab? Go ahead and congratulate her on this awesome publication, and tell her I say hi!
Leave her a note at Tinkerlab on Facebook here.