Book Club Kit for The Weekenders by Mary Kay Andrews includes book club discussion guide and party menu.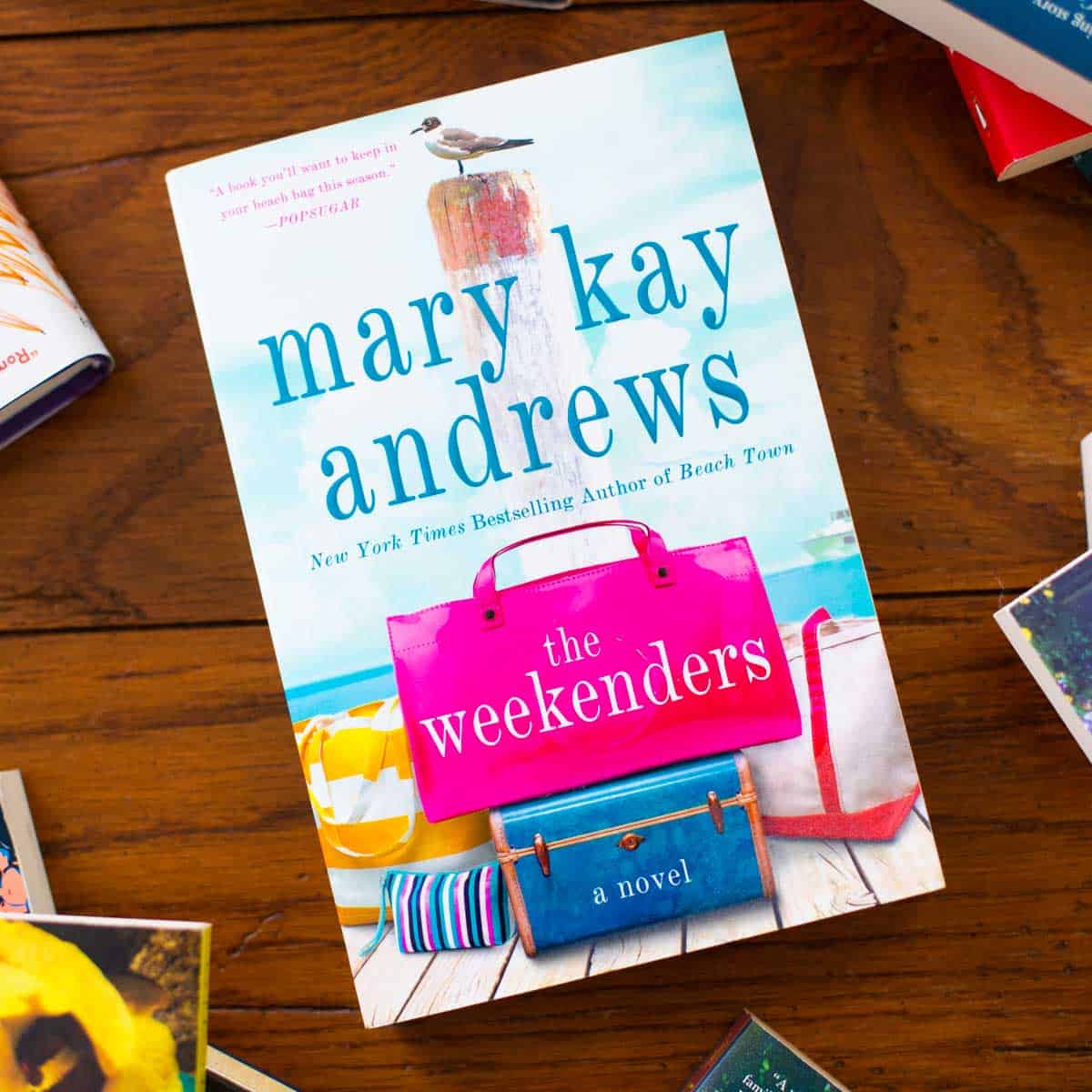 Every year I try to find the best beach reads for our book club to enjoy. I look forward to our summer line-up all year!
Of the pool side books I have enjoyed, there is one author that pops up again and again . . . Mary Kay Andrews.
We selected her book Summer Rental during the first year of book club.
Mary Kay Andrews (or MKA as our book club members lovingly refer to her as), remains one of the more popular authors in our club.
I even had the chance to drive by the real world Tybee Island places featured in her book The Homewreckers.
So I'm thrilled to share a repeat author with this month's pick!
Peanut Blossom Book Club
This book was our official July 2018 pick for the Peanut Blossom Book Club.
Want to see what we're reading today? Check out our book club book list here.
Want Free Reminders for Each Book?
Sign up for my book club newsletter right here:
What is The Weekenders About?
"Some people stay all summer long on the idyllic island of Belle Isle, North Carolina. Others come only for the weekends-and the mix between the regulars and "the weekenders" can sometimes make the sparks fly. Riley Griggs has a season of good times with friends and family ahead of her on Belle Isle when things take an unexpected turn. While waiting for her husband to arrive on the ferry one Friday afternoon, Riley is confronted by a process server who thrusts papers into her hand. And her husband is nowhere to be found.
So she turns to her island friends for help and support, but it turns out that each of them has their own secrets, and the clock is ticking as the mystery deepens...in a murderous way. Cocktail parties aside, Riley must find a way to investigate the secrets of Belle Island, the husband she might not really know, and the summer that could change everything.
Told with Mary Kay Andrews' trademark blend of humor and warmth, and with characters and a setting that you can't help but fall for, the New York Times bestseller The Weekenders is the perfect summer escape."
And then go grab a copy of The Weekenders so you can join us for our book club discussion next month!
The Weekenders Book Club Discussion Questions
I believe the best book club questions to spark a lively discussion in your group help readers make personal connections to the story.
You can read about how to write the best book club questions on your own here, but hopefully these will get you started!
Question 1:
What did you think of this month's pick? Would you have picked it up on your own?
Question 2:
Belle Isle is a fictional beach town that is located along the North Carolina coast somewhere near Wrightsville Beach.
Have you ever been to a beach town with grand old homes as described in the book? Where did you go?
Question 3:
At first, Parrish refuses to help Riley break into Wendell's office to hunt for clues but then eventually is all-in helping her friend despite the questionable legality of their situations.
How far would you go to help your best friend?
Question 4:
Riley is surprised over and over again to discover how deep Wendell's deception goes after he dies--foreclosed houses, huge business loans in default, etc.
Do you think you could be just as easily taken advantage of by your partner or do you keep a joint approach to all finances?
How realistic was that plot line to you?
Question 5:
What did you think of Riley's parenting style with Maggy?
What are some examples of things she did well or didn't do well?
What would you have done differently?
Question 6:
What did you think of Riley's decision to stop seeing Nate after Maggy was hospitalized?
Was Maggy just being manipulative or was Riley right to step away from that relationship?
Do you have Tweens?
Did you recognize similar behaviors?
Question 7:
Did you have guesses about who killed Wendell? Did you spot any of the clues as the story went on?
Were you surprised by the final revelation or not?
****COMMENTS WILL HAVE SPOILERS!****
Question 8:
Riley and Billy, even as adults, hide things from their mother.
Are you able to have an open and 100% honest relationship with your parents or do you find yourself shielding them from things in your life they may not approve of?
Question 9:
Which plot point towards the end surprised you the most?
Or did you see it all coming . . .
****ANSWERS WILL HAVE SPOILERS****
Question 10:
Riley finds she despises her new job in Raleigh and quits before the end of the first week.
Have you ever found yourself in a totally wrong-fit position like that?
What did you do?
Book Club Party Menu
For the book club party menu, pick some classic southern beach town treats.
Serve spicy shrimp with a side of baked Savannah red rice for a simple dinner.
Or keep things munchy and set out some pimento cheese with butter crackers and a platter of easy butterscotch brownies!
You May Also Enjoy
If you enjoyed this book, you'd likely enjoy these other fun book club picks from through the years: