Looking for a great book club book this spring? Check out The Unhoneymooners by Christina Lauren, a laugh-out-loud romance.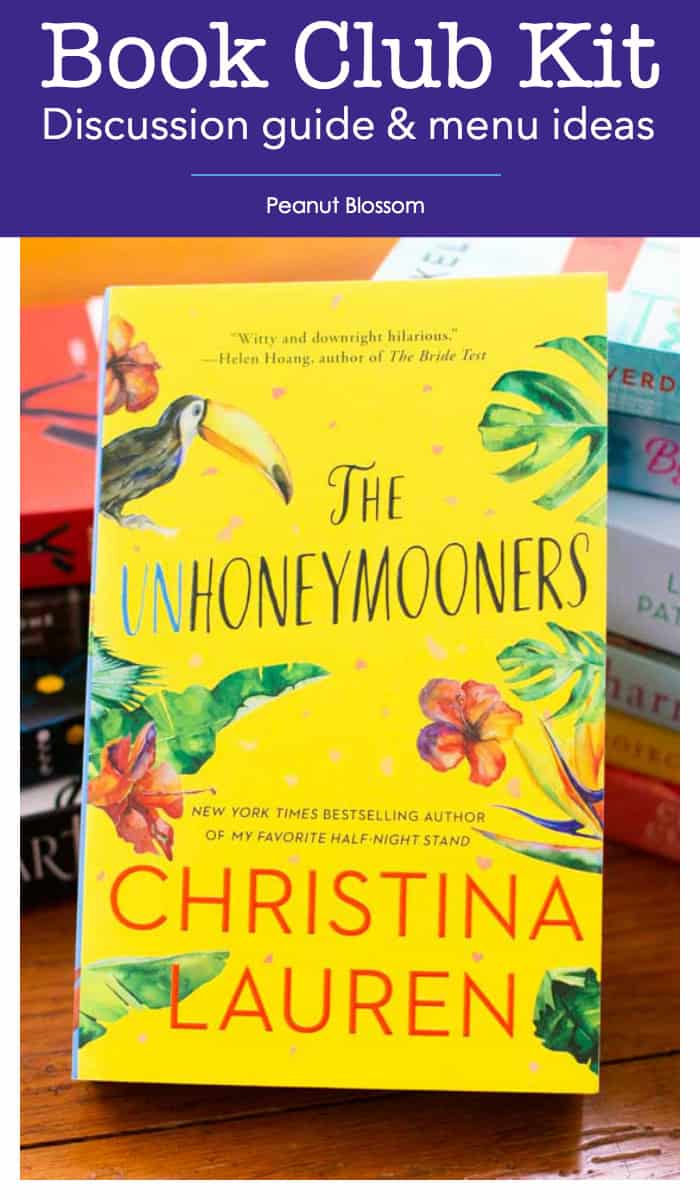 When I'm looking for books for our official book club picks, I keep my eyes open for recommendations from real-world friends all year long.
One of my favorite sources for book recommendations is a friend of mine that is a librarian. She never takes her reading too seriously and loves to share suggestions for things that make her laugh or were gripping page-turners. Sound like anyone familiar??
The Peanut Blossom Book Club is the perfect place to be if you want easy-reading, lighthearted books to share with friends. Check out our full 2020 list of books here.
My librarian friend happened to mention The Unhoneymooners last year and the bright yellow book cover caught my eye. She said it made her laugh out loud, so it immediately went into my list of contenders for 2020.
February's Official Book Club Pick: The Unhoneymooners by Christina Lauren:
I'm pleased to announce that it is our official February Pick for this year. I always look for quirky romances for February and the tropical setting just sounded super fun for the cold weather season.
Get your copy of The Unhoneymooners:
Money-saving tricks for reading this month's book pick:
You can get the book from your library.
The Kindle version is currently the same price as the paperback, but you can often save money on the Audible version if you own the Kindle copy. I love to use the Amazon Whispersync feature to go back and forth between audio and digital reading.
What is The Unhoneymooners about?:
"Olive Torres is used to being the unlucky twin: from inexplicable mishaps to a recent layoff, her life seems to be almost comically jinxed. By contrast, her sister Ami is an eternal champion . . . she even managed to finance her entire wedding by winning a slew of contests. Unfortunately for Olive, the only thing worse than constant bad luck is having to spend the wedding day with the best man (and her nemesis), Ethan Thomas.
Olive braces herself for wedding hell, determined to put on a brave face, but when the entire wedding party gets food poisoning, the only people who aren't affected are Olive and Ethan. Suddenly there's a free honeymoon up for grabs, and Olive will be damned if Ethan gets to enjoy paradise solo.
Agreeing to a temporary truce, the pair head for Maui. After all, ten days of bliss is worth having to assume the role of loving newlyweds, right? But the weird thing is . . . Olive doesn't mind playing pretend. In fact, the more she pretends to be the luckiest woman alive, the more it feels like she might be."

Discussion questions for The Unhoneymooners:
Coming soon!
Be sure to check out the official discussion in our book club group right here.
Book club recipe ideas:
How fun would it be to host a tropical-themed party for your book club gathering based on the honeymoon destination of the book? Here are some easy appetizer ideas to get you started: