Book Club Kit for The Sun Is Also a Star by Nicola Yoon includes book club discussion questions and party menu.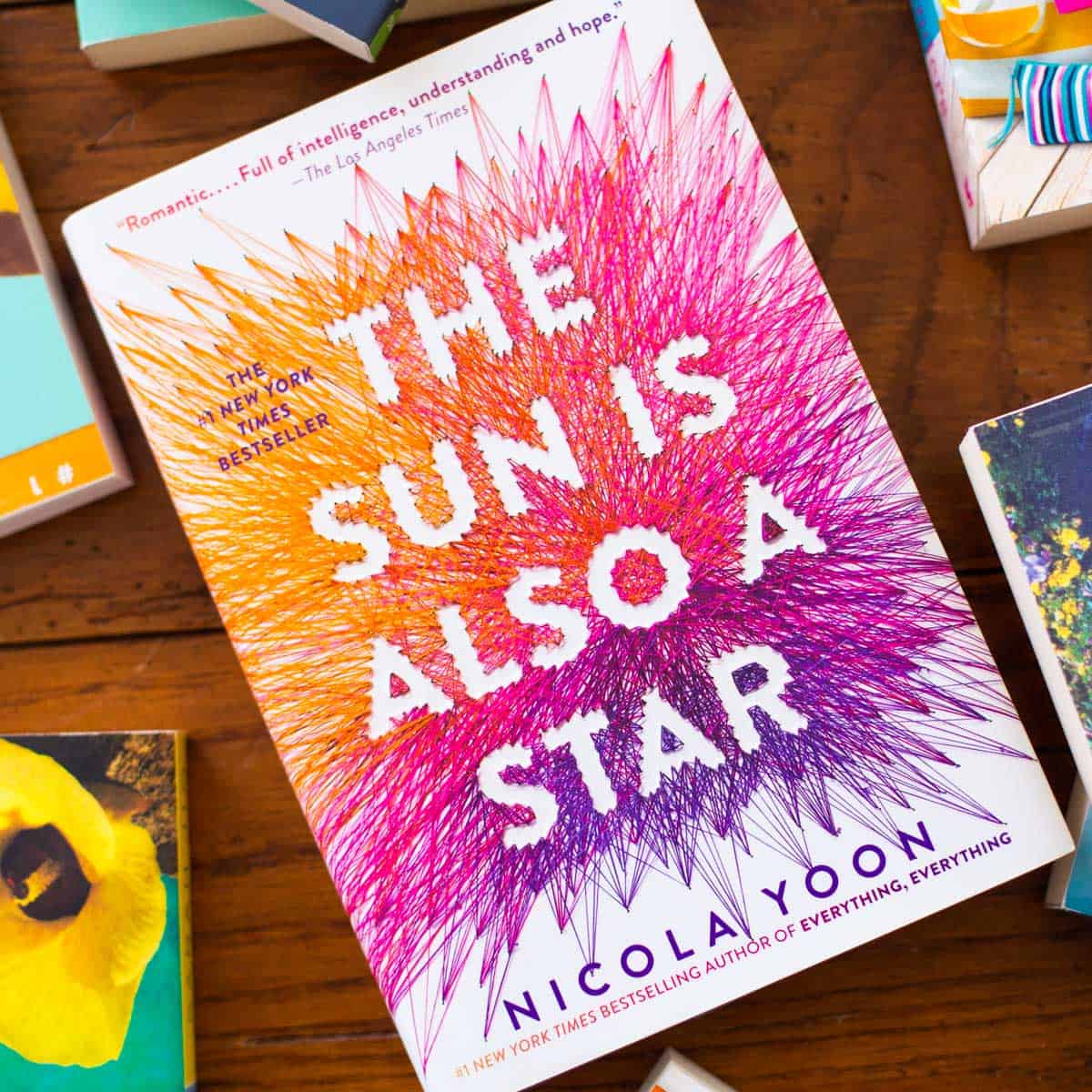 The Peanut Blossom Book Club launched with one main mission: Read FUN books.
We aren't here for brain bending literature, we are here to rediscover the joy of reading.
There are few genres that scream FUN more than Young Adult and I'm thrilled to have found book club members who enjoy dipping their toes into those waters.
Just in time for the first month of summer, I'm thrilled to announce our June book club pick: The Sun Is Also a Star by Nicola Yoon.
If you're not familiar with her, Nicola Yoon is the author of Everything, Everything which was made into a movie last year. You can watch the trailer here.
I devoured her first book in less than 24 hours and thought the movie was super sweet.
I've had The Sun Is Also a Star, her second book, sitting on my shelf since last summer and I can't wait to finally dig in.
For those of you with teens in the house, maybe make this a mom-kid book club experience. Then you'll have a built-in buddy when the movie comes out!
If they do as well as they did with Everything, Everything I know you'll want to go.
Peanut Blossom Book Club
This book was our official May 2018 pick for the Peanut Blossom Book Club.
Want to see what we're reading today? Check out our book club book list here.
Want Free Reminders for Each Book?
Sign up for my book club newsletter right here:
What is The Sun Is Also a Star About?
Natasha: I'm a girl who believes in science and facts. Not fate. Not destiny. Or dreams that will never come true. I'm definitely not the kind of girl who meets a cute boy on a crowded New York City street and falls in love with him. Not when my family is twelve hours away from being deported to Jamaica. Falling in love with him won't be my story.
Daniel: I've always been the good son, the good student, living up to my parents' high expectations. Never the poet. Or the dreamer. But when I see her, I forget about all that. Something about Natasha makes me think that fate has something much more extraordinary in store—for both of us.
The Universe: Every moment in our lives has brought us to this single moment. A million futures lie before us. Which one will come true?
Plan a Movie Night
One of the benefits of picking this book for your next book club pick is you could plan a movie night with your friends to watch the move inspired by the book.
Check out the sweet trailer here:
The Sun Is Also a Star Book Club Questions
I believe the best book club questions to spark a lively discussion in your group help readers make personal connections to the story.
You can read about how to write the best book club questions on your own here, but hopefully these will get you started!
Question 1:
What did you think of this month's pick? Is it something you would have picked up on your own?
Question 2:
Do you believe in love at first sight?
Question 3:
Do you consider yourself more like Natasha, left-brained (logical, math, science), or more like Daniel, right-brained (creative, art, writing)?
Question 4:
After he tells Natasha to wait outside his father's store, Daniel talks about how every person should be born with "a Do-Over, a Rain Check, a Take-Backsie, a Get-Out-Of-Jail-Free Card."
Do you wish the same thing, or do you think every moment, even the bad ones, happen for a reason?
Question 5:
The story covers what Daniel refers to as his "Last Day of Childhood."
Does childhood end so distinctly? Do you remember being aware of The End or did it just fade away?
Question 6:
"Who cares what you want? The only thing that matters is what is good for you." - Das Hyun Bae, Daniel's dad
Did you identify more with Daniel's parents or Daniel?
How do you balance your desire for your children's future well-being with allowing them the freedom to make their own choices?
Question 7:
"Sometimes your world shakes so hard, it's difficult to imagine that everyone else isn't feeling it too."
Have you had a moment like this in your life?
Question 8:
Who was your favorite "background character" in the book? (Irene, Donald Christiansen, the conductor, the waitress, Hannah Winter, attorney Jeremy Fitzgerald, Joe, or someone else) Why?
Question 9:
Do you think Natasha and Daniel ended up together forever after the end of the book?
Book Club Party Menu
This book club party menu is inspired by the fact that Natasha is a Jamaican-American living in New York City.
You May Also Enjoy
If you enjoyed this book, you'd likely enjoy these other fun book club picks from through the years: