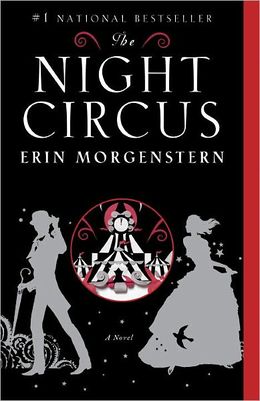 I love to read but it is one thing that has been hard to prioritize since our move. I kept putting off that quiet "me time" partly because I didn't have a book on my nightstand calling my name. One afternoon while perusing Pinterest I stumbled across a series of pins that caught my eye. I stopped my scrolling and laughed as each and every pin ended up being pinned by my friend Carrie to the same board. (Take a peek and come back, I'll wait.)
Stark black and white with splashes of red. I was intrigued. Based on the title of her pinboard I quickly figured out it was an inspiration board based on a book. When I asked Carrie about it she said, "It is the most visual book I've ever read if that makes any sense."
It totally did. One quick Amazon purchase later and I had my own copy of "The Night Circus" by Erin Morgenstern.
Wow you guys. Just wow. I loved this book. It isn't a cliff-hanging pageturner of a book. It is a slower intricately detailed story with the most amazingly imaginative scenes. Carrie was absolutely right. I slowly savored this book and can see each scene in my head. It is whimsical, dramatic, a little dark, and has one of the best love stories I've read. I'm not a romance novel girl, to describe this as a "love story" would normally be a turn off for me. But in this case it is a definite pro.
I've discovered they are in the very early stages of turning this into a movie. The special effects department is going to have their work cut out for them! And the costume folk, too.
I was so sad to finally finish the book. I read the second half so slowly just to drag it out a little longer. It is the first book I'd consider reading a second time right away. I commiserated with Carrie and told her how I felt like I needed a red scarf to wear this winter in honor of the book. (Reference to a plot point I don't want to spoil here.)
Then last weekend this arrived on my doorstep: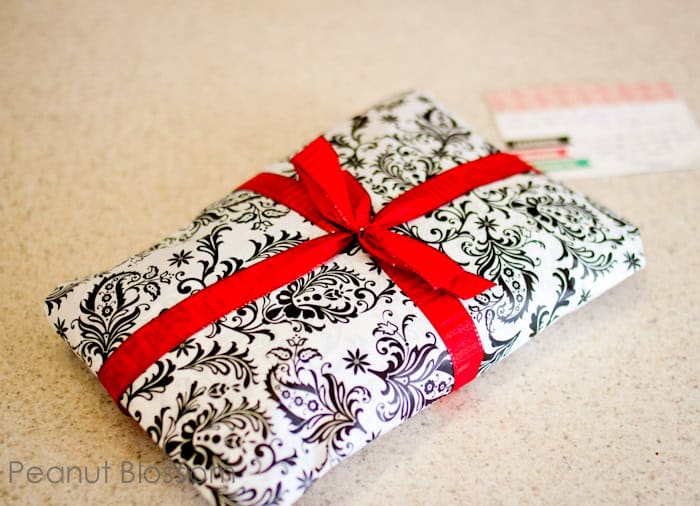 Knowing Carrie's habit of participating in RACKs (random acts of kindness), knowing her killer knitting skills, and knowing our recent conversation I knew just from this wrapping what must be inside. I was so giddy excited I almost forgot to take a picture of it before I opened it. I had to put the red ribbon back on and go grab my camera!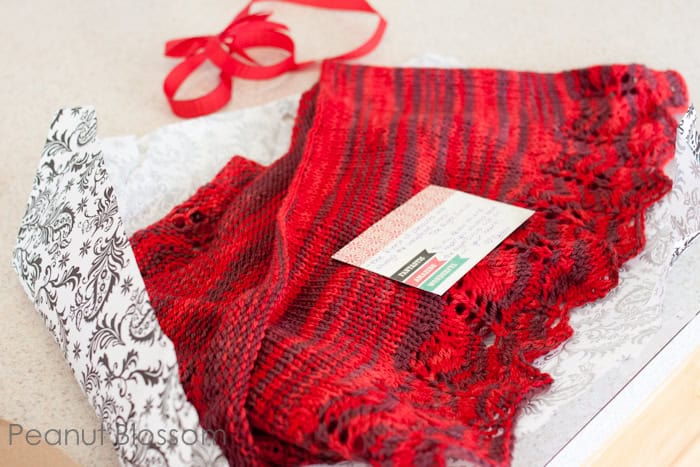 The most beautiful red scalloped scarf ever. Carrie told me it is called a "capelet" (knitting is so fancy!) I LOVE it.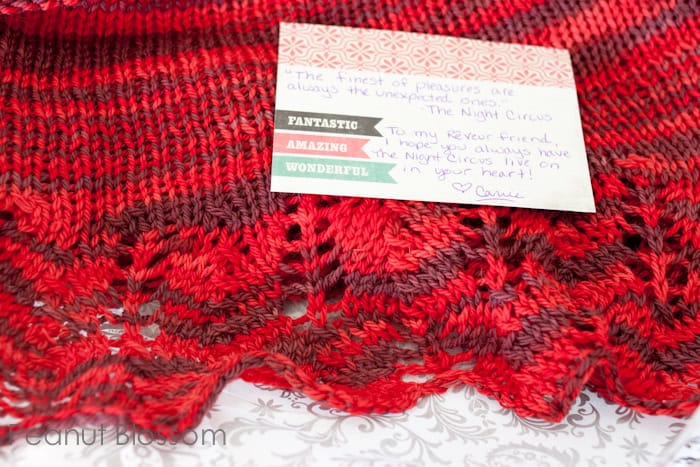 My photos don't even do it justice. Both my girls were intrigued and wanted to try the scarf on. We took turns wrapping it on our necks but the girls know this is MOMMY'S special scarf. We were heading out to see Santa and everyone was all dressed up for the event. I was wearing all black with my red holiday shoes. I quickly put this on and it was the perfect finishing touch. I grinned from ear to ear for the rest of the day.
So I'm now officially a Reveur. Have you ever been so inspired by a book it's influenced your wardrobe?? I haven't till now. Thank you Carrie for introducing me to this book and for sending a homesick girl a most unexpected and awesome care package.