The Magician's Lie by Greer Macallister is the official October 2015 pick for the Peanut Blossom Book Club for Recovering Readers.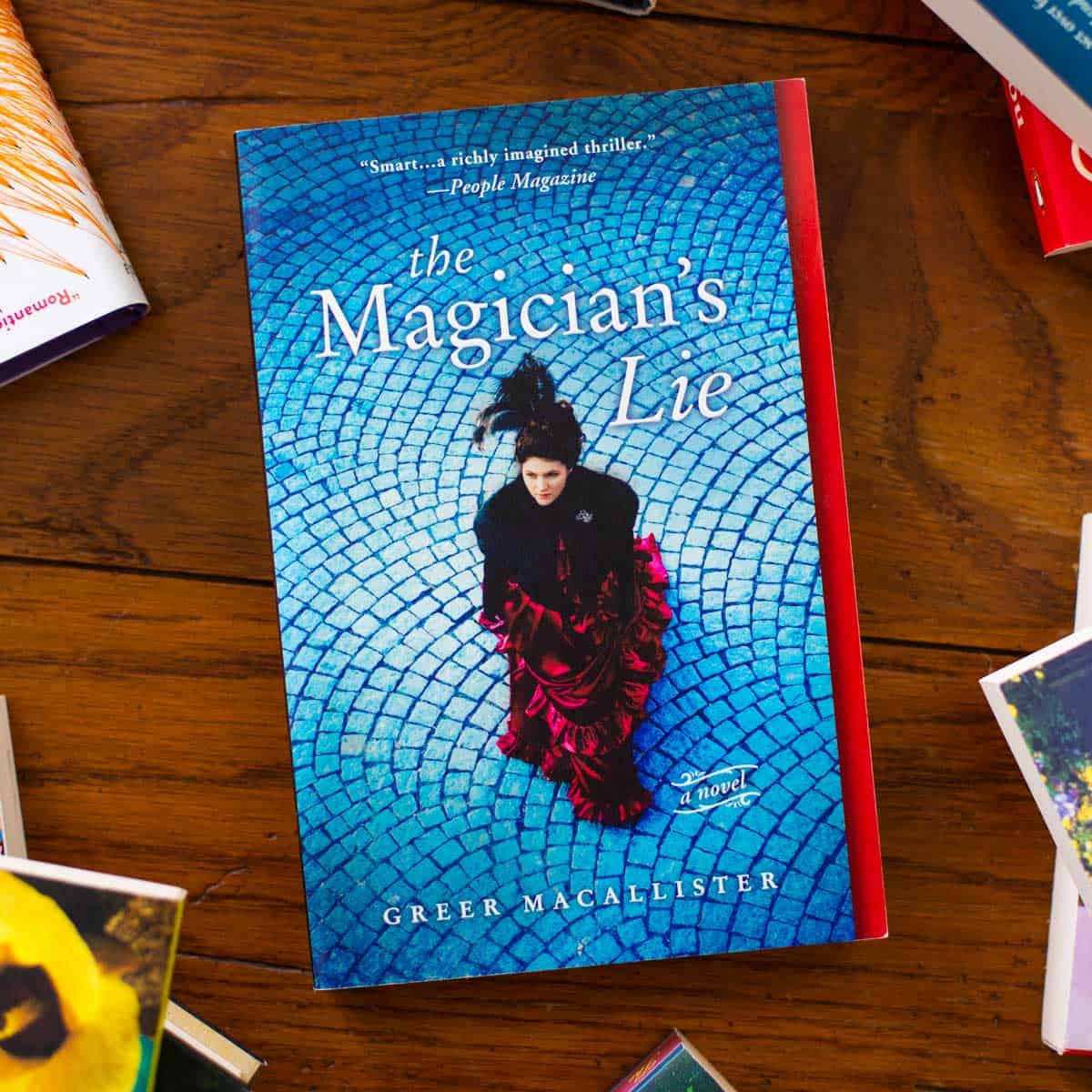 Welcome to the belated October event of the Peanut Blossom Book Club for Recovering Readers!
This month I'm pleased to welcome you to the discussion for The Magician's Lie by Greer Macallister.
I was first drawn to this book because it was pitched as a cross between Water for Elephants, which I really enjoyed, and The Night Circus, one of my absolute favorite books.
This book has been on my to-read list for a long time so now that it is finally released in paperback it was the perfect time to choose it for our book of the month!
While there are many similarities to the books mentioned, The Magician's Lie stands on it's own and has a plot that has really stuck with me.
I haven't been able to stop thinking about it since I finished it and it actually grew on me more as I wrote the questions for our party.
There are some phenomenal questions at the back of the book for your in-person book club discussion, but I tailored our questions for our online format.
Don't miss the fun interview I did with Greer Macallister, author of this month's book!!
Jump to:
Peanut Blossom Book Club
This book club pick is one of the awesome books from our first year of book club.
We're still going strong! Want to join us?
You can get all the details on the club here:
Want Free Reminders for Each Book?
Sign up for my book club newsletter right here:
What is The Magician's Lie About?
"The Amazing Arden is the most famous female illusionist of the early 20th century, renowned for sawing a man in half on stage.
One night in Waterloo, Iowa, with young policeman Virgil Holt in the audience, the magician swaps her trademark saw for a fire ax. Is it a new version of the illusion, or an all-too-real murder?
When Arden's husband is found lifeless beneath the stage later that night, the answer seems clear.
But when Virgil happens upon the fleeing magician and takes her into custody, she has a very different story to tell.
Even handcuffed and alone, Arden is far from powerless-and what she reveals seems unbelievable.
Over the course of one eerie night, Virgil must decide whether to turn the illusionist in or set her free... and it will take all he has to see through the smoke and mirrors."
Meet the Author
Greer Macallister, author of The Magician's Lie, joined us for our virtual book club party.
You can see the questions our book club asked her and her answers here.
Q&A with the Author
Question 1:
Why did you choose magic as the stage for this story?
What inspired you to create Arden's world?
Answer 1:
The book was born when I realized I had seen countless references over the years to male magicians cutting women in half (we all have, right?) but never anything about a female magician cutting a man in half.
So I decided someone needed to write that book, about that magician! And that's where Arden came from.
And I wanted it to be set at a time where magic was a much bigger part of the cultural conversation.
Research led me to the traveling shows of Vaudeville, specifically an event that happened in 1897, and everything grew from there.
See her answer here.
Question 2:
What brought your story to the Biltmore and North Carolina?
I was happily surprised to discover a familiar setting in the book! We're heading to the Biltmore this weekend, it's one of my favorite places to visit during the holiday season. I assume you've been?
Answer 2:
Lots of questions about the Biltmore tonight!
I went long before I started writing TML, and I always hoped I would get to visit again as part of my research process, but I couldn't manage it.
But it is an amazing place that lingers in the memory.
Once I realized that it was being built right around the time that Arden was fleeing East Tennessee, I realized it might be a place she could flee to.
And then I worked out how that might happen.
The ballerina Madama Bonfanti is real, and I think she did run a school, but there was no evidence that she ever visited the Biltmore.
I love to weave history into my fiction, but it is undeniably fiction.
See the full discussion here.
Question 3:
If you were a magician, what would be your signature illusion? (If anyone else wants to chime in and answer this too, please feel free!! I want to be able to do the coin trick and take the money out of the husband's wallet and put it into his wife's. . . Oh wait. . . I already know how to do that.
)
Answer 3:
Real talk: I am a terrible magician.
I tried to learn some little illusions for bookstore appearances and stuff and just utterly failed.
But I tell people, I made this book appear from absolute nothingness, so that's something, right?
See the full discussion here.
Question 4:
What is on your bookshelf right now? If you were in charge of picking next month's book club pick, what would you recommend?
Answer 4:
Oh gosh, so many great books.
I recently finished two very funny books, and as a writer, I think it's incredibly hard to be funny!
But I adored Camille Pagan's LIFE AND OTHER NEAR-DEATH EXPERIENCES and Heather Cocks & Jessica Morgan's THE ROYAL WE.
Both smart and witty and romantic -- I'm a sucker for a good love story, as you might guess from TML.
See the full discussion here.
Question 5:
How old were you when you knew you wanted to be an author? How were you encouraged to explore this path?
Answer 5:
I kind of feel like I've always been a writer. I was writing little poems and short stories from a very young age (not good ones, mind you).
I didn't necessarily think of it as a career, just something I liked to do -- I'm very practical in real life so I never thought it would be a full-time gig.
But I could never stop writing. Still can't.
See the full discussion here.
Question 6:
Before I ask the last official question for you tonight Greer Macallister, I want to thank you so much for joining us tonight! It was such a pleasure to have you here for the discussion.
Do you have anything in the works you want to tell us about? Will we see Arden and Clyde again?
Answer 6:
I don't have any current plans to pick up where we left off with Arden and Clyde, but a) never say never and b) I would love to revisit the story of Adelaide Herrmann -- who really did take over her husband's act by doing the Bullet Catch at the Metropolitan Opera House in NYC in January 1897, as well as a ton of other wild and crazy things.
So many ideas, so little time!
See the full discussion here.
The Magician's Lie Discussion Questions
I believe the best book club questions to spark a lively discussion in your group help readers make personal connections to the story.
You can read about how to write the best book club questions on your own here, but hopefully these will get you started!
Question 1:
So what did you think of the book?! Is this something you would have picked for yourself?
Question 2:
Which character was your favorite in The Magician's Lie and why?
Question 3:
The novel's plot switches back and forth between one night in 1905 and Ada's retelling of her life story. Did you find yourself looking forward to reading one part vs. the other?
Question 4:
What was your initial impression of the Magician? Did the title color your reactions to her story or did you believe she was telling the truth?
Question 5:
Officer Holt has such a powerful reaction to her performance on stage. Name a movie, play, or theater experience that left a lasting impression on you. Was it a positive or negative experience?
Question 6:
When Adelaide hands the company over to Arden, she gives her permission to make the show her own. Have you ever had the chance to step into a job or situation and make big changes to suit your preferences? Was it intimidating or freeing?
Question 7:
Important plot points occur at the Biltmore in North Carolina. We're actually heading there this weekend! Have you been? I seem to keep picking books set in North Carolina and can't tell if I'm just drawn to them because we live here or if it is a coincidence! Which books have you read that are set in NC?
Question 8:
As Arden becomes more confident in her performances, she adds more and more illusions that feature women as the hero. Who are some of your favorite strong modern female performers? Think artists, musicians, authors, and actresses.
Question 9:
I think Ray is one of the all time creepiest villains I've ever encountered in a book. What did you find most disturbing about him?
Question 10:
Several members of our book club mentioned in our private group that they found the initial scenes of the book to be too intensely graphic and violent. Were you able to push through and finish or did those scenes stop you in your tracks? Do you think they set the stage for the story or were they distracting?
Question 11:
When Clyde appears at the end of the story, I fully expected to discover that he had been involved in Arden's plan all along. Were you surprised when he showed up? Where do you think they go from there?
Question 12:
If you were going to run away like Ada did, would you run away and be a circus performer or a magician?
Book Club Party Menu
If you wanted a lighthearted book club party menu, you could serve traditional circus foods like popcorn, peanuts, and cotton candy to match this book's magician theme.
If you're looking for hearty appetizers for a colder night, I strongly recommend my oriental chicken layer dip or spicy artichoke dip.
A cheddar snack board is perfect for easy nibbling and the sausage crescent roll swirls are so easy to make and perfectly poppable!