The Ex Talk by Rachel Lynn Solomon is the official February 2023 pick for the Peanut Blossom Book Club for Recovering Readers.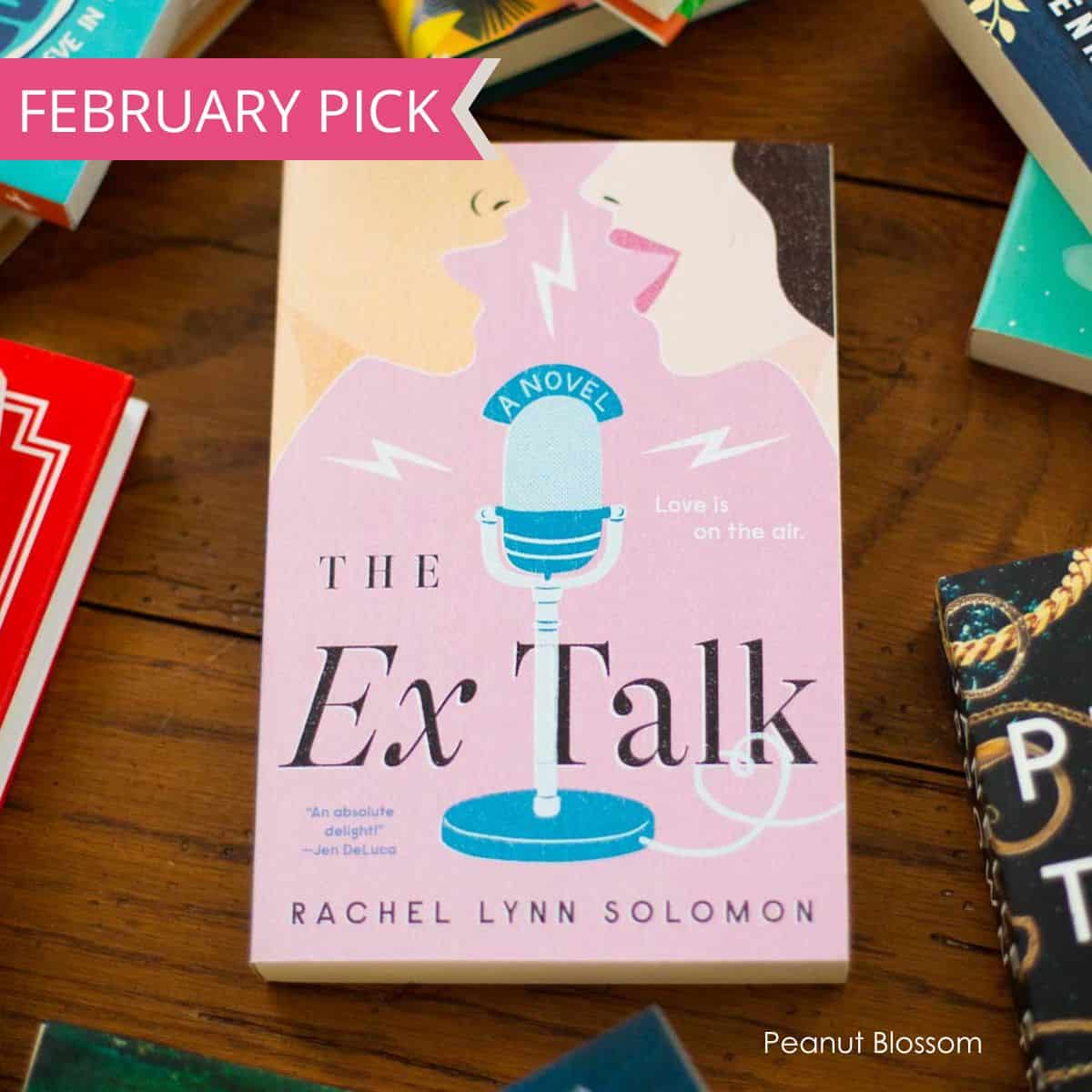 Every February, I love to find a fun somewhat non-traditional romance book to our list.
When I read the summary of this month's pick, I immediately imagined Frasier's talk show in Seattle. Anyone else a big fan of that show?
But the idea that a show was being made about exes delivering relationship advice? It just has to be good. Ha!
I hope you enjoy a bit of lighter, romantic reading this month. Have fun!
Want Free Reminders for Each Book?
Sign up for my book club newsletter right here:
February Official Book Club Pick: The Ex Talk
I'm pleased to announce that this is our official February Pick for this year.
Get your copy of this month's book club book:
Money-saving tricks for reading this month's book:
What is this month's book about?
"Public radio co-hosts navigate mixed signals in Rachel Lynn Solomon's sparkling romantic comedy debut.
 
Shay Goldstein has been a producer at her Seattle public radio station for nearly a decade, and she can't imagine working anywhere else. But lately it's been a constant clash between her and her newest colleague, Dominic Yun, who's fresh off a journalism master's program and convinced he knows everything about public radio. 
 
When the struggling station needs a new concept, Shay proposes a show that her boss green-lights with excitement. On The Ex Talk, two exes will deliver relationship advice live, on air. Their boss decides Shay and Dominic are the perfect co-hosts, given how much they already despise each other. Neither loves the idea of lying to listeners, but it's this or unemployment. Their audience gets invested fast, and it's not long before The Ex Talk becomes a must-listen in Seattle and climbs podcast charts.  
 
As the show gets bigger, so does their deception, especially when Shay and Dominic start to fall for each other. In an industry that values truth, getting caught could mean the end of more than just their careers."
Discussion Questions for The Ex Talk
COMING SOON
Book Club Party Menu
I think it is so fun to plan your book club dinner menu or dessert list based on the theme of the book.
For this month's pick, use the plot from the book and the Seattle setting to plan your feast.
Start with a DIY Coffee Station, with or without Seattle's infamous Starbucks coffee.
Then plan a simple coffee cake to go with the lattes like my cherry almond streusel coffee cake or better yet, a decadent espresso soaked easy tiramisu.
You Might Also Like
If you LOVE this month's book, you may also enjoy one of these fun books for book club: