The Bungalow by Sarah Jio is the official September 2015 pick for the Peanut Blossom Book Club for Recovering Readers.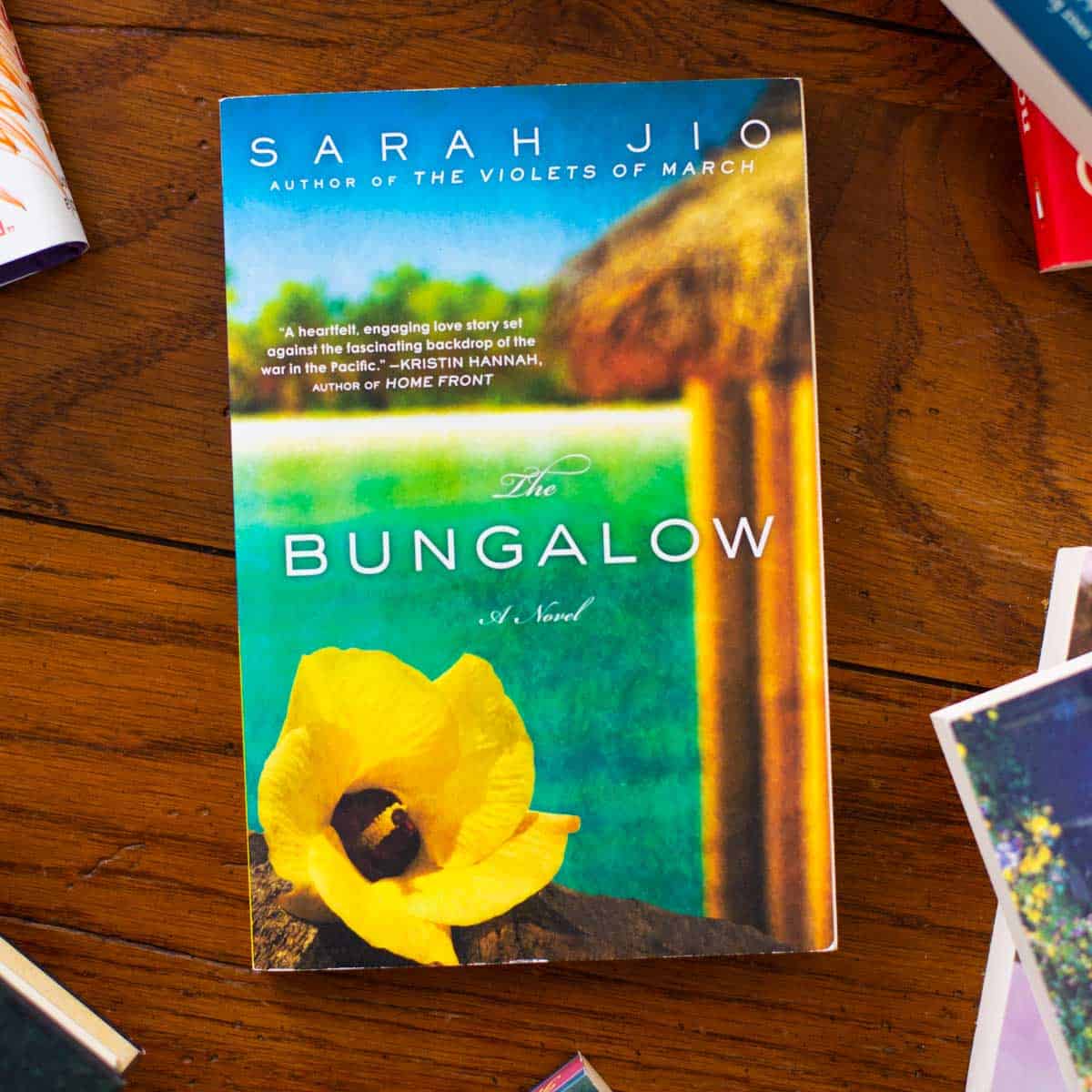 Welcome to the September event of the Peanut Blossom Book Club for Recovering Readers!
This month I'm pleased to welcome you to the discussion for The Bungalow by Sarah Jio.
This author has been on my to-read list for a couple of years because several of my friends have mentioned her books as being some of their very favorite reads.
I'm always intrigued by the covers of the books and thought it would be fun to branch out with a new (to me) author.
I ended up having some mixed feelings about the book after reading it. I think I expected more mystery than romance and I was not fond of many of the characters.
I took issue in particular with the ending and felt some plot lines wrapped up just a little too conveniently.
That said, it was a quick and enjoyable book to spend a weekend with and absolutely fulfilled my need for some "me time."
I definitely enjoyed dreaming of Bora Bora while the weather was grey and cold and drizzly here in the Carolinas.
Peanut Blossom Book Club
This book club pick is one of the awesome books from our first year of book club.
We're still going strong! Want to join us?
You can get all the details on the club here:
Want Free Reminders for Each Book?
Sign up for my book club newsletter right here:
What is The Bungalow About?
"A sweeping saga of long-lost love, a mysterious painting, an unspeakable tragedy and the beach bungalow at the center of it all ...

In the summer of 1942, newly engaged Anne Calloway sets off to serve in the Army Nurse Corps on the Pacific island of Bora-Bora.
More exhilarated by the adventure of a lifetime than she ever was by her predictable fiancé, she is drawn to a mysterious soldier named Westry, and their friendship soon blossoms into hues as deep as the hibiscus flowers native to the island.
Under the thatched roof of an abandoned beach bungalow, the two share a private world-until they witness a gruesome crime, Westry is suddenly redeployed, and the idyll vanishes into the winds of war.

A timeless story of enduring passion, The Bungalow chronicles Anne's determination to discover the truth about the twin losses--of life, and of love--that have haunted her for seventy years."
The Bungalow Book Club Discussion Questions
I believe the best book club questions to spark a lively discussion in your group help readers make personal connections to the story.
You can read about how to write the best book club questions on your own here, but hopefully these will get you started!
Question 1:
How did you like the book?? Is it something you would have picked for yourself? Do you think you'd read another pick by this author?
Question 2:
Where is the farthest you have ever traveled from home? What brought you there?
Question 3:
Anne is ready to marry Gerard despite the lack of passion in their relationship before she flees to the island with Kitty. Do you think passion is crucial for marriage or could they be happy by choosing to love one another?
Question 4:
Do you believe in curses/haunting? Do you think the bungalow truly had a curse on it or was it simply coincidence that the visitors found heartache?
Question 5:
What were your impressions of Kitty? Do you think she was a good friend to Anne?
Question 6:
If you were Anne, who would you have picked: Loyal Gerard who did the right thing and entered the army and solidly loves her OR Passionate Westry who swept her off her feet and kept mysterious secrets "for her protection."
Question 7:
Were you surprised by Kitty's behavior after she gave up Adella? How did you feel about her explanation to Anne at the end of the book?
Question 8:
How big of a role did the island itself play in the behavior of the characters? Was it a bit: "What happens on the island, stays on the island" or do you think the same things would have happened somewhere in the U.S.?? Do you feel or act differently during tropical vacations?
Question 9:
How many of you have (or have NOT) been on a tropical vacation of some kind? Have you dipped your toes in the ocean, yes or no?? Do you have any interest in it?
Book Club Party Menu
I just love serving tropical themed foods for a book club party. With a book about a tropical island, this is a perfect fit!
For appetizers, try my tropical cheese and bacon dip with crackers or serve fresh fruit and gingersnaps with the creamy pina colada fruit dip.
You could serve a heartier Caribbean chicken soup for a dinner entree or small portion appetizer but the cilantro lime sauce with a big bag of sweet potato chips for dunking is super easy, too.