Book Club Kit for The Accidental Empress by Allison Pataki includes book club discussion guide and party menu.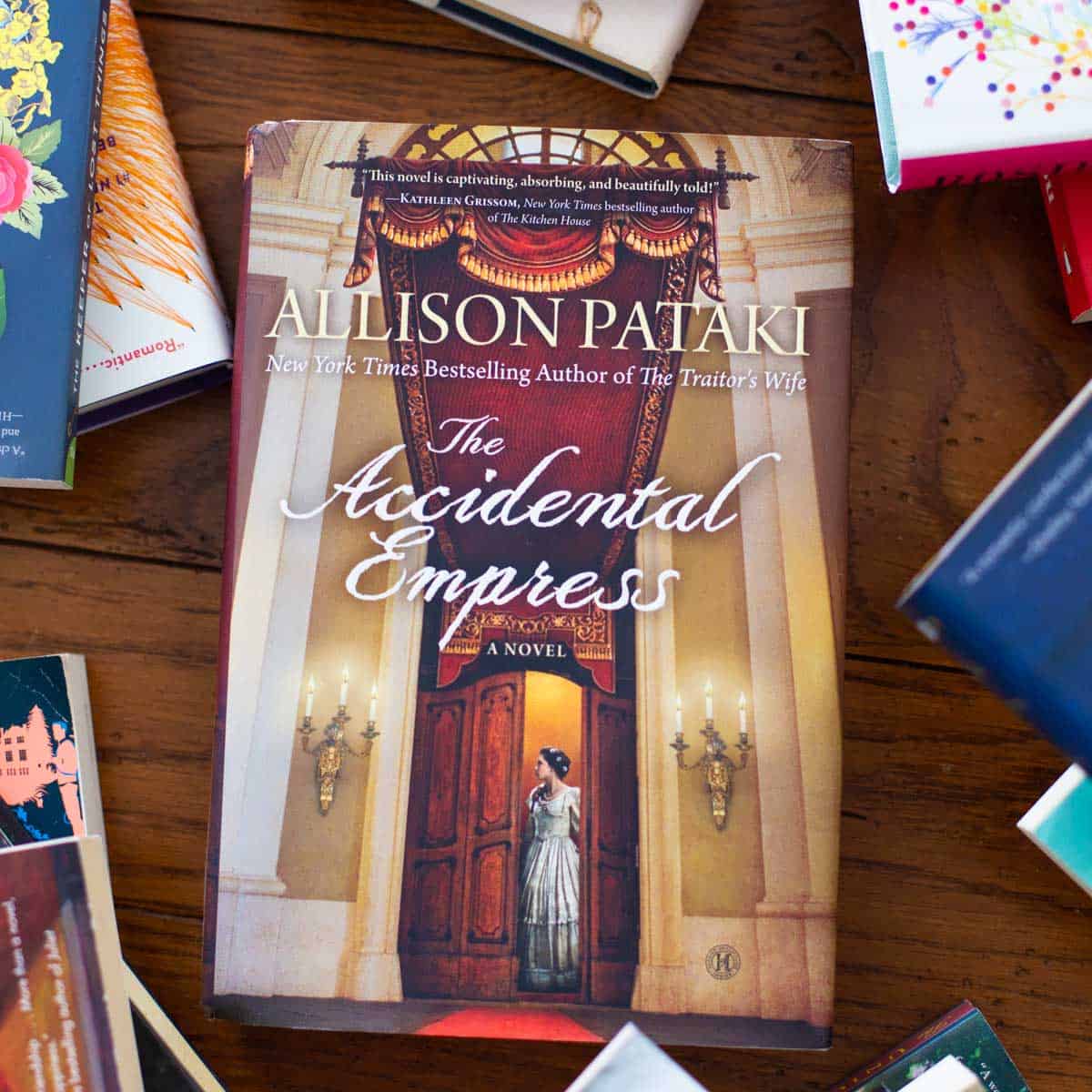 It's Back to School Season.
Since the kiddos are doing their learning and growing in the classroom, I thought it would be fun to delve into some historical fiction for us this September.
Last year everyone seemed to enjoy America's First Daughter so this year we're going "across the pond" into Austria with The Accidental Empress.
Peanut Blossom Book Club
This book was our official September 2017 pick for the Peanut Blossom Book Club.
Want to see what we're reading today? Check out our book club book list here.
Want Free Reminders for Each Book?
Sign up for my book club newsletter right here:
What is The Accidental Empress About?
"The year is 1853, and the Habsburgs are Europe's most powerful ruling family. With his empire stretching from Austria to Russia, from Germany to Italy, Emperor Franz Joseph is young, rich, and ready to marry.
Fifteen-year-old Elisabeth, "Sisi," Duchess of Bavaria, travels to the Habsburg Court with her older sister, who is betrothed to the young emperor. But shortly after her arrival at court, Sisi finds herself in an unexpected dilemma: she has inadvertently fallen for and won the heart of her sister's groom. Franz Joseph reneges on his earlier proposal and declares his intention to marry Sisi instead.
Thrust onto the throne of Europe's most treacherous imperial court, Sisi upsets political and familial loyalties in her quest to win, and keep, the love of her emperor, her people, and of the world.
With Pataki's rich period detail and cast of complex, bewitching characters, The Accidental Empress offers "another absolutely compelling story" (Mary Higgins Clark) with this glimpse into one of history's most intriguing royal families, shedding new light on the glittering Hapsburg Empire and its most mesmerizing, most beloved "Fairy Queen."
The Accidental Empress by Allison Pataki Book Club Questions
I believe the best book club questions to spark a lively discussion in your group help readers make personal connections to the story.
You can read about how to write the best book club questions on your own here, but hopefully these will get you started!
Question 1:
What did you think of this month's pick? Would you have chosen it on your own?
Question 2:
Raise your hand if you're dying to visit Schonbrunn Palace in Vienna!
Has anyone here been lucky enough to do that yet? I'd love if you'd take the time to post one of your own pictures.
Question 3:
Which of Sisi's castles would you most like to live in and why?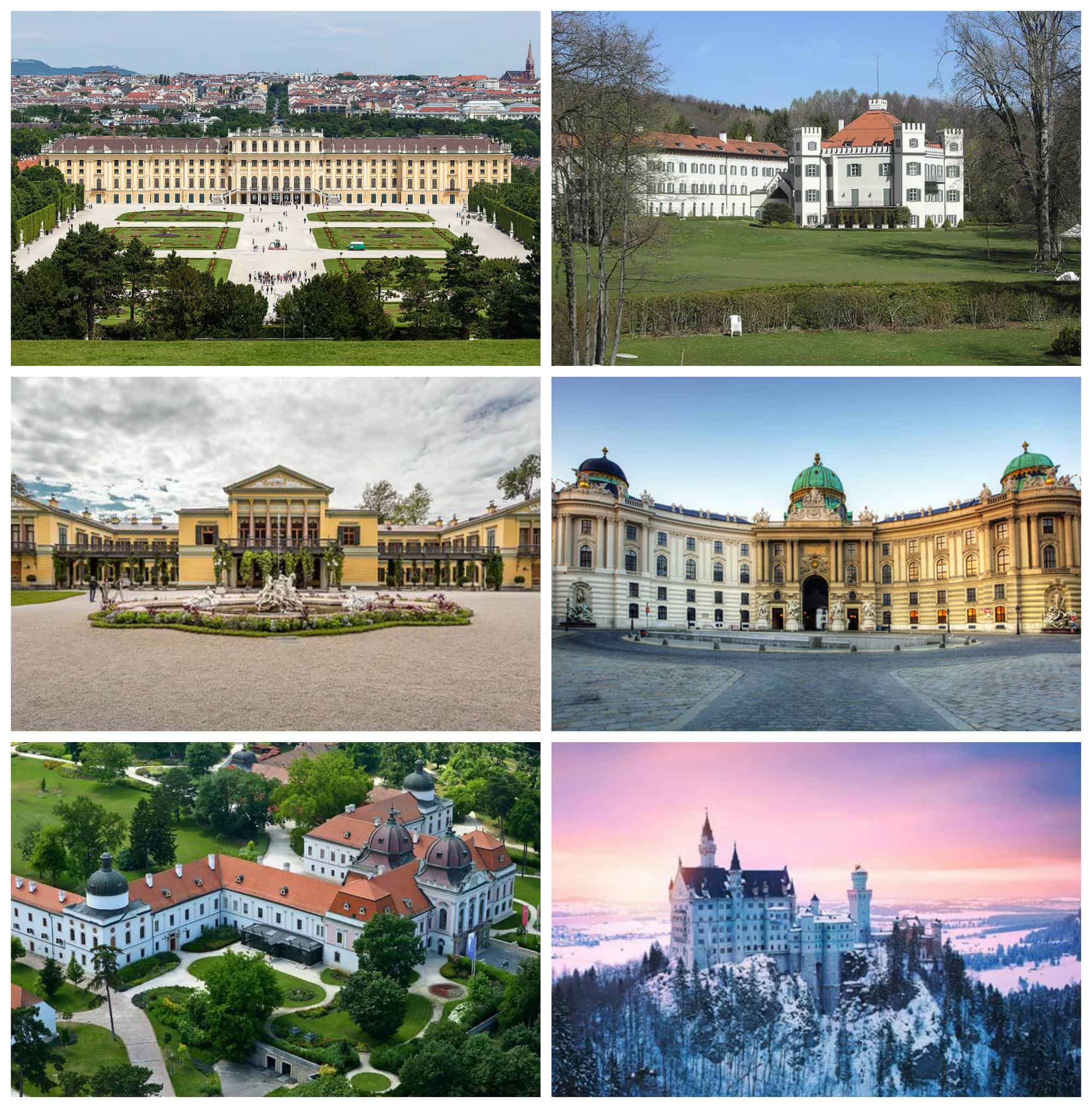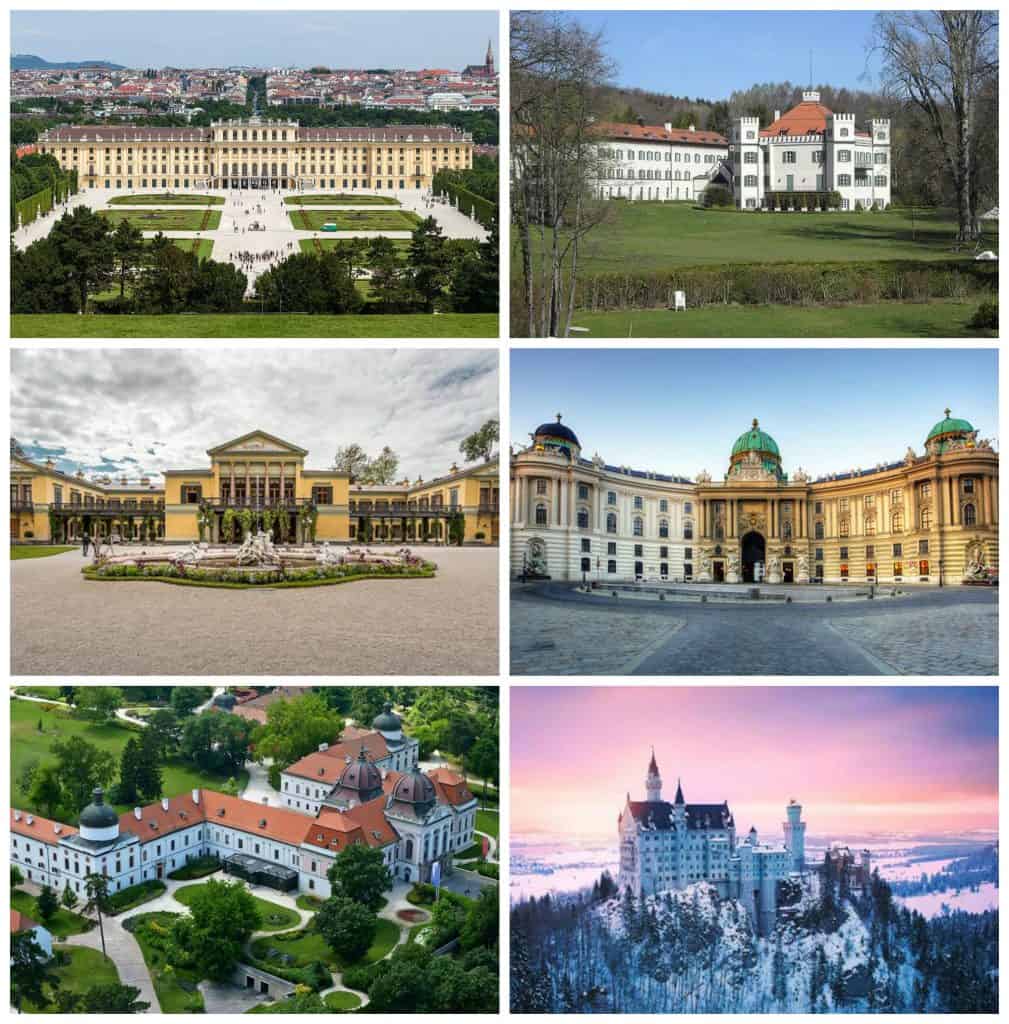 Featured from top to bottom:
1. Schonbrunn Palace, Vienna
2. Possenhofen Castle, her hometown
3. Kasiervilla, summer home in Bad Ischl
4. Hofburg Palace, Vienna
5. Godollo Palace, Budapest
6. Neuschwanstein Castle, Bavaria
Question 4:
Franz commissions Johann Strauss to compose a waltz as a gift for Sisi.
Were you curious about the waltz itself?
Do you listen to classic music?
I looked up their waltz and found this amazing video that shows dancers performing within the castle in Vienna:
Question 5:
Sisi presents her husband with a very "risqué" for the time painted portrait of herself which he hangs in his private study. (Image on Left Below.)
I think this is very similar to today's modern boudoir photography sessions.
I love the tasteful work being done by Boudoir by Casey Hendrickson Photography who shows a variety of real women in her portfolio. (Sample Image on Right.)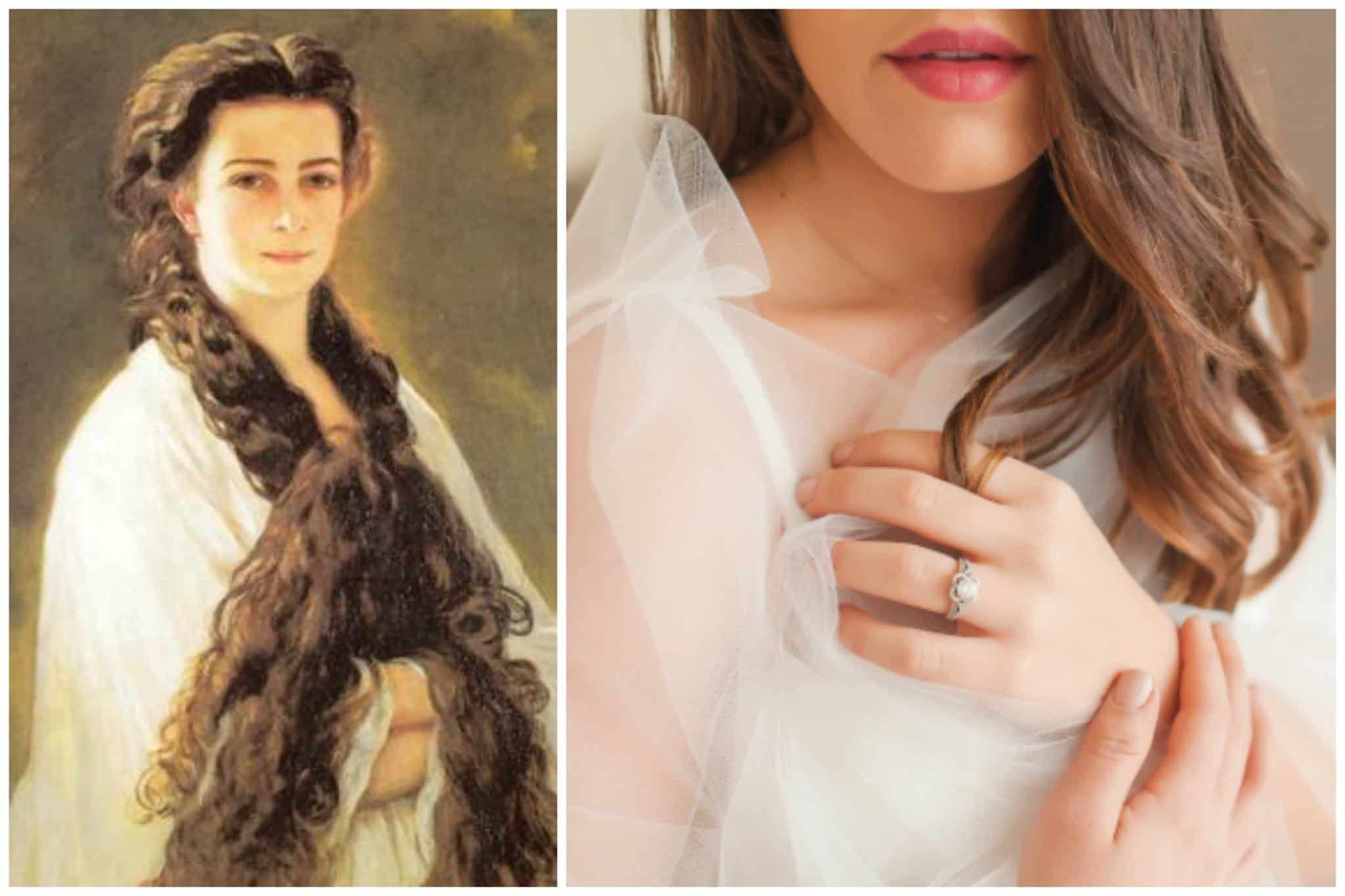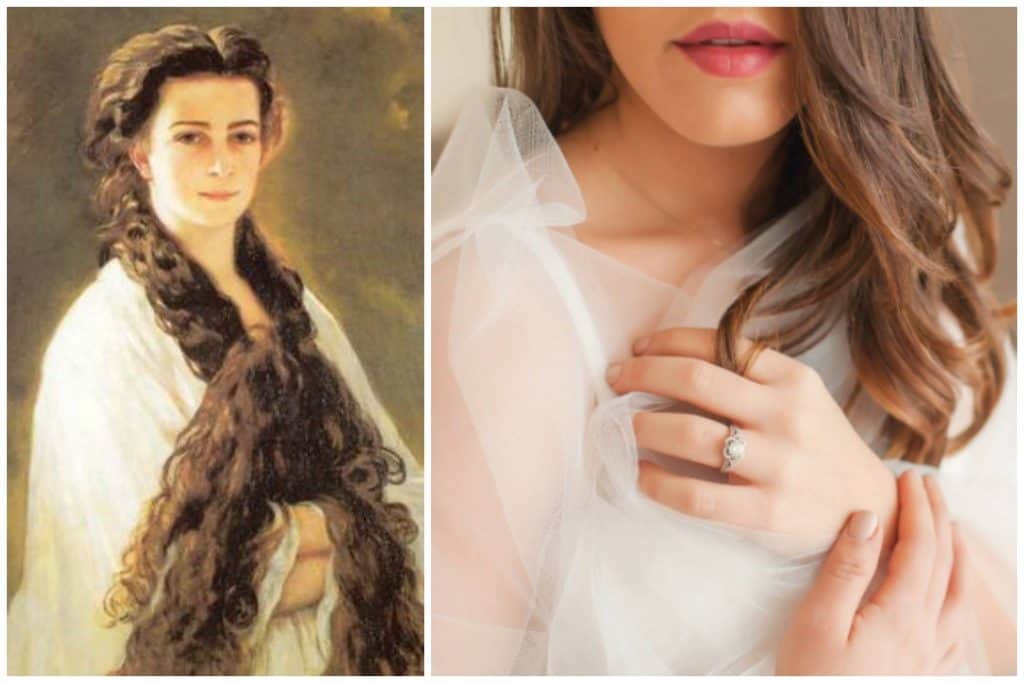 Would you ever consider posing for something like this if only your partner would see it?
Check out Casey's portfolio here, you might be surprised at how modest many of the images are.
Question 6:
Who here is more grateful for their own mother-in-law after reading about Aunt Sophie??
What would you done in Sisi's place after the births of her first 3 children?
Could you have stood up to Sophie?
Question 7:
Sisi's beauty comes at the price of a very intense regimen for her hair and skin every night.
On a scale of 1 - 10, how does your own beauty regimen compare?
1 = "I'm as busy as the scullery maids, who has time for that nonsense?"
10 = "Bring me the egg yolks, olive oil, lavender essential oils and a personal handmaiden to put feathers and flowers in my braids."
Question 8:
If you were coming to my house to discuss the book, I would so make an Apple Strudel for us to share.
Would you:
A) Take one delicate bite and then pass a la Sisi.
B) Gobble the whole thing down and ask for some chocolate like Aunt Sophie.
C) Pass and go have a beer with Franz.
Question 9:
"Things which matter most must never be at the mercy of things which matter least." - Goethe
I loved the author's use of quotes from Sisi's favorite plays (Midsummer Night's Dream) and books (Goethe) throughout the story but the quotes from Goethe were my favorite.
I've never read him myself, but I've been checking him out on Amazon and I'm tempted to give it a try. Anyone here read him maybe in high school or college?
This quote in particular stood out to me.
How true it is when applied to family and work/life balance in today's world!
Are you more of a Goethe or Shakespeare person?
Would you rather read a book or see a live performance of a Shakespeare play?
Question 10:
Does The Accidental Empress lead you to believe that Sisi convinced Franz to let Hungary have it's independence because she thinks it is the right thing to do or was it because of her love for Andrassy?
Here is his featured on the left, and her Hungarian coronation is on the right.
Is that him in the left of the coronation picture??
Book Club Party Menu
For the book club party treat, if a homemade apple strudel is out of your league, these easy apple desserts are far easier and still just as delicious!
You May Also Enjoy
If you enjoyed this book, you'd likely enjoy these other fun book club picks from through the years: