Tell Me Three Things by Julie Buxbaum is the official August pick for the Peanut Blossom Book Club for Recovering Readers.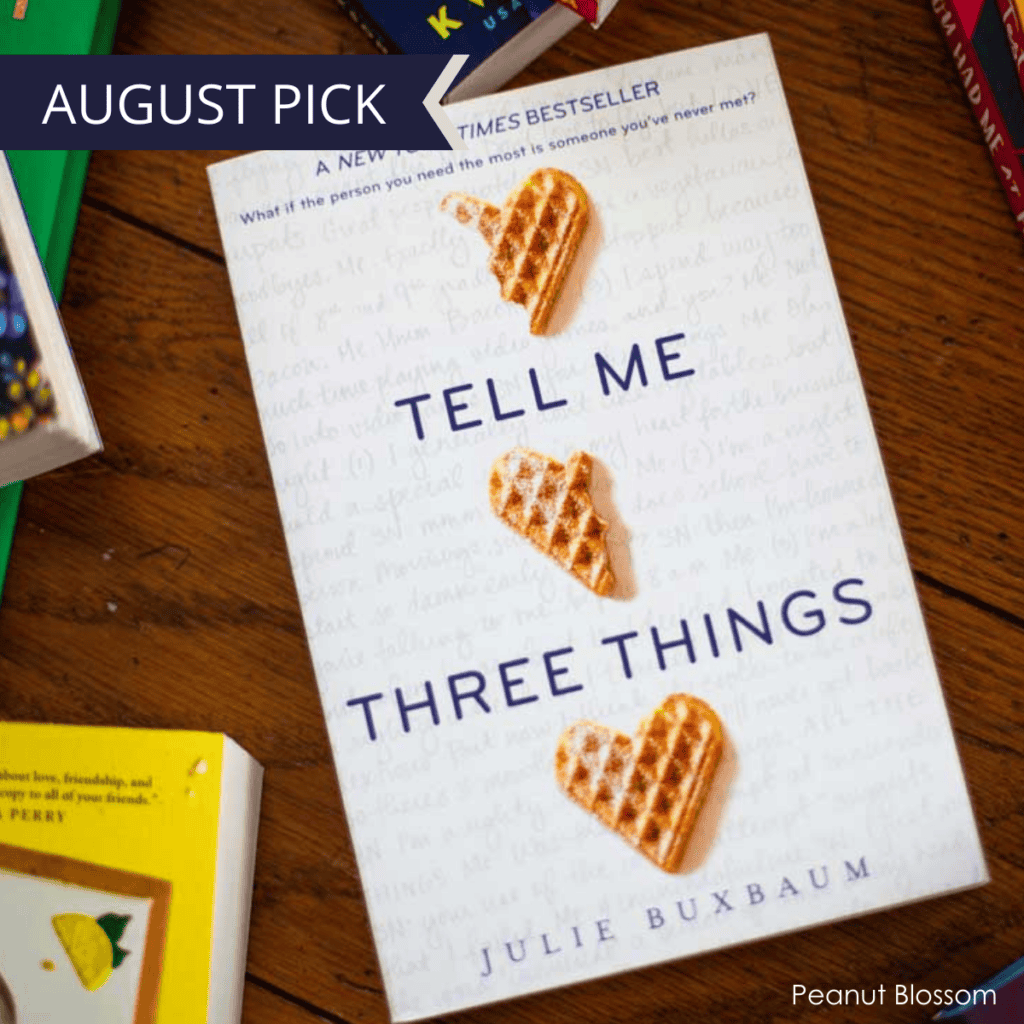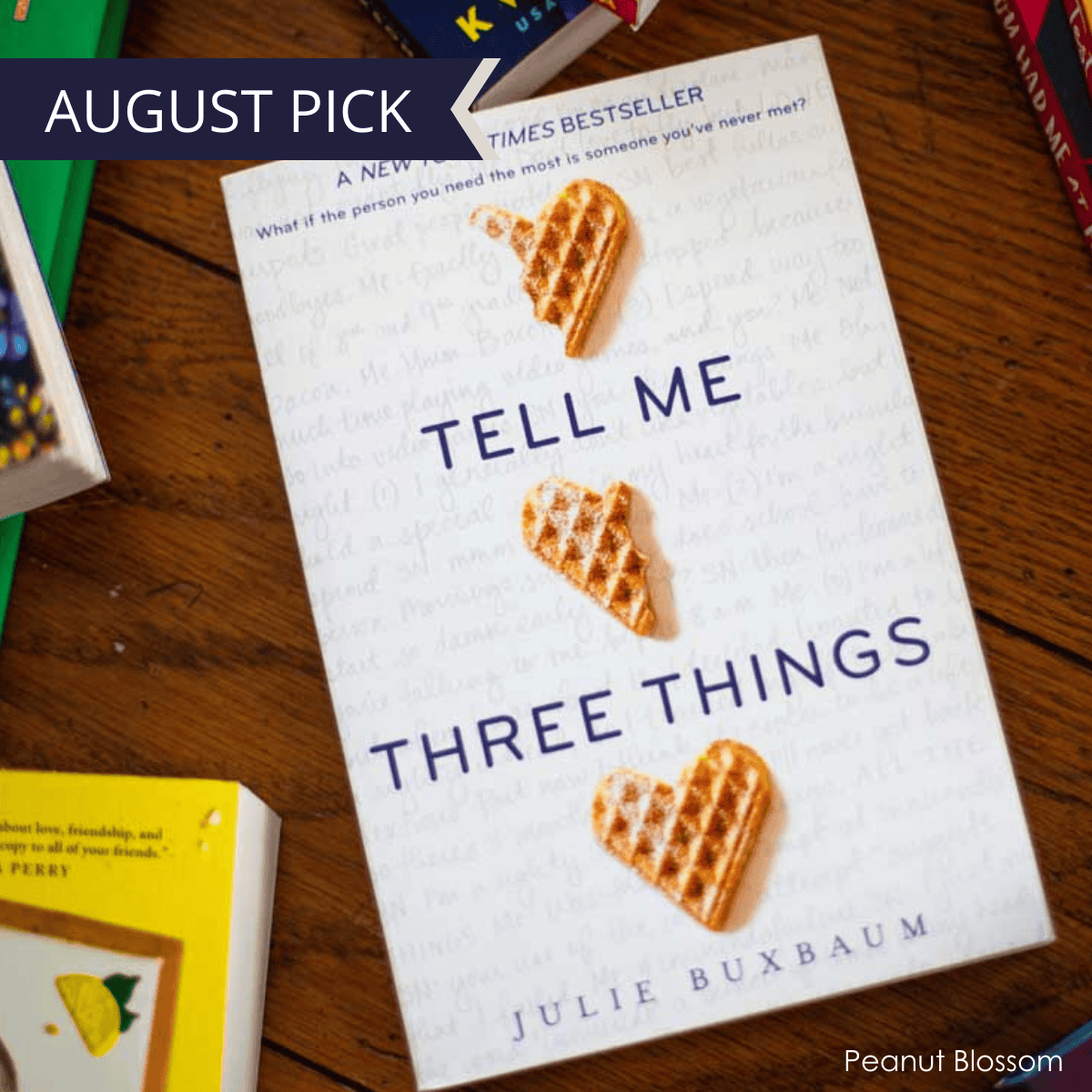 As we head into Back to School season, many of us are prepping to send our kids back into the classroom.
As adults, it is easy to forget how challenging it is to be a new student at a new school.
I love reading YA books as a mom because they are a fantastic reminder of what our kids are experiencing, through their eyes, not through our more experienced view.
Whether or not you have kids, you likely have memories -- both good and bad -- of your high school years. It's amazing to me how much we still forget about that time until a book like this month's pick puts us right back in those shoes.
I can't wait to hear your thoughts on this month's pick!

P.S. Just joining us? Don't miss the full 2021 line-up for our book club picks.
Want Free Reminders for Each Book?
Sign up for my book club newsletter right here:
August's Official Book Club Pick: Tell Me Three Things by Julie Buxbaum
I'm pleased to announce that this is our official August Pick for this year.
Get your copy of this month's book club pick:
Money-saving tricks for reading this month's book pick:
You can get the book from your library.
The Kindle version is a little bit cheaper than the paperback AND you can save money on the Audible version if you own the Kindle copy! I love to use the Amazon Whispersync feature to go back and forth between audio and digital reading.
What is this month's book about?
"With the perfect mix of comedy and tragedy, love and loss, and pain and elation, the characters in Julie Buxbaum's Tell Me Three Things come to feel like old friends who make any day better. This YA novel is sure to appeal to fans of Rainbow Rowell, Jennifer Niven, and E. Lockhart.
Everything about Jessie is wrong. At least, that's what it feels like during her first week of junior year at her new ultra-intimidating prep school in Los Angeles. It's been barely two years since her mother's death, and because her father eloped with a woman he met online, Jessie has been forced to move across the country to live with her stepmonster and her pretentious teenage son, and to start at a new school where she knows no one.
Just when she's thinking about hightailing it back to Chicago, she gets an email from a person calling themselves Somebody/Nobody (SN for short), offering to help her navigate the wilds of Wood Valley High School. Is it an elaborate hoax? Or can she rely on SN for some much-needed help?
Read the full description of the book here.
Discussion Questions for Tell Me Three Things
Want to discuss this month's book with your book club friends? Here are some great conversational questions to get the party started.
You can download the full discussion guide here and then print it to have handy.
Tell us 3 things about you.

Did you ever have to move and start over in a new school? How did it go?

Do you find the statement "There's an inverse relationship between your happiness in high school and your success in life" to be true?

Is it easier for you to talk to people in person or do you find it easier to connect online or through your phone?

What could Rachel and Jessie's Dad have done differently to make the kids feel more comfortable in their new family?

Would you uproot and move your family for a new relationship?

If you were Jessie, how would you have handled the bullying?

Could you connect with an anonymous stranger (if you were 100% certain they were safe)? Or do you need to know who's on the other end?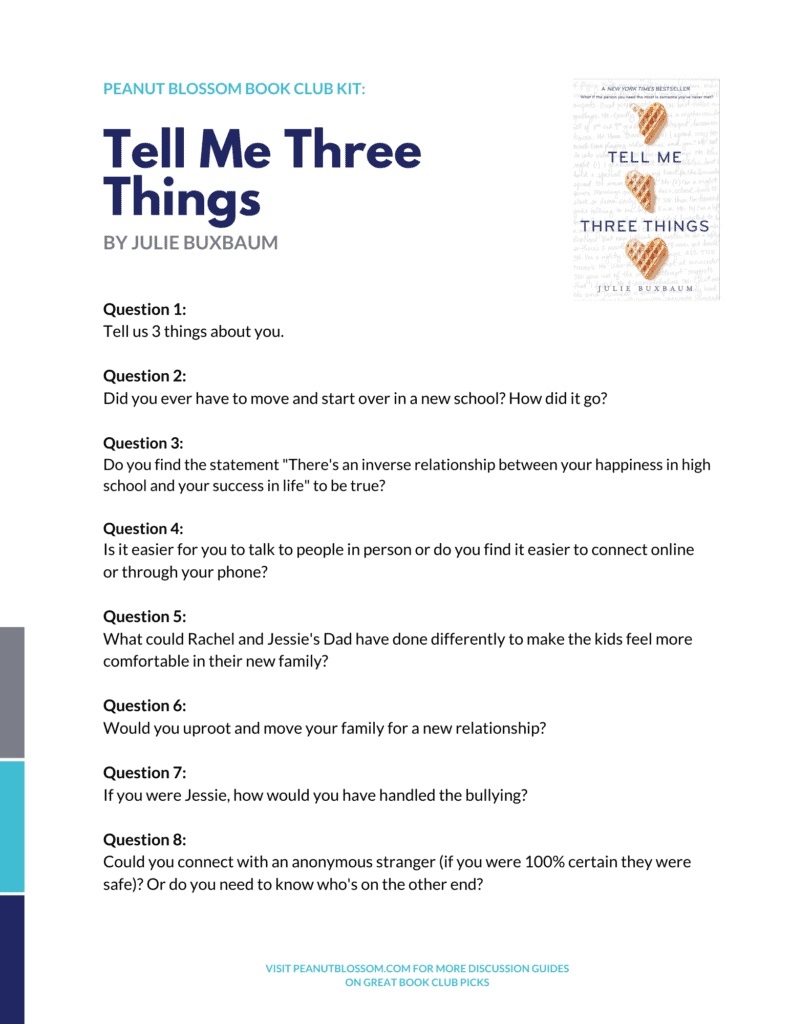 Book Club Party Recipes:
Since breakfast foods play a huge role in the plot of this month's book and are even featured on the cover itself, how fun would it be to do a "Breakfast for Dinner" party with your friends?