It is essential to teach kids to cook while they are young if you want them to grow into happy, healthy adults. Read the latest research on why parents should take the time to cook with their kids.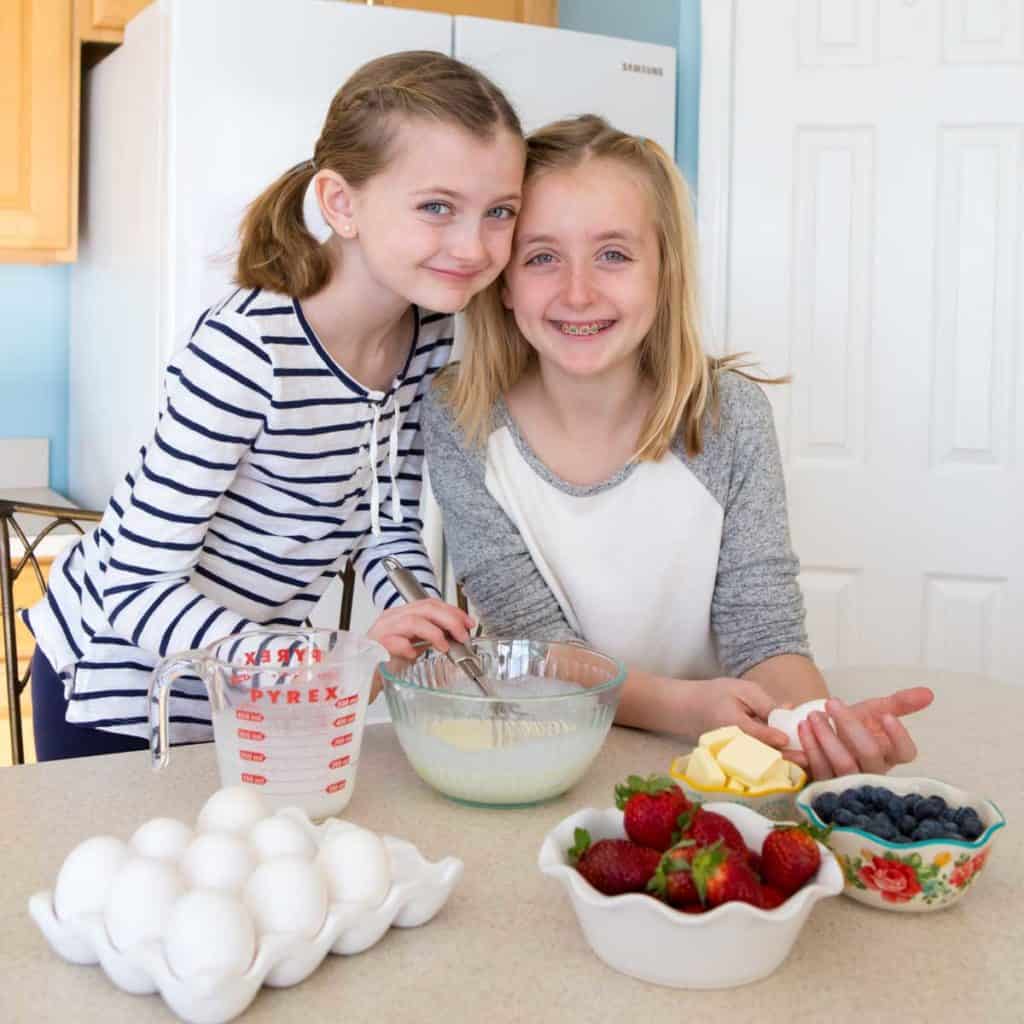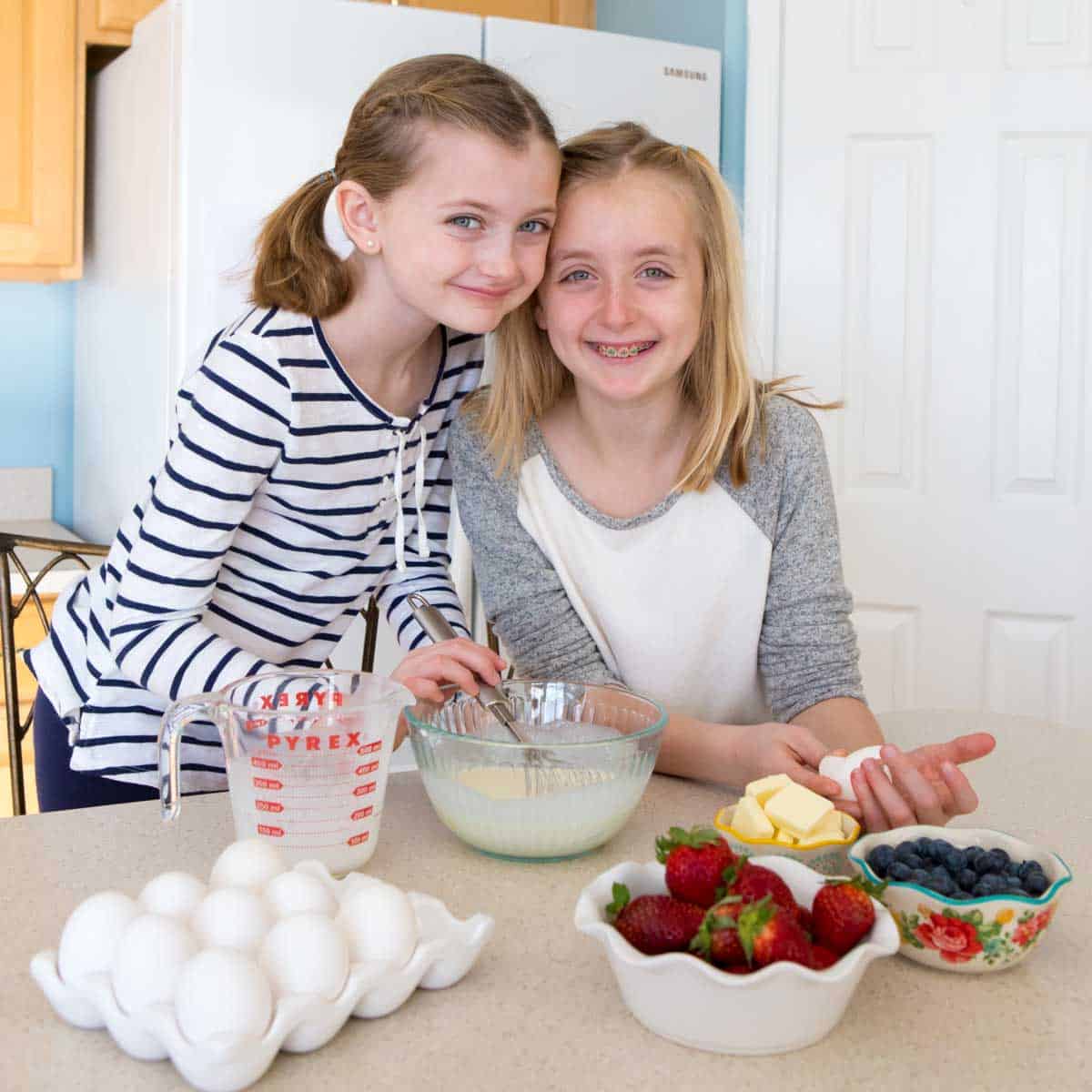 Jump to:
Modern family life is completely jam-packed with activities. I know how parents can struggle to squeeze in all the things they want to do with their kids in an average school week.
In our messy chaos, a very crucial life skill is being ignored. We are raising a generation of kids who don't know how to feed and care for themselves as adults. The rise of prepared meals at grocery stores hints at an entire population unable to cook their own food.
Time and again, food recalls are made with these store-prepped ingredients. If you want your children to be able to prepare a meal with the safest foods available, they are going to need basic cooking skills.
Today I want to chat with you about why it is absolutely crucial you teach your kids to cook--even if you don't know how to cook well yourself!

P.S. If you're already sold on cooking with your kids, you really don't want to miss our DIY Kids' Cooking Camp!
?‍?Why Should Kids Cook?
1. Home Economics is Gone:
We should teach kids to cook because schools are no longer teaching home ec and our children are suffering:
Kids are leaving the nest at age 18 without the basic life skills they need to take care of themselves. What was once taught as part of a home ec class, now falls on parents to teach their children. Schools are far too busy pushing math and reading every moment of the day to address things like meal planning, grocery shopping and cooking.
Marti Harvey wrote "Bring back home ec because our kids are lacking basic life skills" for the Dallas Post and says:
"How cool would it be if our kids knew how to shop for groceries and stay within a budget? These are the skills we learned in high school home economics, the skills all kids should have, whether they are college bound or heading straight into the workforce.
I've heard the argument that young people should learn these things from their parents, but my experience is that they don't, for various reasons."
2. Their Health Matters:
We should teach kids to cook because cooking with kids is good for their health:
Did you know that logging time in the kitchen is so good for your well-being that some therapists are recommending cooking classes as a way to treat depression and anxiety?
Kids today are so overwhelmed by pressures from school and friends, why not give them a therapist-recommended avenue for self-soothing?? This article by Melissa Locker at Southern Living on the emotional benefits of cooking is phenomenal.
If you think your kids are too young to be stressed by school, it happens far earlier than you think. Develop an interest in cooking with them now and you'll have solidified a lovely habit for when life does get rougher in the tween and teen years.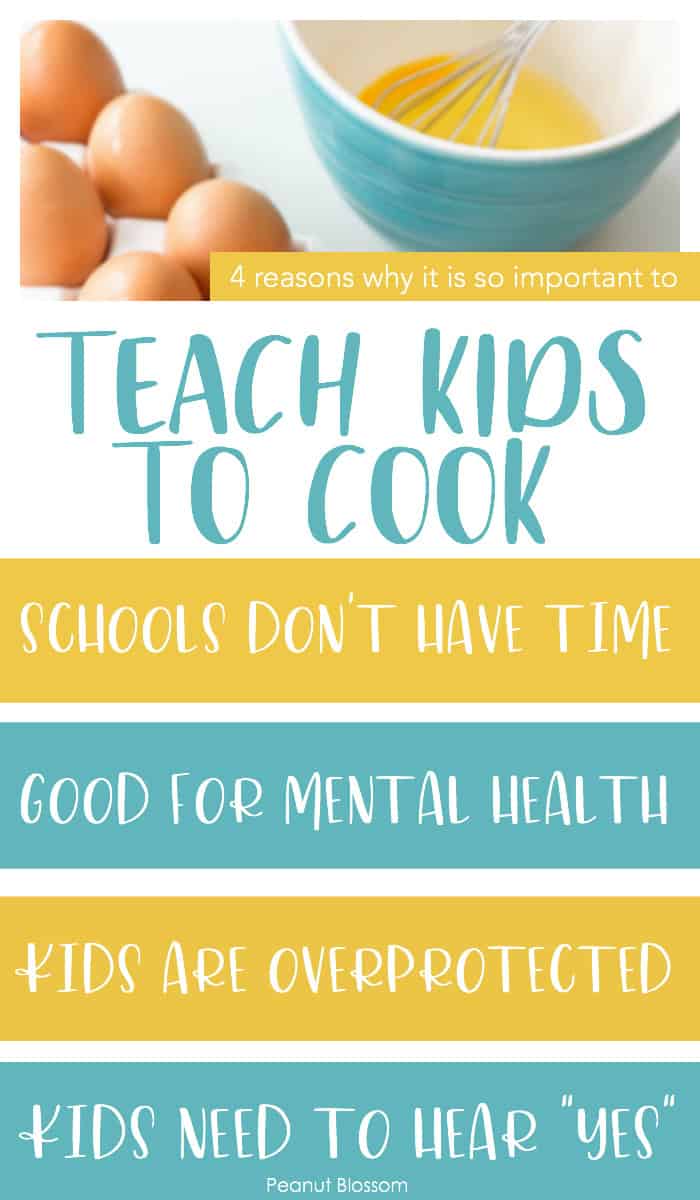 3. Kids Are Overprotected:
We should teach kids to cook because kids today are overprotected and cooking with them is a safe way to let them explore:
I was completely absorbed by this article on the Wall Street Journal: The Overprotected American Child
"Anne Marie Albano, director of the Columbia University Clinic for Anxiety and Related Disorders in New York, reminds parents that the ultimate goal is to have their children be self-sufficient by the time they leave home for college or the workplace. She and her colleagues have come up with a list of milestones that adolescents should achieve before high-school graduation."
Kids cooking classes not only allow children the opportunity to master a crucial life skill, but they also provide kids the opportunity to safely explore dangerous and thrilling tools like knives, oven heat, and burned dinners in a place you can still step in to help them if they need.
4. They Need to Hear "YES!"
We should teach kids to cook because in a world of "No's" they need someone to say "Yes":
Still not convinced? You need to take a second to read "How an episode of Chopped Junior changed the way I parent."
My favorite bit is:
"I sat there wondering how in the world kids so young could be so skilled and knowledgeable in the kitchen. And then I had an epiphany. It was so simple. They could do all of those things because somewhere along the line, somebody told them "YES."
What could your kids accomplish if you always responded YES to their requests to help or to their interest in trying something new?
Cooking is a low-risk adventure. Even the biggest failures have very minimal consequences. On the flipside, even the smallest successes have an enormous impact on children's self-confidence and willingness to experiment.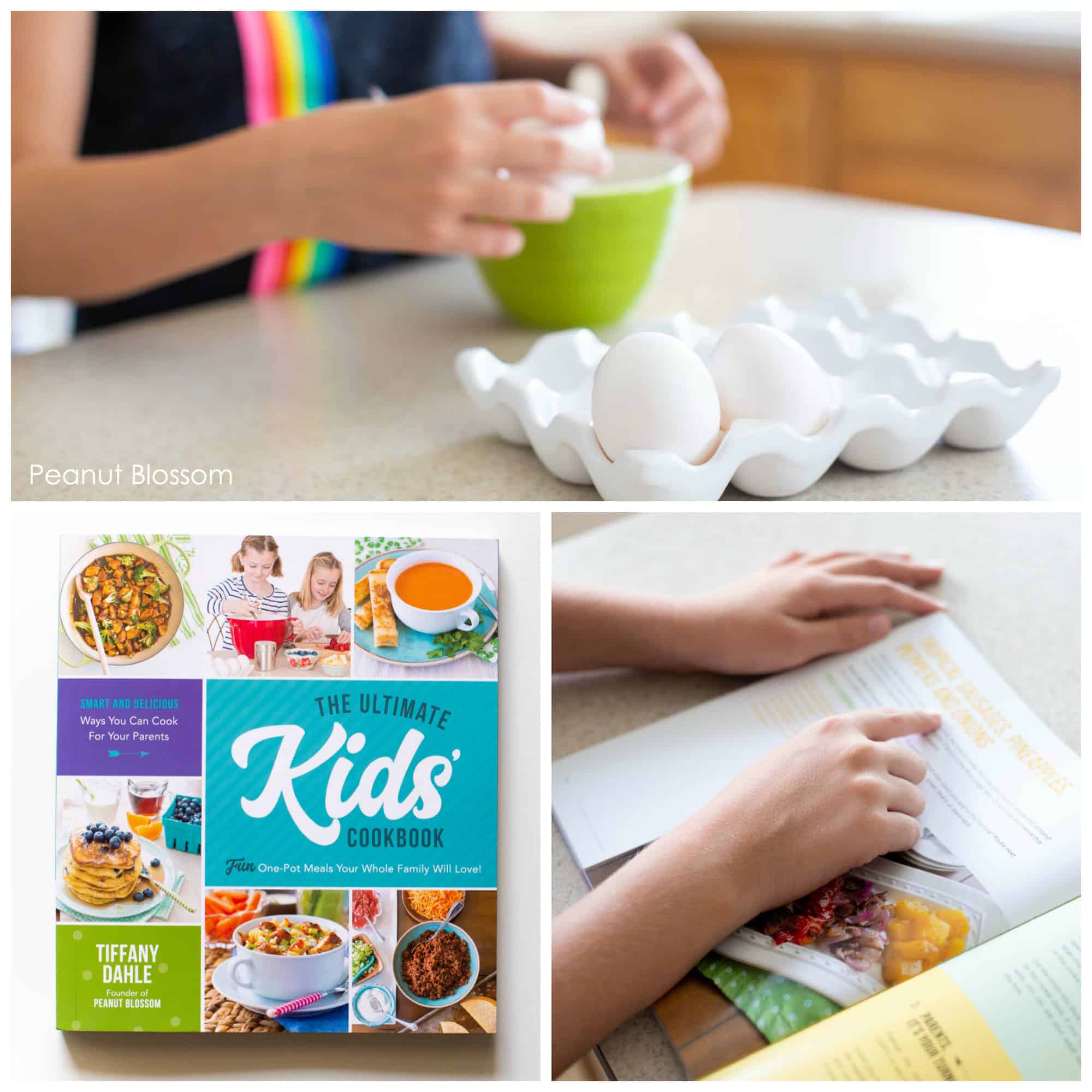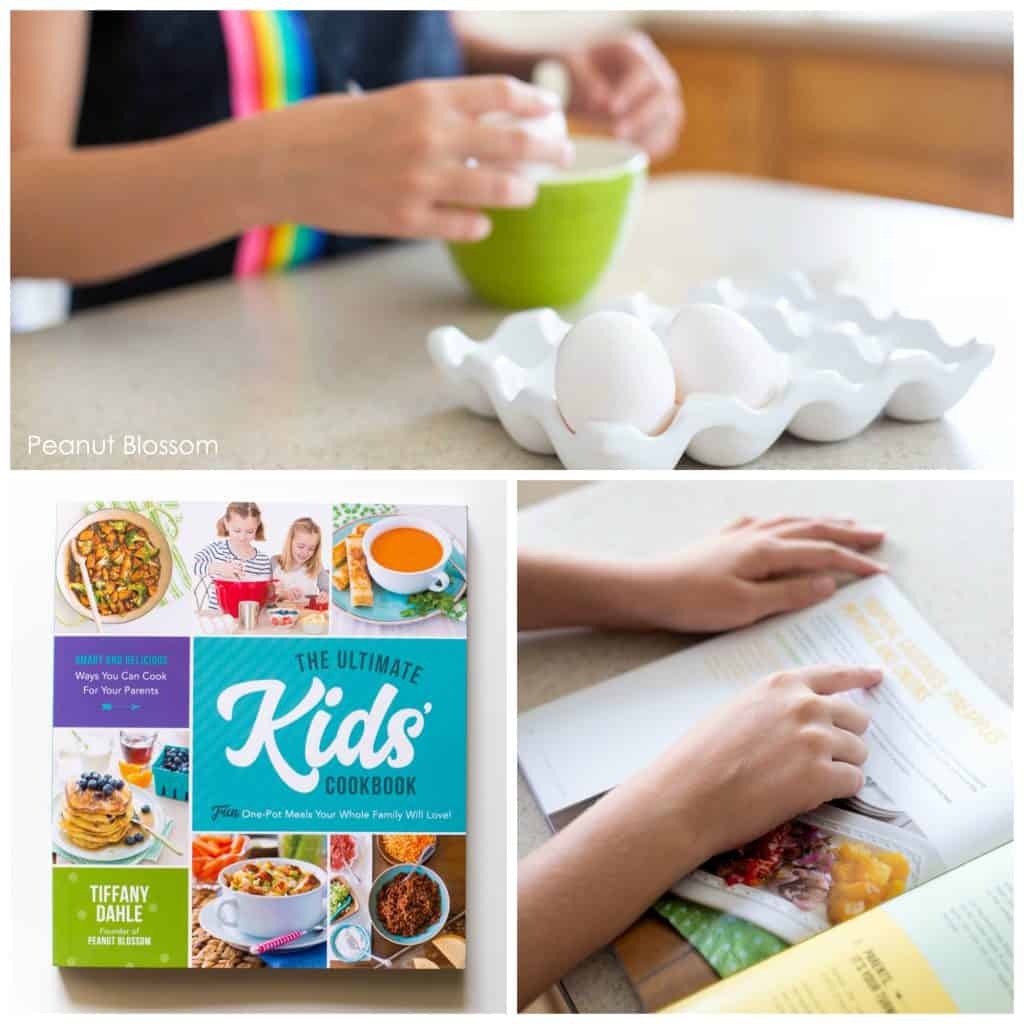 ?But What If I Can't Cook?
I know not all parents are confident in their own ability to cook and feel self-conscious about trying to teach their kids cooking skills they don't have themselves. That's exactly why I wrote The Ultimate Kids' Cook Book. Every recipe spells out exactly which tasks the children can do on their own and which ones the parents can step in with an assist.
The kids are put in charge of delegating the execution of each recipe. Even if you have very minimal cooking skills, you and your kids will have a fantastic time learning together.
The easy one-pot recipes are perfect for cooking with your kids for breakfast, lunch, or dinner. Whenever you have a pocket of time and need to get a real meal on the table, this book will hold your hand and walk you through cooking with your kids to make a dish you will all love.
You get your own copy of The Ultimate Kids' Cookbook here:
And if you want step-by-step help in getting started, don't miss my tips for hosting your own DIY cooking classes for kids right in your own kitchen!
?Best Tips for Parents:
Not sure where to really get started with teaching your kids how to cook? No worries, here are some useful tips for how to use my cookbooks for kids and kid-friendly recipes throughout this web site for your own families.