Sweep by Jonathan Auxier is the official August 2022 pick for the Peanut Blossom Book Club for Recovering Readers.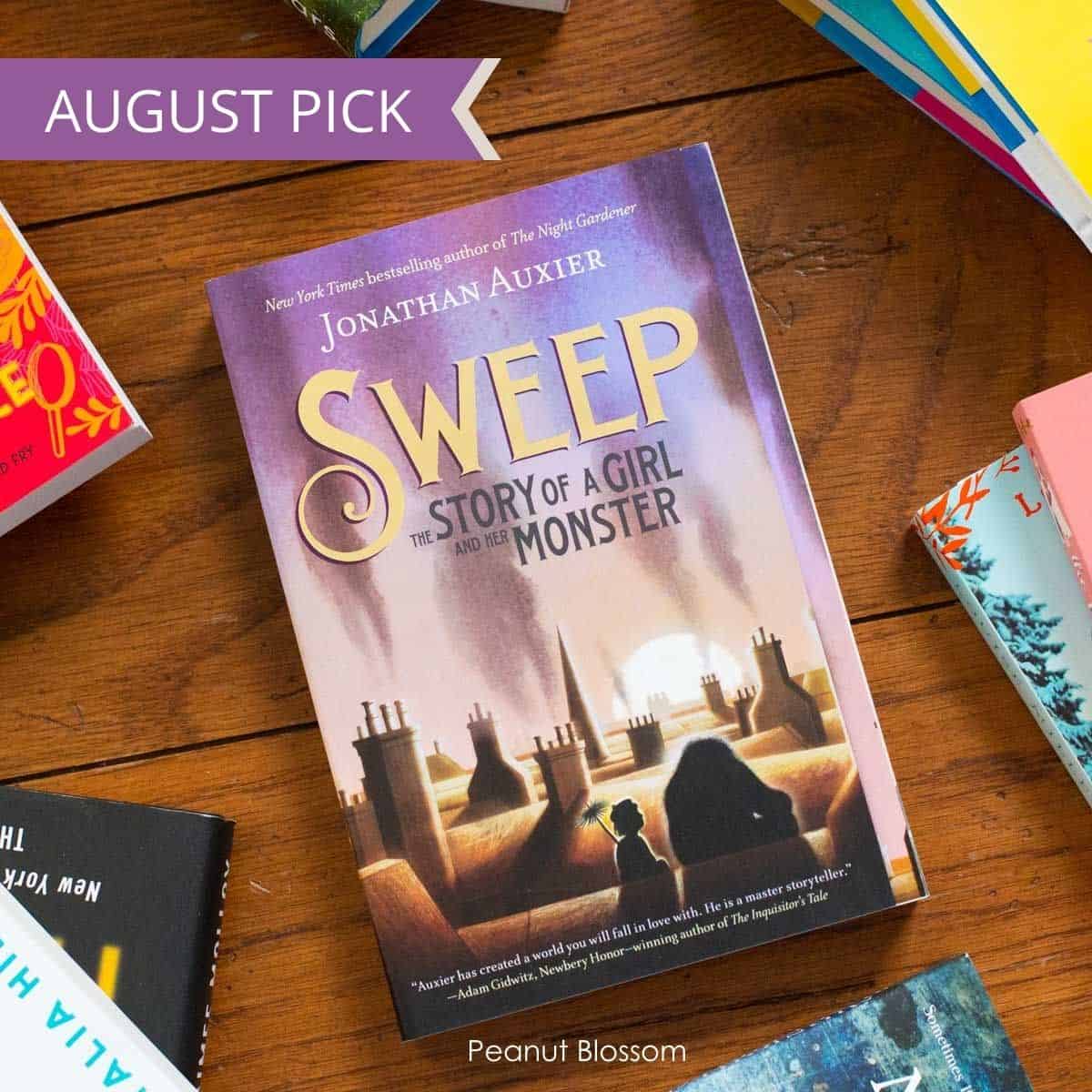 Every August I try to choose a book club book that takes place in a school setting as we enter Back to School season.
Some years, I pick a young adult book like Tell Me Three Things so we have a good reminder of what our kids are going through in high school.
This year, I decided to go a slightly different route and chose Sweep by Jonathan Auxier because it came so highly recommended in several homeschool groups I belong to.
I thought this middle grade novel would be an excellent choice to share with your own kids and spark fresh discussions around the family dinner table.
Common Sense Media says that this book pick is perfect for kids age 9 and up. You can decide if it is something you want to share with your own kids by reading their review here.
No kids? No problem.
I've never stopped enjoying reading excellent children's literature. A good book is a good book, I don't believe certain sections of the bookstore 'expire' once we hit a certain age.
And if you haven't read a children's book in many years, I hope this month's pick is a fun surprise!

Want Free Reminders for Each Book?
Sign up for my book club newsletter right here:
August Official Book Club Pick: Sweep by Jonathan Auxier
I'm pleased to announce that this is our official August Pick for this year.
Get your copy of this month's book club pick:
Money-saving tricks for reading this month's book pick:
What is this month's book about?
"For nearly a century, Victorian London relied on "climbing boys"—orphans owned by chimney sweeps—to clean flues and protect homes from fire. The work was hard, thankless, and brutally dangerous. Eleven-year-old Nan Sparrow is quite possibly the best climber who ever lived—and a girl. With her wits and will, she's managed to beat the deadly odds time and time again. But when Nan gets stuck in a deadly chimney fire, she fears her time has come. Instead, she wakes to find herself in an abandoned attic. And she is not alone. Huddled in the corner is a mysterious creature—a golem—made from ash and coal. This is the creature that saved her from the fire.

Sweep is the story of a girl and her monster. Together, these two outcasts carve out a life—saving one another in the process. By one of today's most powerful storytellers, Sweep is a heartrending adventure about the everlasting gifts of friendship and hope.
Read the full description of the book here.
Discussion Questions for Sweep
COMING SOON