101 fun ideas for your summer bucket list when you want to safely social distance this summer.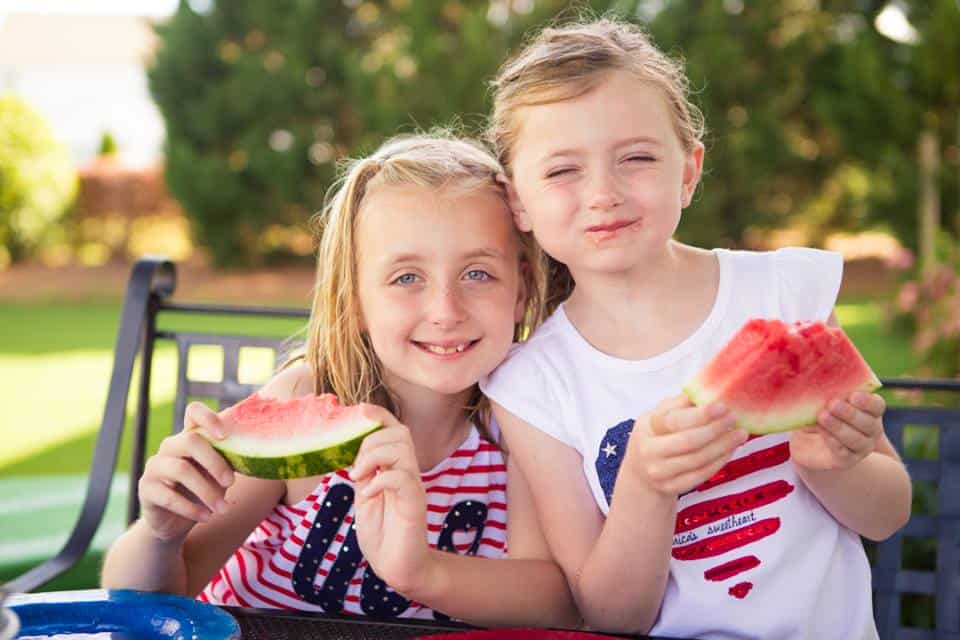 Summer vacation looks a lot different this year. With so much unknown and many popular summer break activities closed right now, you might be feeling like a summer bucket list would be a bad idea.
We've been making seasonal bucket lists for years. I'm not going to let a silly pandemic keep us from having our fun. All you need are a few clever tricks to have the best-ever summer bucket list fr a safe social-distance summer break.
When I go to fill out our bucket list each year, I follow these simple steps:
1. Start the list with YOUR ideas first to set the tone: I tell the kids we're going to make our bucket list together but I jump right in with a few ideas for the list so they know the kind of things I'm trying to add.
2. Fill the list with things you know you'd do anyway: The biggest benefit of a bucket list is that you are making the intentional choice to have some fun as a family. My guess is you'd have fun together with or without a bucket list but who doesn't love having little tick-boxes to check off?? What are your favorite things to do together in the summer? Make sure they are on your list!
3. Add the word "Party" or "Challenge" to any regular activity to up the fun level: We're going to have a book reading PARTY and an ice cream flavor CHALLENGE this summer. That sounds so much more fun that "Read a book" and "Have ice cream."
4. Take a picture!: Summer bucket lists make amazing photo prompts for moms. Capture each bucket list item with a picture as you complete the list. You can make a fun slideshow video at the end of the summer to enjoy all your fun with a night-before-school viewing party. Check out my favorite easy movie tool here.
Just remember, this is an inspiration list only. Our final list usually has 20 or fewer items on it, 101 would be a bit intense for most families.
I hope you have fun with these ideas!

P.S. If you want more fun family ideas from moms like you, be sure to come and join the Happy Family Movement group over on Facebook. It's a great place to get inspiration from friends.
101 easy summer bucket list ideas for a safe social distance summer break: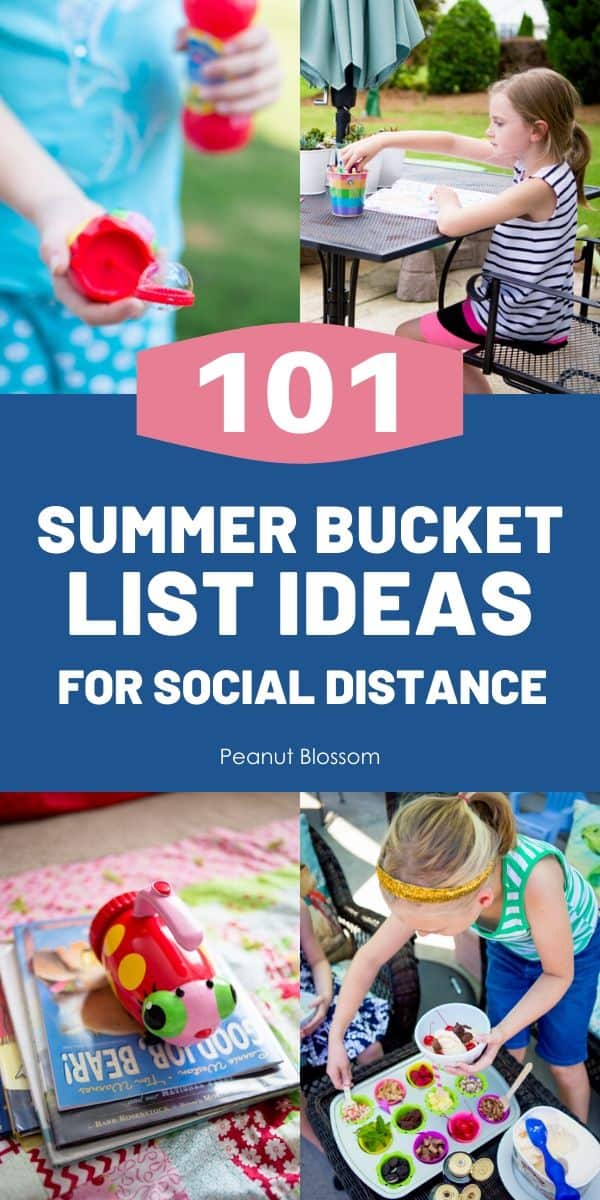 Have a popsicle picnic in the yard.
Host a bubble gum blowing challenge.
Create a driveway chalk art gallery. Check out the fun tips from my friend Zina here.
Have a fancy reading picnic on the floor or outside.
Go for family bike ride.
Explore a new local park you've never been to.
Try a new flavor of ice cream or a new ice cream shop. One year, we tried a new local ice cream spot every week!
Choose a read-aloud book that has been made into a movie, watch the movie when you're done with the book. Here's a list to get you started.
Have a sprinkler party in the yard.
Mix your own homemade giant bubble solution.
Write a letter to a family member far away.
Play with sparklers for July 4th.
Plan and cook a fancy dinner for mom & dad. Here's a kid-friendly Italian menu for inspiration.
Host a board game tournament with prizes.
Make a reading challenge -- the family member who reads the most pages/books by end of summer gets to pick the restaurant for take-out dinner.
Have a living room camp out -- sleep in sleeping bags and read stories by flashlight. Read camping picture books.
Learn a new backyard game.
Have a family BBQ party.
Go for a nature walk, display your finds in a jar.
Have a family dance party, crank the music loud and sing along.
Learn a new card game.
Have a paper plane flying contest.
Try making homemade lemonade from scratch. This strawberry lemonade is awesome.
Learn to make popcorn in a pot on the stove.
Experiment with a new popcorn seasoning.
Have a poetry tea time with real tea and snacks.
Learn to draw something new from a YouTube tutorial. We love Art for Kids Hub.
Have a water balloon fight.
Go on a day trip to an outdoor park farther away from home.
Plant some herbs in pots and pick a recipe that will use them.
Order caterpillars and raise butterflies to release. Plant a butterfly garden for them!
Learn about the constellations and stay up late to gaze at the stars.
Try making homemade popsicles from scratch. We love these rocket pops.
Have a recycled materials crafting challenge.
Gather all the LEGO in the house and see how many things you can build in an afternoon.
Make a pillow fort out of the couch cushions.
Paint garden rocks with happy messages and hide them in the neighborhood.
Learn how to make friendship bracelets.
Ask grandma and/or grandpa what their favorite game was as a kid and learn how to play it.
Go on a neighborhood scavenger hunt.
Have a blind-folded taste-test challenge and try different kinds of lemonade or ice cream sundae sauces.
Visit a farmer's market and pick out a new food to try at home.
See if you can grow a new plant from a kitchen scrap (pineapple, avocado, lettuce, celery, garlic, etc.)
Host a "Talk Like a Pirate" Day
Take a virtual field trip to a zoo or museum, you can find videos all over YouTube.
Plan a themed vacation night--make a dinner that reminds you of your destination, dress up like you're on vacation, play music, etc.
Have a jump rope contest.
Play hopscotch in the driveway.
Play 4-square in the driveway.
Have a pajamas-only day (on purpose!) including Mom & Dad. Serve breakfast for dinner.
Watch an epic summer blockbuster movie the kids have never seen.
Make homemade ice cream.
Learn how to fish at a local lake.
Visit a local garden.
Find a Little Free Library and add a book to the collection.
Make homemade puppets and write a simple play for them to perform.
Make paper snowflakes, turn down the AC, and watch Frozen on a really hot day.
Host a Christmas in July party on July 25. Watch your favorite Christmas movie and bake sugar cookies.
Celebrate Harry Potter's birthday with a read-aloud session or movie and Harry Potter themed snacks.
Make Jello Jigglers.
Make a summer-themed slime.
Start a family book club with friends. Meet up over Zoom.
Have an "unlimited screens" day and pick a couple new (free) game apps to download.
Have a "no screens" day and see how much time you can spend outside without melting.
Play flashlight tag.
Make a bird feeder and see if you can find a new bird in your yard.
Watch the clouds and look for fun shapes.
Learn a magic trick.
Eat watermelon in giant slices.
Eat corn on the cob.
Make rootbeer floats.
Find a place to watch the sunset.
Fly a kite.
Make a memory jar.
Learn a new dance.
Make a backyard obstacle course.
Have a hotdog bar with chili, cheese, and other toppings.
Make a comic book of your summer adventures.
Go geo-caching.
Take photo booth pictures for fun using a cell phone.
Make tie-dye shirts.
Make an epic over-the-top sundae in one giant bowl that is meant to be eaten by the whole family.
Complete a jigsaw puzzle.
Read under a tree in the yard.
Skip rocks at a local pond.
Build a time capsule.
Catch fireflies.
Make s'mores over a backyard firepit or s'mores bars in the oven.
Have fondue for dinner.
Jump in a puddle.
Make a giant tic-tac-toe board in the lawn using brooms or jump ropes. Use balloons for markers.
Play frisbee.
Have a hula hoop contest.
Host a family talent show.
Have a picnic breakfast at a park.
Try origami projects.
Go to the library or check out the digital services your branch offers.
Wash the car by hand with lots of sponges and bubbles.
Make a mini golf course out of found objects in your yard.
Learn to jump double dutch jump rope.
Watch a baseball-themed movie.