These are the very best book club books to read with your friends this summer.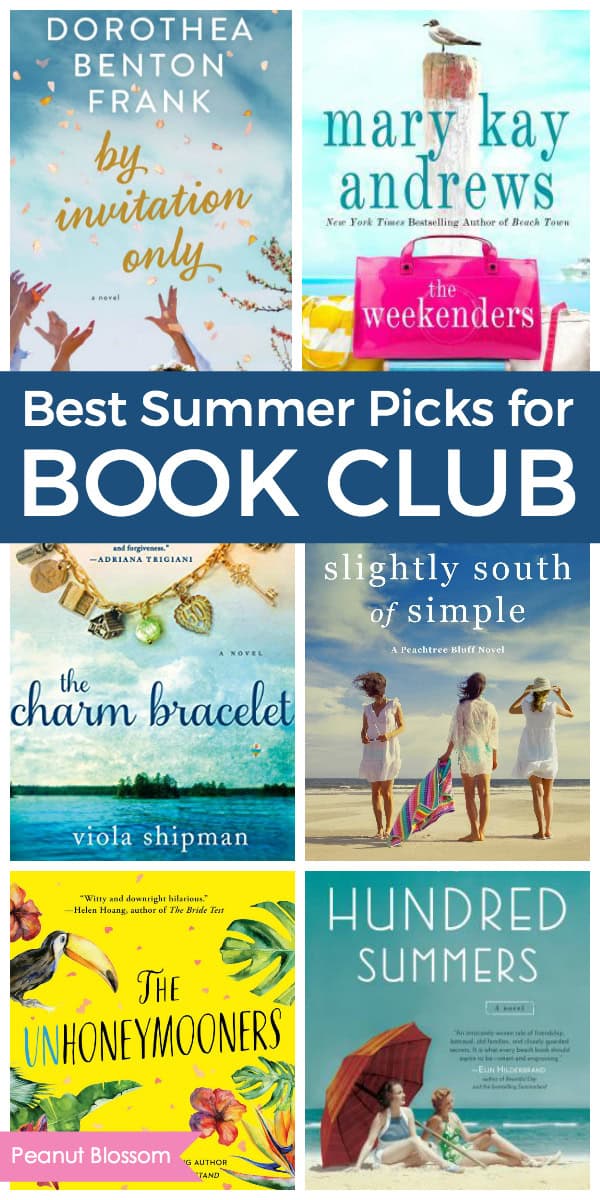 Over the last 6 years, the Peanut Blossom Book Club for Recovering Readers has been enjoying fun summertime beach reads together.
As I pick each year's line-up, I know that once May comes, mom schedules get crazy busy. When the kids are home for summer vacation, it can feel nearly impossible to find the time to read.
And when we do? Getting our concentration to cooperate can be an extra challenge.
So, every year I am sure to include a few extra fun summery books to enjoy with our book club. I've rounded up my favorites for you to enjoy with your friends this summer.

P.S. Want to join our book club? Check out our 2020 book club reads here.
The best books for your book club to read this summer:

By Invitation Only by Dorothea Benton Frank
4.5 stars || 570+ reviews
Our June 2020 Pick:
I'm so excited to read this book next month with our book club. Come and join the fun here.
Summary:
"By Invitation Only is a tale of two families, one struggling to do well, one well to do, and one young couple—the privileged daughter of Chicago's crème de la crème and the son of hard-working Southern peach farmers.
Dorothea Benton Frank offers a funny, sharp, and deeply empathetic novel of two very different worlds—of limousines and pickup trucks, caviars and pigs, skyscrapers and ocean spray—filled with a delightful cast of characters who all have something to hide and a lot to learn. A difference in legal opinions, a headlong dive from grace, and an abrupt twist will reveal the truth of who they are and demonstrate, when it truly counts, what kind of grit they have. Are they living the life they want, what regrets do they hold, and how would they remake their lives if they were given the invitation to do so?"
READ BY INVITATION ONLY
---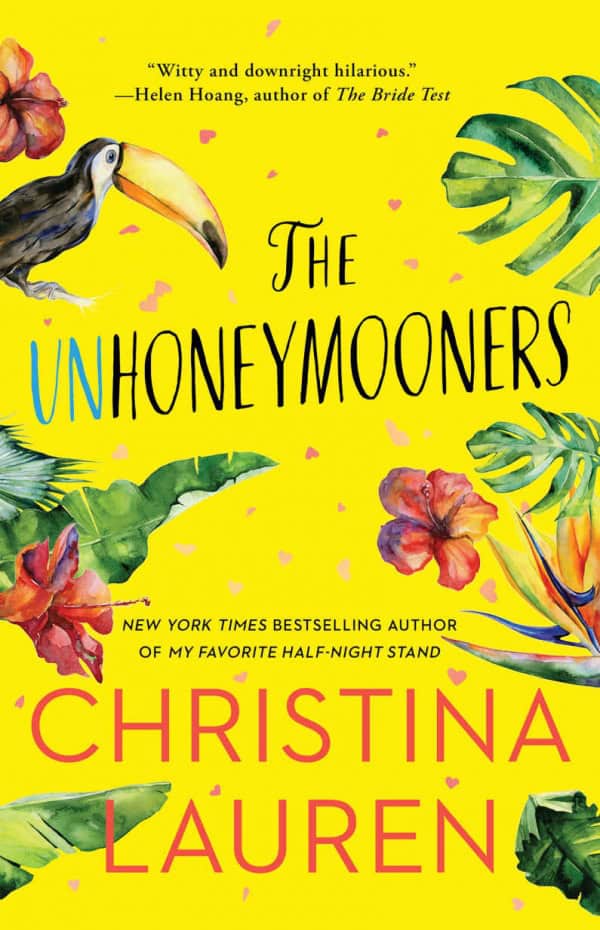 The Unhoneymooners by Christina Lauren
4.5 stars || 1,100+ reviews
February 2020 Pick:
This was just the perfect tropical destination fun to read in the middle of winter, it would be even more fun to read during the summertime.
You can find our book club questions for The Unhoneymooners here.
Summary:
"Olive Torres is used to being the unlucky twin: from inexplicable mishaps to a recent layoff, her life seems to be almost comically jinxed. By contrast, her sister Ami is an eternal champion . . . she even managed to finance her entire wedding by winning a slew of contests. Unfortunately for Olive, the only thing worse than constant bad luck is having to spend the wedding day with the best man (and her nemesis), Ethan Thomas.
Olive braces herself for wedding hell, determined to put on a brave face, but when the entire wedding party gets food poisoning, the only people who aren't affected are Olive and Ethan. Suddenly there's a free honeymoon up for grabs, and Olive will be damned if Ethan gets to enjoy paradise solo.
Agreeing to a temporary truce, the pair head for Maui. After all, ten days of bliss is worth having to assume the role of loving newlyweds, right? But the weird thing is . . . Olive doesn't mind playing pretend. In fact, the more she pretends to be the luckiest woman alive, the more it feels like she might be."
READ THE UNHONEYMOONERS
---
The Weekenders by Mary Kay Andrews
4.5 stars || 400 reviews
Our June 2018 Pick:
Mary Kay Andrews is one of my favorite beach reads authors. You can find our book club discussion for The Weekenders here.
Summary:
"Some people stay all summer long on the idyllic island of Belle Isle, North Carolina. Others come only for the weekends-and the mix between the regulars and "the weekenders" can sometimes make the sparks fly. Riley Griggs has a season of good times with friends and family ahead of her on Belle Isle when things take an unexpected turn. While waiting for her husband to arrive on the ferry one Friday afternoon, Riley is confronted by a process server who thrusts papers into her hand. And her husband is nowhere to be found.
So she turns to her island friends for help and support, but it turns out that each of them has their own secrets, and the clock is ticking as the mystery deepens...in a murderous way. Cocktail parties aside, Riley must find a way to investigate the secrets of Belle Island, the husband she might not really know, and the summer that could change everything."
READ THE WEEKENDERS
---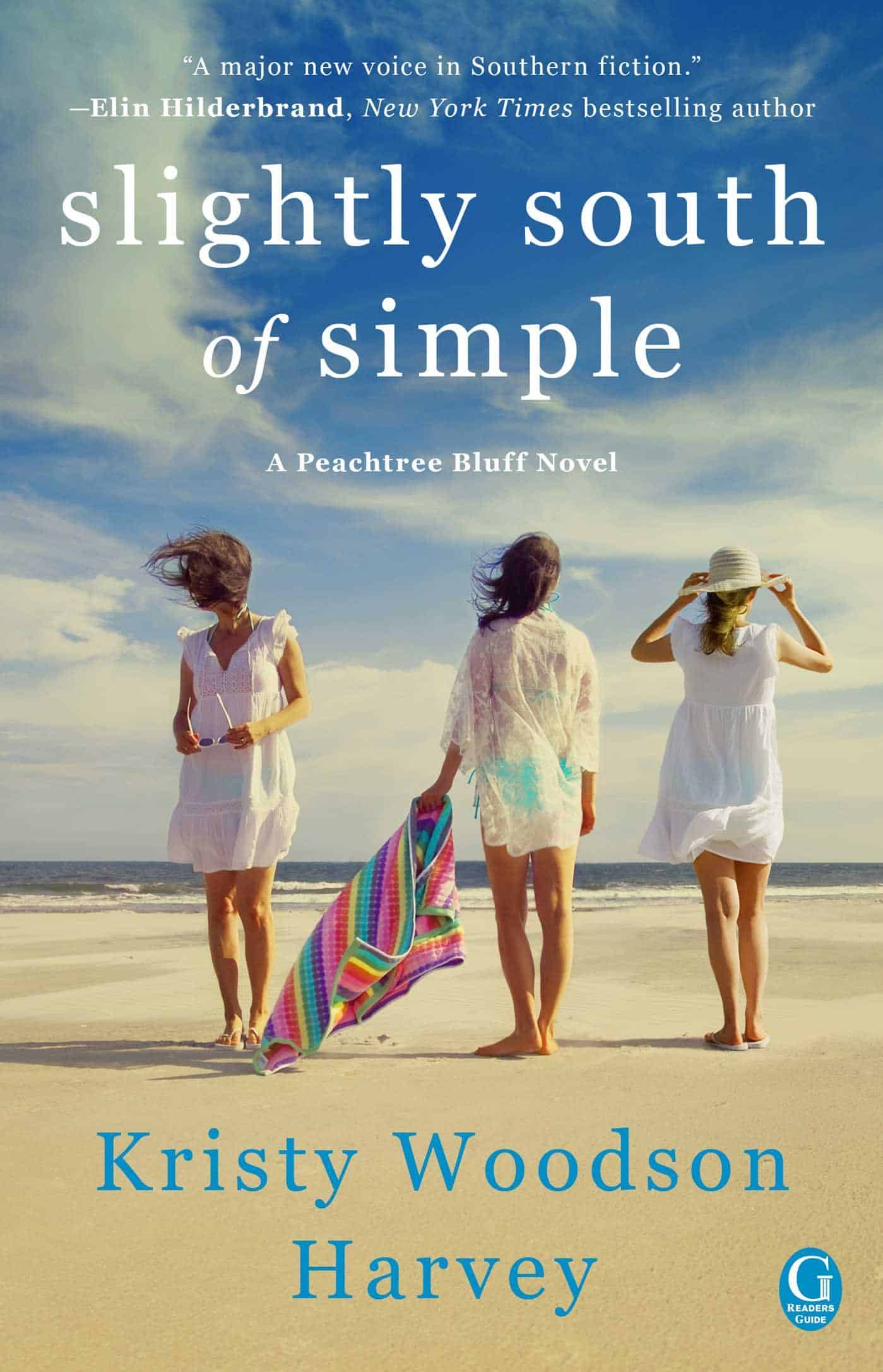 Slightly South of Simple by Kristy Woodson Harvey
4.5 stars || 415+ reviews
Our July 2018 Pick:
I'm always a sucker for a beach read set in a southern beach town. Slightly South of Simple was a great fit. You can read our book club discussion guide for Slightly South of Simple here.
Summary:
"Caroline Murphy swore she'd never set foot back in the small Southern town of Peachtree Bluff; she was a New York girl born and bred and the worst day of her life was when, in the wake of her father's death, her mother selfishly forced her to move—during her senior year of high school, no less—back to that hick-infested rat trap where she'd spent her childhood summers. But now that her marriage to a New York high society heir has fallen apart in a very public, very embarrassing fashion, a pregnant Caroline decides to escape the gossipmongers with her nine-year-old daughter and head home to her mother, Ansley.
Ansley has always put her three daughters first, especially when she found out that her late husband, despite what he had always promised, left her with next to nothing. Now the proud owner of a charming waterfront design business and finally standing on her own two feet, Ansley welcomes Caroline and her brood back with open arms. But when her second daughter Sloane, whose military husband is overseas, and youngest daughter and successful actress Emerson join the fray, Ansley begins to feel like the piece of herself she had finally found might be slipping from her grasp. Even more discomfiting, when someone from her past reappears in Ansley's life, the secret she's harbored from her daughters their entire lives might finally be forced into the open."
READ SLIGHTLY SOUTH OF SIMPLE
---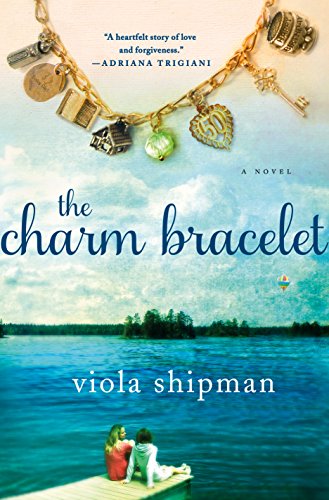 The Charm Bracelet by Viola Shipman
4.5 stars || 350+ reviews
Our April 2017 Pick:
This was a hugely popular pick from 2017. Our book club members loved it. You can read our book club discussion for The Charm Bracelet here.
Summary:
"Through an heirloom charm bracelet, three women will rediscover the importance of family and a passion for living as each charm changes their lives.
On her birthday each year, Lolly's mother gave her a charm, along with the advice that there is nothing more important than keeping family memories alive, and so Lolly's charm bracelet would be a constant reminder of that love.
Now seventy and starting to forget things, Lolly knows time is running out to reconnect with a daughter and granddaughter whose lives have become too busy for Lolly or her family stories.
But when Arden, Lolly's daughter, receives an unexpected phone call about her mother, she and granddaughter Lauren rush home. Over the course of their visit, Lolly reveals the story behind each charm on her bracelet, and one by one the family stories help Lolly, Arden, and Lauren reconnect in a way that brings each woman closer to finding joy, love, and faith."
READ THE CHARM BRACELET
---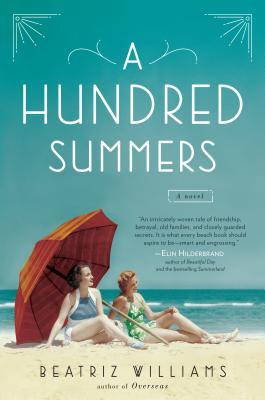 A Hundred Summers by Beatriz Williams
4.5 stars || 1000+ reviews
Our June 2016 Pick:
If your book club loves historical fiction, this is the perfect summer book to read together. You can read our book club discussion for A Hundred Summers here.
Summary:
"Lily Dane has returned to Seaview, Rhode Island, where her family has summered for generations. It's an escape not only from New York's social scene but from a heartbreak that still haunts her. Here, among the seaside community that has embraced her since childhood, she finds comfort in the familiar rituals of summer.

But this summer is different. Budgie and Nick Greenwald—Lily's former best friend and former fiancé—have arrived, too, and Seaview's elite are abuzz. Under Budgie's glamorous influence, Lily is seduced into a complicated web of renewed friendship and dangerous longing.

As a cataclysmic hurricane churns north through the Atlantic, and uneasy secrets slowly reveal themselves, Lily and Nick must confront an emotional storm that will change their worlds forever..."
READ A HUNDRED SUMMERS
Looking for more great books to read this summer?