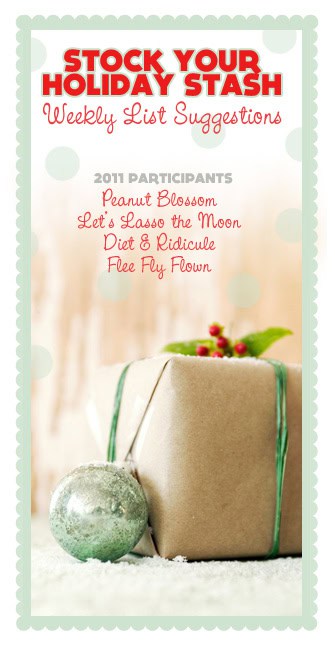 Today's edition of our Stock Your Stash series of holiday gift guides is focusing on that special lady in your life. There are many women I could choose to focus my contribution on but I'd like to take this opportunity to be a little bold. Today I'm sharing a gift guide for You!
If you've been watching my photo projects unfold for the last couple years and you're yearning for better equipment, now is the perfect time of year to take that leap. There are so many great deals out there on camera gear.
If you don't know where to start and are overwhelmed, today I'm not holding back. I want to tell you exactly what I would buy without sugar coating it! Because even though I'm a big proponent of needing to know how to use your equipment, sometimes it really is the better equipment that makes the photo.
Peanut Blossom's Official Gift Guide for the budding photographer wanting a DSLR:
Camera body:

Canon T1i, T2i, or T3i series (I'm not even going to discuss Nikon. Not because they're not wonderful cameras but because I'm a Canon girl and don't want to steer you wrong with something I don't know enough about.)
This series of camera bodies is a step up from the absolute beginner Rebel series. It is a fantastic place to start and has plenty of features for you to grow into. In the end though, it's not so much the body as it is the lens you put on it. The lens makes a far greater impact on the image, so keep on reading here.
Lenses:
There are pros and cons for buying the "kit lens" that comes as part of a camera package. This decision is ultimately up to you. I did purchase a kit with the 18-55mm lens. I don't really regret it but I almost never use the lens. If money is an issue, just buy the camera body and then follow the next recommendations:
- 50 mm f/1.8: CRUCIAL if you really want to experiment with photography and capturing that blurry background. Your kit lens will NOT give you that look because the aperture doesn't open wide enough. You want the f-stop number to ideally be below 2. The smaller the number the better (also the more expensive.) This is a fantastic and affordable place to start with the higher quality lenses beyond the kit. It's running about $100 right now and is by far the cheapest option available.
- 35mm f/2: If money isn't as tight for you, splurge and get the 35mm lens. If you can afford it, you can skip the recommended 50mm altogether and just go straight for this lens. On the Canon T1i you will really appreciate the extra wiggle room this lens provides. For more info, you can see my entire post about it here. I LOVE this lens and I'd say the majority of the pictures of my girls you see on the blog are taken with it.
- 85mm f/1.8: If you're going all out, THIS is the dream lens I'd put on my wish list. The focal length is TIGHT on a crop sensor body like the T1i but it is an amazing lens. It is definitely a secondary lens though. Be sure you have either the 50 or the 35 listed above first. Most of my food photography was taken with this lens but I've also used it for some beautiful portraits. It's known as an outdoor portrait lens but I use it indoors as my "stealth lens" meaning I can capture my peanuts from so far away they don't know I'm taking their picture. Great for candid shots of real moments.
NOTE: All three lenses I'm recommending to you are prime lenses, which means they do not zoom. To "zoom" you need to move physically closer to your subject or back up and away. It takes a little getting used to but I don't even think about it now. It all becomes worth it when you find how incredibly crisp your subject becomes with these lenses as compared to most zooms in simlar price ranges.
A bag to put it all in:
Handyman Tim bought me the Kelly Moore 2 Sues bag in raspberry when it was on sale for Black Friday. I love love love it. It's big enough to fit my camera, 2 spare lenses, my new planner, my wallet, and tons of other purse items without being too big. For the hobbyist, the 2 Sues or the B-Hobo are exactly the perfect size for an every day purse/camera bag.
I'm addicted to the bright fun colors she offers but she has the standard black, grey, and brown style bags if you're more of a neutral girl.
Polish those pictures:
Lightroom 3: This software by Adobe is truly the only software you really need. It is amazing, user friendly, and relatively affordable. It serves as an editor and a photo library organizer. I discuss it in far more detail here.
Photoshop CS5: If you already have Lightroom, Photoshop makes for a great piece of design software. I do blog layouts, our annual Christmas card and digital scrapbooking with it. You also can't beat it for major edits (like swapping heads and cloning out objects in the background.)
I could (and probably will) go into far greater detail on the items in this list over time. This guide is meant to be a quick and easy shopping list for someone overwhelmed by all the options out there. I'm happy to answer any questions you might have, just send me a note or leave a comment and I'm happy to clarify anything!
And be sure to stop by and check out the other gift guides for the special women in your life: