I know many people assume when I refer to "stocking your freezer" that I'm talking about premade casseroles ready to pop in the oven. While I do have one or two casseroles in there occasionally, what you're much more likely to find are ingredients ready to assemble into a fresh meal in minutes.
A perfect example of this is my homemade sweet potato chili fries. With the right preparation, this is literally a 2 minute meal made from freezer ready ingredients and just requires assembling, baking, and serving.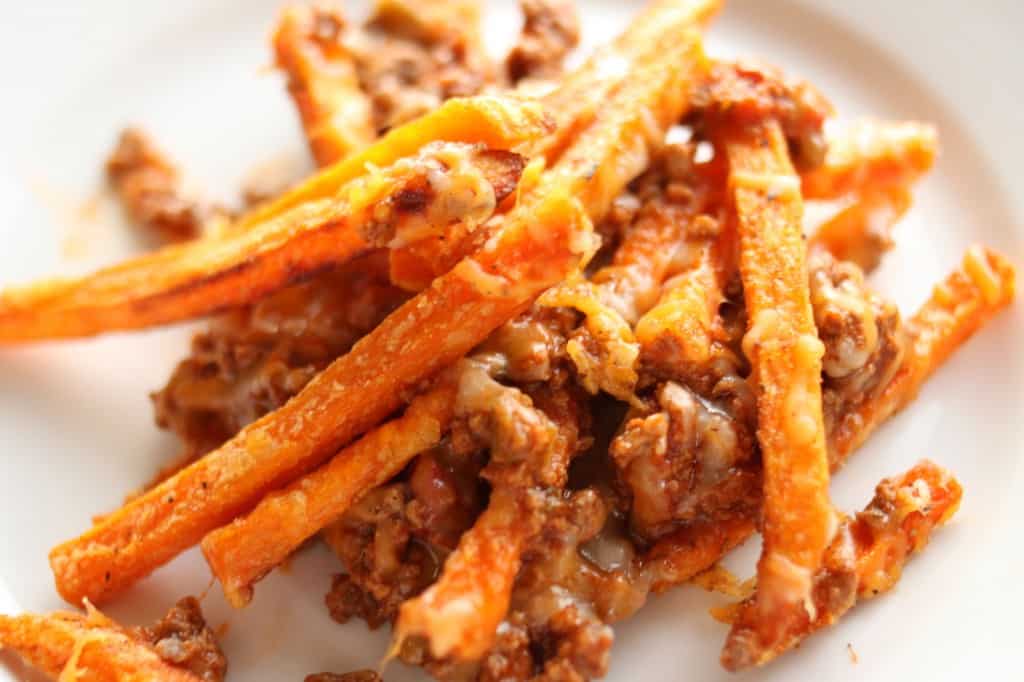 I came up with this dinner idea as a way of sneaking some extra meat into the Peanut. She has a strong love affair for all things french fry right now. By using all natural sweet potato fries as the base, I feel much better about the nutritional content of the dish. Not health food, I know. But it was a nice break from our usual dinner routine. And did I mention easy??
The chili comes from the Pioneer Woman's cookbook, it is a nice thick chili–perfect for using as a topping for nachos, baked potatoes, or scooping up with corn chips (her personal recommendation.) My version turned out a little spicier than intended and when I first served it to the Peanut she complained profusely about the heat. Using the same chili over sweet potatoes toned down the spicy and she devoured her meal.
_____________________________________
Pioneer Woman's Perfect Chili
adapted from The Pioneer Woman Cooks
Ingredients:
2 garlic cloves, chopped
1 tsp oregano
1 tbsp cumin
1/4 tsp cayenne pepper
2 tbsp Penzeys Chili 3000 (This is where my chili got tons of heat. Use regular chili powder and skip the cayenne if you're looking for mild.)
2 pounds ground beef
1 8oz can tomato sauce
1 tsp salt
1/4 cup masa (corn flour, I found it in the Mexican food section at my grocery store)
1 can Rotel diced tomatoes and chilies
Method:
Brown the ground beef and garlic in a large pot. Drain off the excess fat and then add in the tomato sauce, spices, salt, and 1/2 cup water. Stir together, cover, and reduce the heat to low. Cover the pot and simmer for 1 hour, stirring occasionally. Add additional 1/2 cups of water if it starts to dry out during simmering. Just keep in mind this is a THICK chili, not a soup.
After an hour, place the masa in a small bowl. Add 1/2 cup water and stir together with a fork to combine. Add the mixture to the chili. Stir to combine. Add the can of Rotel tomatoes & chilies and stir. At this point, PW suggests you taste the seasonings and add more masa or water as needed. Good luck to you on that. When I taste test, I always end up over seasoning. So at this point I just let a good thing be.
Let the chili cool and store in 1-2 cup containers in your freezer for easy dinners.
________________________________________
Peanut Blossom's Sweet Potato Chili Fries
Ingredients:
1-2 cups of Pioneer Woman Perfect Chili
1 package frozen sweet potato fries
Penzeys Northwoods Seasoning (optional)
Shredded cheddar cheese
Green onions, jalapenos, chopped onion, sour cream (optional items for garnish)
Method:
Place the sweet potato fries in a single layer on a baking sheet and lightly sprinkle the Northwoods Seasoning over them. Bake as directed on the package–remember to toss them 1/2 way through cooking so they don't burn on the bottom. While they are baking, heat up your chili in the microwave (assuming it is from your freezer or fridge.) When the potatoes are nice and crispy, spoon the chili evenly over the fries. Sprinkle generously with the shredded cheese, and place the pan back into the oven for a few minutes until the cheese has melted.
Serve with optional garnishes.