I am not a huge health nut by any means, but one thing that really irks me is the frequency of high fructose corn syrup found in so many commercial tomato sauces. Even in the all-natural tomato sauces out there, sugar as a sweetener is such a common ingredient! So when my friend Michelle suggested that I roast some about-to-go-bad plum tomatoes to make a homemade sauce out of them, I was very intrigued.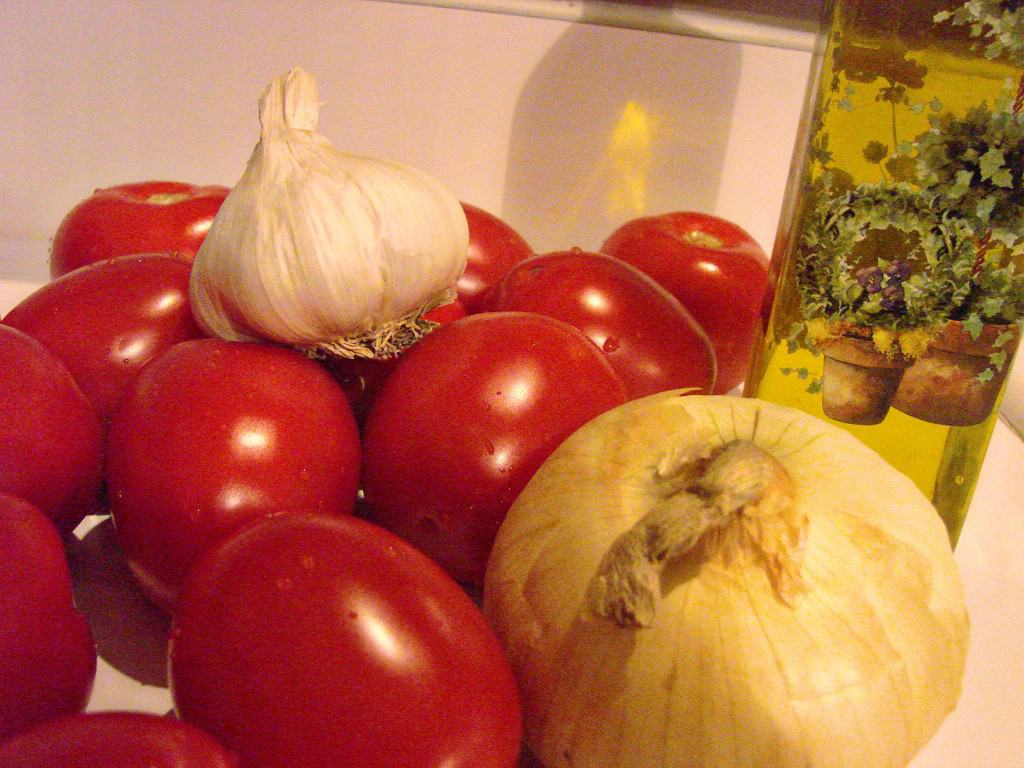 I LOVE roasted vegetables. You could roast just about any veggie and I will be much more likely to eat it. I love how roasting brings out the natural sweetness with nothing beyond a little olive oil and salt and pepper.
So, I took Michelle's advice. I followed her tips and the resulting sauce was the most delicious, most fresh-tasting thing I have ever put over my pasta. Now I go to my local warehouse store and buy plum tomatoes in bulk for the express purpose of making homemade sauce to stock my freezer. I haven't bought ready-made tomato sauce in months.
Added bonus, this method would be an excellent way to hide some sneaky additional vegetables for your picky kids or, eh hem, husbands out there. . .
____________________________________
Homemade Tomato Sauce
inspired by Michelle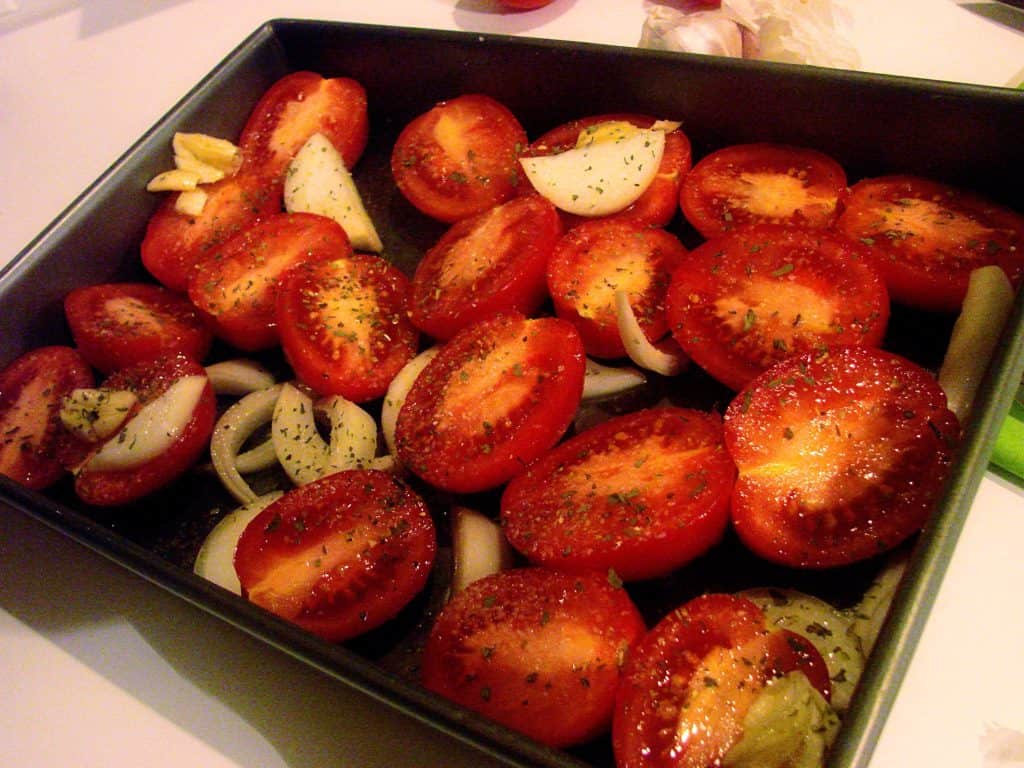 Ingredients:
 10 plum tomatoes (That's what came in my prepackaged bulk container from the store. Feel free to adjust as needed.)
 3/4 small onion, sliced
 4 crushed cloves of garlic
 2 tbsp olive oil
 kosher salt
 Penzeys Pasta Sprinkle (or Italian seasoning blend of choice.)
 fresh ground pepper
Instructions:
1. Preheat your oven to 450 degrees.
2. Wash the tomatoes, slice in half lengthwise. Place cut side up in a roasting pan.
3. Sprinkle onion slices and garlic cloves amongst the tomatoes. Drizzle the olive oil over everything and sprinkle generously with the salt. Use your hands to gently toss and coat the veggies in the oil. Make sure the tomatoes return to cut-side-up position. Top with a generous sprinkle of the Pasta Sprinkle.
4. Roast for 30 minutes or until the onions just begin to char on the tips. Keep an eye on the garlic, make sure it doesn't start to burn.
5. Scrape the veggies and all the juices from the bottom of the pan into a blender and puree. Add freshly ground pepper and stir.
Yield: approx. 4 cups
To Freeze: Sometimes I just freeze the sauce on it's own in 2-cup containers.  Other times I brown up some ground meat and mix it in with the sauce before freezing.