I have not been having an easy time of things in the kitchen the last 2 weeks. It is almost like Little Pea has sucked all the culinary ability right out of me and everything I touch goes sour. I destroyed my fried rice recipe, grating my finger on a Microplane and giving myself oil burns in the process.
Then I burned my beef stew! I'm still reeling from that one. My fool-proof, easy as pie 5 minutes to perfection beef stew. Burned it. To a crisp. That was the episode that had me considering hanging up my apron for the next couple months.
We've been doing too much take out and pizza because I just couldn't bring myself to go back into the kitchen to spend precious energy and back strength on something that wouldn't turn out right anyways. Eventually the guilt got to me and I knew my family deserved something a little more nutritious. So last night I dove into Annie's Eats Chicken Enchilada recipe. That photo of hers looks so incredibly delicious and I've had it on my "must try" list for a couple weeks.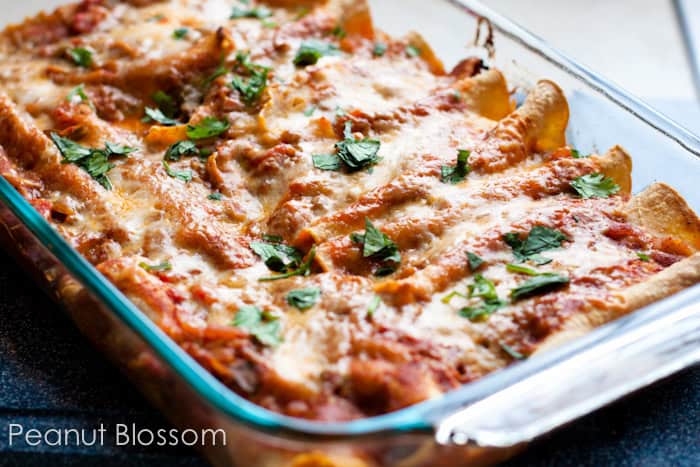 (Edited on 2/11/13: I updated the image with one of my own. I love this recipe so much, it has truly become a staple in our home. I actually have a second post with updated instructions you may be interested in here.)
I love the emphasis on fresh ingredients, the only really packaged items are the can of tomato sauce and the tortillas:
Ingredients:
1 medium onion, chopped fine
2 jalapenos, seeded and chopped fine
1 tsp. canola oil
3 cloves garlic, minced
3 tbsp. chili powder
2 tsp. cumin
1 tbsp. sugar
1 (15 oz.) can tomato sauce
1 cup water
1 tomato, seeded and chopped
Salt and pepper
1 lb. boneless, skinless chicken breasts
1 cup shredded sharp white cheddar cheese, divided
1 cup shredded monterey jack cheese, divided
½ cup minced fresh cilantro
12 (6-inch) soft corn tortillas
Cooking spray
Her instructions are quite lengthy for this recipe but as she states in her post, it is quite worth the effort. She took such care in documenting this recipe, I'm going to let you click over there for the full details.
The note I'd like to add to her instructions is that this would be a very daunting recipe to come home to after a long day at work. I'm a putz in the kitchen, everything takes me longer than perhaps your average home cook, but I started this process at 3:30 and dinner was finally done by 5:25. Granted in that time my kitchen was also cleared of the dirty dishes and I took the time to grate my own cheese with my Cuisinart which added to the mess and cleaning efforts. But it is still a lot to do on a busy evening.
I had a great thought as the enchiladas were baking and I was elbow deep in dishes: this would be a perfect freezer stocker!! If you plan ahead and do the recipe up through the stage where the sauce is finished in one bowl and the chicken/onion/tomato mixture is in another bowl, you could easily freeze those two items separately in your freezer. Put them in the fridge to defrost the night before you want to make the meal and you could come home from work and have these awesome enchiladas for dinner with 5-10 minutes of hands-on time and 25 minutes of baking, with almost no dishes to clean!!
Handyman Tim went back for seconds, something he hasn't done in a few weeks. Despite the jalapeno, onions, and tomato (don't tell him they are in there!) he didn't report any incidence of heartburn. They are surprisingly mild but very flavorful. Even the Peanut cleared her plate with little encouraging. I think I would have enjoyed them much more if my back hadn't been so sore. I can't wait to try and have them from the freezer.
I'm definitely adding this recipe to my list of things to stock my freezer with before Little Pea's arrival.