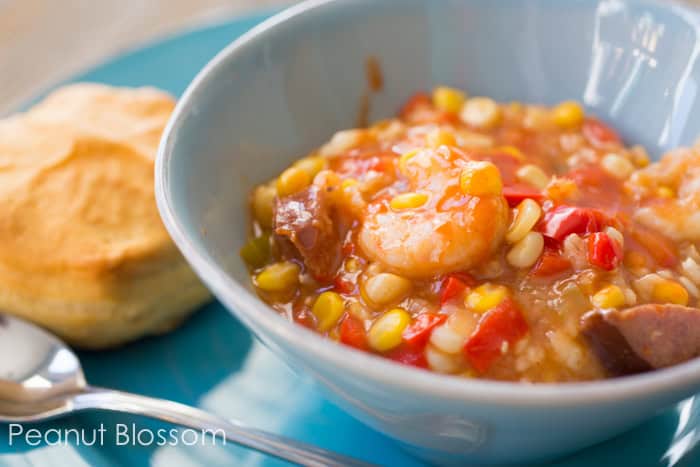 Crock pot time!! Has yours been in as heavy of a rotation as ours has been this winter?? I feel like I'm using it several times a week now, which has made for lots of experimenting.
I stumbled across the idea for this southern style shrimp stew in my favorite crockpot cookbook series America's Test Kitchen Slow Cooker Revolution. I own the entire trio of their books and use them all the time!
At first glance, this stew looks to be the exact opposite of kid-friendly, but my girls gobbled it up! It's thick and hearty and very heavy on the corn which is what drew them in. I served it up with simple biscuits and the hot sauce on the side so we could add it to taste. The Peanut does great with spicy foods, Little Pea not so much.
For Tim's sake, I doubled the andouille sausage the original recipe called for because I knew he'd avoid the shrimp. It helped stretch the recipe and I found the extras freeze really well.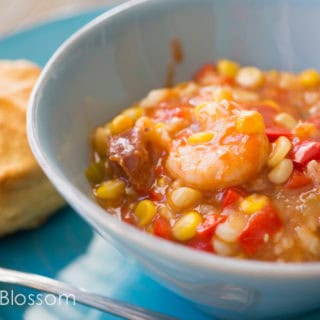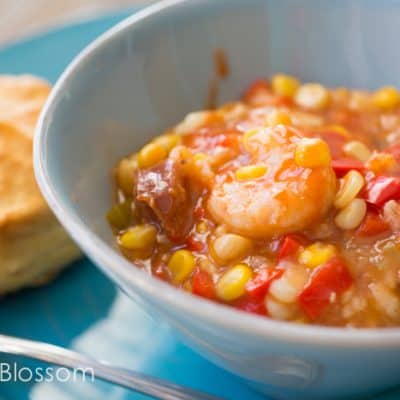 Spicy Shrimp Stew with Corn and Peppers
Total Time:
4 hours
10 minutes
Mix things up in your crockpot with this easy, spicy shrimp stew loaded with peppers and corn. Serve with a biscuit or fresh cornbread for a comforting winter meal.
Ingredients
14 oz andouille sausage, halved lengthwise and sliced ½ in thick
1 large onion, chopped fine
3 celery ribs, sliced ¼ inch thick
2 red bell peppers, stemmed, seeded, and chopped fine
2 tbsp tomato paste
4 garlic cloves, minced
1 tsp cajun seasoning (Or Old Bay, Or Emeril's Essence)
2 ½ cups water
2 cups chicken broth
½ cup short-grain brown rice
2 tbsp instant tapioca
Salt and pepper to taste
12 oz medium shrimp, peeled, deveined, and tails removed
4 cups frozen corn, thawed
1 ½ tsp hot sauce, plus extra served on the side to taste
Instructions
Combine the sausage, onions, celery, bell peppers, tomato paste, garlic, and seasonings in a covered bowl and microwave until softened--8 to 10 minutes. Stir occasionally so it doesn't burn.
Transfer the vegetable mix to the slow cooker. Stir in the water, broth, rice, tapioca, and ¼ spoon salt. Cover and cook for 3 to 5 hours on low or 2 to 4 hours on high. Rice should be tender.
Stir the shrimp and corn into the stew and cover. Cook on high until the shrimp are opaque and cooked through, 15 to 20 minutes. If the stew is too thick, add additional chicken stock at this point. Stir in hot sauce, season with salt and pepper. Serve with hot sauce to taste.
And if you're looking at this thinking, "My kids would never eat that! Shrimp? Too spicy!" You'll definitely want to check out my post over on
Melissa & Doug
today where I'm sharing how I got the Peanut to love shrimp. Great tips for introducing exotic flavors to picky eaters,
go check it out
!