Watching Handyman Tim spend 45 minutes just drawing the pattern pieces for my new friend Hobbes should have been an indicator to me how the rest of the project might go. This was my first experience playing a "cook" when I am so obviously a "baker," which I realize now more than ever. Boy did I learn a ton.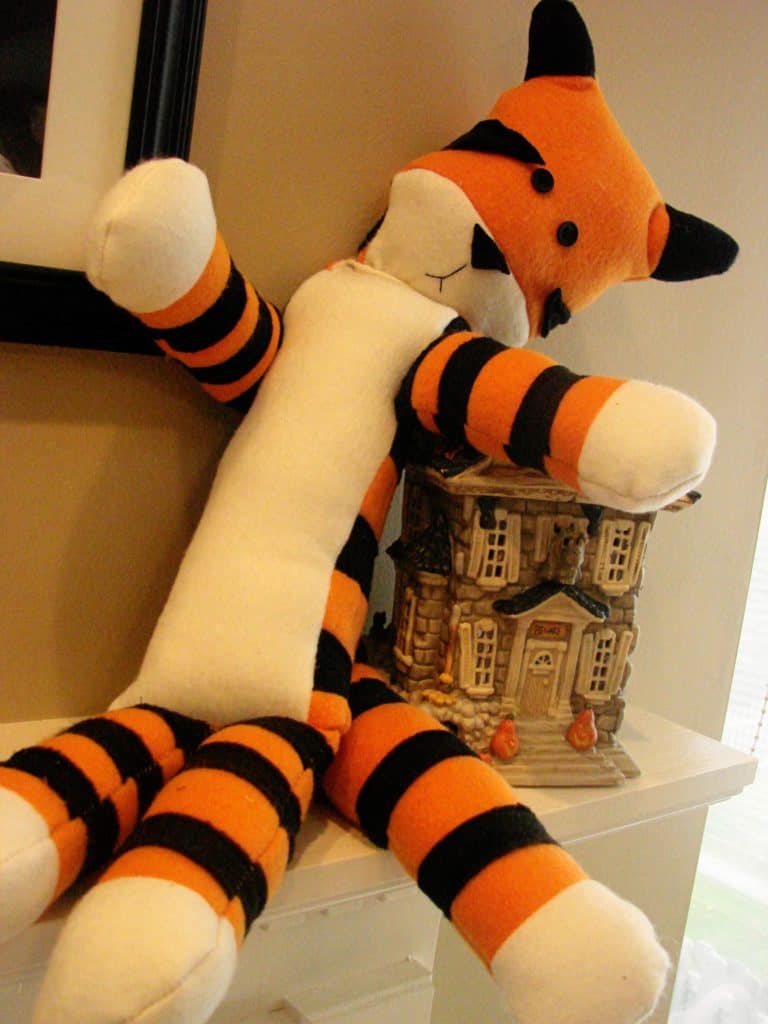 So if you're like me and you and you get it into your head that Halloween is for Creativity, here is my summary of Lessons Learned in Halloween Crafting:
1. Involve an engineer. You may not have one of these handy, but they will make your life easier in the long run. Bribe a neighbor if necessary. You'll know you've spotted one when you see the arsenal of rulers, calculators, and large pile of Starbucks coffee mugs. Hmm, or maybe that's just my particular variety of engineer.
2. Fleece:
Pros:
- It doesn't fray when you cut it and therefor cuts down on hemming/finishing requirements.
- Tons of bright colors to pick from, helpful for clever costume selections.
Cons:
- It is THICK. Especially when trying to sew multiple layers together. The standard ¼ inch seam allowance is null and void when using this fabric, I found myself sewing almost right on the very edge so the seams wouldn't be too impossible to tuck under.
- It is THICK. Yes, that bears repeating. Trying to turn the limbs inside out to hide the sewing was trickier than I imagined and led to overall construction problems when it came to attaching limbs and head to body.
- It is THICK. Yes, one more time. Hand sewing decorative items like eyes, mouth, and stripes is nearly impossible for thin-skinned fingers.
Summary on fleece: Next time I'm trying felt.
3. Stuffing: PolyFill rocks. But, you're going to need about 2x as much as you think. Where does it go when you stuff it inside? Alien technology, I swear.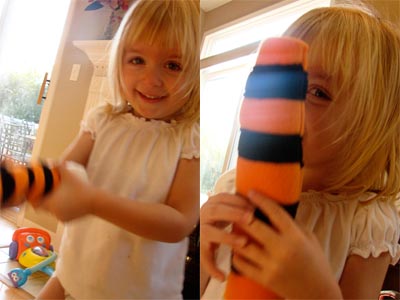 4. Peanut helpers: Halloween projects are way fun for the entire family to get in on the action. Just be prepared to have your own private horror show as children run willy nilly round the house with "severed" appendages. My peanut thought it was hysterical to tickle us with random "kitty legs" which, when I stop to think about, felt a wee bit gruesome. Tis the season, I suppose.
5. Creative pride: I love homemade Halloween costumes. I secretly hand out extra treats to the kids I can see put in that special effort. For once, I try to let go of my insane perfectionism and accept that a little wonky animal will still look just like Hobbes in the eyes of a young boy who is convinced he's Calvin. Hope this guy does the trick, we did our best. Hoping you get a few extra treats in your bag, Alex!