Book Club Kit for Slightly South of Simple by Kristy Woodson Harvey includes a book club question guide and party menu.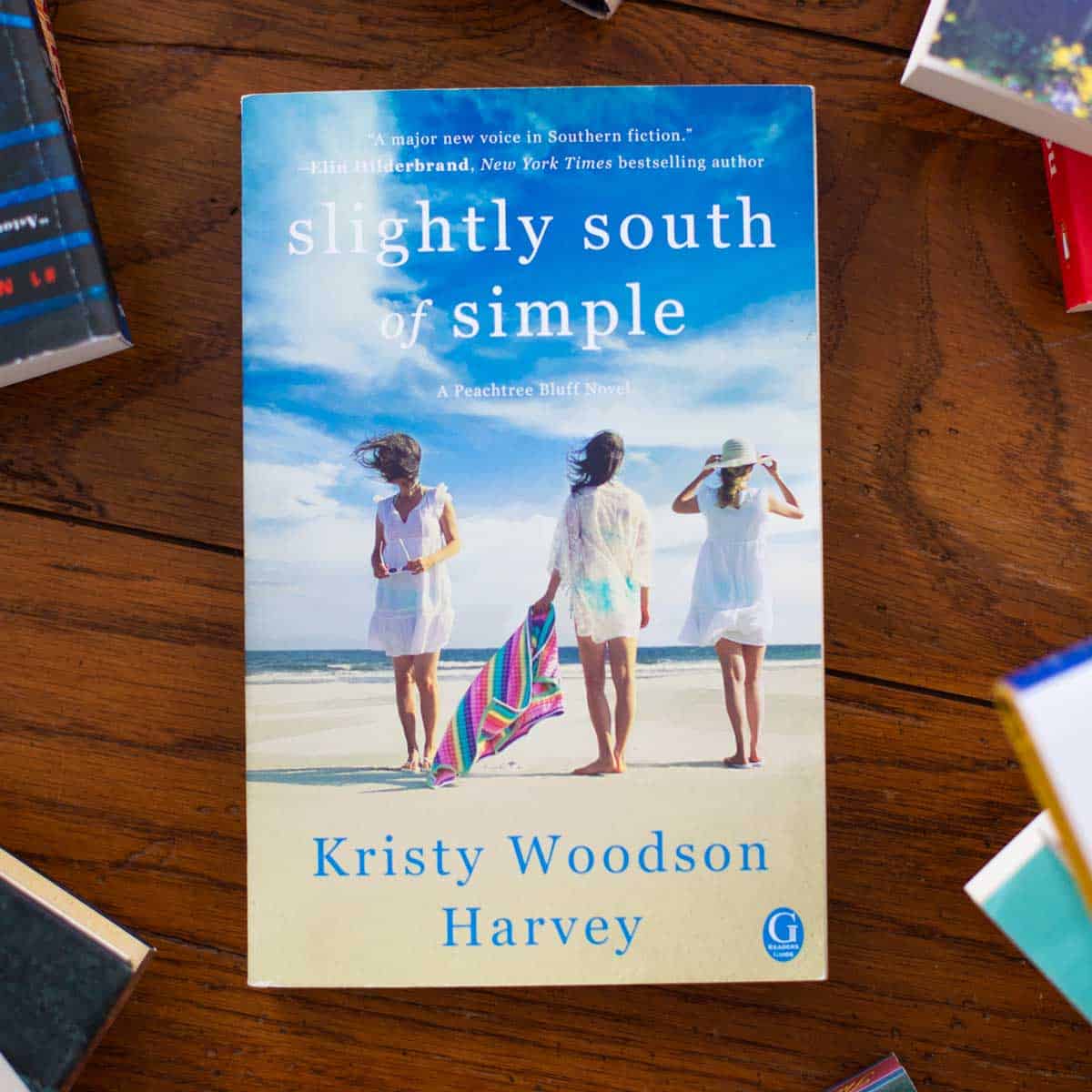 I confess that the cover of this book caught my eye during a shopping trip at Target last year.
I stalked it for ages on Amazon and finally snagged the Kindle book when it went on sale over the winter.
I couldn't resist adding it to our summer book club line-up!
Peanut Blossom Book Club
This book was our official August 2018 pick for the Peanut Blossom Book Club.
Want to see what we're reading today? Check out our book club book list here.
Want Free Reminders for Each Book?
Sign up for my book club newsletter right here:
What is Slightly South of Simple About?
"From the next "major voice in Southern fiction" (New York Times bestselling author Elin Hilderbrand) comes the first in an all-new series chronicling the journeys of three sisters and their mother—and a secret from their past that has the potential to tear them apart and reshape their very definition of what it means to be a family.
Caroline Murphy swore she'd never set foot back in the small Southern town of Peachtree Bluff; she was a New York girl born and bred and the worst day of her life was when, in the wake of her father's death, her mother selfishly forced her to move—during her senior year of high school, no less—back to that hick-infested rat trap where she'd spent her childhood summers. But now that her marriage to a New York high society heir has fallen apart in a very public, very embarrassing fashion, a pregnant Caroline decides to escape the gossipmongers with her nine-year-old daughter and head home to her mother, Ansley.
Ansley has always put her three daughters first, especially when she found out that her late husband, despite what he had always promised, left her with next to nothing. Now the proud owner of a charming waterfront design business and finally standing on her own two feet, Ansley welcomes Caroline and her brood back with open arms. But when her second daughter Sloane, whose military husband is overseas, and youngest daughter and successful actress Emerson join the fray, Ansley begins to feel like the piece of herself she had finally found might be slipping from her grasp. Even more discomfiting, when someone from her past reappears in Ansley's life, the secret she's harbored from her daughters their entire lives might finally be forced into the open.
Exploring the powerful bonds between sisters and mothers and daughters, this engaging novel is filled with Southern charm, emotional drama, and plenty of heart."
Slightly South of Simple Book Club Questions
I believe the best book club questions to spark a lively discussion in your group help readers make personal connections to the story.
You can read about how to write the best book club questions on your own here, but hopefully these will get you started!
Question 1:
What did you think of this month's pick? Would you have read it on your own?
Question 2:
Do you have sister(s)? Where do you fall in your sibling line-up?
Does your relationship with your siblings resemble the sisters in our book in any way?
Question 3:
Have you ever moved back in with your parents after high school?
Would you welcome your own kids moving back in if they had any of the situations like the sisters in our book?
Question 4:
Which of the sisters do you most relate to from the story?
Was there one you particularly didn't like?
Question 5:
Repeatedly throughout the novel, Ansley states that it is normal, expected, and "the best" part of being a mother that you abandon who you were before for the sake of your kids.
Do you agree with this attitude?
Question 6:
In Caroline's shoes, would you have forgiven James? She thinks her decision means she is weak, do you agree?
Question 7:
Slightly South of Simple compares life in the south to NYC.
Considering the descriptions from the book, which lifestyle fits you better?
Question 8:
"Young love is only for the young. Nothing else compares."
Do you agree with this statement?
Question 9:
Did you enjoy Slightly South of Simple enough to read the sequel The Secret to Southern Charm?
Book Club Party Menu
For the book club party menu, why not serve a few dishes from the South as well as NYC??
You May Also Enjoy
If you enjoyed this book, you'd likely enjoy these other fun book club picks from through the years: