Great posing tips for kids when you want to capture an at home portrait session.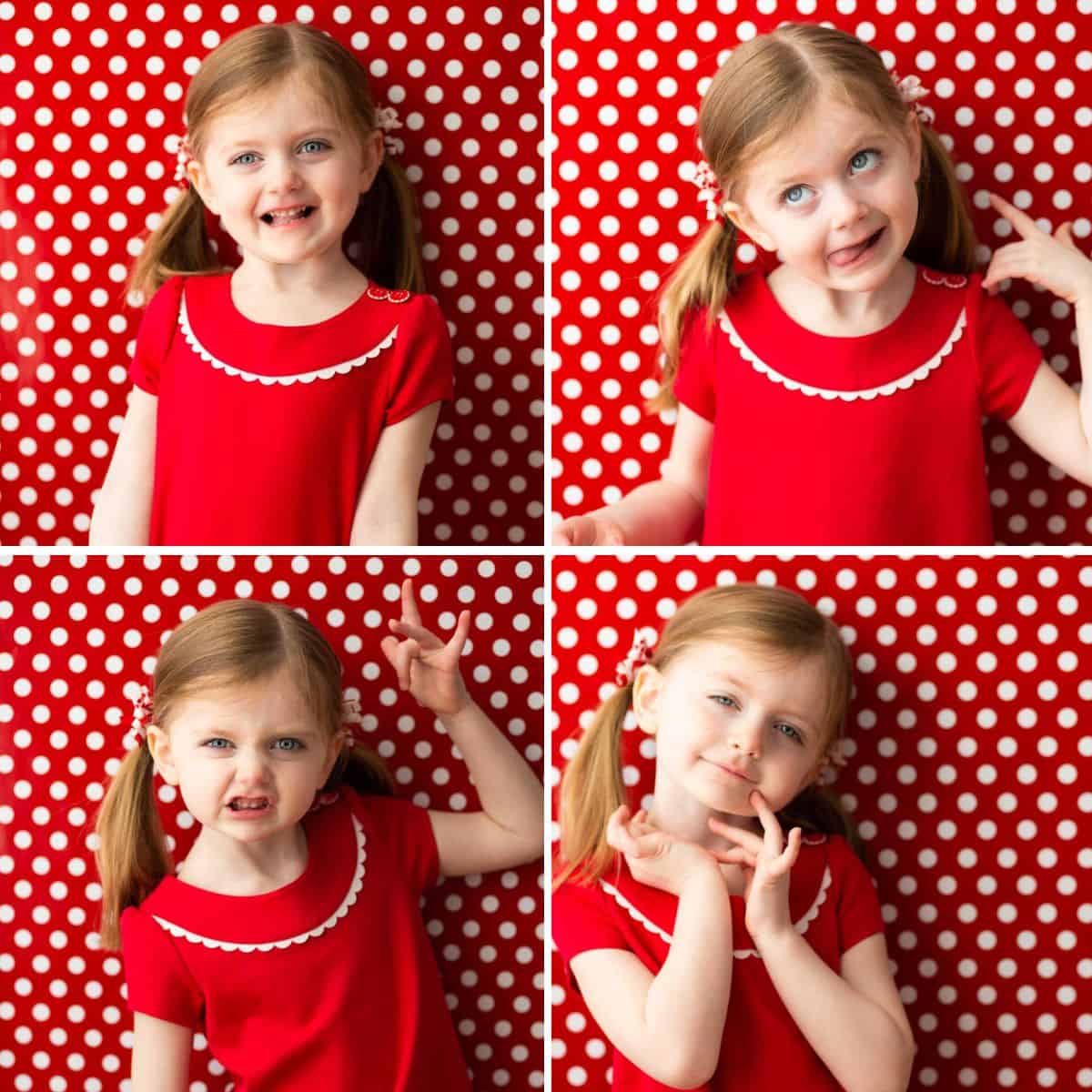 It seems with every age my kids pass, we encounter different photo posing challenges.
Just when I thought I had things down pat, they throw me a new curveball.
You've got to be On Your Game when shooting my kids.
I recently pulled together a Valentine's photo booth session as part of the Melissa & Doug Capturing Childhood series.
We had so much fun that morning, I just had to share the outtakes and lessons learned with you!
Be sure to check out tips on setting up your own photo booth here.
5 Simple Posing Tricks for Kids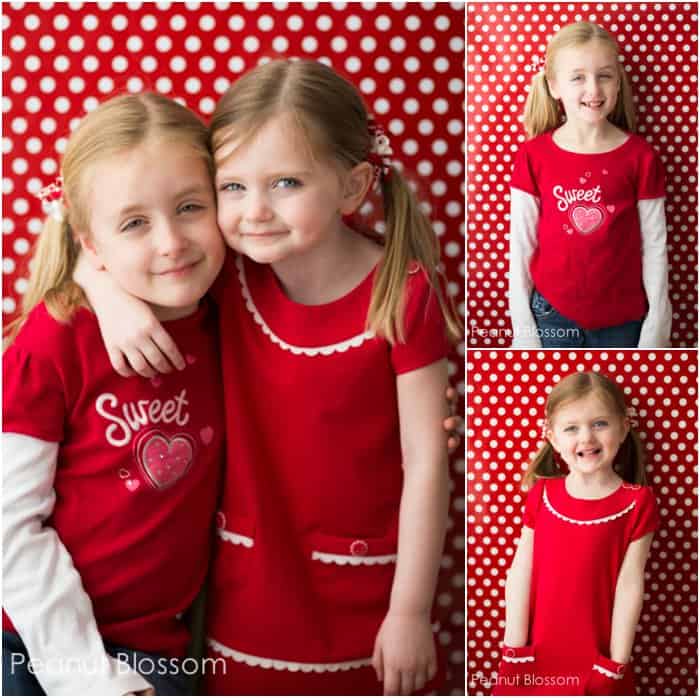 1. Get the sillies out right away!
Kids bring a bundle of energy and wiggle worms when it comes to photo sessions. They don't want to sit, cock their heads "just so" and smile at the camera. Our sessions usually start with individual photos of each girl separately to warm them up. They know I'll capture their goofiest, silliest, most obnoxious faces for a few minutes before we get to work.
This is By Far their favorite portion of the session: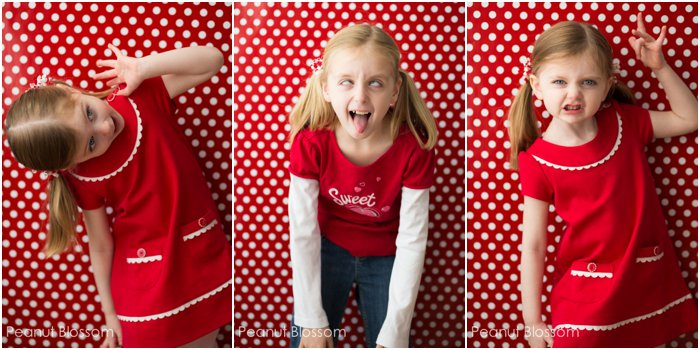 The big CON can be, they get so worked up they never calm back down! Once they ramp up, they throw their whole body into it and won't stay anywhere near the frame of the shot. So I discovered an awesome workaround:
"Show me the funniest FACE you can make without moving any other part of your body!"
Sometimes these "outtakes" end up being some of my favorites from the session, so they are totally worth your time!: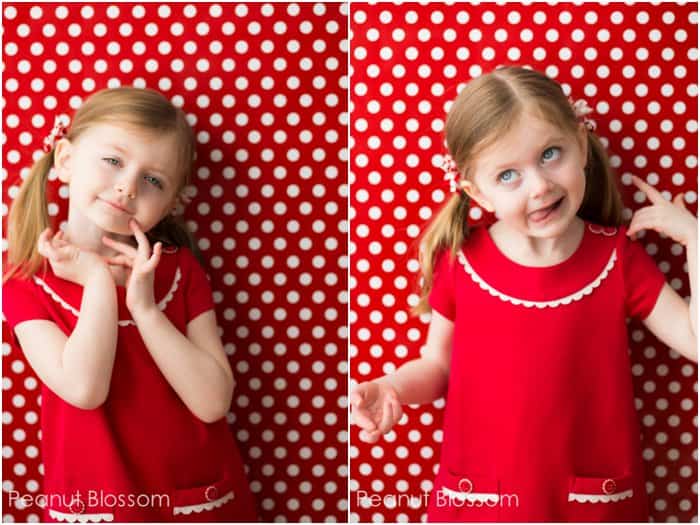 2. Account for Height Differences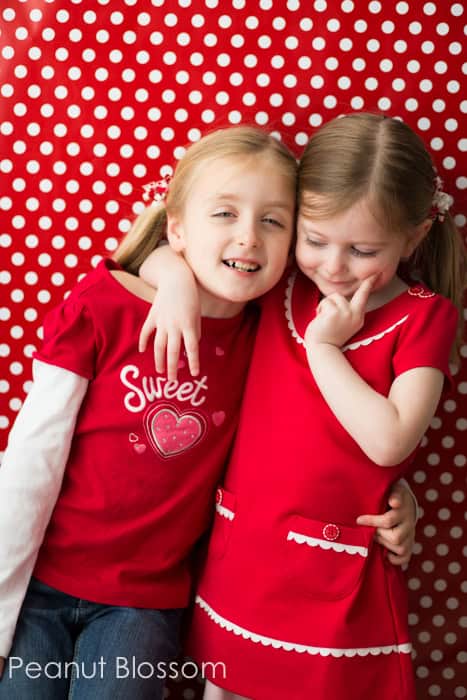 My 6 year old is significantly taller than my 3 year old. When I first paired them against our backdrop, the Peanut had to scrunch down to be even remotely close to Little Pea's face.
She was uncomfortable, Little Pea was choking her trying to hug her, and they couldn't stay still.
I brought out one of our kid-sized chairs for her to sit on and then had her wrap one arm behind Little Pea's back and around her waist.
I told Little Pea to put her arm around the Peanut's shoulders.
This brought them close together more comfortably and much more stable.
3. Do Not Ask for Cheese!
I've mentioned this one before but I always seem to forget it. Want to know a MUCH better question?
Ask your kids to shout:
"Daddy wears Dirty Diapers!"
And then be ready to Click, Click, Click as they giggle and smile up a storm.
4. Don't Be Afraid of Bribes
By this time, Little Pea was waning but I was "this close" to getting my shot.
The difference between the girl on the left and the girl on the right?:
The promise of a single M&M.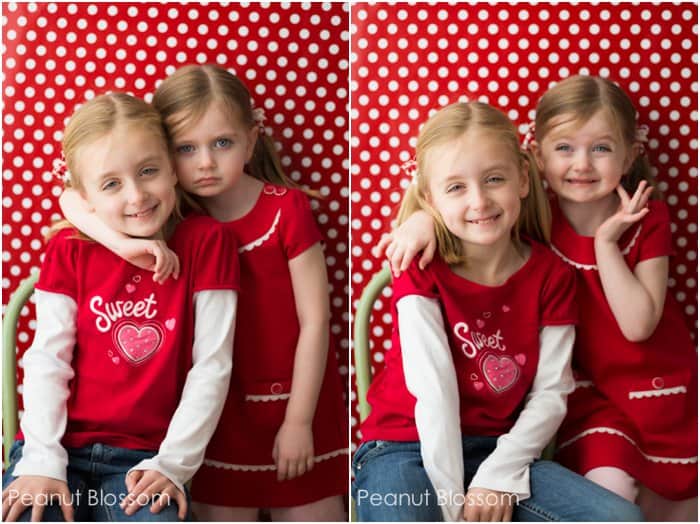 5. Cheek to Cheek
One of the funniest moments of the morning is one of my new favorite tips. My friend Zina has mentioned to me how she asks her girls to touch cheeks when she takes their photo. So, I suggested my girls try the same!
Unfortunately, our attempt looked more like this: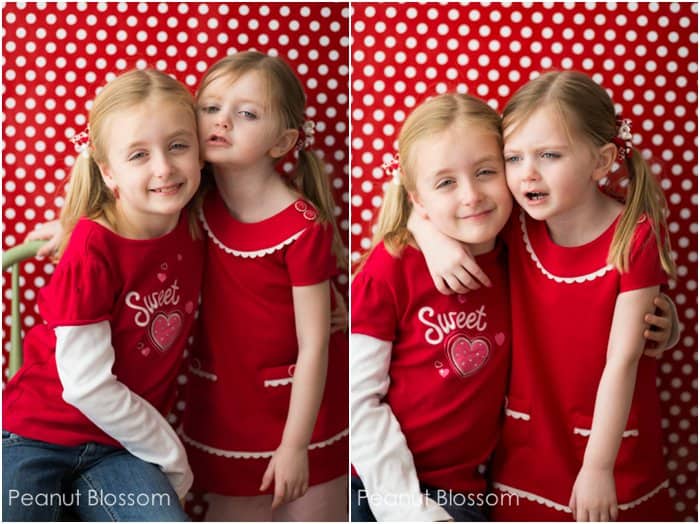 What? The cheeks are touching, right?? Ha. I pulled the Peanut out of the seat and touched my cheek to hers to show Little Pea what I was looking for.
The final result? My new most favorite picture of my girls together. Sometimes showing works just so much better than explaining!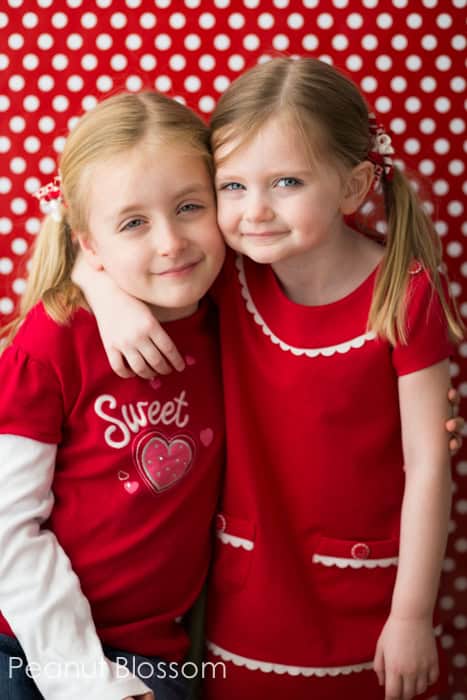 What to Do with the Photos
Once you have the adorable pictures, why not print a few for a photo album or use them in a photo slideshow?
More Family Photo Tips