The days are long, the years are short. How are you making them count? Today I'm talking about how our family uses holidays and the changing of seasons to plan a special family bucket list worth celebrating.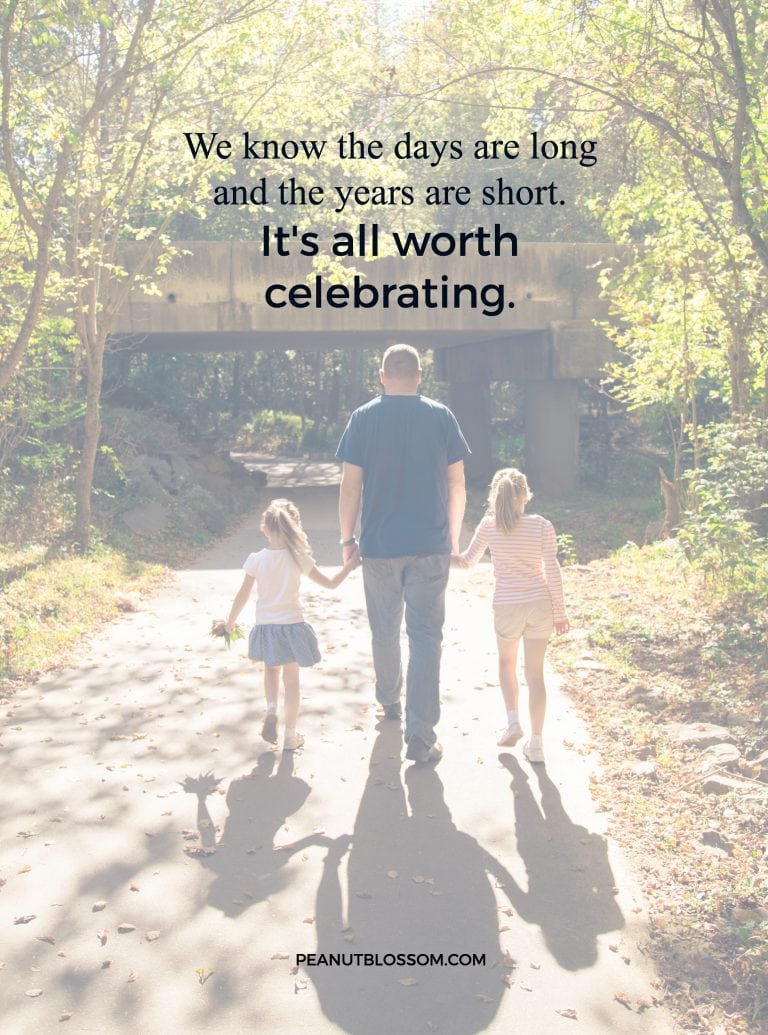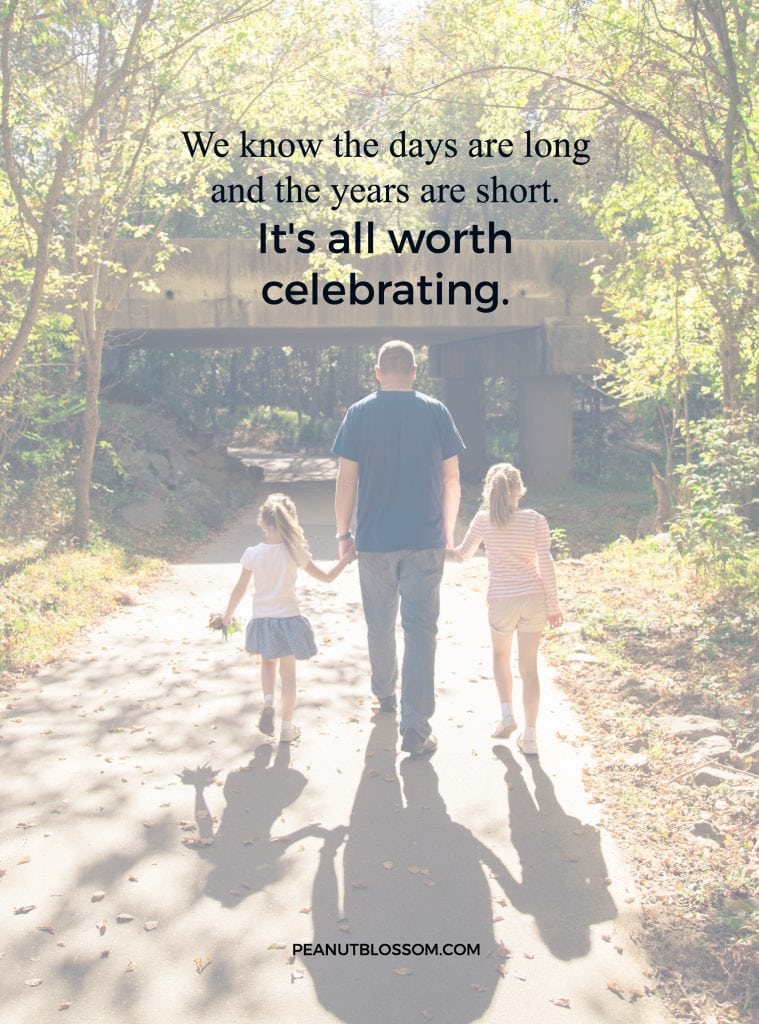 The days are long, the years are short.
How many times have you heard this said? As a young mom, it filled me with panic. Nothing makes you realize how fast time really does fly like watching your itty bitty baby become a toddling, talking, real person. I worried that the years would pass us by in a blink and I was desperate to hold on to this precious time in our family's life.
I believe that's where holiday celebrations become instrumental tools in creating lasting memories for both kids AND their parents. The simple every day passes us by almost without notice.
But holidays force us to slow down, mark the changing of the seasons, and participate in unique events that trigger our brains to record these moments as ones worth keeping for the long haul.
Six years ago when we first moved into our house, I noticed this odd strip of blank wall in our kitchen. I think in other house models, a kitchen cabinet went in that space but for our home, it was empty.
Within just a couple weeks I found this long narrow chalkboard with a magazine rack at the bottom that fit the dimensions for that space perfectly. Knowing I keep all my real to-dos in my planner and my grocery list on my phone, I wasn't sure what to use that chalkboard for.
Thus the Seasonal Family Bucket List Board was invented for our family. What started out on a whim, has turned into one of our more beloved family traditions: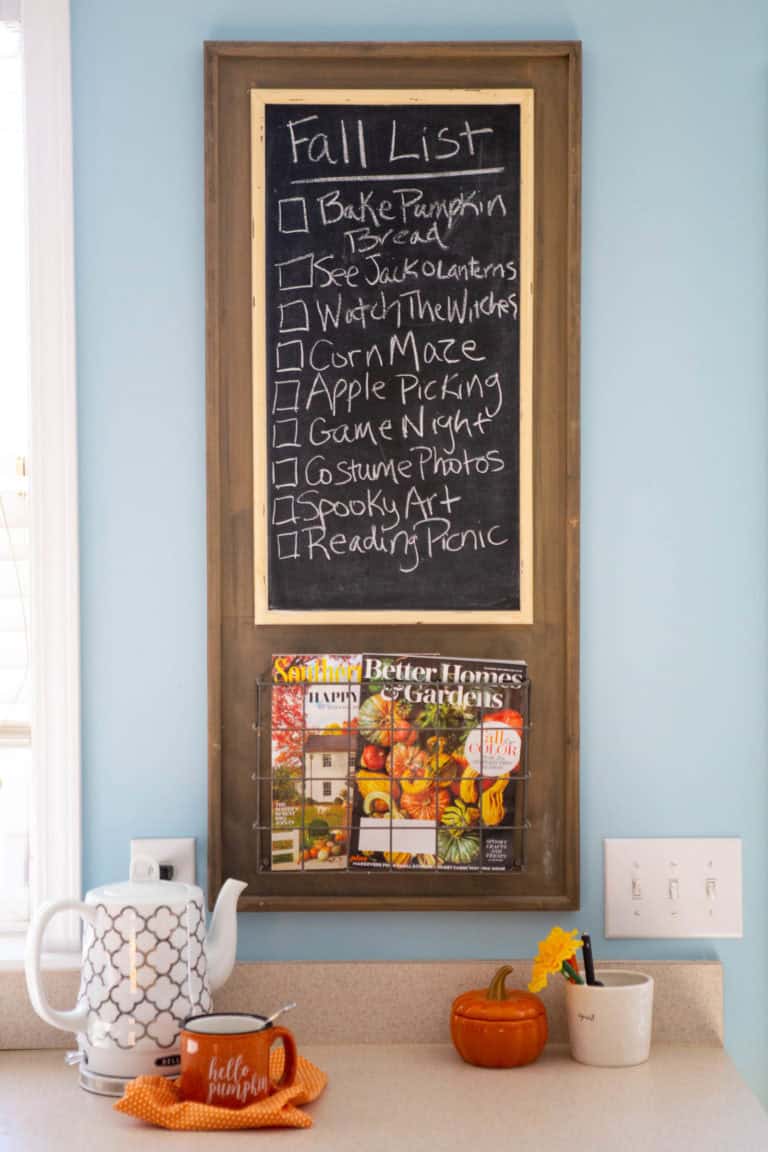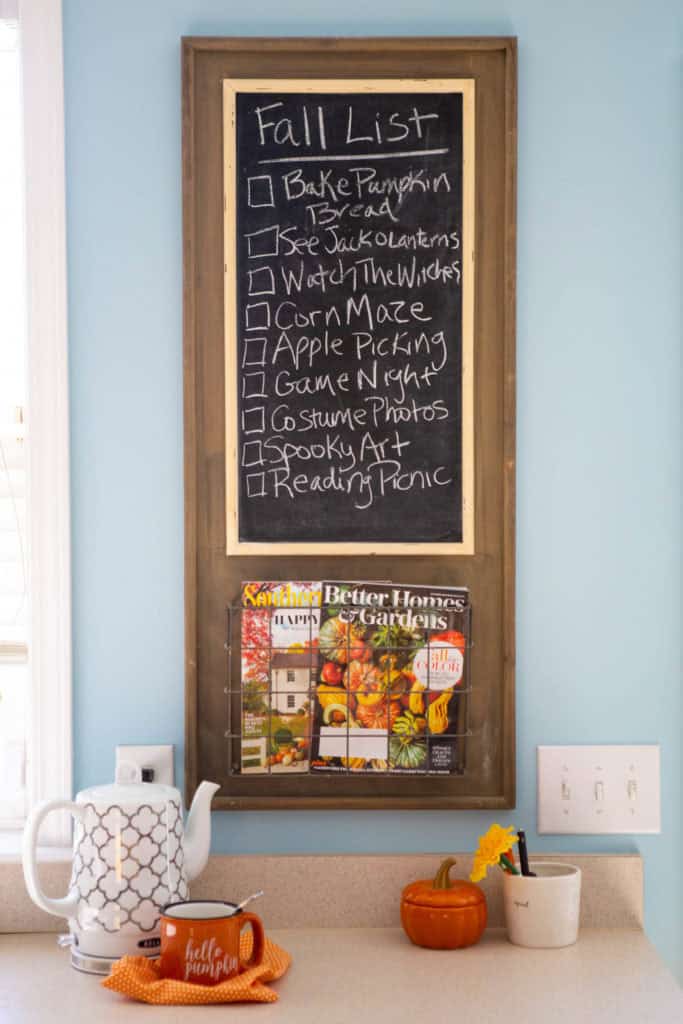 This list which sits in the central hub of our house is visible throughout the day and serves as a sweet reminder of the fun things we want to do together as a family.
I keep a little container with chalk right near the board and we cross off the items as we go through the season. Whenever we want ideas for the weekend, we check our list to see what might be left unfinished. When the list sits for too long without having items crossed off, we know our family has gotten too busy and we need to force in some time in our schedules to reconnect.
In the spring, the board features the girls' annual Birthday Bucket Lists where they dictate fun things they want to do to celebrate their birthday month. At Christmas time, our board isn't quite large enough for all the family fun we want to squeeze in but it forces us to be choosy over which ones matter most.
The official changing of the list between seasons is a quick family affair. I often find myself perched high on a step stool while family members call out ideas to add to the list while they are packing lunches or getting a drink from the fridge.
Everyone scrambles to be the first to cross things off with a big fat checkmark (including my husband!)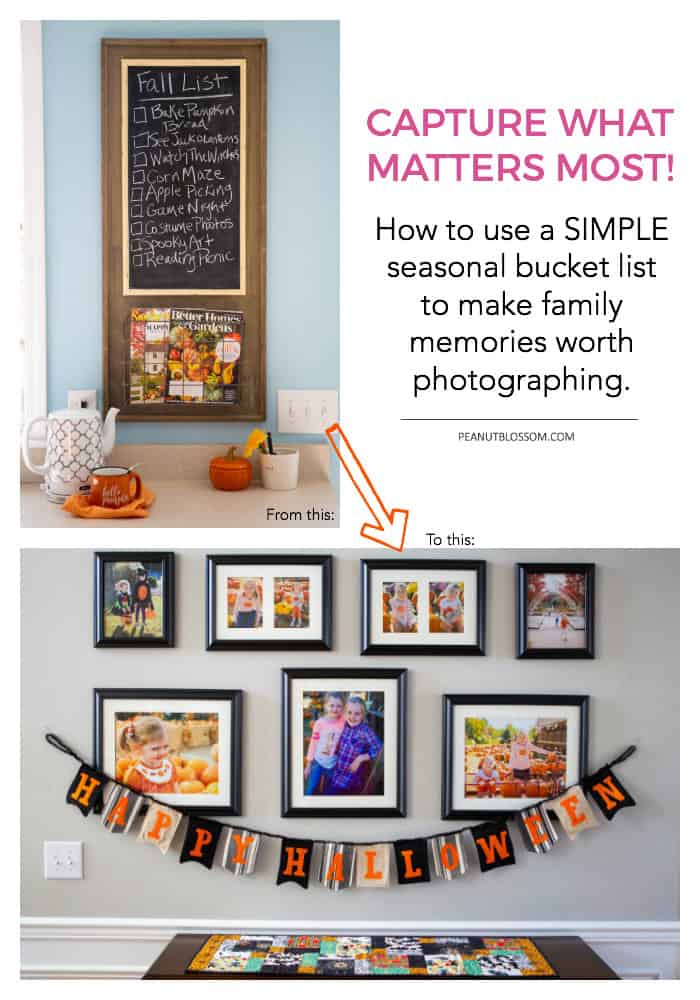 How to make the most out of a seasonal family bucket list for your family:
Keep it EASY: Fill your list with things you know you'll easily be able to finish. Think about activities you already have planned or that don't take much effort and pad your list with those to start. We add weekend getaways & vacations already scheduled for the season to our list every summer.
Need inspiration for what to put on your list? Check out my seasonal family fun pages to get you started:
Winter family fun (coming soon)
Spring family fun (coming soon)
Summer family fun (coming soon)
Christmas family fun (coming soon)
Add one showpiece event: Your list should have one extra special item that everyone is excited about. For our fall list above, the Jack-o-Lanterns is a big event I can't wait to share with you.
Keep it short: Our list usually has 10 or fewer things. It doesn't take an epic long list to feel festive.
Take photos of your bucket list items: As my girls get bigger, I confess I tend to forget to take their picture as often as I once did when they were small. Our bucket list serves as part photo prompt for ME so that I remember to capture the memories that matter the most to our family. The prints of those photos fill our wall galleries which I also change each season.
More inspiration for family photos you don't want to miss: