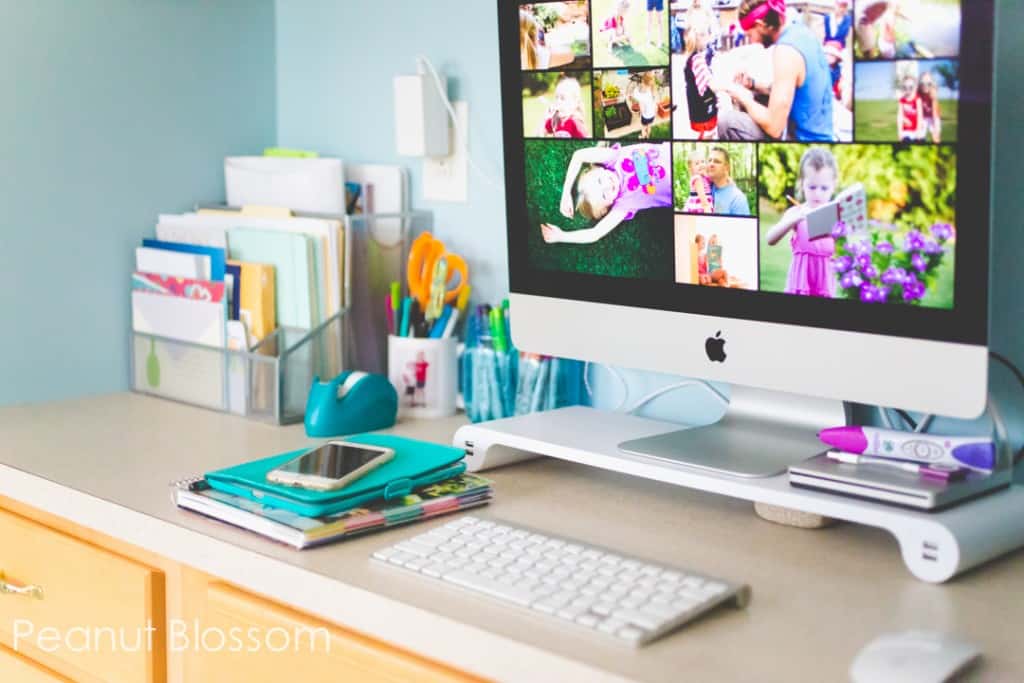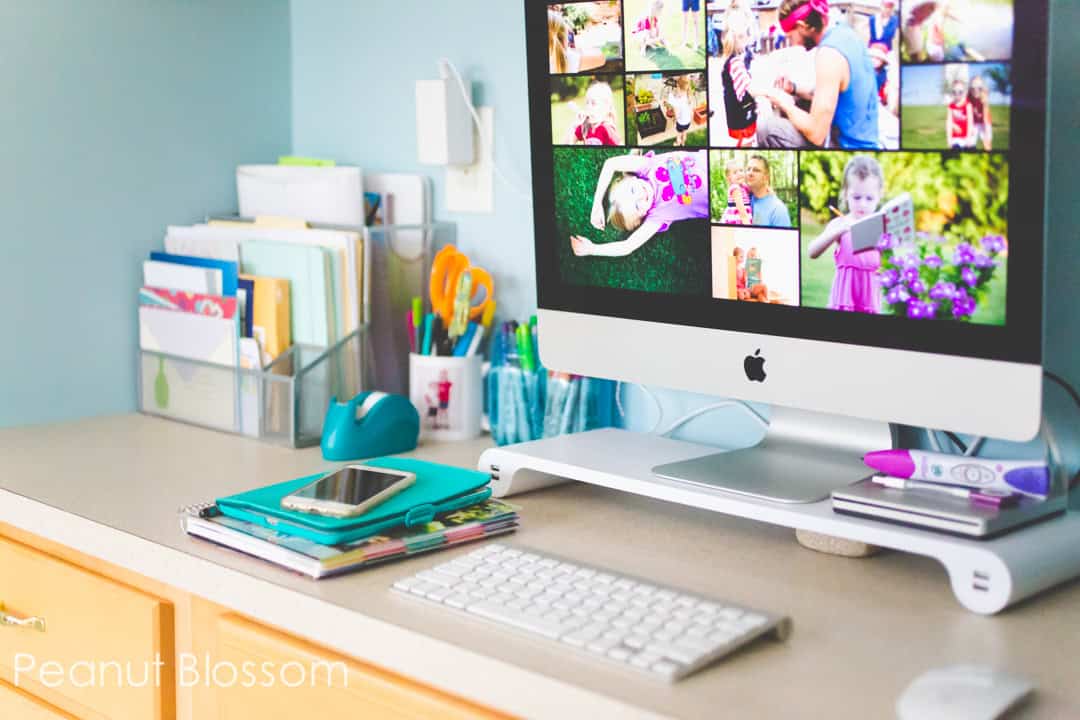 Last year I dropped the ball one too many times and found myself tearfully emailing Little Pea's preschool teacher a note filled with apologies and mentioning that I felt like I was completely failing as a mom.
The cause? All her little friends were parading into school in their pajamas for a themed day I didn't even realize was on the calendar. I hadn't forgotten, I didn't even know about it in the first place.
We all drop the ball. Life is busy and in the end, Little Pea doesn't even remember that there was a day her friends wore jammies and she didn't. But I remember. And I hated that feeling of not being organized. I knew without a doubt that there was an email sitting in my inbox of 10,000+ unread messages telling me the news that I had completely missed.
Seriously, look at my phone. This is a screenshot I captured while writing this post:
18,462 unread messages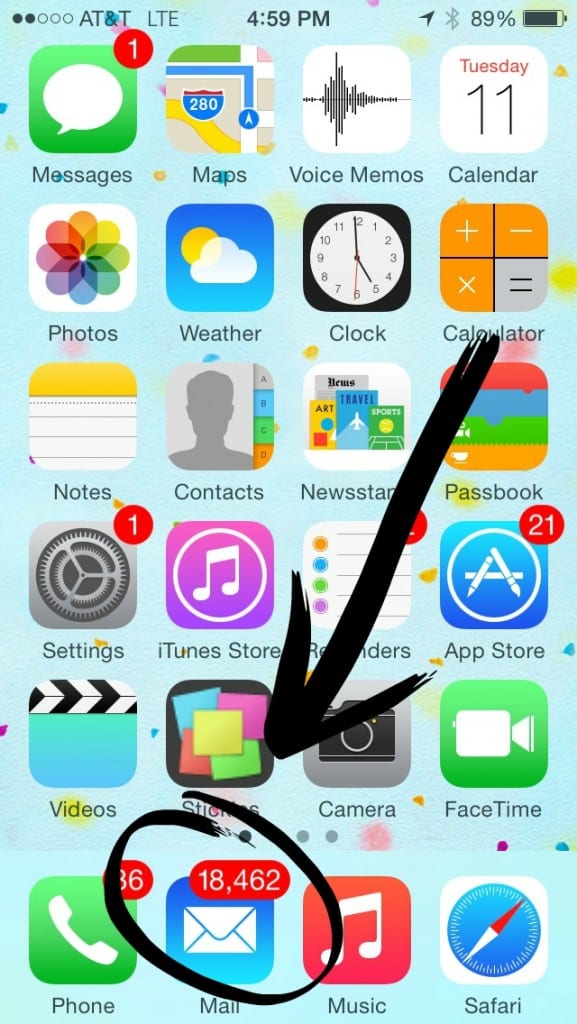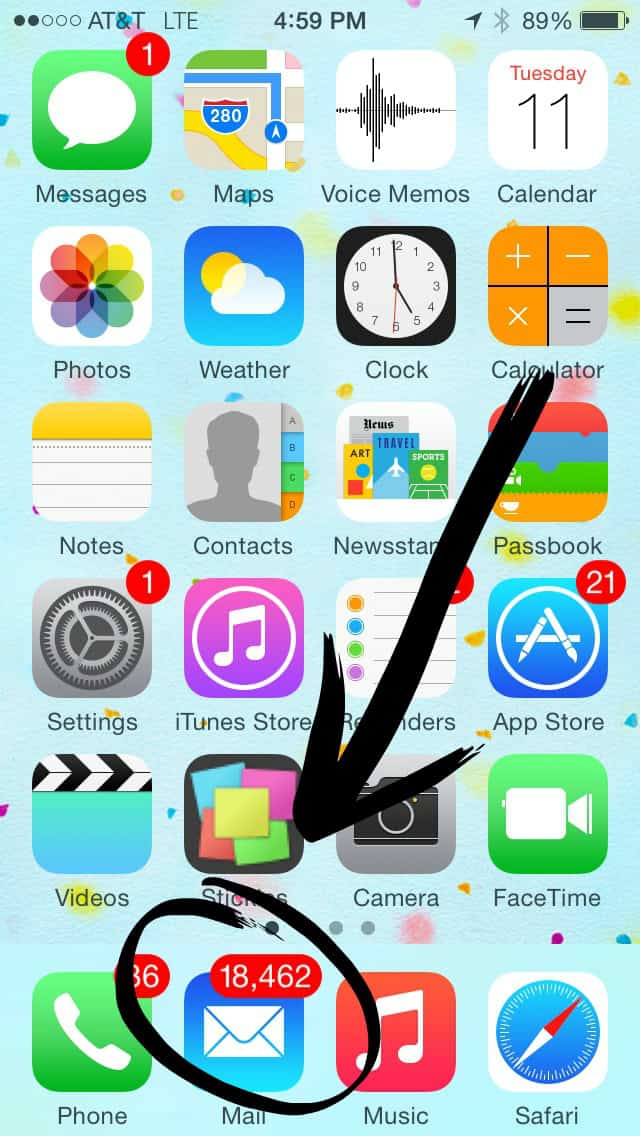 I Can't Keep Up!
What's in there that's not read? Thousands of coupons, store notifications, Facebook notifications, newsletters, and dozens and dozens of school messages, after school activity reminders, shipping notifications, and social media conversations/messages.
Then because I'm a blogger there are thousands and thousands of incoming messages from potential sponsors, vendors, PR notifications, and more. If you're a volunteer or involved in your church or belong to some kind of organization, you probably have just as many notices from your roles there. And if you work outside of the home? I'm pretty sure you could double it.
That's just my phone/digital world. Then there's my physical desk!
I'm sharing this so you understand the source: I am not perfect.
I do not have it all together. But the tips I'm sharing today SAVED me from the moment I sent that tearful email off to the teacher. I reclaimed a small bit of my sanity and there were no more missed jammie theme days at school for the rest of the year.
As we head into the new school year, put these systems in place and you'll be ahead of the game! Starting the year prepared is so much easier than playing catch up!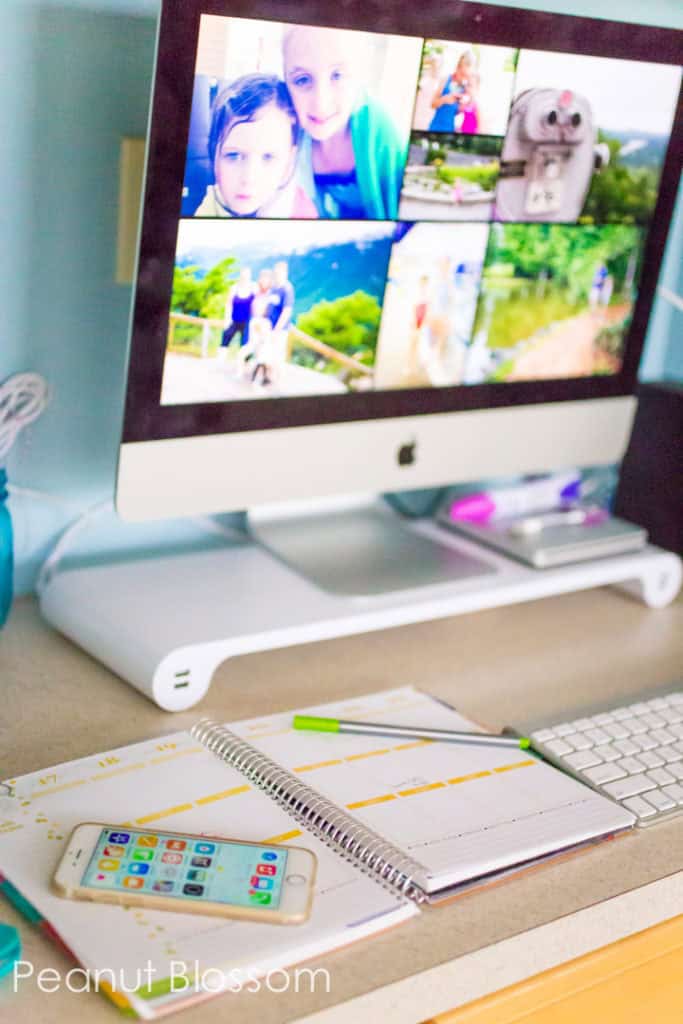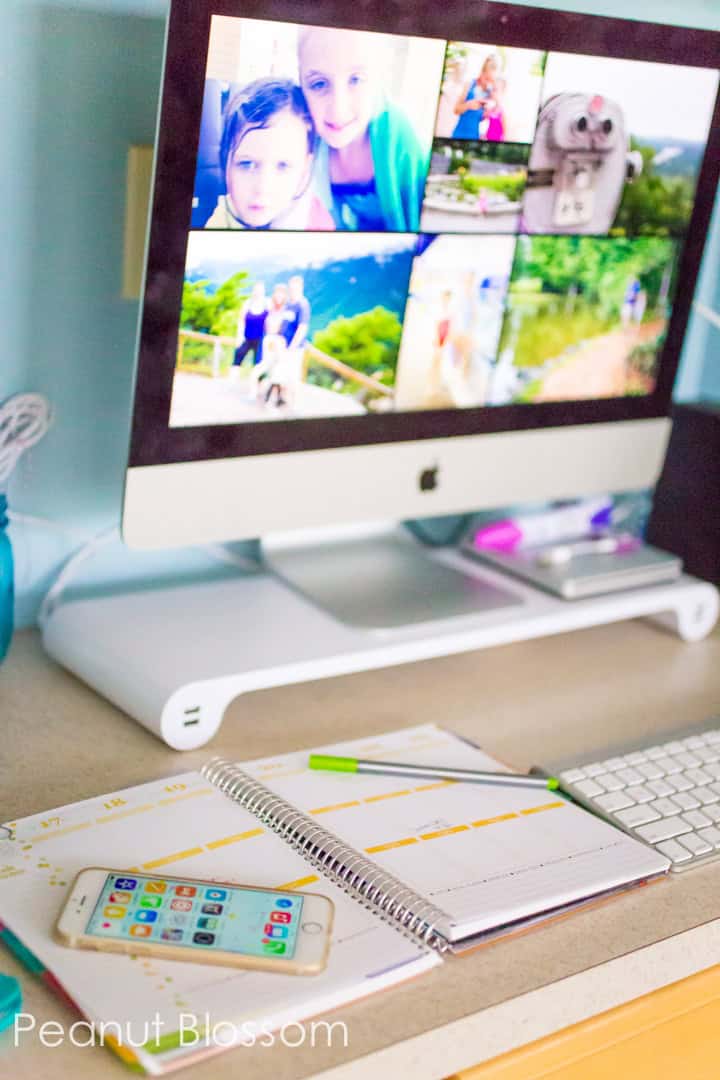 4 back to school organization tips for moms:
1. Start a new email address: This is the very best tip in the entire world. So good, it should be on the notes you get from the pediatrician at the hospital. Every parent should have an email account that they guard with all that is precious to them. Go on over to Gmail and set up an account that is ONLY to be given to the school and after school activity organizers for your children.
NEVER give it for newsletters. NEVER give it for store coupons. NEVER give it for Amazon log-ins or Netflix accounts or anything else anywhere.
The ONLY messages that come into that account are emails that come directly from my kids' teachers or sport coaches. It is so much easier to organize and sort an account with so few incoming messages, almost all of which are important.
I named this email account a variation of my name and "Mom" @ gmail.com It's a little bit cheesy, but it is easy to remember and clearly states this is a family organization address.
It has been my number one protective defense against the Jammie Day Incident.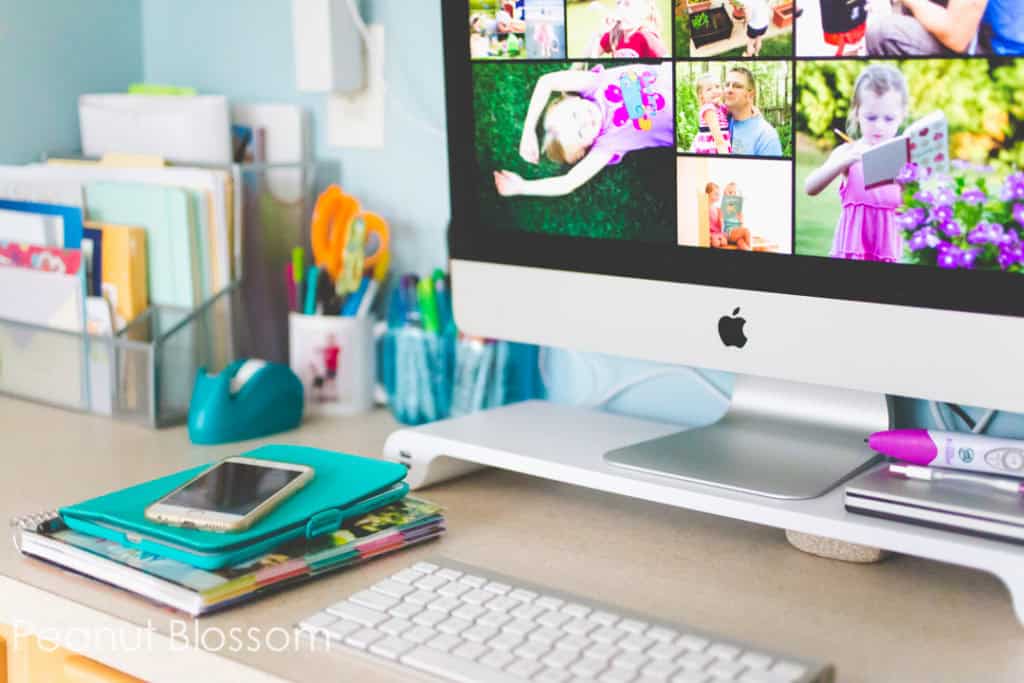 2. Have a system for papers: My work desk is now Hallowed Ground. Ever since that 4 hour cleaning purge, my desk has remained spotless. I follow 4 strict rules:
Nothing gets dropped on the clear surface "for later." Anything I'm tempted to put there, I deal with immediately and resist the urge to start a pile. This is like a zebra trying to change it's stripes. The struggle is real but it is working!
I have a folder in that file holder that is my "working folder." In it goes bills (opened and already taken out of their envelopes and laid flat), forms I have to fill out for school or medical, or any other paper that requires an ACTION. Nothing goes in there that is just a pure reminder, I have a different plan for those items. I go through this folder once every morning and act on as much as I have time for or is needed.
I have 2 more folders–1 for each kid–that will hold the cute items I want to save that they bring home from school. When the folder gets too thick for that space, I'm going to weed through and purge it. At the end of the year, I'll take those things and put them in the permanent file I have upstairs.
Coupons and store discount mailers are my downfall. I'm still working on a system for these, but for now I'm placing them into my planner.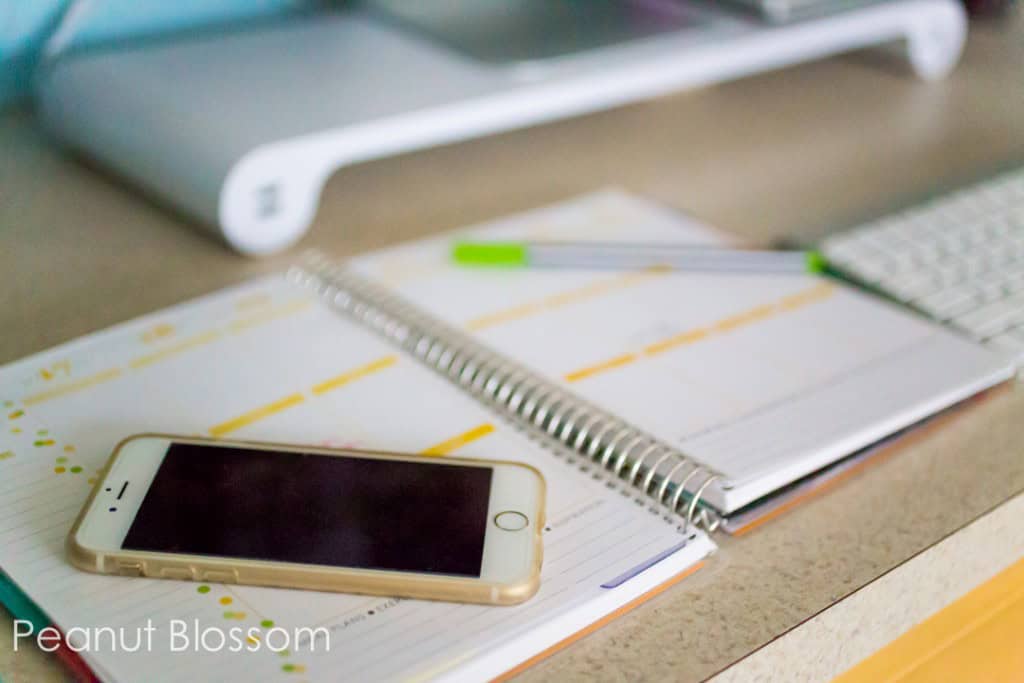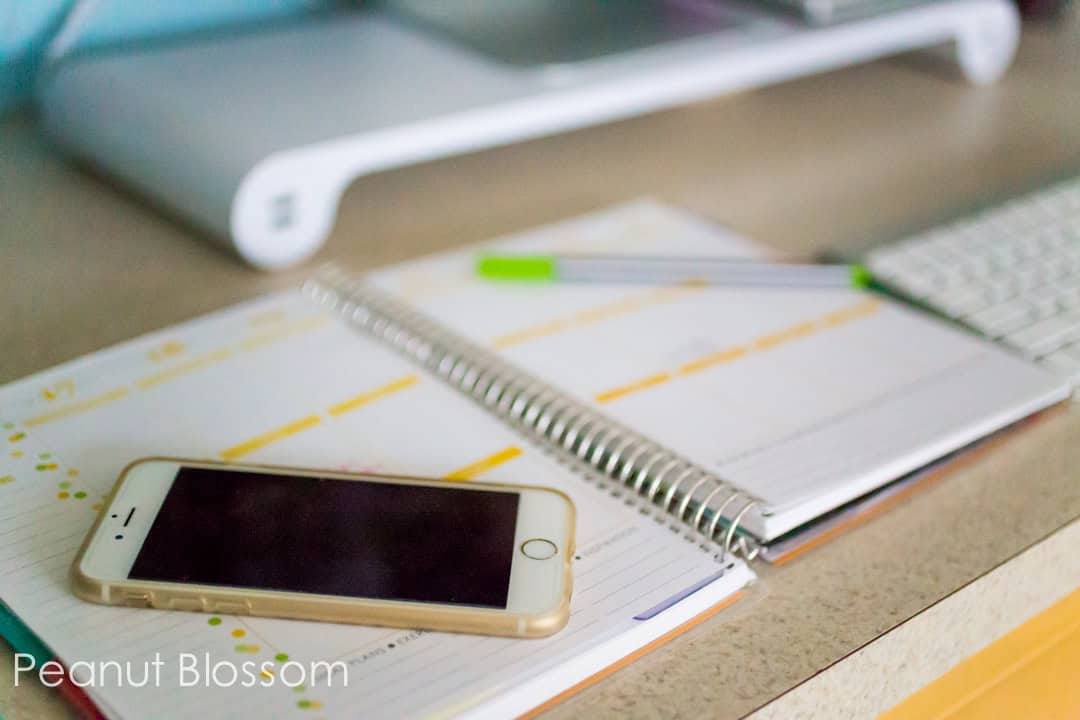 3. Have a calendar that works!: God Bless my planner! Even at my worst last year, I know using my planner saved me from several bumps. This year, I plan to be ridiculously crazy in writing things down if only to cut down on the crazy amounts of paper clutter that consume my kitchen! Remember my working folder from point #2 above? There are mountains of papers that come home from school that don't necessarily require an "action." I will be writing down the appropriate details in my planner immediately and then pitching the paper immediately.
You can see my full review for my favorite Erin Condren planner here but I am on year 4 of using it and I still swear it is the best one out there for moms. There is room for me to track specific timed appointments, open ended tasks that are week-specific but not necessarily needed on a certain day, and plenty of room to use it as a meal planner or fitness tracker. Now I'm using it as a coupon holder and clipping the precious few I use into the weeks I think I'll use them so they don't get lost and forgotten.
Want to snag your own Erin Condren planner? Use this link to save $10 off your purchase!
SAVE $10 AT ERIN CONDREN
4. Take advantage of Facebook groups: I tried to get this started with the Peanut's class last year and it only worked sort of ok but I still believe it would be a godsend if more families used it. If you have tech-savvy families at your school it is definitely worth a shot. Assist your room parent by setting up a Private Closed group for just the parents of the kids in your child's class. Call it something like "Miss Smith's 2nd Grade" and then only approve the other families in the class to join.
Use the Files section to store things like: Teacher's Favorite Things, the Class List, the calendar of events, etc. Anything the teacher would email home that needs to be referenced later can be uploaded for easy reference in the Facebook group.
The chit chat that happens amongst parents trying to organize the class parties and festivities can all happen in the group saving everyone dozens of emails in their inbox. Plus, the details and conversations are all documented, organized, and searchable within the group. Once the decisions are made, share the Sign Up Genius link for everyone to participate and find again later.
Bonus points that everyone can look up the details they need easily from their smart phones on the go!
I'm curious, what are your biggest organizational challenges when it comes to school time for your kids? Come on over and join the discussion on Facebook: