Great back to school organization tips to keep your mornings running smoothly. Don't miss this back to school essential!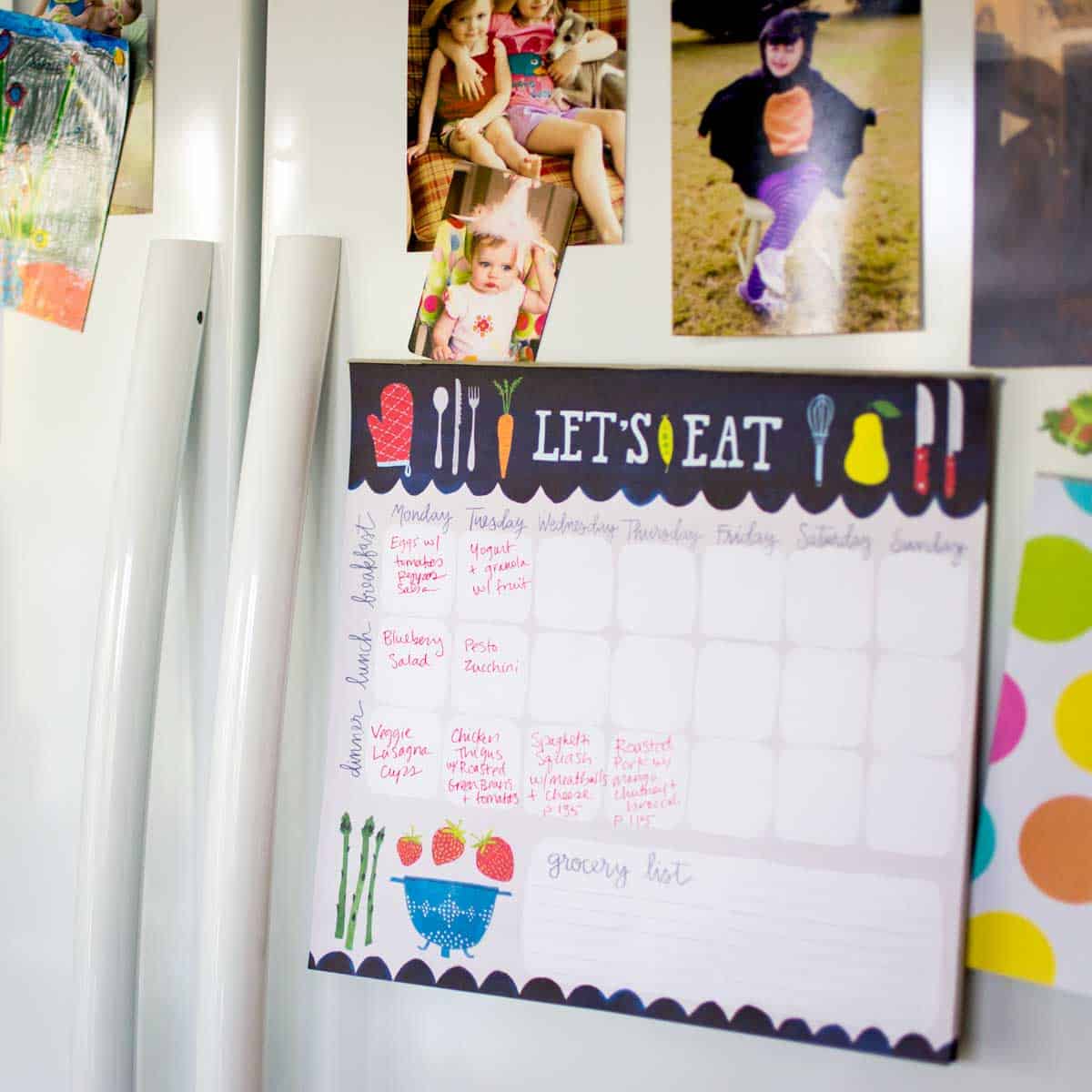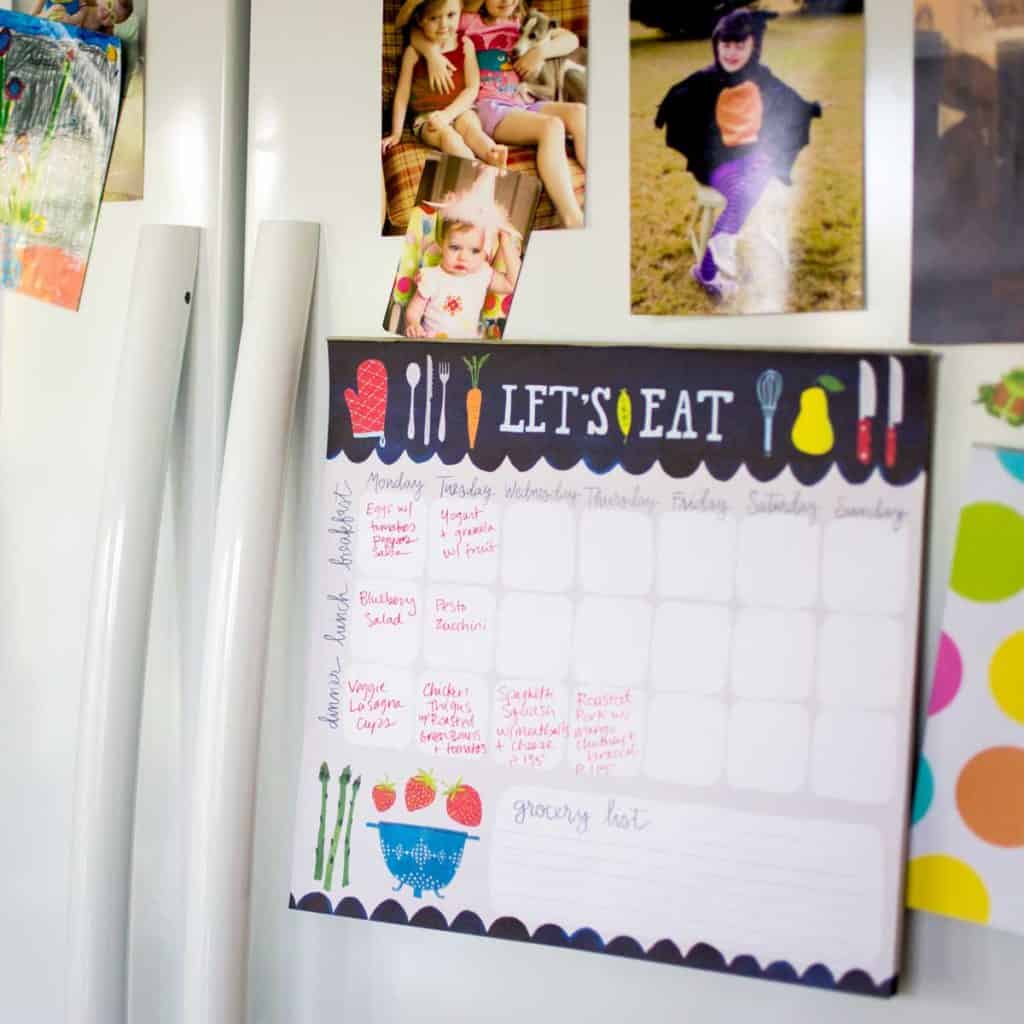 Oh the bustle of a typical school morning. I have not missed it at all this summer break. But, that first day back is looming ever closer and at the end of every summer I crave preparation to make things go better than the year before.
You could ask my neighborhood friends about how many mornings my girls and I arrived at the bus stop breathless and frantic with me in slippers and an exhausted smile. There is so much to be squeezed in during the mornings to ensure that everyone has what they need and that the rest of the day goes smoothly.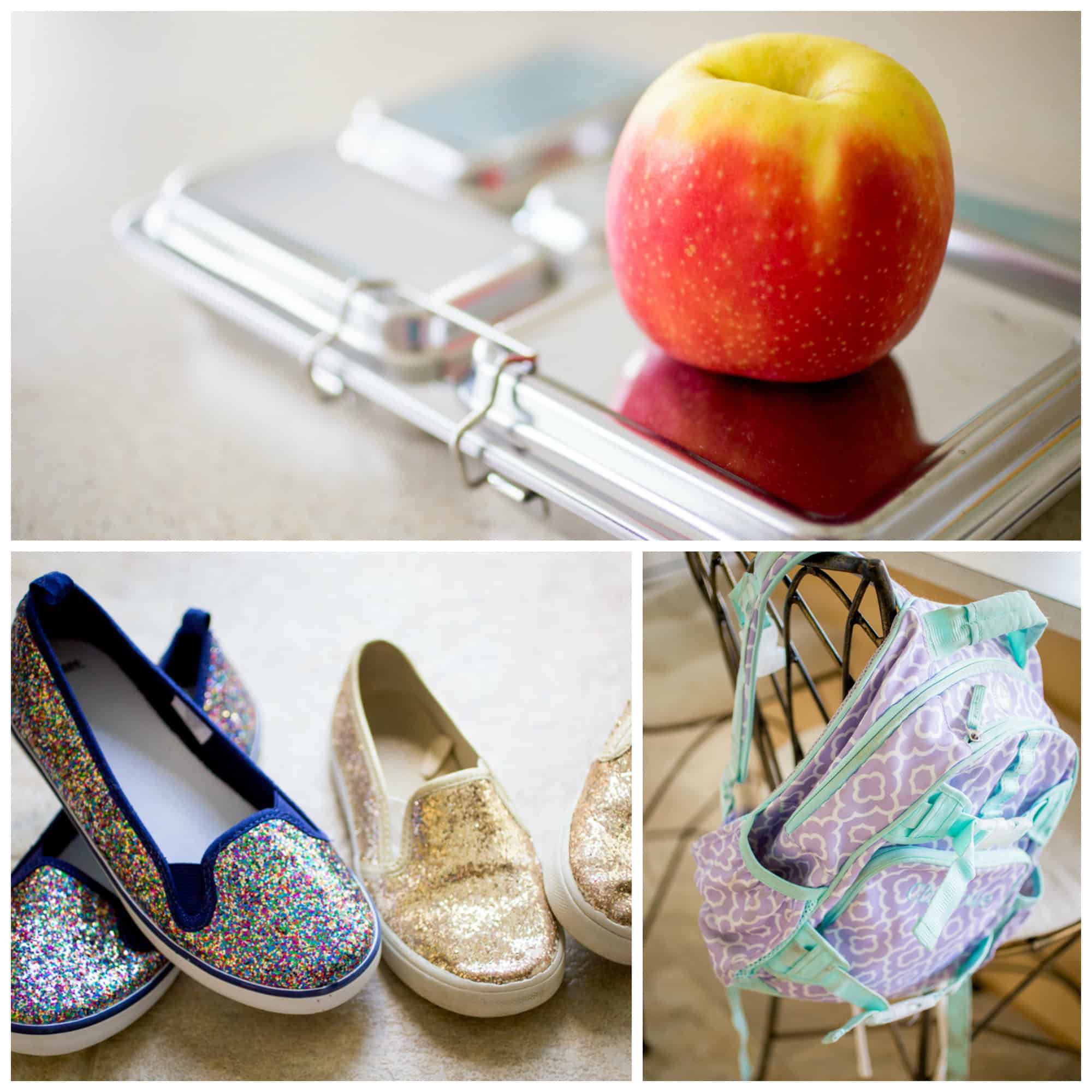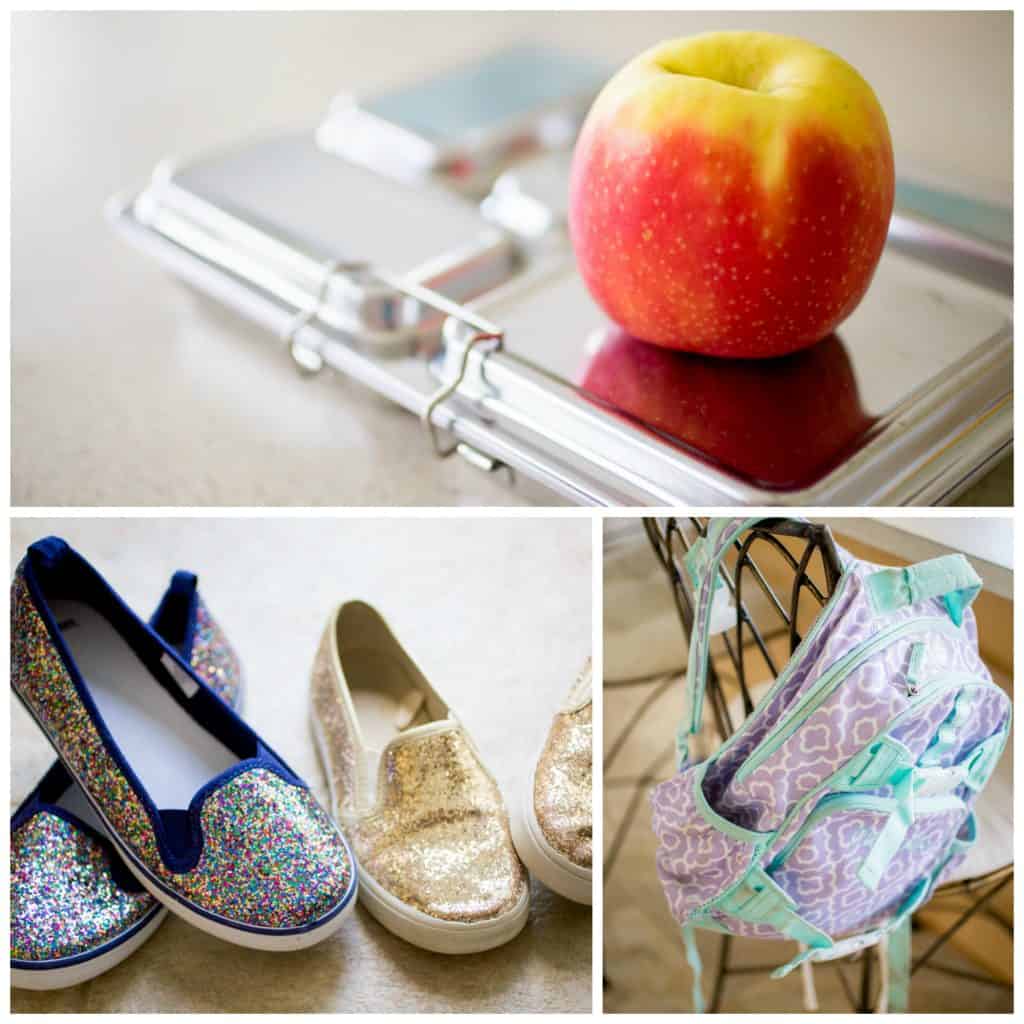 Essential School Mornings Checklist:
Put your oxygen mask on first: I'm so guilty of not doing this. I pop out of bed and immediately start doing things for the kids. 45 minutes will go by and I realize I haven't even had something to drink. Brew your coffee, grab a Diet Coke, get your caffeine of choice going before you do anything else.
Pack the lunches: The bane of every parent's morning routine. Get this dirty deed done first and everything else will feel easy. Check out my 30 Days of Lunches for inspiration on making this as simple as possible.
Feed the kids: My girls are finally getting big enough to make their own breakfast! Hallelujah! I plan to delegate this task so I can make the lunches while they are eating. Even if it only saves me 5 minutes, that's more time for me to check of the rest of this list!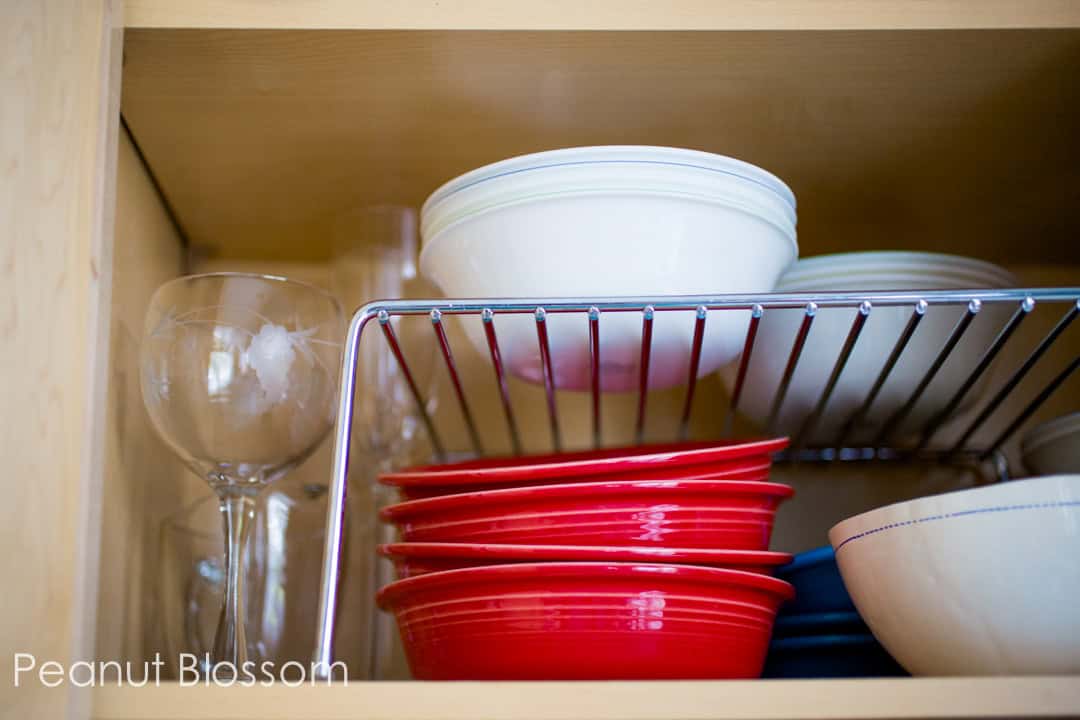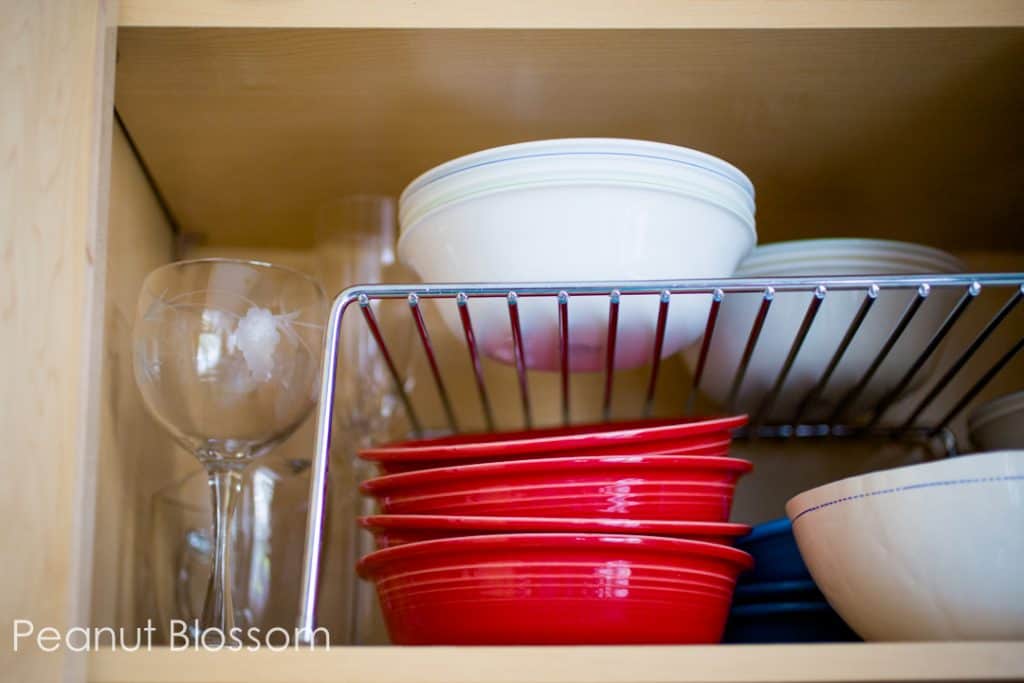 Empty the dishwasher: No, this isn't essential for catching the bus but I've learned it is essential for our family's sanity the rest of the day. Run the dishwasher at night no matter how full it is, empty it first thing in the morning before things start to catch by the side of the sink.
Clean up after breakfast: With the washer now empty, the kids have zero excuses for not rinsing their plates and cups and putting them inside.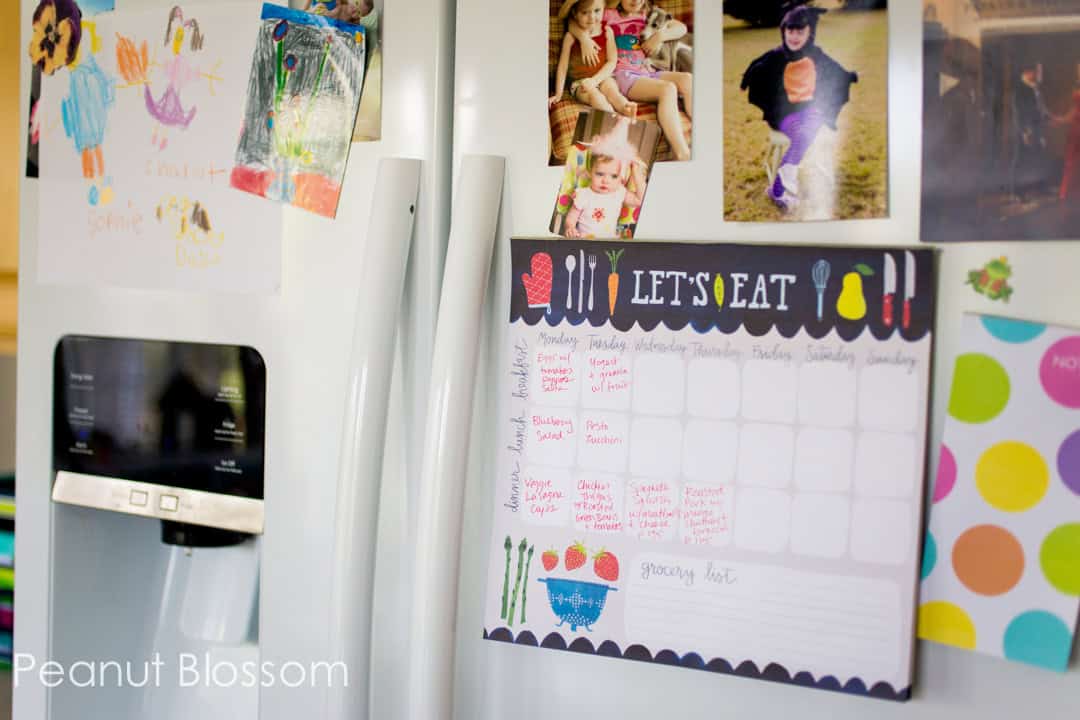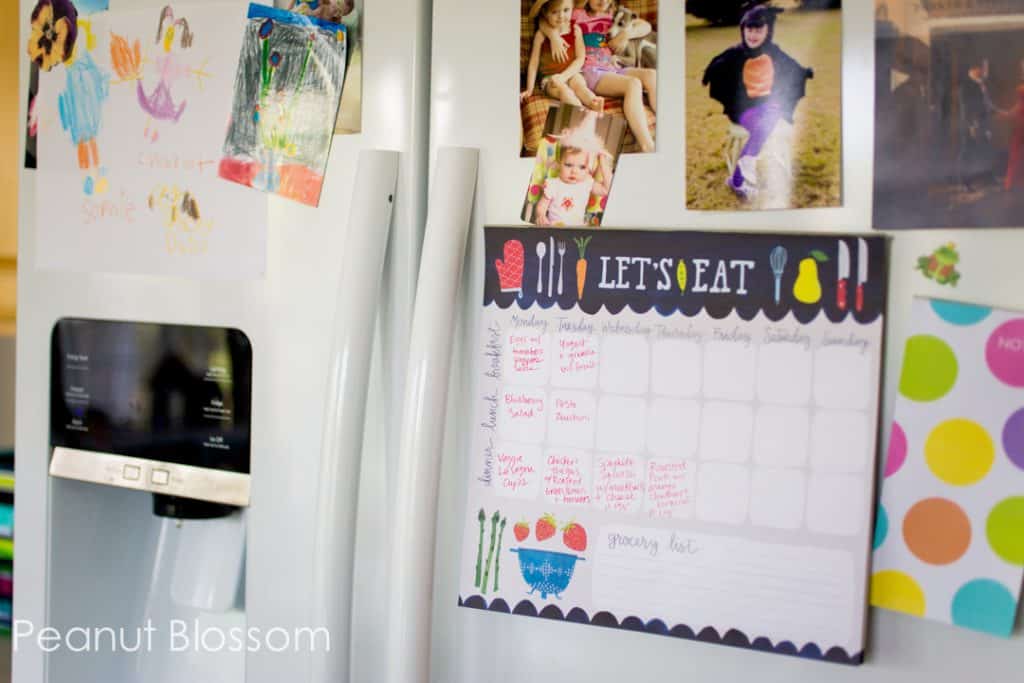 Check the meal plan: I keep this list front and center on my fridge. My favorite tips from Dinner: The Playbook say to think about dinner first thing in the morning so that you remember to grab the meat from the freezer or whip up that marinade while you still have time. Maybe I'll see I need to grab a missing ingredient from the store. That 2 second glance at the meal plan inevitably saves one headache or another.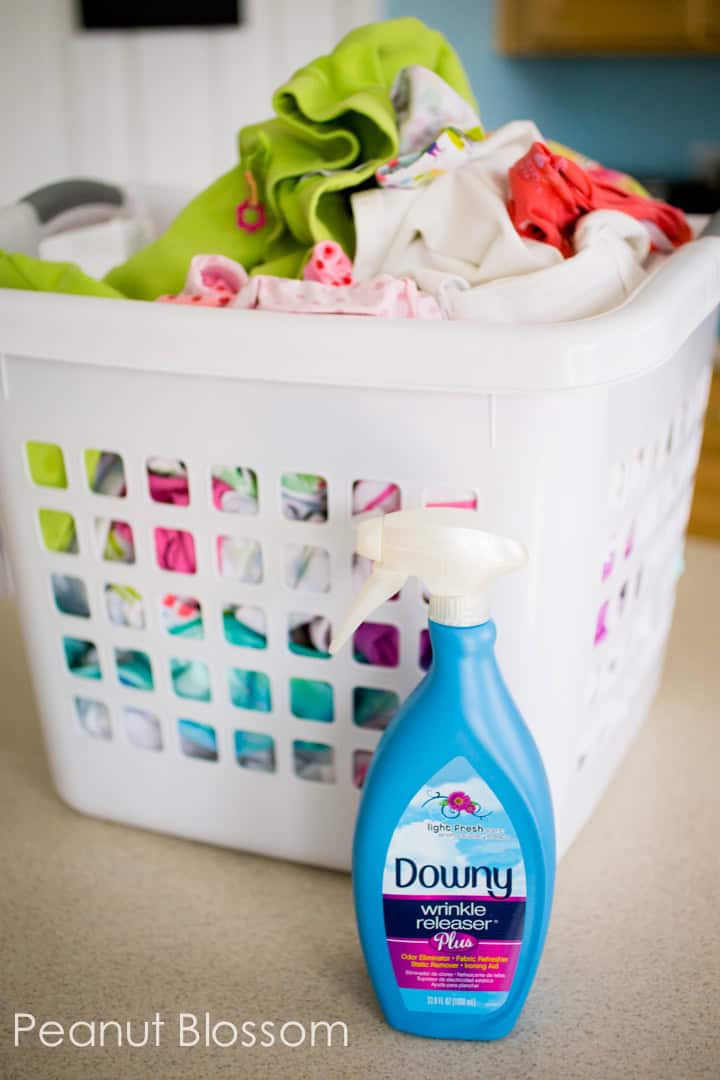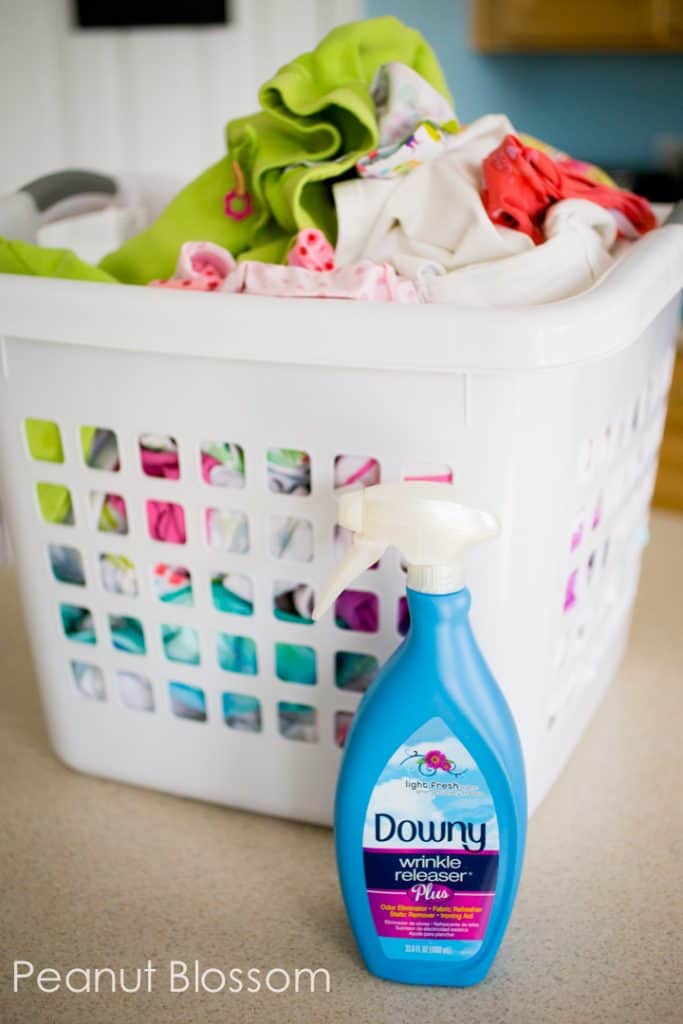 Smooth out the wrinkles: Try as I might to keep our laundry going and organized, it seems every day the girls' clothes are pulled from the dryer or from a rumpled drawer in their room. Can someone please explain why kids can't pull out one shirt from a drawer without messing the whole thing up?? I'm giving the kids more responsibility over maintaining their wardrobes this year but I know that means some wrinkles as we practice this. I have Downy Wrinkle Releaser Plus ready to go to make sure they don't walk out of the house looking like that rumpled drawer. Simply spray, tug, smooth and hang - and the wrinkles are gone. Not having to iron definitely gets us out the door faster.
Check the folders: While the kids are getting dressed, I start the backpack prep. We go through their folders at night, but with after school activities sometimes things get overlooked. I've made a habit to take one last peek in the morning to make sure there aren't any permission slips or homework to be initialed.
Check the calendar: Last year I set up 4 systems for keeping myself on track with the information coming home from school. But none of them work without looking at my calendar! A quick glance will remind me if today is "Red Shirt Day" or bring your favorite stuffed animal day.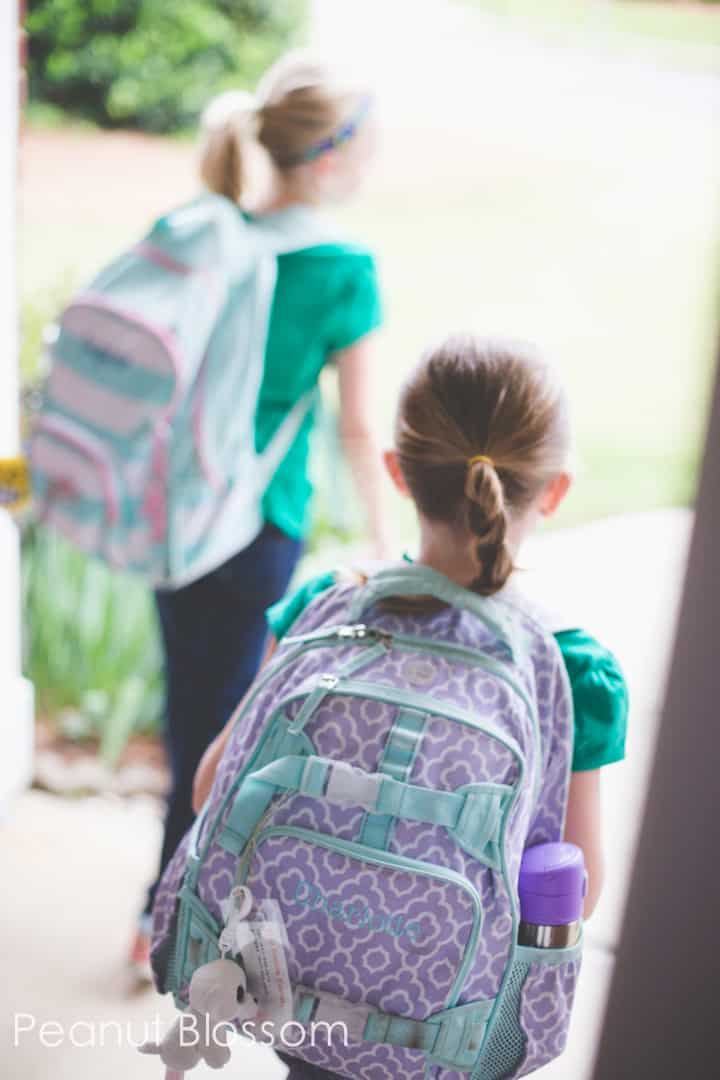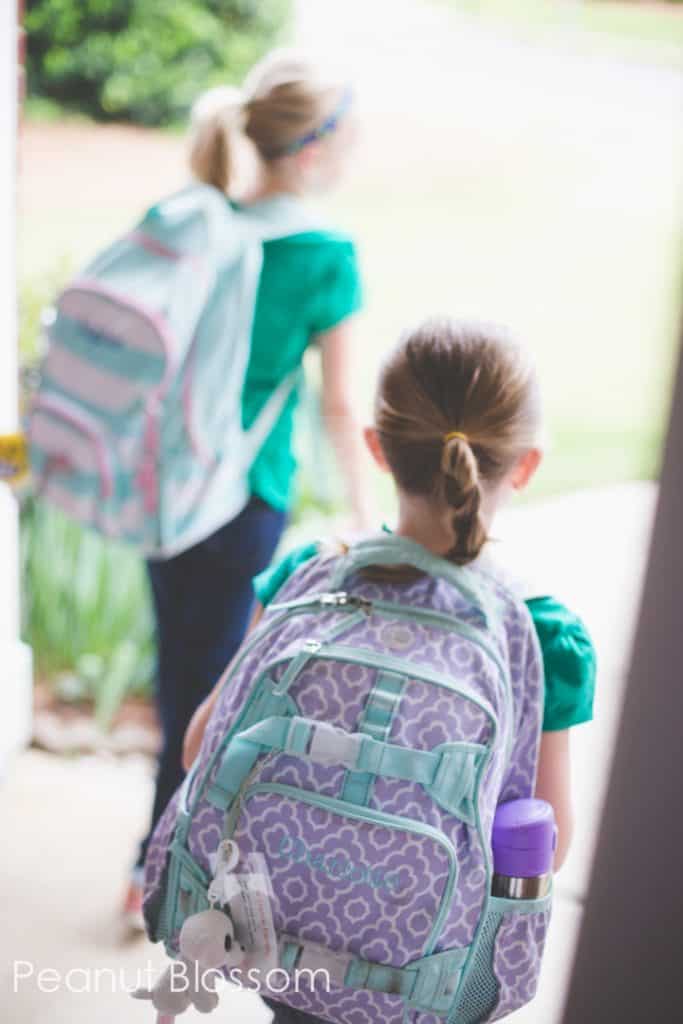 Hair time: By now, the girls are dressed with teeth brushed. They still need help getting their hair done for the day. We keep hair ties in a special bag right in my kitchen drawer for last minute pony tail fixes. This has saved enormous time not running around looking for them or heading back upstairs for supplies.
Lice prevention: Super lice have arrived here in town and omg we are taking ALL the precautions. My kids are not allowed out of the house on a school morning without a heavy spritz from our lice prevention spray. We also keep our wide tooth combs stored inside the freezer drawer. This helps kill anything that may find it's way here and helps prevent cross-contamination between the two girls.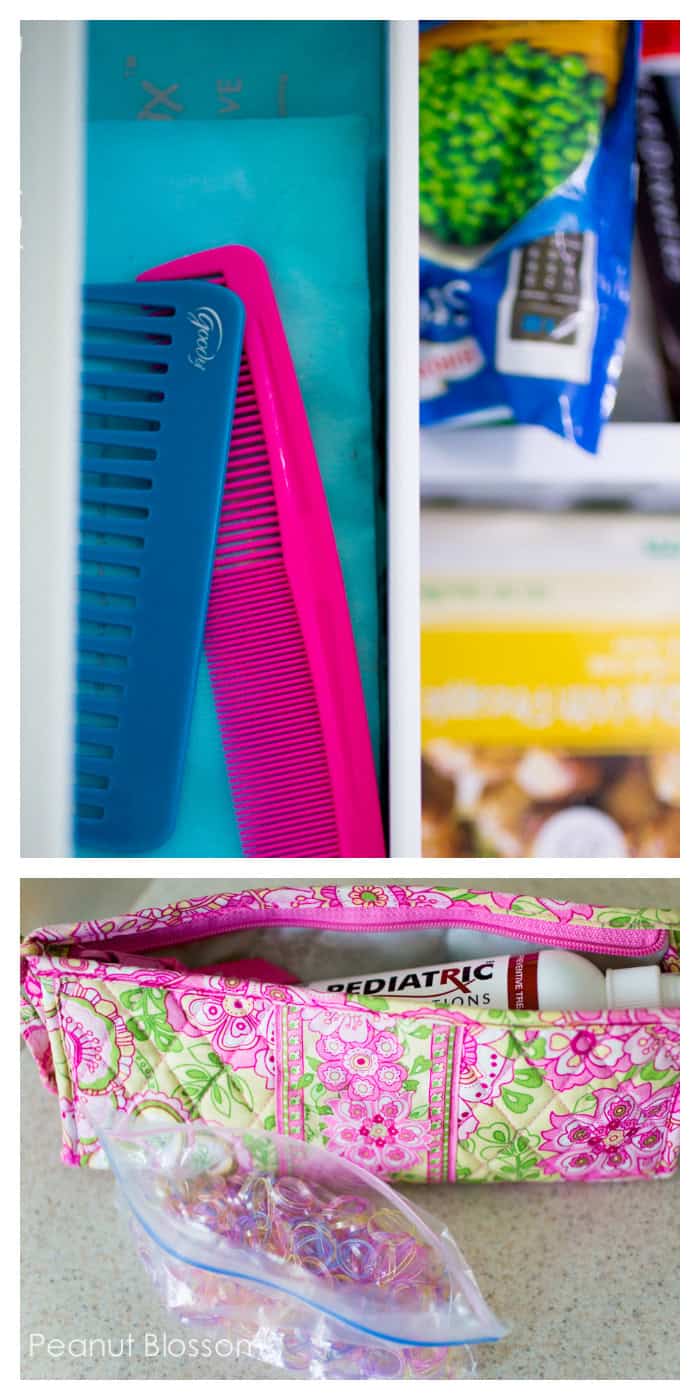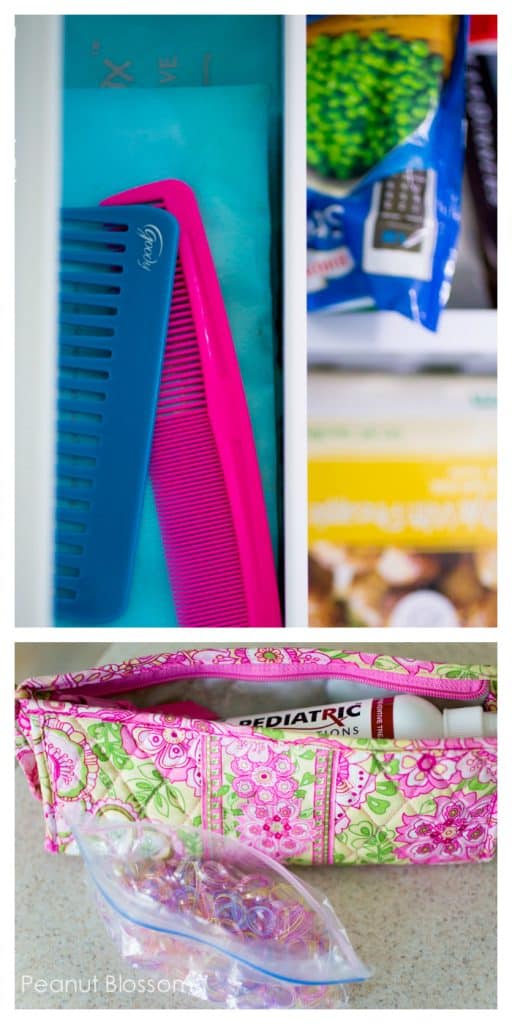 Water bottles and snacks: The girls are in charge of packing their backpacks with the water bottles they need and a snack for school. I keep a container of grab and go snack options (apple sauce packets, nut-free granola bars, bags of pretzels) right in the pantry so they can pick one and load up.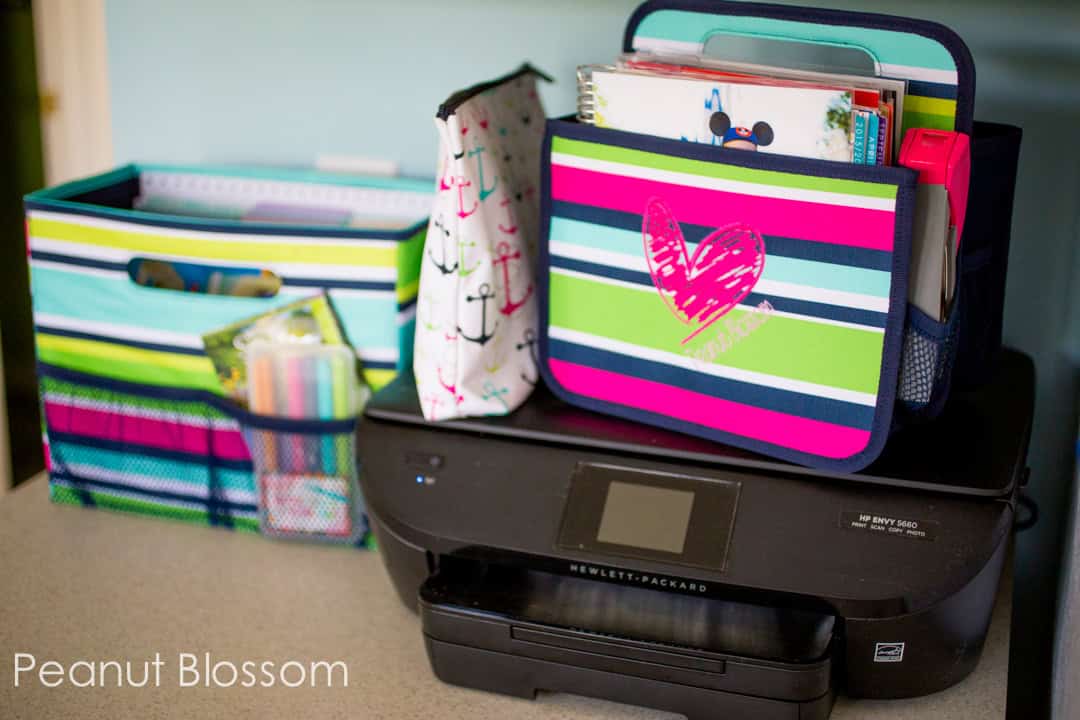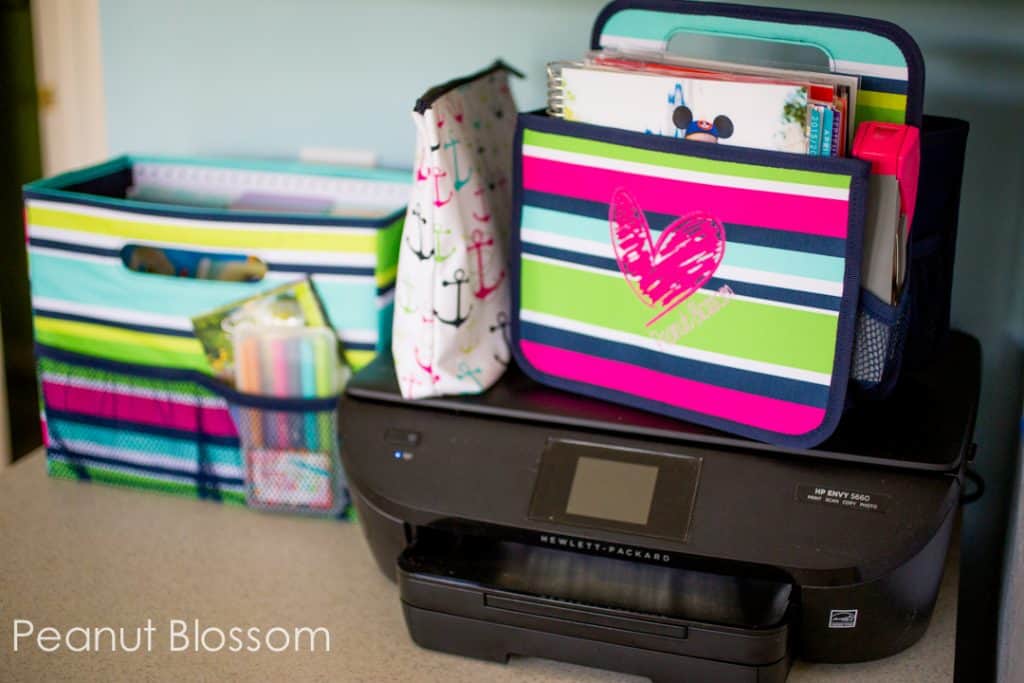 Social courtesies: With all the absolutely essential tasks managed, it is best to be prepared for the last-minute social courtesy requirement: thank you notes, appreciation days, teacher birthdays, etc. I keep my color printer right in my kitchen for last minute cards. We've printed off photo cards for the bus driver, teachers, church leaders, and more within minutes on this beauty.