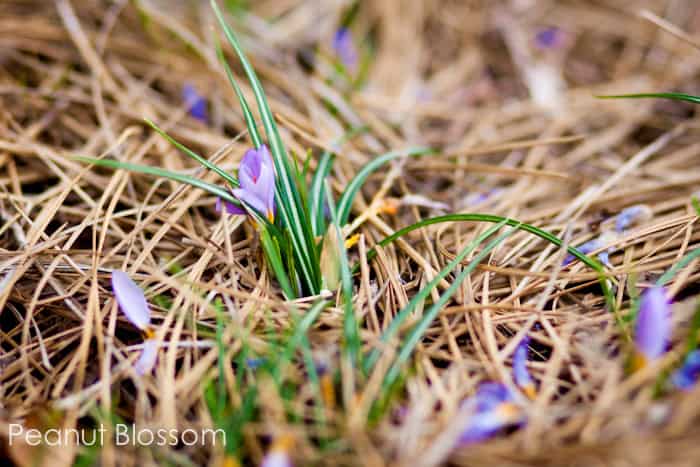 I know the Peanut's birthday is coming soon, not from what the calendar tells me but from what our yard is saying.
I was so worried that my lovely annual reminder of the final days before I became a mommy would be left behind in our old yard. (I'm finding this all particularly special since that post and this one are published exactly 1 year apart–absolute coincidence I swear.)
Last fall Handyman Tim and the Peanut went out into our new yard to plant these just for me. They knew exactly what it meant and how much it would help me to not skip a year of crocus in the yard. When they popped up out of the ground for the first time a couple weeks ago, I squealed with joy.
This year I'm feeling stressed out about the fact that the Peanut's birthday and Easter are only 3 days apart. I'm in the middle of planning her very first friends party and trying to figure out how to make everything special in the new house.
But when I walk up to our front door and see these little purple pretties, I stop and breathe for a moment and remember what's most important:
My little baby's birth day and the husband (and daughter) who cared enough to give me this beautiful annual reminder.