Romanov by Nadine Brandes is the official October pick for the Peanut Blossom Book Club for Recovering Readers.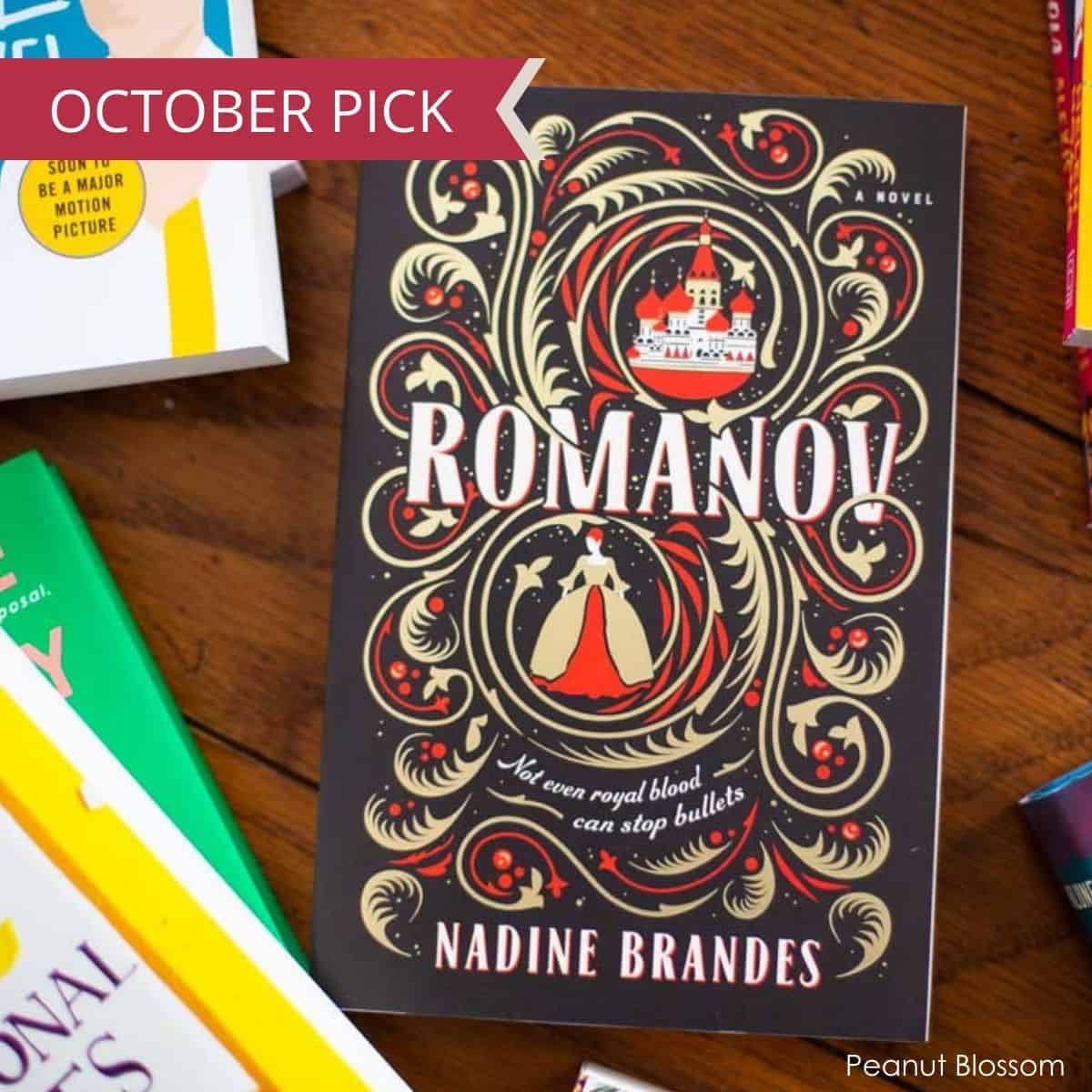 Every October I try to pick a book that falls a little farther down on the "lighthearted scale" of reads.
I look for something that is a little spooky, a little magical, or just a little darker than our usual reads but yet stays far away from anything in the horror genre.
This year, I was drawn to a Young Adult magical realism historical fiction pick about Anastasia and the Romanov family. Isn't that a mouthful??
If you love historical fiction and action, you will love this book. But be warned, it definitely does fall on the more violent end of the spectrum. If you know what happened to the Romanovs, that should not be too much of a surprise!
I can't wait to hear your thoughts on this month's pick!

P.S. Just joining us? Don't miss the full 2021 line-up for our book club picks.
Want Free Reminders for Each Book?
Sign up for my book club newsletter right here:
October's Official Book Club Pick: Romanov by Nadine Brandes
I'm pleased to announce that this is our official October Pick for this year.
Get your copy of this month's book club pick:
Money-saving tricks for reading this month's book pick:
You can get the book from your library.
The Kindle version is a little bit cheaper than the paperback AND you can save money on the Audible version if you own the Kindle copy! I love to use the Amazon Whispersync feature to go back and forth between audio and digital reading.
What is this month's book about?
"My name is Anastasia . . . The history books say I died . . . They don't know the half of it.
Anastasia "Nastya" Romanov was given a single mission: to smuggle an ancient spell into her suitcase on her way to exile in Siberia. It might be her family's only salvation. But the leader of the Bolshevik army is after them, and he's hunted Romanov before."
Read the full description of the book here.
Discussion Questions for Romanov
Want to discuss this month's book with your book club friends? Here are some great conversational questions to get the party started.
You can download the full discussion guide here and then print it to have handy.
What did you know of the Romanov family before this book? Had you seen any popular movies or tv shows on the subject?

Do you have any desire to travel and visit Russia? Have you already been? Where?

The Romanov family motto was "We are Romanovs. The bond of our hearts spans miles, memory, and time." Does your family have a motto? What would it be?

Mamma confesses a secret to Nastya about how far she went to help Alexei. What is the craziest thing you've done to protect your own children?

The Romanov family lives for their time out in the garden during exile and suffer greatly when that time is reduced. What would be the worst punishment for you in their situation?

Forgiveness of deep betrayals is a prominent theme in the book. Are you a "forgive and forgetter" or do you struggle with it?

How would you have written the ending of this book? Where do you think the characters are now?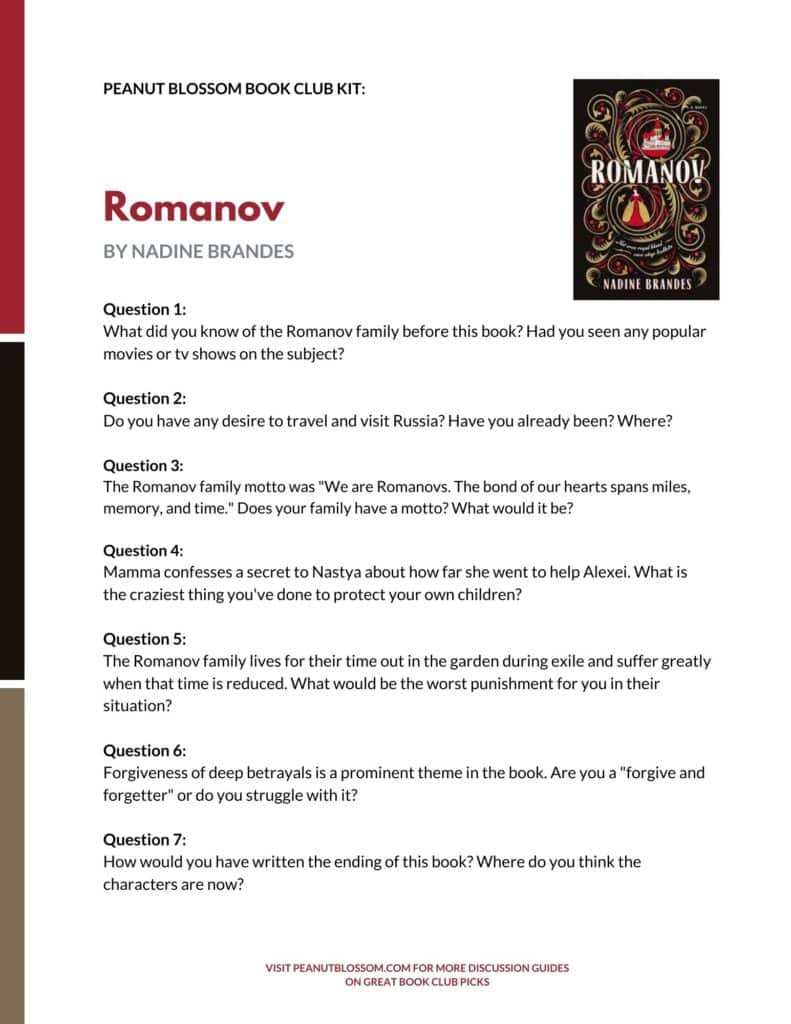 Book Club Party Recipes:
Food plays a very interesting role in historical fiction novels. Especially books that feature countries we may never have visited before.
Traditional Russian recipes are mentioned throughout Romanov. I would highly encourage any book club reading this book to plan a full Russian dinner party potluck. Have each member bring a dish. You can find most of the main recipes mentioned (along with the book quotes they are featured in!) in my Russian dinner party post here.
Don't want to plan a whole dinner? No worries, there are several dishes that would be perfect for making separately.