I'm sharing how the kids and I make road trips fun with Goldfish®  Puffs as part of a sponsored post for Socialstars. #GoldfishTales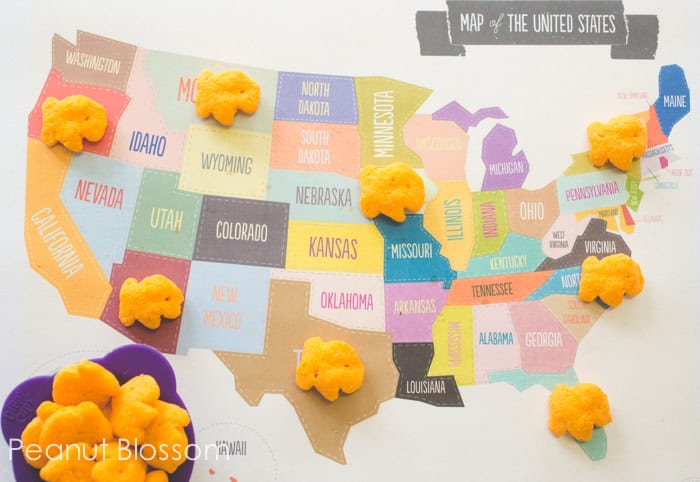 "Are We There Yet?!"
It's family road trip season! Are you taking the kids somewhere fun this summer? We just did a 9 hour drive to Disney and still have our annual 4 hour drive to the beach to schedule. Knowing how much time my kids would be in the car for these trips, I needed to up the ante with our entertainment options.
When you're driving so far and crossing state borders, one of my favorite ways to make the trip more fun is to use maps with the kids. To keep this affordable, I hunted down free printables and found this adorable US Map printables set. The US map comes in both the full color version you see here as well as a grey "color your own" option. You can print your own copies here.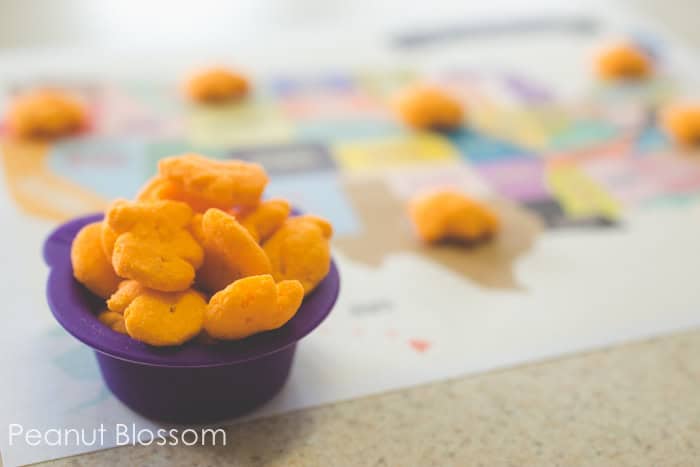 Next you need tokens to use as markers. We used the tasty new Goldfish® Puffs for our games. These light and puffy snacks look hysterical and oh so happy on the map, their slightly larger size means they cover up most of each state location.
I provided a little snack cup of the Goldfish Puffs for each girl and we were able to play several variations on games.
Check out our favorite 6 Road Trip Games for Kids: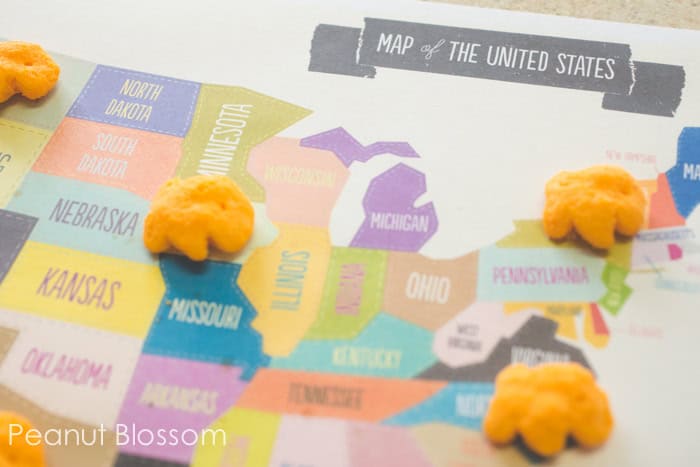 1. License Plate Bingo: When you're driving on a busy highway with lots of cars around you, set a timer and see how many states you can spot. Mark them on the map with your Goldfish®  Puffs.
2. Family Trivia: Mom & Dad shout out questions based on their history to spark conversation with the kids. The kids mark the states with their Goldfish®  Puffs. The one with the most correct wins.
As questions like:
The state where mom and dad met.
The state grandma was born.
The state mom went to for her first spring break.
The state where dad had his favorite family vacation when he was 9.
The state where grandpa went to college.
3. Mark the Route: The driver announces the state you are entering and the state where you want to go. The kids mark a route between the two states with their Goldfish Puffs. The one who can map the shortest route (i.e. the fewest amount of puffs) wins!
4. Match the Capitals: Parent calls out the capital city, kids have to mark off the right state with their Goldfish Puffs.
5. Color Matching: For the preschooler set, use the colored map printable and have them mark all the states by color.
6. Region Racing: Shout out a general region of the country (i.e. Midwest, Southwest, North East, etc.) and have the kids cover that entire region with Goldfish Puffs. This can simply be used to teach direction or for your older kids can be used in a higher stakes game to see which states actually are included in each district.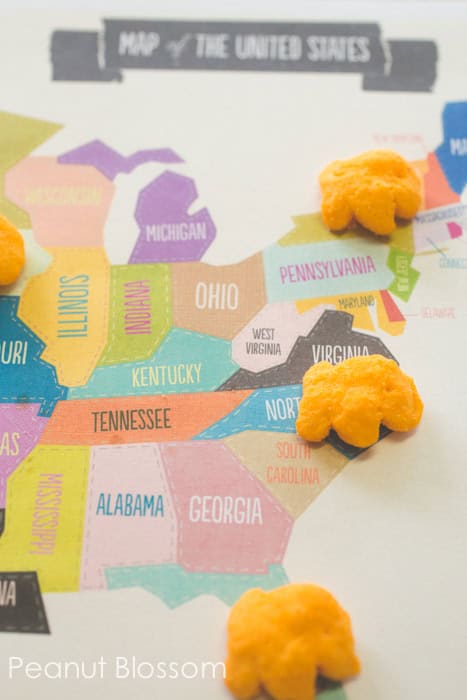 What's so perfect about using the Goldfish Puffs is we found that they didn't leave a cheesy residue on the kids' fingers when playing but are still a super yummy snack. My kids were more than happy to "clean up after themselves" by munching on all their Goldfish Puffs when the games were done.
If you capture a photo of your own #GoldfishTales road trip fun, you can enter to win a case of product each month and an awesome trip to the U.S. location of your choice.* For more information and to see the adorable submissions, be sure to visit GoldfishSmiles.com.

Goldfish Tales Rules:
*No purchase necessary. Sweepstakes ends 7/31/15. Must be resident of 50 US/DC, 18 & older. Void where prohibited. Limit one entry per email address/ day.