Looking for a red lip gloss with Rosacea? I tested four major brands to see which one is the perfect fit for rosy cheeks.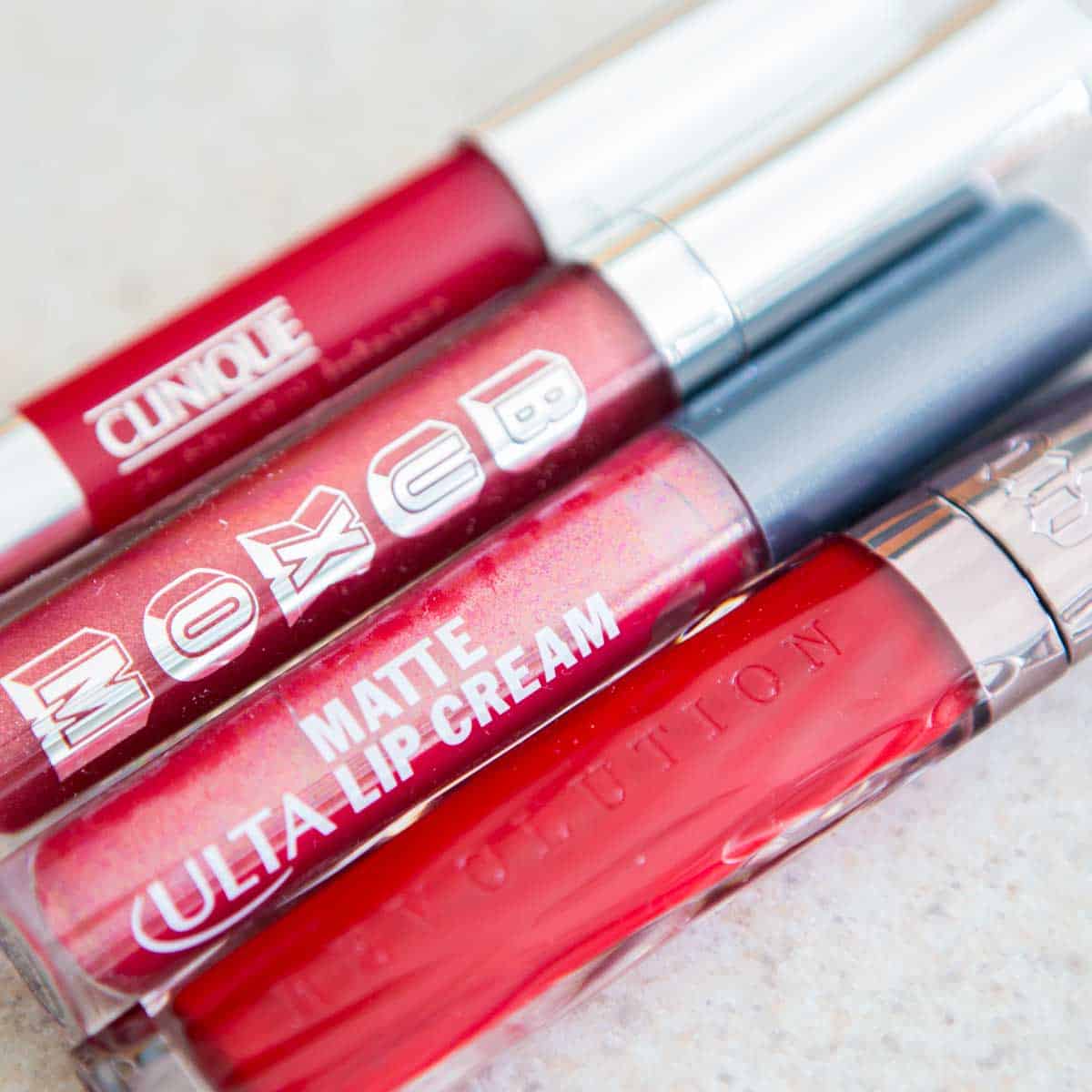 When I was pregnant with the Peanut and my hormones were all out of whack, I started to notice my complexion was changing. I had these annoying flare-ups of bright red splotches on my cheeks.
For the longest time I chalked it up to pregnancy quirkiness but long after the baby was born and the redness lingered, I finally consulted with a dermatologist and was diagnosed with Rosacea.
My case is annoying, but so much milder than the examples you might find if you google the condition. My doctor basically implied that not much could successfully be done without massive antibiotics or expensive potions, all of which could actually work to make things worse.
Back in my younger days, I had always shied away from brave red lipsticks because even then my skin had a very reddish tone to it. Until my college friends dragged me in for a makeover at the local Clinique counter and an awesome rep there hooked me up with the perfect red lipstick ever. I don't remember the name of it, but it has long since been discontinued.
Once my rosacea set in, I had given up the idea of wearing red lipstick for many years . . . until now.
With my 40 Before 40 list looming large, I thought about the things I wanted to do before I enter the next decade. I realized that finding a new version of that perfect red lipstick was something I finally wanted to tackle again.
I don't wear makeup often, but having a brave red lip in my arsenal just felt like something I wanted to do. I'm done with letting things get between me and feeling good about myself. Screw the rosacea, I'm not letting that stop me from feeling pretty.
What I didn't expect was the impact it would make on the girls! They were both so surprised to see me wearing RED lipstick for my date with daddy they couldn't stop asking about it:
"Are you going to KISS daddy with those lips?!"
They obviously had visions of exaggerated cartoon scenarios with daddy covered in bright red lip marks all over his cheeks.
So on the drive home from our date, we decided to surprise them: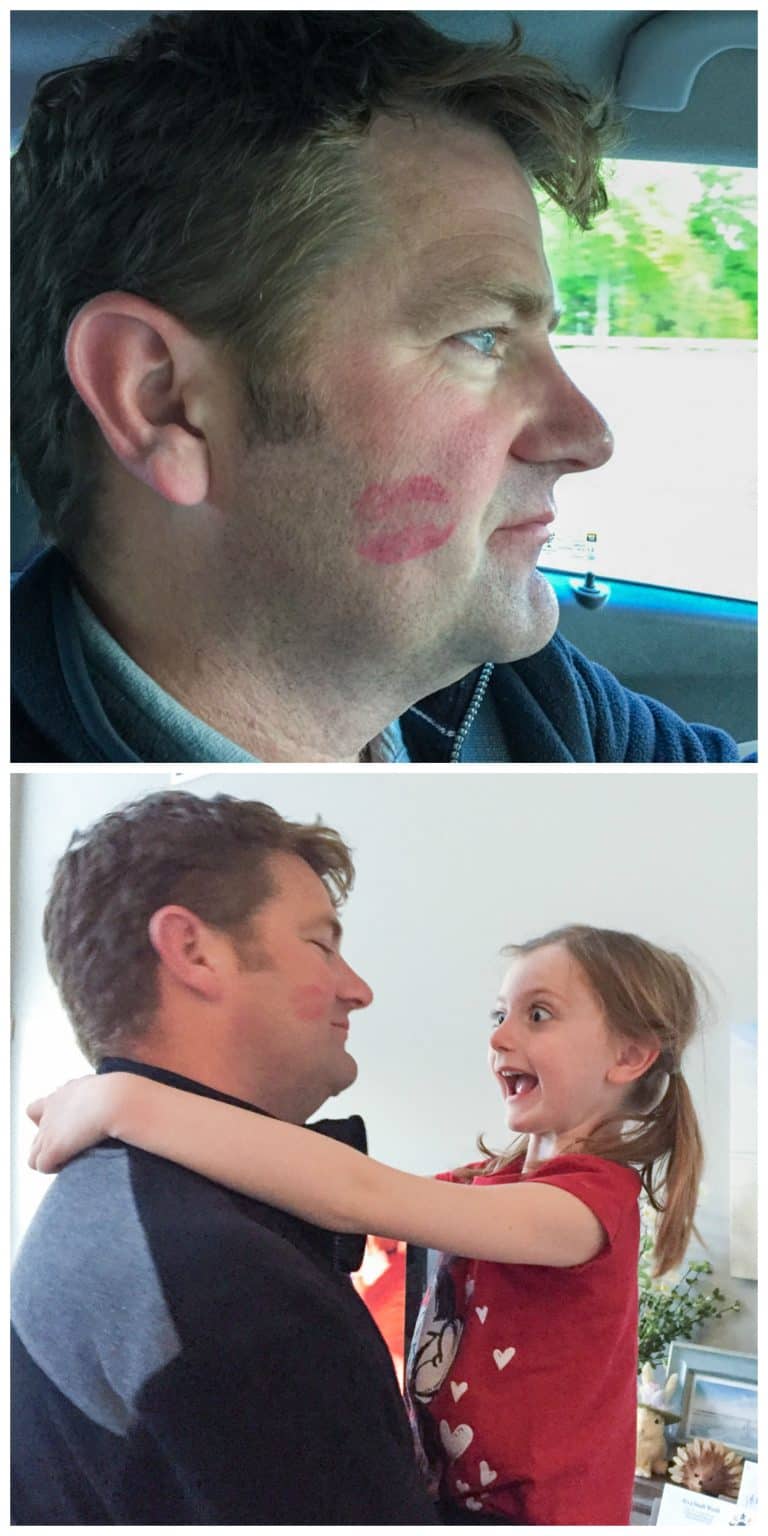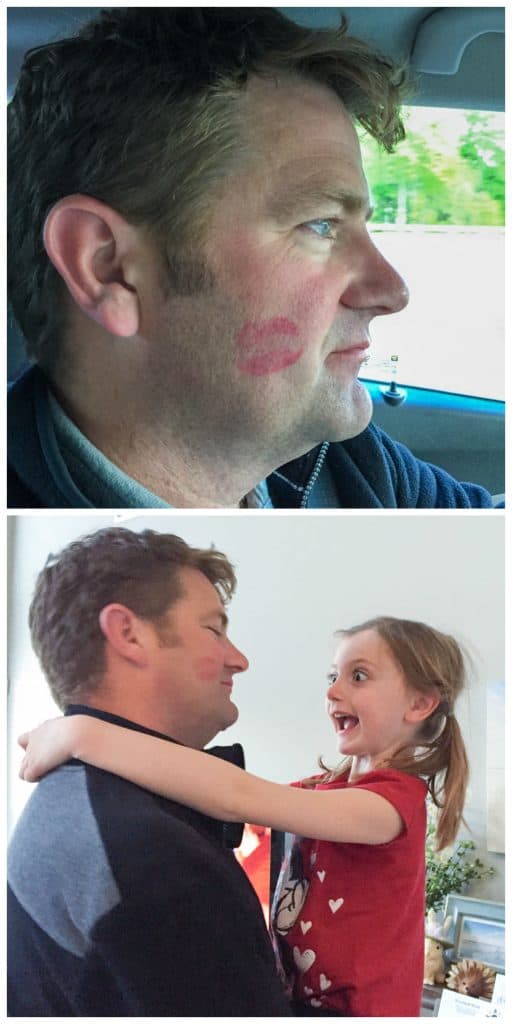 But first I had to find the darn lip gloss!
Armed with nothing but a memory of that long ago Clinique formula, I went to Sephora and Ulta and scoured every single lip item they had in stock.
I came back with these contenders: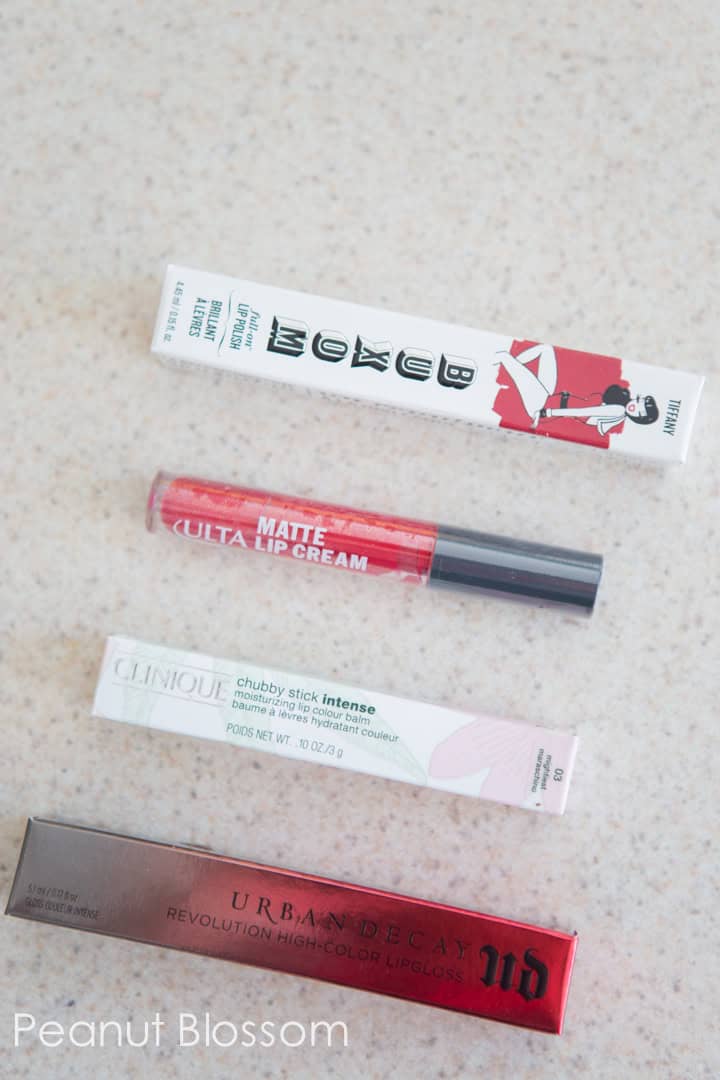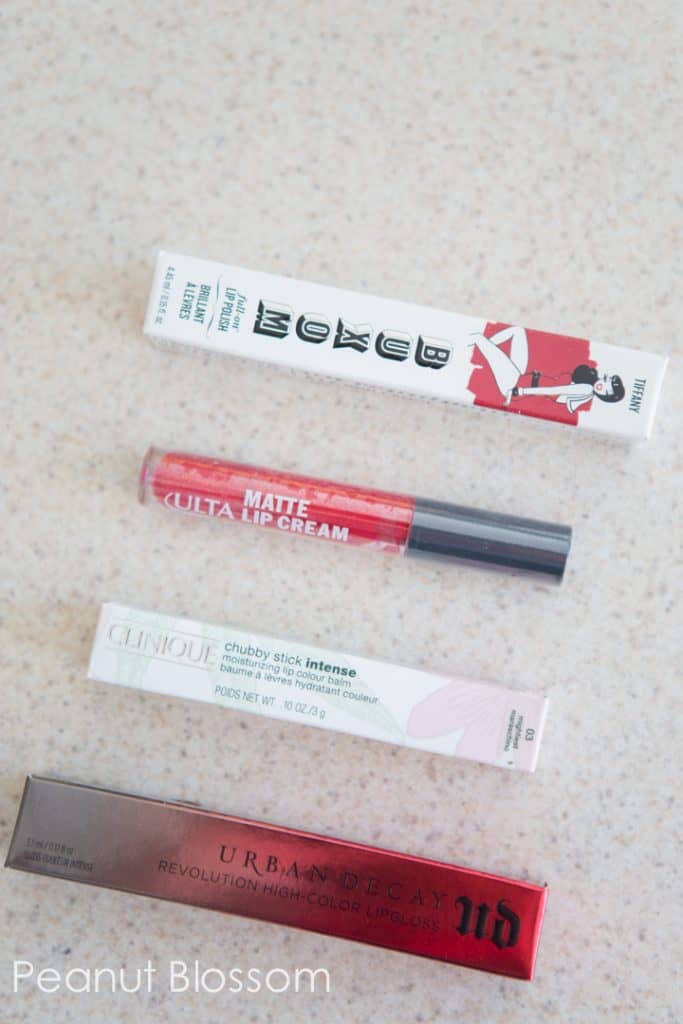 The Red Lip Glosses I Tested
Here's a peek at all 4 on my hand. (Sorry, they are listed in the order on my hand in the descriptions below.) Forgive the wrinkles. I'm not a hand model!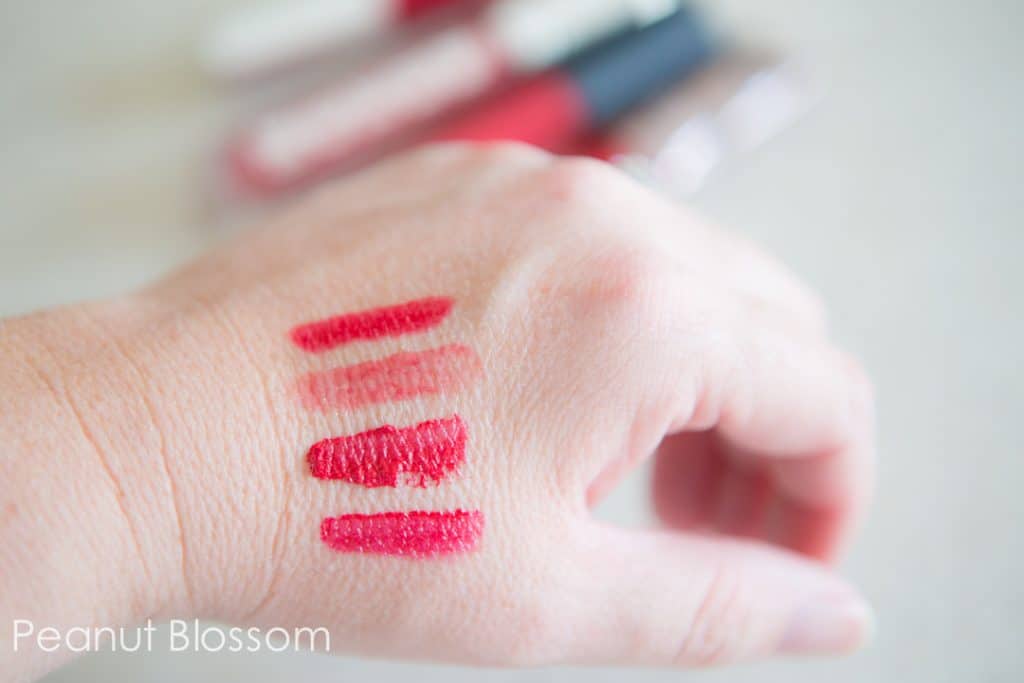 What Sephora says:
"A nourishing tinted lip balm halfway between sheer and opaque. Soften lips with a cushion of color that's not quite sheer, not quite opaque—but something perfectly in between. This moisturizing balm is loaded with mango and shea butters to make dry, delicate lips feel comfortably soft and smooth."
What Tiffany says:
Oh goodness, one try of this and I knew it was going back to the store. I loved the color on but the texture was so dry. After just minutes of having it applied, it was all over my teeth. I couldn't wipe it off quickly enough.
What Ulta says:
"A bestselling, plumping lip gloss with shimmering, tingling shine.
Plump up the volume with this bestselling sheer, shimmering lip polish that makes lips look fuller and more voluptuous in 100 plumping babe shades. Vitamins A & E help keep lips soft, smooth and protected with a refreshing tingling sensation that you won't be able to get enough of."
What Tiffany says:
I laughed out loud with the exact color I was looking for literally had my name on it. That may have biased my opinion a little, but this was one of my favorites of the bunch! It is more sheer than the other colors and it definitely has a tingle to it. It felt light and smooth and not gloopy. It is the perfect shade for when I want some color but am not feeling like I want totally defined lips. Perfect for daytime use.
What Ulta says:
"This velvety smooth matte lip cream is a fluffy, mousse-like cream texture that feels soft and light on the lips while delivering bold, intense color with a high fashion matte finish. Ulta's Matte Lip Cream formula is so rich and creamy, lips are never dry."
What Tiffany says:
Nopety Nope. This formula was awful. Thick, gloopy, and completely uncomfortable to wear. There was nothing redeeming about it except for the price.
What Sephora says:
"A high-coverage, ultra-pigmented lip gloss. Get audacious lip looks and lay down all the color you crave in one swipe of this highly pigmented formula. This range of must-have, cream and sparkle textures comes in show-stopping bold brights, nudes, and deep, dark shades. Urban Decay's Pigment Infusion System™ gives each a super creamy texture for an irresistible finish. Enriched with Hilurlip™, these glosses define and hydrate lips, making them appear fuller and plumper. Each gloss is encased in a clear barrel to make the shade visible, and features an applicator that provides full coverage in one quick swipe."
What Tiffany says:
I looooved this one. It has the best coverage of the four I tested but is still light weight and very glossy. It was easy to apply, stayed where I wanted it to, and didn't get all over my teeth. This was my date night choice seen below! One thing I noticed is that it did stain my lips a bit which I actually didn't mind. Even when it wears off, you're left with a little color. But, felt it was worth noting if you don't want that effect.
The Winner
I returned the Ulta and Clinique products and ended up keeping both the Urban Decay and Buxom ones. I couldn't decide which I liked better and since they felt so different (one brighter and better for evenings and one lighter and better for day) I decided there was room in my makeup bag for both.
Colors for Rosacea
Rather than completely cover up the rosacea, a makeup consultant at Sephora recommended using a light peach colored blush to counteract the red and even things out.
I use Sephora's Can't Stop Smiling, color #3 right here.