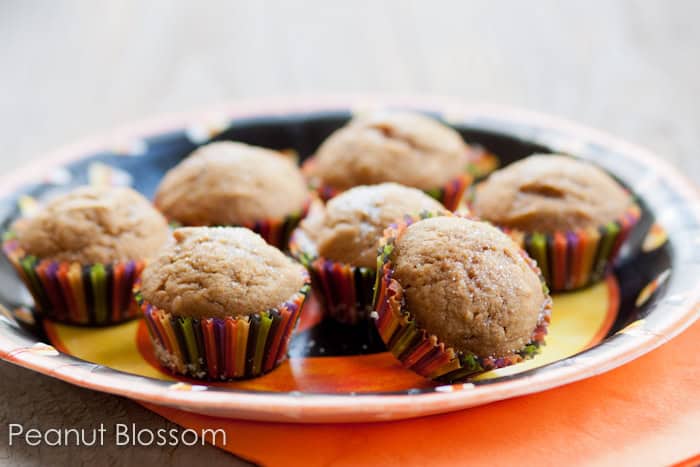 I have a mini stockpile of canned pumpkin just waiting to be baked up into treats. Ahead of the Halloween weekend, I thought it would be fun to whip up a batch of pumpkin muffins for breakfast. The first recipe that came to mind was Annie's Pumpkin Cream Cheese Muffins that I've heard many rave reviews about.
Knowing our home would be invaded by more sugar and chocolate than we could shake a stick at after Trick or Treat Day, I decided the streusel topping and cream cheese filling had to go. To try and make them a little more fun, I put them in a mini muffin tin. What a hit with my tiny fingered ladies.
The muffin recipe base makes a most excellent muffin. I would love to try the full version before autumn is over. But, if you're looking for a pumpkin-y treat this side of over the top, I'd highly recommend these simple muffins.
____________________________________
Basic pumpkin mini muffins
edited from Annie's Eats
Ingredients:
3 cups all-purpose flour
1 tsp. ground cinnamon
1 tsp. ground nutmeg
1 tsp. ground cloves
1 tbsp. plus 1 tsp. pumpkin pie spice
1 tsp. salt
1 tsp. baking soda
4 large eggs
2 cups sugar
2 cups pumpkin puree
1 1/4 cups vegetable oil
Method:
Preheat the oven to 350 F.  Line 2 mini-muffin pans with paper liners.  In a medium bowl, combine the flour, cinnamon, nutmeg, cloves, pumpkin pie spice, salt and baking soda; whisk to blend.  In the bowl of an electric mixer combine the eggs, sugar, pumpkin puree and oil.  Mix on medium-low speed until blended.  With the mixer on low speed, add in the dry ingredients, mixing just until incorporated.
Fill the muffin liners with batter about 3/4 the way full. Bake for 15-20 minutes. Keeps very well in an airtight container for a few days or freeze a few for later!
(I got lazy and ended up baking one batch of mini's and one batch of full-sized muffins. The batter makes a nice large quantity and I didn't want to have to fill more mini pans of batter. The recipe makes enough for one pan of mini's and one full sized.)