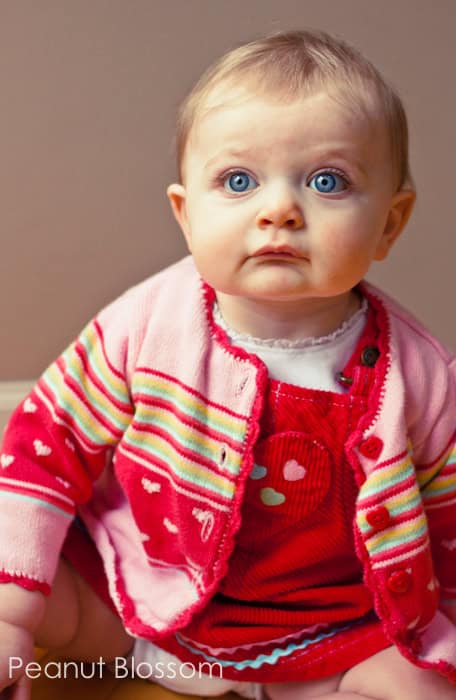 This week's photo of Little Pea features the very first items of baby clothing I ever purchased way back when I was still pregnant with the Peanut 4 years ago. I still remember that first visit into Gymboree and nearly swooning at all the little baby clothing. It was right before Valentine's Day and I was completely suckered in by the little hearts and ric rac on the dress. I knew it wasn't a practical item. I knew I needed things like sleepers and onesies and comfy clothes, but I just absolutely had to get this outfit for the little girl I knew was coming.
So this week I had Little Pea model one of my more sentimental hand me downs before she outgrew this size range. If it is at all possible, I think she's even cuter in it than the Peanut was. Or maybe I'm just so thrilled to still have a baby in the house. Maybe both. Here's to impractical photo-op only outfits!
The Peanut is getting trickier and trickier for me to photograph. She hides from my camera most of the time I'm trying to capture her. At least with this special lollipop from Grandma, the Peanut is willing to let me take her picture so long as she can hide behind her lolly. She waited a week to eat this thing and was just thrilled to be finally given the "ok" to dig in!
What tricks are you using on camera-shy kids? I have an impending 4 year old milestone portrait to take in the coming weeks. (Gasp! *sniff, sniff) Really not sure how I'm going to tackle it yet.