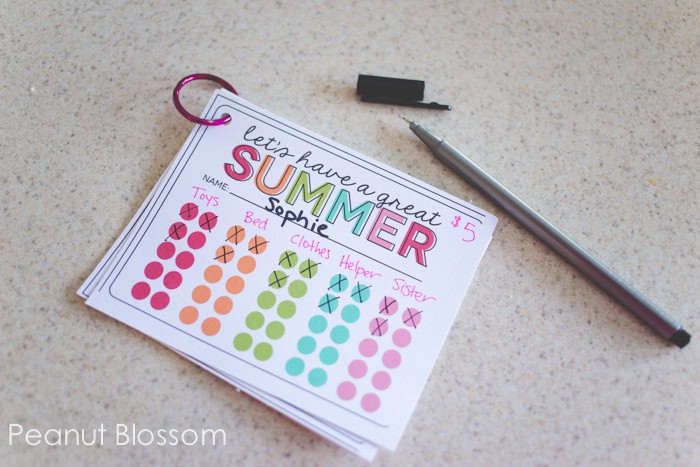 We were only a half day in on the Peanut's first day of summer vacation when I glanced around our house and saw the chaos creeping in. Toys left on the floor, pajamas tossed on the staircase, snack cups sitting on the coffee table, and the slow creep of sibling bickering during the witching hour.
"OH no, here we go," was my immediate thought. As a stay at home mom with both kids home and no summer camps on our schedule to break the monotony, we have A LOT of together time in this house facing us in the coming weeks. I don't want to be spending the next three months as a screechy warden lecturing the kids to pick up after themselves.
I figured we needed a chore chart. Or SOMETHING. Anything. To help us with our routines. After a quick search on Pinterest, I quickly found Mique's amazing summer punch cards over on 30 Handmade Days. In her post she describes using them as activity cards to help with boredom and "chores" is lumped into one column.
Thankfully, she offers up a customizable print option where you can write in your own categories. I sat for a few moments and imagined the perfect household in the coming weeks and assigned the tasks accordingly:
1. Toys: All toys must be picked up and put away at periodic intervals during the day but most definitely before bedtime story reading.
2. Bed: Both girls need to make their bed every morning.
3. Clothes: NO clothes may be left at any place on the floor or any surface outside of a laundry hamper.
4. Helper: This is my catch-all category. Somedays it might mean helping mommy load the dishwasher, it might mean learning to vacuum, it might be as simple as clearing the dirty plates from the table. If mommy asks for help, you do it cheerfully and you get your X.
5. Sister: This was my stroke of genius. To curb the bickering, each girl gets to decide for the other whether or not she deserves her "Sister" check for the day. Were they sweet to one another? Did they help their sister in some way? Were simple hugs asked for and given? What counts towards the sister check changes from day to day, but having them accountable to EACH OTHER and NOT ME has been an excellent element to our reward system.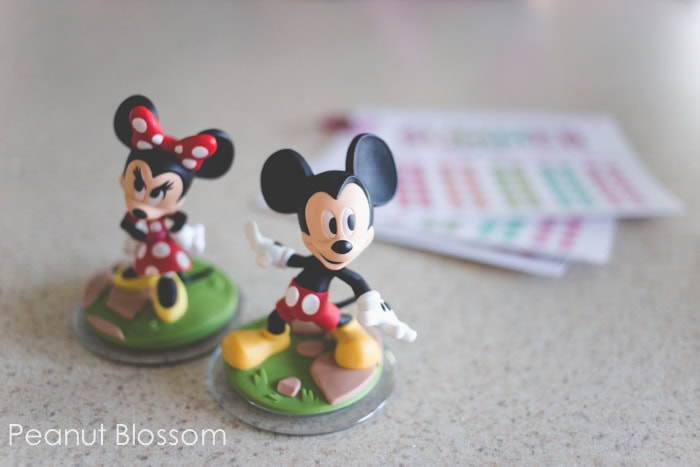 So what do Mickey and Minnie have to do with all of this? MOTIVATION.
During our visit to the Disney Social Media Moms Celebration in May, we were given these little guys as part of the announcement that Disney Infinity 3.0 is coming out this fall. We are totally new to the game and have never played but my girls are absolutely smitten with these figurines and totally curious about how to play.
Each of our chore cards will take 10 perfect days to complete, longer if we have not so perfect days. Tim and I decided that each completed card was worth $5.
The Peanut quickly did the math and realized how long it would take for just her and Little Pea to save up for this starter set. Watching her look of discouragement, I decided that Tim and I would work to complete our own set of cards to help the pool grow a little faster. Our cards are customized quite differently than the girls and include things that we don't really want to do: eat veggies (Tim) and laundry (me) for example.
We're making it a group savings effort to complete our chore cards and put the money in a group jar to save up to buy the game we can all play together.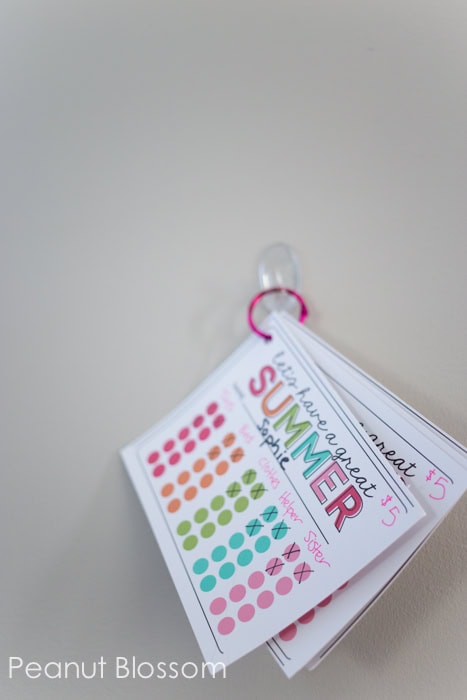 If we're good, the game will be here while summer still has a ways to go. I think the cards will morph from the $5 assignment to allowed hours to play Disney Infinity. My goal is to keep it as a special treat that needs to be earned with family team work.
I keep our cards on a ring in the kitchen where we see them frequently throughout the day. Because Mique designed such cute colorful ones, they are very eye catching and make a great visual reminder. And because they only last for 10 days, I can reassess and change up the categories if something isn't working or a different area needs more focus.
So how are you keeping things in check this summer? Any great ideas to add?