Pretty Things by Janelle Brown is the official May 2023 pick for the Peanut Blossom Book Club for Recovering Readers.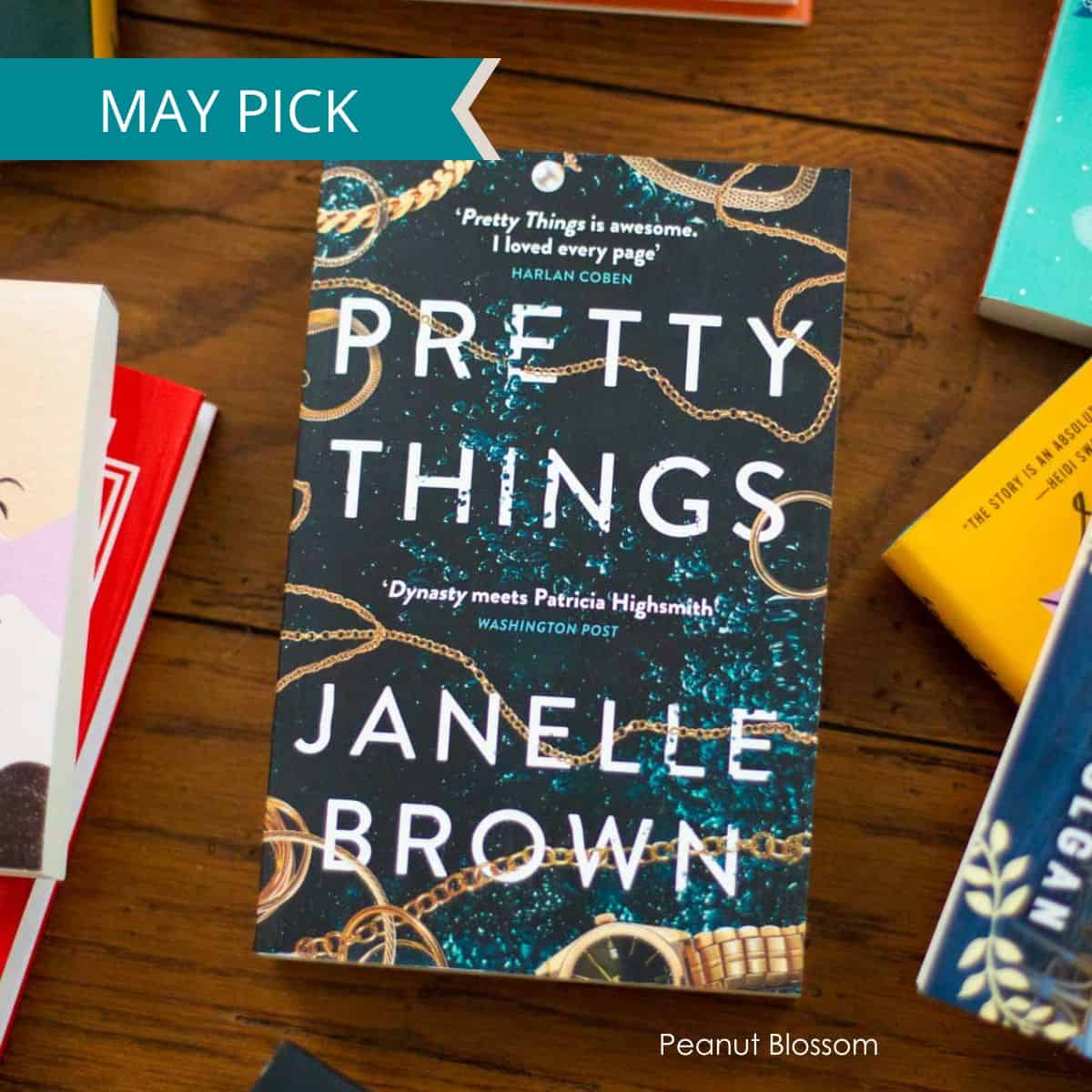 Since the start of the Peanut Blossom Book Club for Recovering Readers, I've been picking new-to-me books and reading right alongside our group.
This month marks a change -- the official book pick of the month was something I read last year and loved so much, I knew I had to pick it for this year's line up!
If you have not tried reading any of our book club picks on audio, this would make a great first audiobook for a new listener since it is narrated by Julia Whelan, one of the very best in the industry.
I listened while doing laps at the pool and found myself working out far longer just so I could finish the next chapter. This is a great twisty-turny thriller that I hope you'll love as much as I did.
Want Free Reminders for Each Book?
Sign up for my book club newsletter right here:
May Official Book Club Pick: Pretty Things
I'm pleased to announce that this is our official May Pick for this year.
Get your copy of this month's book club book:
Buy the book on Audible. (Julia Whelan is the narrator and she is one of my very favorites. I LOVED the audio version of this book.)
Money-saving tricks for reading this month's book:
You can get the book from your library.
You can buy a used copy here.
Check to see if the Kindle version is on sale or if it is part of Kindle Unlimited.
What is this month's book about?
"Nina once bought into the idea that her fancy liberal arts degree would lead to a fulfilling career. When that dream crashed, she turned to stealing from rich kids in LA alongside her wily Irish boyfriend, Lachlan.
Nina learned from the best: Her mother was the original con artist, hustling to give her daughter a decent childhood despite their wayward life. But when her mom gets sick, Nina puts everything on the line to help her, even if it means running her most audacious, dangerous scam yet.
Vanessa is a privileged young heiress who wanted to make her mark in the world. Instead she becomes an Instagram influencer - traveling the globe, receiving free clothes and products, and posing for pictures in exotic locales. But behind the covetable façade is a life marked by tragedy.
After a broken engagement, Vanessa retreats to her family's sprawling mountain estate, Stonehaven: a mansion of dark secrets not just from Vanessa's past, but from that of a lost and troubled girl named Nina.
Nina's, Vanessa's, and Lachlan's paths collide here, on the cold shores of Lake Tahoe, where their intertwined lives give way to a winter of aspiration and desire, duplicity and revenge.
This dazzling, twisty, mesmerizing novel showcases acclaimed author Janelle Brown at her best, as two brilliant, damaged women try to survive the greatest game of deceit and destruction they will ever play."
Discussion Questions for Pretty Things
I think the best book club questions help members to connect with one another on a personal level.
While you're free to discuss the specifics of the plot of the book, here are a few great personal questions to help you get to know each other better based on Pretty Things:
1. How far would you go to save your own mother? Would you consider Nina's solutions?
2. Who do you think you are more like, Nina or Vanessa? Why?
3. Would you fall for a guy like Lachlan? Or can you read through the lines to what kind of guy he really is?
4. How would Vanessa's story been different if social media had not been invented? Did it make you question your own use of social media?
5. Which format did you read this book in? (Print, digital, audio) How did you enjoy the alternating voices in the format you read?
6. Did you see the ending coming? How would you have written it?
Book Club Party Menu
I think it is so fun to plan your book club dinner menu or dessert list based on the theme of the book.
A large portion of the book's plot takes place in Lake Tahoe which is famous for its eggs benedict and potato pancakes.
Why not plan a "breakfast for dinner" party or host your book club party on a weekend morning with plenty of mimosas or even my blood orange mojitos served in your fanciest glasses like the heiress you want to be!
You Might Also Like
If you LOVE this month's book, you may also enjoy one of these fun books for book club: