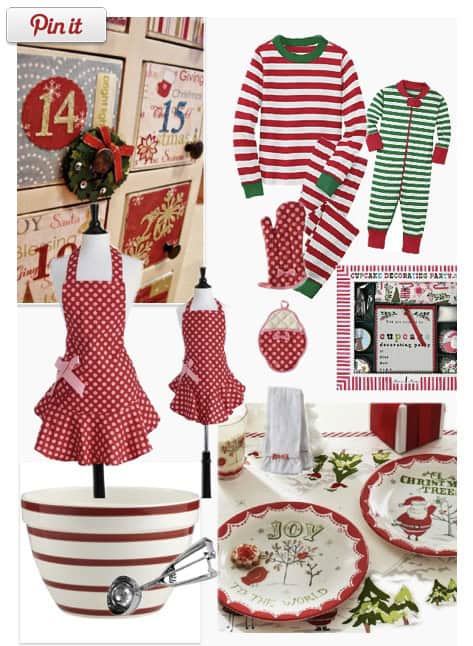 Now that the calendar has flipped over to November, my mind is on the next round of holidays. Moms are the center of all the planning that goes into making this season memorable and this is my favorite time of year for making every moment count. I'm teaming up with Zina from Let's Lasso the Moon and Stacy from Kids Stuff World to bring you a weekly trio of gift guides between now and the Big Days.
My contributions for this very first week are the items I recommend gifting yourself at the start of the season so you can get the most out of them between Thanksgiving and the end of December.
1. Matching pajamas for the littles from Hanna Andersson:
Big kid sizes here.
Baby/Toddler sizes here.
These adorable striped versions from Hanna Andersson are absolutely adorable. I like to wrap the jammies and give them to my girls on the Thanksgiving Day. They wear them all month long and well through the winter.
2. Mommy & Me apron sets by Jessie Steele:
Adult size apron here.
Kid version here.
The girls and I love to bake together and they love wearing aprons like mommy. We don't yet have a matching set but I love this polka dot collection.
3. Merry & Bright Cupcake kits:
Rather than a Christmas cookie exchange, how about throwing a cupcake decorating party?! This kit is so festive and cute.
4. Festive plates & cups from Pottery Barn Kids:
I know my girls aren't alone in loving holiday tableware. This festive set from Pottery Barn Kids is so sweet, I love their illustrations.
5. Fresh baking supplies:
Red and white striped mixing bowl
Perfect cookie scoop
This red and white striped mixing bowl is perfect for Christmas but can easily carry you through the rest of the year with it's simple striking pattern. While you're at it, make sure you have the perfect cookie scoop to make easy work of your baking!
Lastly, it's not too late to customize an Advent calendar to your own home decor style. Check out my tips at this post here. I love filling our calendar with stickers to decorate paper Christmas trees we keep on our refridgerator. My girls love watching the trees fill up with decorations over the month and then leave them out with the cookies for Santa at the end of the month.
What are your favorite festive items for making the whole season special?

___________________________________
Disclaimer: Some of the links in this post lead to affiliate links. Thank you for supporting our site.