These yummy vegetable dips are perfect for encouraging picky eaters to try more raw veggies because they have plenty of vegetables right in the dip recipe!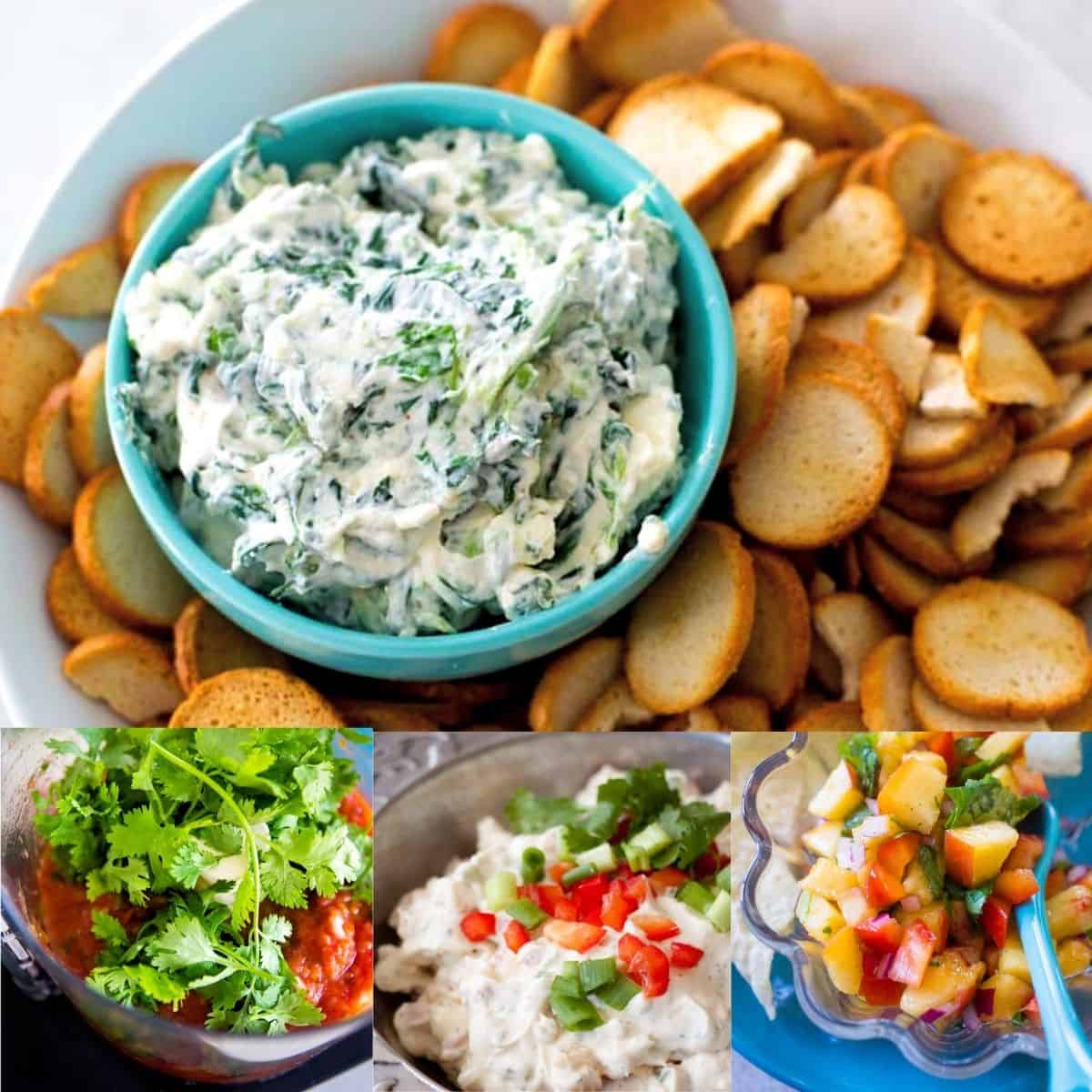 Every parent I know wondered how to get kids to eat more veggies at one point or another with toddlers in the house.
If you've got a picky eater who's hesitant to try new veggies, this is a unique tip for coaxing them to try a taste:
Instead of making a delicious dip and coaxing them to dunk their veggies in it, put the veggies IN the dip and let them dunk a chip or pretzel.
Why This Works
When I was little I was not a fan of onions. I didn't like their flavor, their texture, their smell. Then I went off to college and during a night out with friends, they pressured me into trying onion rings.
Because of the extremely tasty onion rings, I eventually outgrew my distaste of onions.
Now I eat them every chance I get: sautéed, grilled, caramelized, and even raw.
Were those onion rings healthy for me? Absolutely not. But by turning the veggie into a treat and making it as delicious as possible, I was finally willing to test them out.
Put the Veggie In the Dip
So often I see recipes for healthy dips for kids to enjoy with their raw veggies. I've tried many of those recipes myself thinking:
"If the dip is tasty enough, maybe they'll enjoy this raw broccoli."
This tactic simply does not work for us. My kids see that big plate of suspicious veggies and then an even more suspicious bowl of dip with hidden ingredients and they run away screaming.
This week I had an epiphany. I've been approaching this challenge completely wrong.
It's not about hiding the raw veggie under the dip, it's about hiding that veggie inside the dip and enticing them another way.
Did It Work On My Kids?
A few nights ago I made my all-time favorite chicken gyros. I always use the leftover tzatziki as a dip for days but no one else will touch it!
This week I was out of my favorite raw veggie dippers but I did have a bag of potato chips, a very rare treat in this home.
Little Pea saw me with that plate of potato chips and came RUNNING. "Chips! CHIPS!" A lightbulb moment if ever there was one.
"You can have some chips, but not without this dip."
She took one look and pulled away but the siren call of that potato chip had her think twice and return. She hesitatingly took that first bite and then managed to devour the rest of my snack, fairly large bowl of tzatziki and all.
How do you learn to enjoy a new food? Do you just dig right in or do you need a bit of coaxing like we seem to? Any dips you'd like to add to my list?