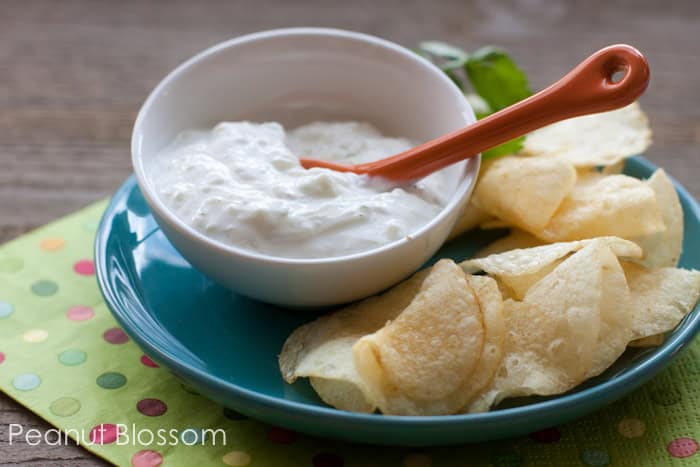 Did you just gasp out loud at that title? Potato chips as health food? I'm nuts, right?
Obviously I understand that potato chips are absolutely not a health food. However, I do consider them a "bridge" food.
When I was little I detested onions. I didn't like their flavor, their texture, their smell.
Then I went off to college and friends pressured me into trying onion rings. I believe the heavens opened up that night and the angels began to sing. Because of the fat-laden, deep fried, and extremely tasty onion rings, I eventually outgrew my loathing of onions. Now I eat them every chance I get: sautéed, grilled, caramelized, and even raw.
So often I see recipes for healthy dips for kids to enjoy with their raw veggies. I've tried many of them myself thinking, "If the dip is tasty enough, maybe they'll enjoy this raw broccoli." This tactic simply does not work for us. My kids see that big plate of suspicious veggies and then an even more suspicious bowl of dip with hidden ingredients and they run away screaming.
This week I had an epiphany. I've been going at this completely wrong.
It's not about hiding the raw veggie under the dip,
it's about hiding that veggie inside the dip and enticing them another way.
A few nights ago I made my all-time favorite chicken gyros. I use the leftover tzatziki as a dip for days but no one else will touch it! This week I was out of my favorite raw veggie dippers but I did have a bag of potato chips, a very rare treat in this home.
Little Pea saw me with that plate of potato chips and came RUNNING. "Chips! CHIPS!" A lightbulb moment if ever there was one.
"You can have some chips, but not without this dip."
She took one look and pulled away but the siren call of that potato chip had her think twice and return. She hesitatingly took that first bite and then managed to devour the rest of my snack, fairly large bowl of tzatziki and all.
So my little carbo queen who has been on a "nothing but pretzels" diet for weeks managed to eat a nice bowl of greek yogurt, shredded cucumber, garlic, and lemon. By the end she was squealing, "Yummy, Dip!"
Now I'm on a roll. I'll be fixing up veggie laden dips like there is no tomorrow. The serving method may not always be potato chips, I'm going to be looking for healthy crackers, pretzels, and tortilla chips to mix things up but that is going to be the key to success: the dipper needs to be crunchy, salty, and carby for this plan to work.
My favorite recipes with a great selection of veggies includes:
Homemade tzatziki: yogurt, cucumber, garlic, lemon
Restaurant style salsa: The ONLY salsa that ever gets put in my fridge since I tried it. Tomatoes, jalapeño, lime, onions, cilantro. The Peanut just recently finally learned to like this as well. Score!
Yogurt dip: carrots, cucumber
Homemade guacamole: avocado, onions, jalapeño, cilantro
Confession time: I can't stand avocados. That's not fair to say since I've never actually eaten one. They freak me out. But one of our family New Year Resolutions is that we all have to try an adventurous new food. This is mine. With a big heaping pile of tortilla chips. See?? I know this trick is bound to work!
How do you learn to enjoy a new food? Do you just dig right in or do you need a bit of coaxing like we seem to? Any dips you'd like to add to my list?