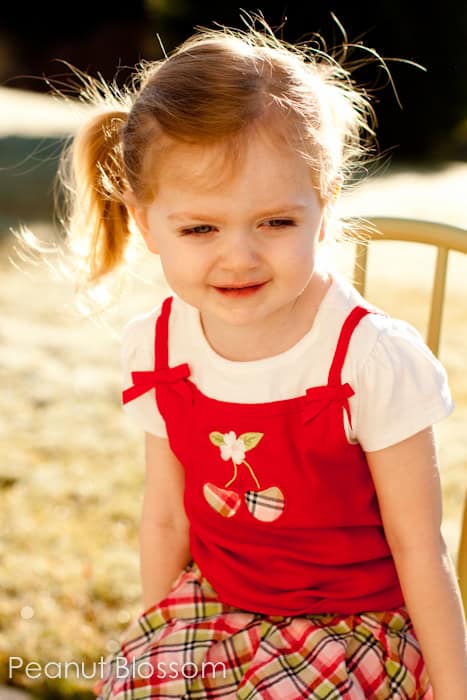 This morning during our breakfast, I looked out our patio door and noticed that the sun was burning off the dew from on top of the girls' outdoor toys. I could see the steam lifting and was struck by just how beautiful the light was in that spot. I couldn't believe I hadn't thought to experiment with the light in our backyard yet and quickly grabbed my camera.
I didn't want to do a full "formal" session, I truly just intended to take a few snaps of Little Pea to test out the lighting and background of our yard. She was freshly rested and had a nice full tummy from breakfast, conditions could not have been more perfect.
Then the typical trouble hit: my girls will NOT look at the camera. No amount of coaxing, bribing, pleading seems to have any effect on them. I get a lot of glancing off into the distance or sometimes I'm blessed with a shot like this: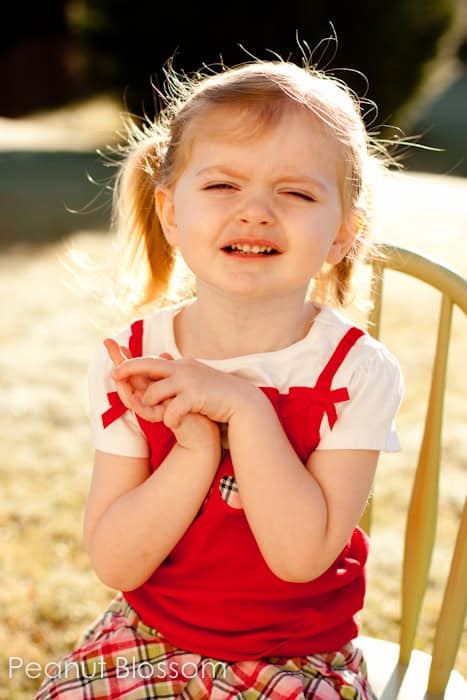 This is Little Pea saying, "Cheeeeeese." Ironically, I didn't even ask her to do that. She sees the camera and has somehow figured out that is the appropriate thing to say. When she's not purposely avoiding eye contact, I get the cheese pose.
Today I have no answers for this. I just wanted to share some of my own personal photo struggles so you aren't fooled by all the other shots I post. I love that photography always has another challenge for me, it's what keeps me interested and trying and I definitely do not have it all figured out.
How about you? Do you have a particular photo challenge you're struggling with right now?