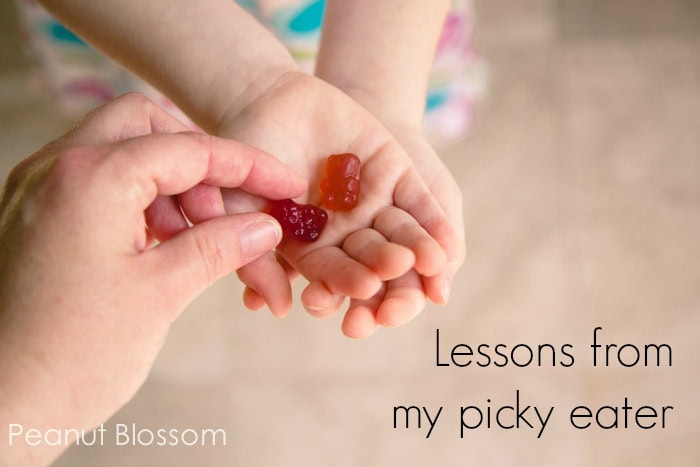 I have always tried to be very honest about the picky eating challenges I face in our family. This year, one of my big resolutions was to feed my family more fruits and vegetables. You can read more about the goal here.
And yet my youngest daughter, 4-year-old Little Pea, continues to keep me on my toes. In the game of who eats the most produce, she consistently chooses to not even play. Today I'm sharing some of the tricks I've learned this year:
1. Serve more, not less: This feels so counterintuitive. You know they won't even touch it, so why put a huge heaping serving on their plate? Think of all the waste! When you put one pea on their plate, it is easy for them to refuse the entire serving and they've gotten nothing. If you put a whole huge scoop of peas on their plate, maybe they'll relent and eat even just one or two. Score! You got the taste across those growing buds.
2. Respect textures: By absolute accident, I discovered that she loves raw, freshly chopped broccoli. This is the same kid that won't touch a strawberry, but broccoli? Eats it by the bowl full. When I tried to serve it cooked, she cried and had a huge temper tantrum. Now when broccoli is on the menu, I'm sure to just hold aside a portion to be left raw for her. Same is true for carrots--the colder and crunchier the better. If your child doesn't like a certain veggie, try preparing it a totally different way.
Bonus Point: I think the appeal of the broccoli is that I may have mentioned that they are actually "Fairy Trees" and that Tinkerbell loves them. It's all in the marketing. . .

3. Experiment with random presentations: I recently made a rainbow salad for myself and presented the ingredients to my kids for lunch in a fun way. Little Pea's favorite ingredient from the salad? Purple cabbage!! I nearly fell off my chair. She even asked for it for snack the next day! You never know what their next favorite might be if you don't keep trying.
4. Breathe deep and know that this is a phase: I've had my share of tear-filled phone calls to the pediatrician--"Can they survive on a diet of 100% goldfish?!"--and I've been told by more than one that Yes. This is just a phase. The phase may last longer with some children than others but they will eventually grow out of it. My doctor has encouraged me:
"Don't give up, keep experimenting, and give them a multi-vitamin."
Some days are so challenging, that multi-vitamin might be the only thing I feel really good about giving them. I'm so thankful that is the one thing I've never had to worry about trying to get them to eat. For years we've been giving the kids L'il Critters™ gummy vitamins. They are fruity and sweet and completely easy for the kids to eat. They beg for them every day and it is the one thing I haven't had to worry about remembering--they do that work for us!
So what's your trick for improving the nutrition for your picky eaters?

* These statements have not been evaluated by the Food and Drug Administration. This product is not intended to diagnose, treat, cure, or prevent any disease.