Think your kids are "too big" for taking seasonal pictures? Think again! You just need the right tips for taking fun pictures of your Tweens.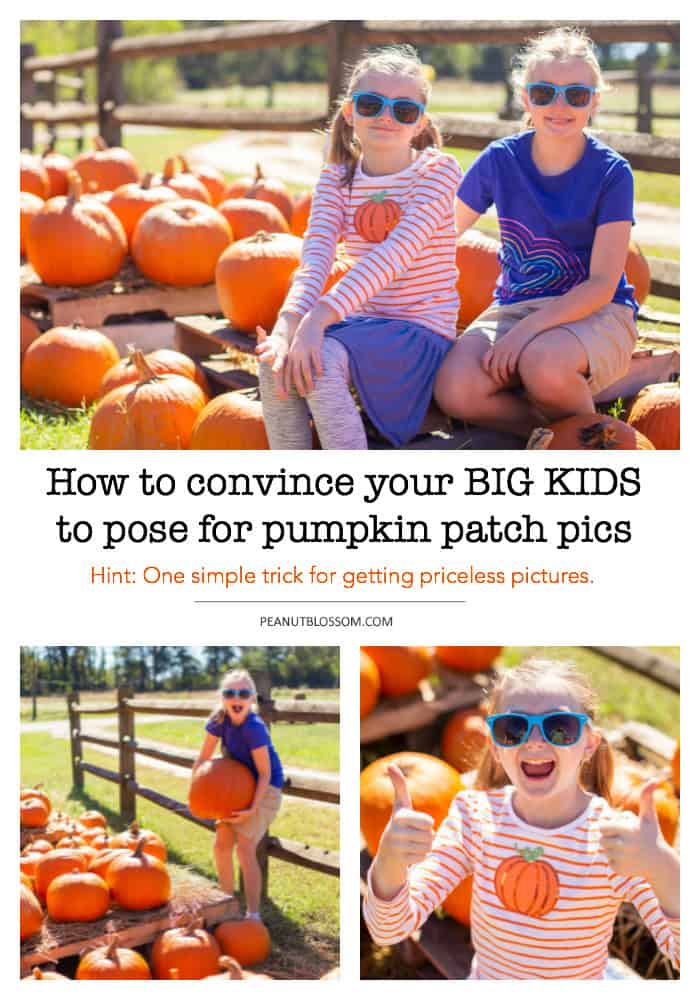 "My kids are too big for the pumpkin patch."
WHAT? That comment from a reader stopped me in my tracks last year.
TOO BIG for the pumpkin patch?! What is this world coming to??
I'm not completely naive. I know the day will likely come when my girls have no more interest in this sweet fall family tradition.
But at the same time, I wonder. . .
Maybe the trips to the pumpkin patch just have to change right along with my girls.
How you take a toddler to pick a pumpkin looks a lot different than how you take a tween. And you know what? That's ok!
Who said we have to stop taking seasonal pictures of our kids just because they're almost as tall as we are?? As long as I walk this earth, they will be my babies and there is nothing that makes me happier than pictures of them around my home.
I print out pictures of the girls and swap them seasonally in my wall gallery. I noticed that the last time I ordered pumpkin prints was from our trip to the patch more than 2 years ago.
We had off last Friday because of another hurricane here in Charlotte. (Don't be fooled by the sunny blue skies, 30+ schools in our district were without power.) So I bundled up the girls and we went to pick out our pumpkins.
Never once did they say to me: "I'm too old for this, mom." They were both super excited to go and I think it was these three simple tricks:
1. Ask for Their Help:
From the start, the Peanut knew she was an important member of the pumpkin hunting crew.
She was in charge of all the heavy lifting, the pulling of the wagon, the picking of the biggest pumpkin.
I told her I wanted the pumpkins for decorating the front step, so she was solidly on Team House Decor.
This was not a toddler-style "Oh little cutie, mommy wants pictures of you by the pumpkin-wumpkins" trip. We were there with a Mission to make the house festive.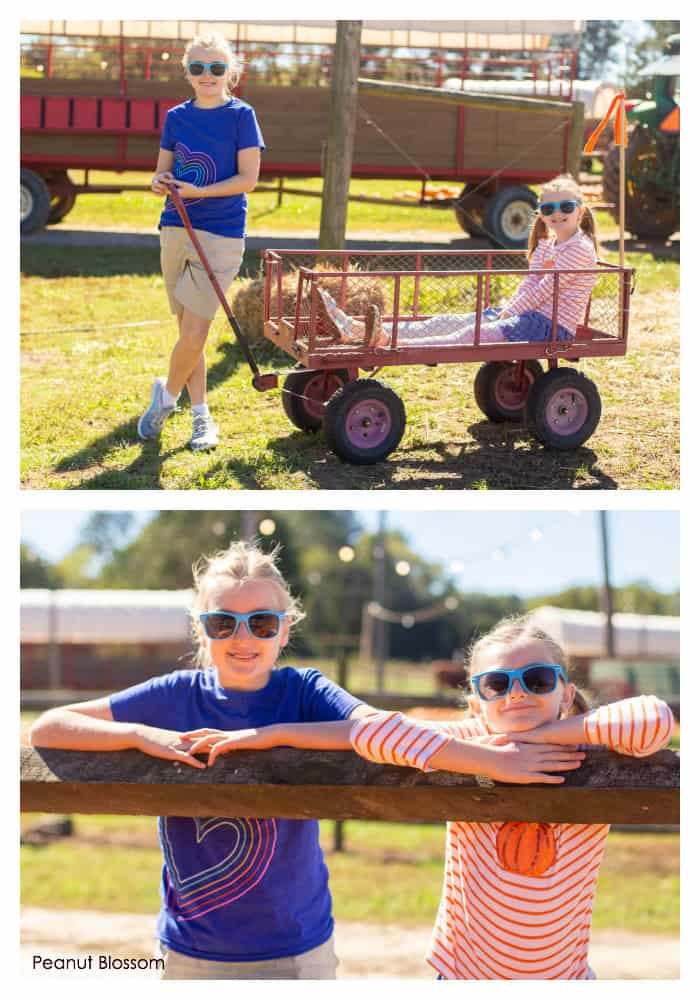 2. Respect Their Age:
I didn't ask the girls to pose in any particular way like I did when they were little. I just put them in the right spot for the lighting and let the rest come naturally.
To read about how I find good light in full sun, check out these fall photo tips here.
When they made silly faces, I snapped the picture.
When they goofed around, I snapped the picture.
I kept everything lighthearted and fun. I let them be who they are at this age and I didn't worry about snapping the perfect portrait.
The only request I made was that I get a few pictures of the two of them together. They popped into position and the whole thing took two seconds.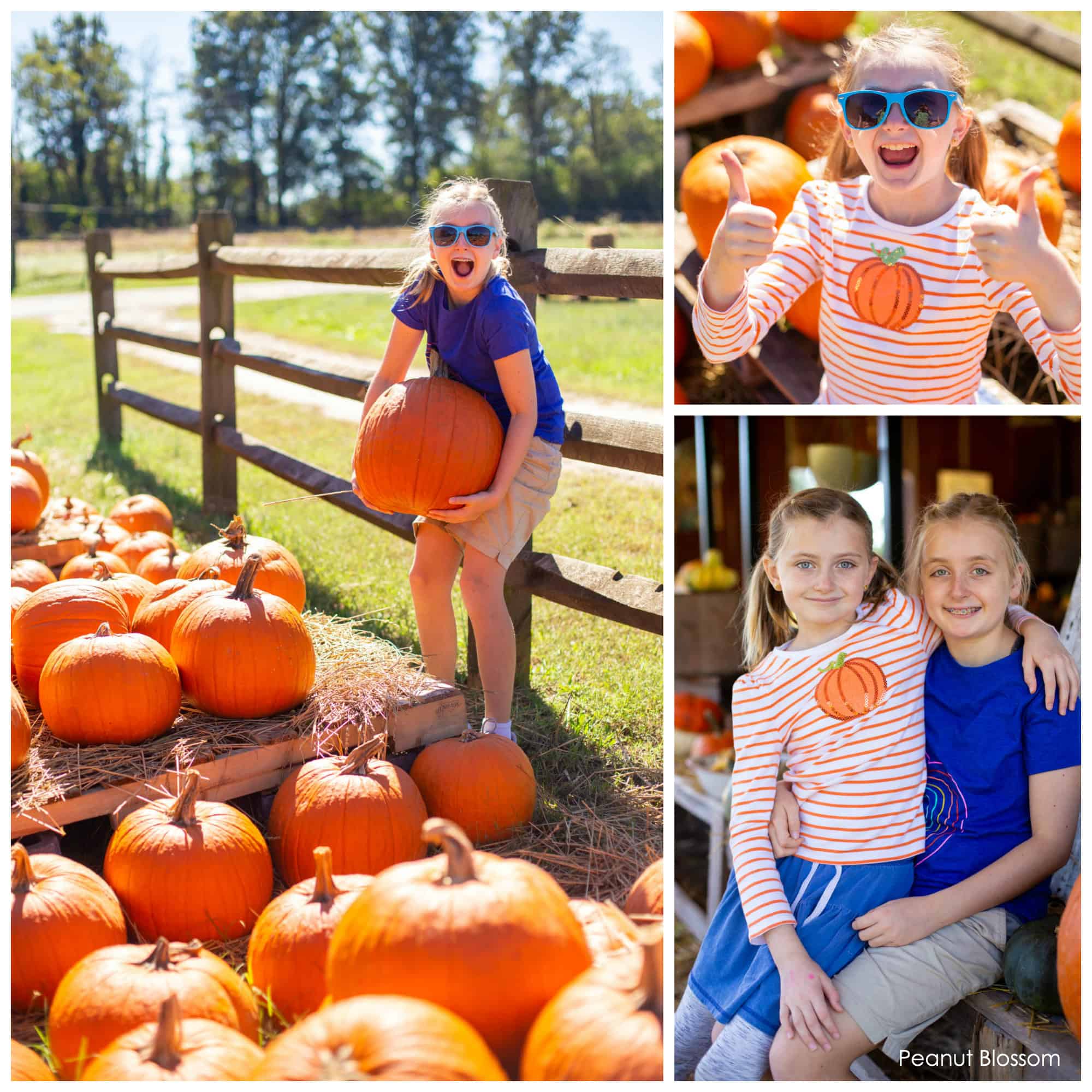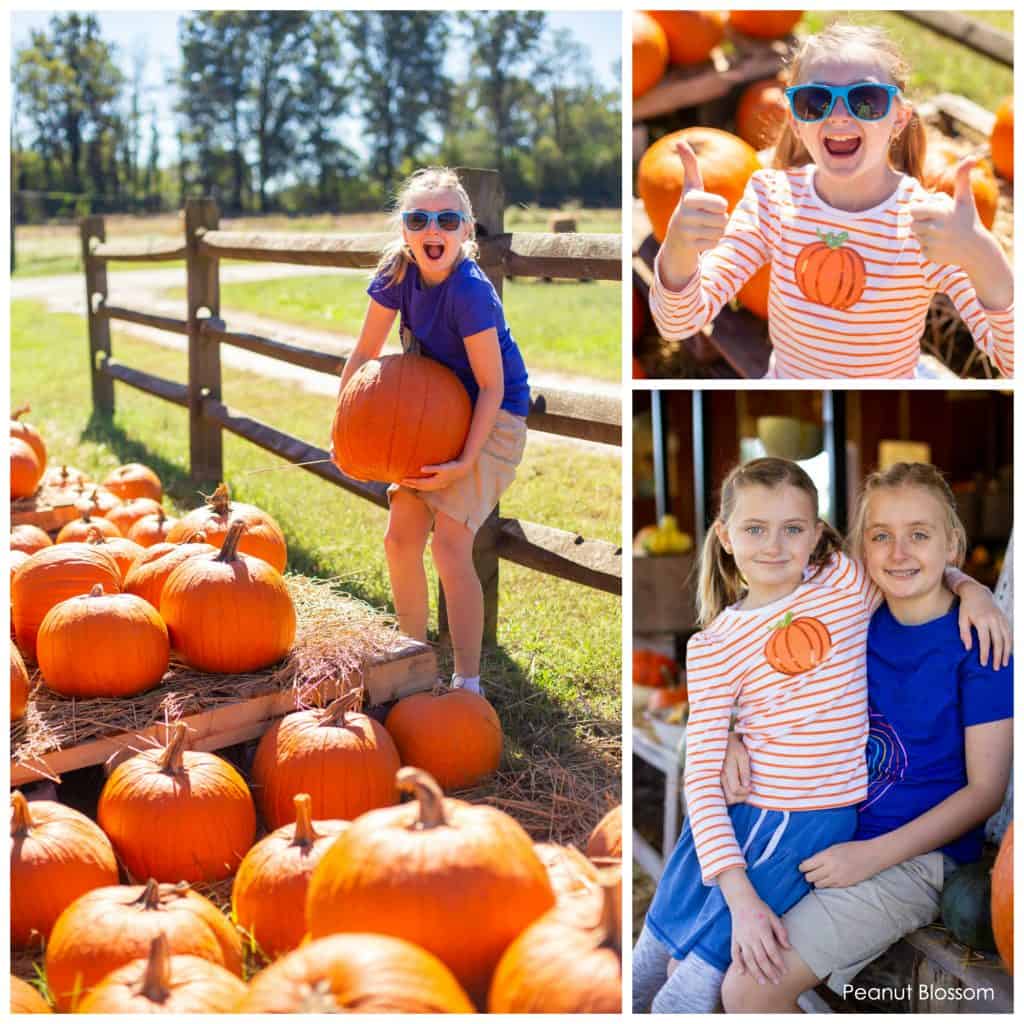 3. Look For the Story Shots:
This is not something I did really well when they were tiny. I was too worried about them running off and getting into danger to ever really just relax out in public taking pictures.
This is the biggest benefit to capturing pictures of your big kids. You know they aren't going to randomly run off into a crowd.
I put the girls totally in charge of getting the pumpkins selected, into the wagon, and weighed at the check out stand. They were so busy doing the "work" that I could just stand back and take these action shots.
I love seeing the size of my girls in reference to the pumpkins they picked. They may be big kids now, but the pumpkins are still big and heavy for them to lift and move around.
But most importantly: I'm going to look back at these pictures in a couple years and think:
"Oh my gosh, they were so little."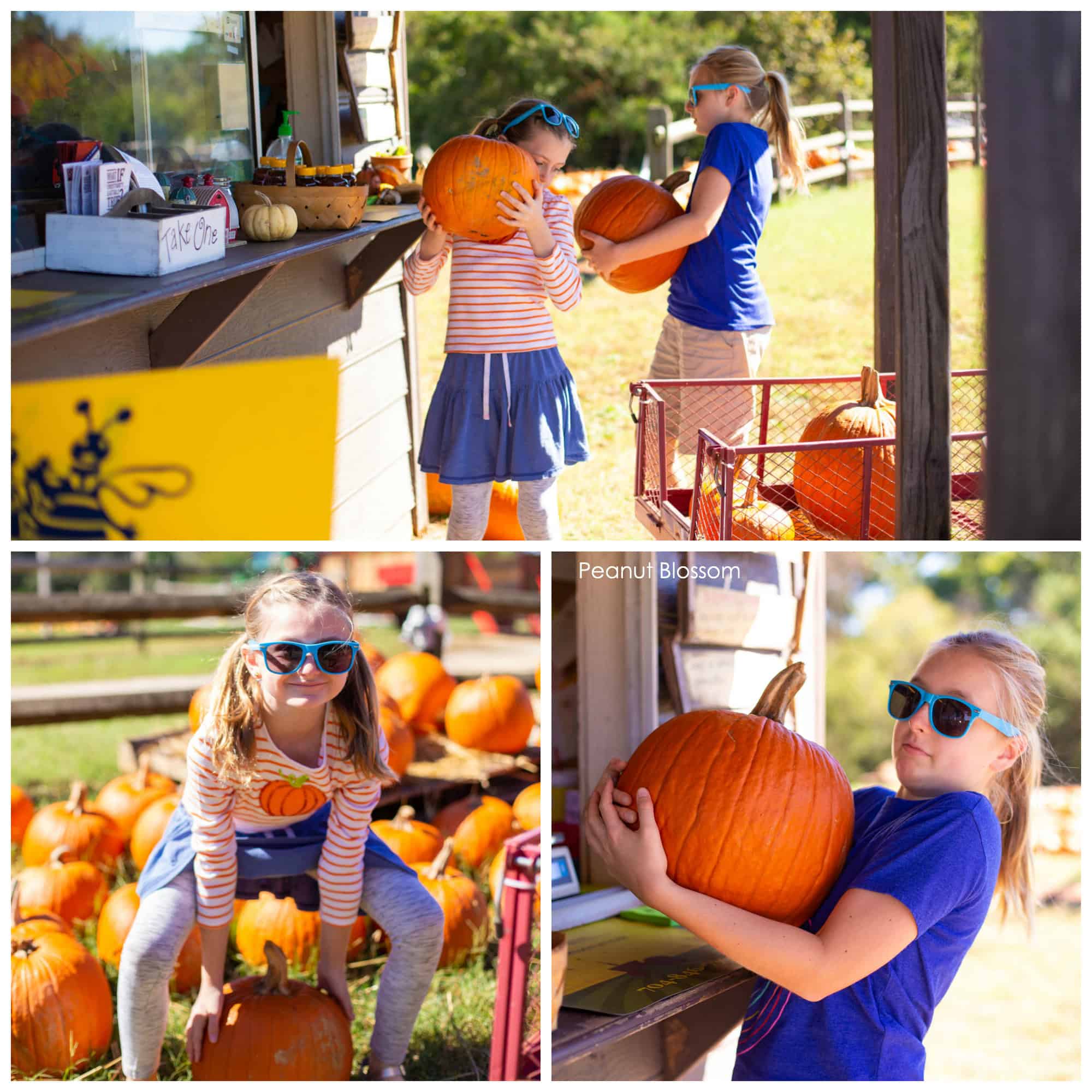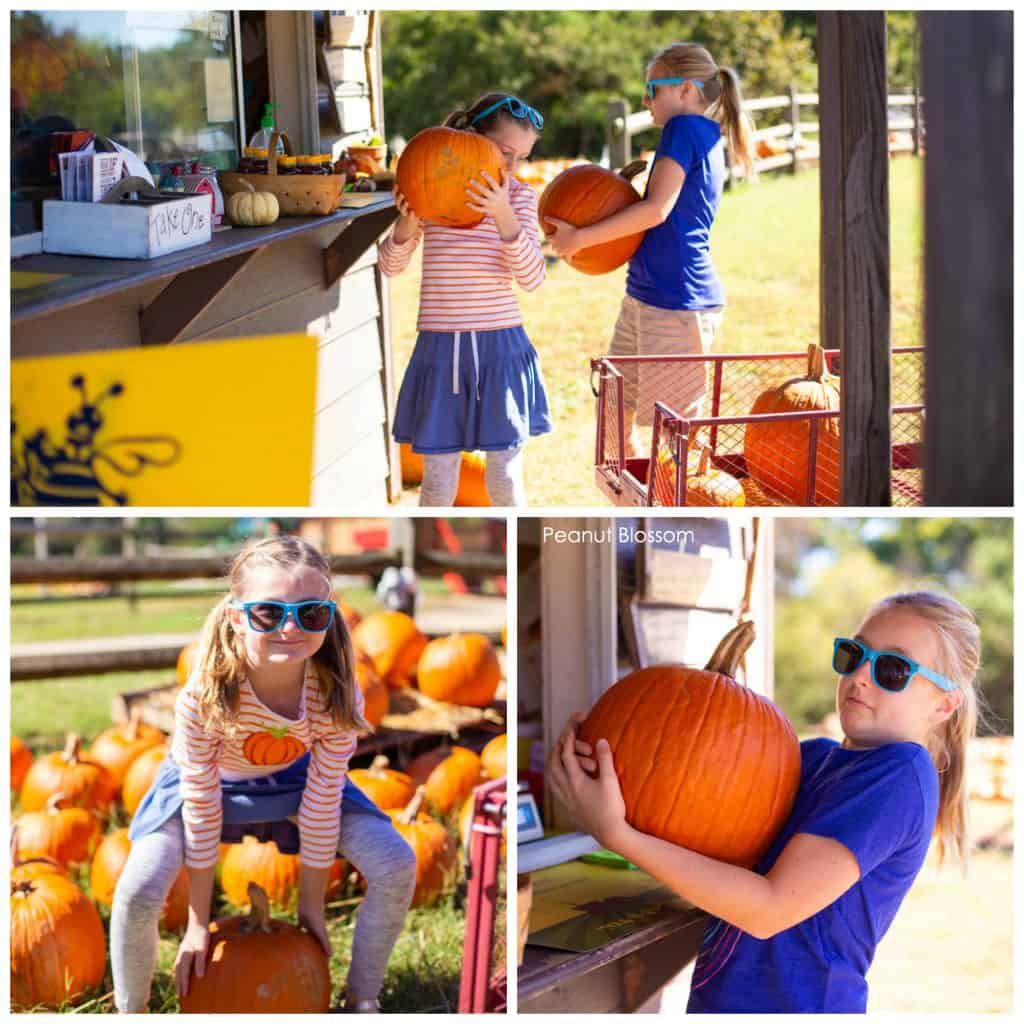 Our entire trip to the pumpkin patch took less than 40 minutes. We went out for lunch afterwards and it was a sweet and simple Girls' Day Out for us.
At no time did they feel like babies, rather they simply saw it as a fun day with mom.
And I've got the pictures for us to remember.
More Photo Tips for Fall