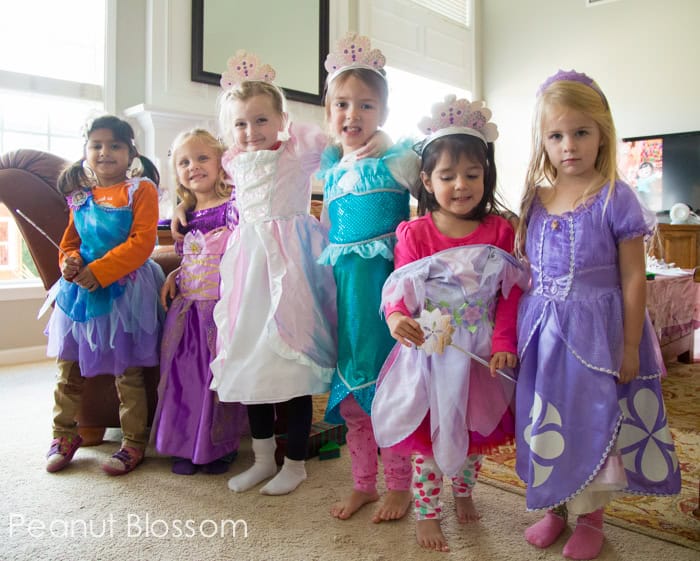 It's no secret that our family is full of Disney fans. Last spring we had a blast hosting our #DisneySide party for friends. We filled that party with all kinds of personal touches and it was so fun sharing our love of Disney Parks with our guests.
When the Disney Social Media Moms Celebration team asked for volunteers interested in hosting a #DisneyKids preschool playdate this fall, I jumped at the chance. I loved the idea of being able to host a little get together for Little Pea with just her preschool friends.
Little Pea is my princess loving girlie girl so I was ecstatic to open the box filled to the brim with Sofia the First themed items for our party.
Step 1: The Ambiance:
The Disney team included everything we needed to set a royal table and fill a simple little goody bag in the box they sent. I added some Sofia the First napkins and a pink polka dotted banner: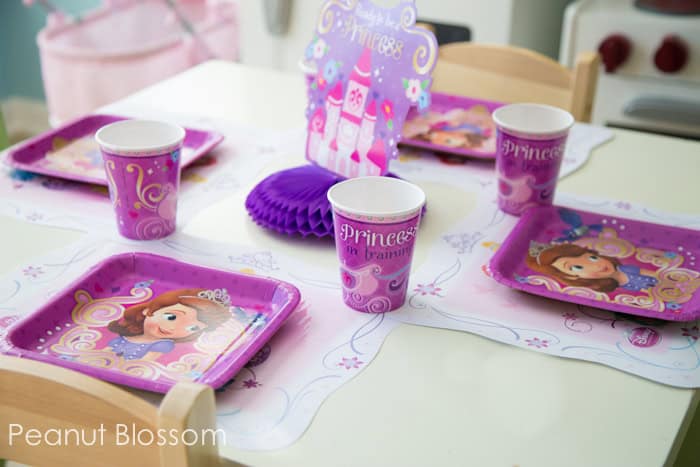 Step 2: The Menu
Life has been so crazy lately and since this was supposed to be a simple playdate, I kept things pretty easy. I started with everyone's favorite course: Dessert!
I chose some sweet strawberry pink cupcakes with whipped vanilla buttercream frosting served up in tiara-inspired silvery wrappers with a dusting of sparkly pink sprinkles: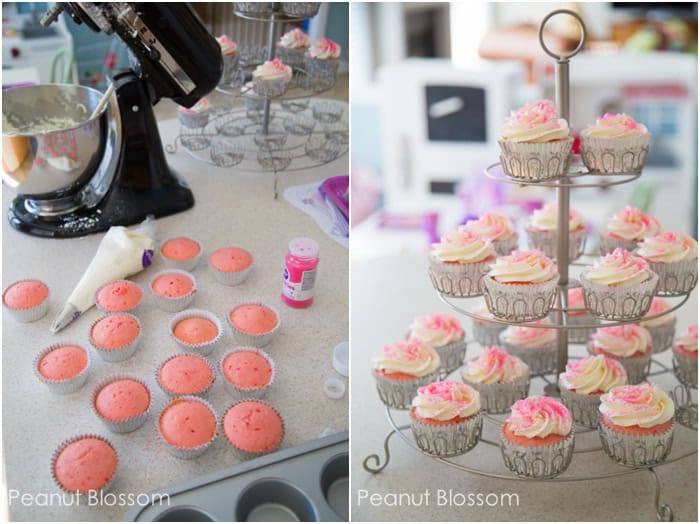 I bought a box mix for the cupcakes but the frosting is absolutely worth doing from scratch! You can find my favorite recipe for it here and an even easier version here.
Since I put in the extra effort for our dessert, I decided that for our luncheon I would keep it super simple. I ordered a party platter of chicken nuggets from Chic-Fil-A and a platter of fresh fruit with apples, strawberries, blueberries, and mandarin oranges. I picked them up a few minutes before our guests arrived so everything was still hot: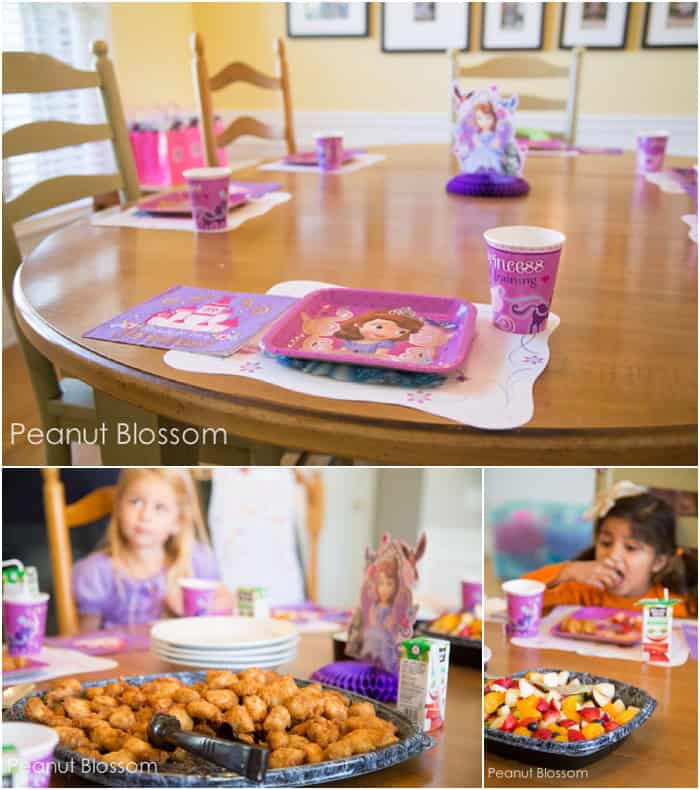 The menu was a huge hit with the kids but they were way more excited to get going on the fun!
Step 3: The Entertainment
As soon as everyone was finished with lunch, we headed to the Princess Dressing Room: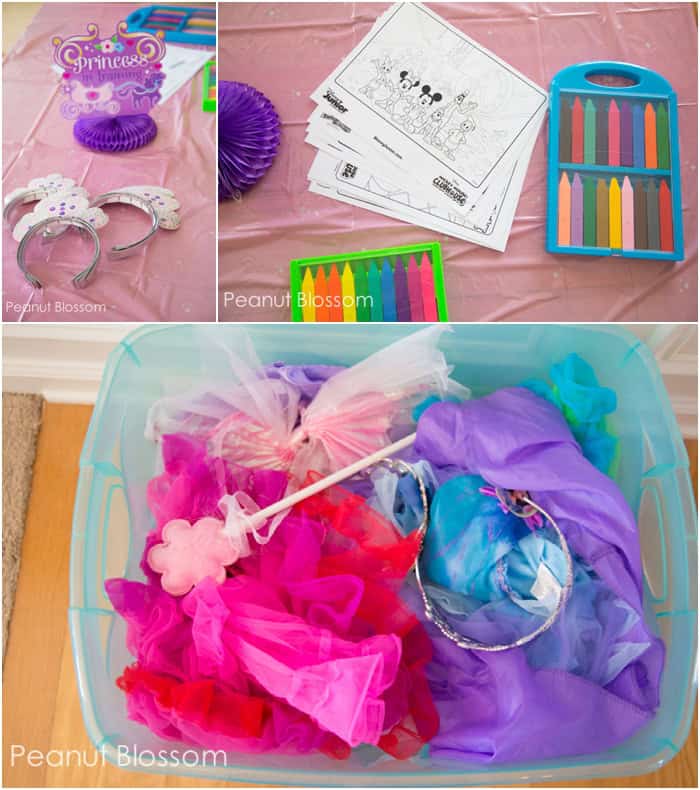 I gathered up every last bit of Little Pea's dress-up wardrobe and let the girls don tutus, tiaras, fairy costumes, wings--they became princesses from head to toe!
We played a quick game of "Twirling Tiaras" (a.k.a. Freeze Dance) set to the music on the iTunes Radio station "Frozen Radio." I adore this station because it mixes familiar Disney favorites the kids recognize with old school tunes from the parks and older movies I grew up watching.
I streamed the music from our AppleTV and had the screensaver set to our Disney photos on Flickr. The girls loved watching pictures of Little Pea meeting the princesses and enjoying Mickey treats pop up on the big screen.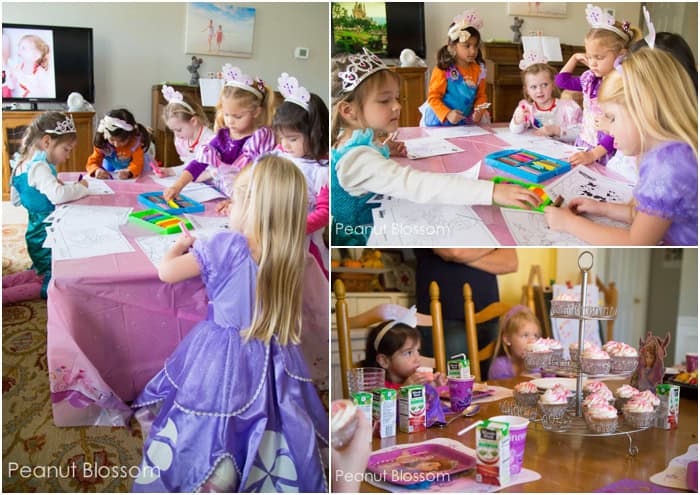 The princesses took a rest from the dancing by coloring in cute Disney Junior themed coloring pages. You can grab several free versions for various themes at the DisneySide Celebration site here.
While the moms were eager for an opportunity to sit and chat with each other, we set the girls to work on building castles out of  magnatiles. It was the perfect winding-down play activity for the girls and allowed us time for chit chatting.
Little Pea had a blast having so many of her friends join us. It ended up being the perfect opportunity for us to practice good manners and for me to teach her some hosting skills:
She welcomed each friend and helped them find the bathroom so they could wash up before eating.
Passed out tiaras to everyone and made sure everybody had a princess outfit.
Shared her crayons and ensured everyone had a coloring sheet.
Served juice boxes and napkins at lunch.
Dug out some additional princess themed toys from our closet to make sure everyone had something to play with.
Proudly gave out the goody bags to every guest as they left.
I couldn't be prouder of my own little princess and I'm so happy we had this chance to do something so special together!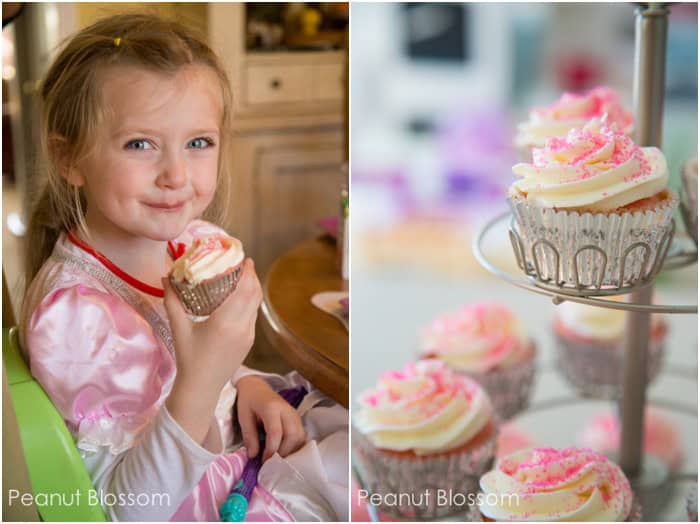 Like this post?  Pin it!