People We Meet on Vacation is the official June 2023 pick for the Peanut Blossom Book Club for Recovering Readers.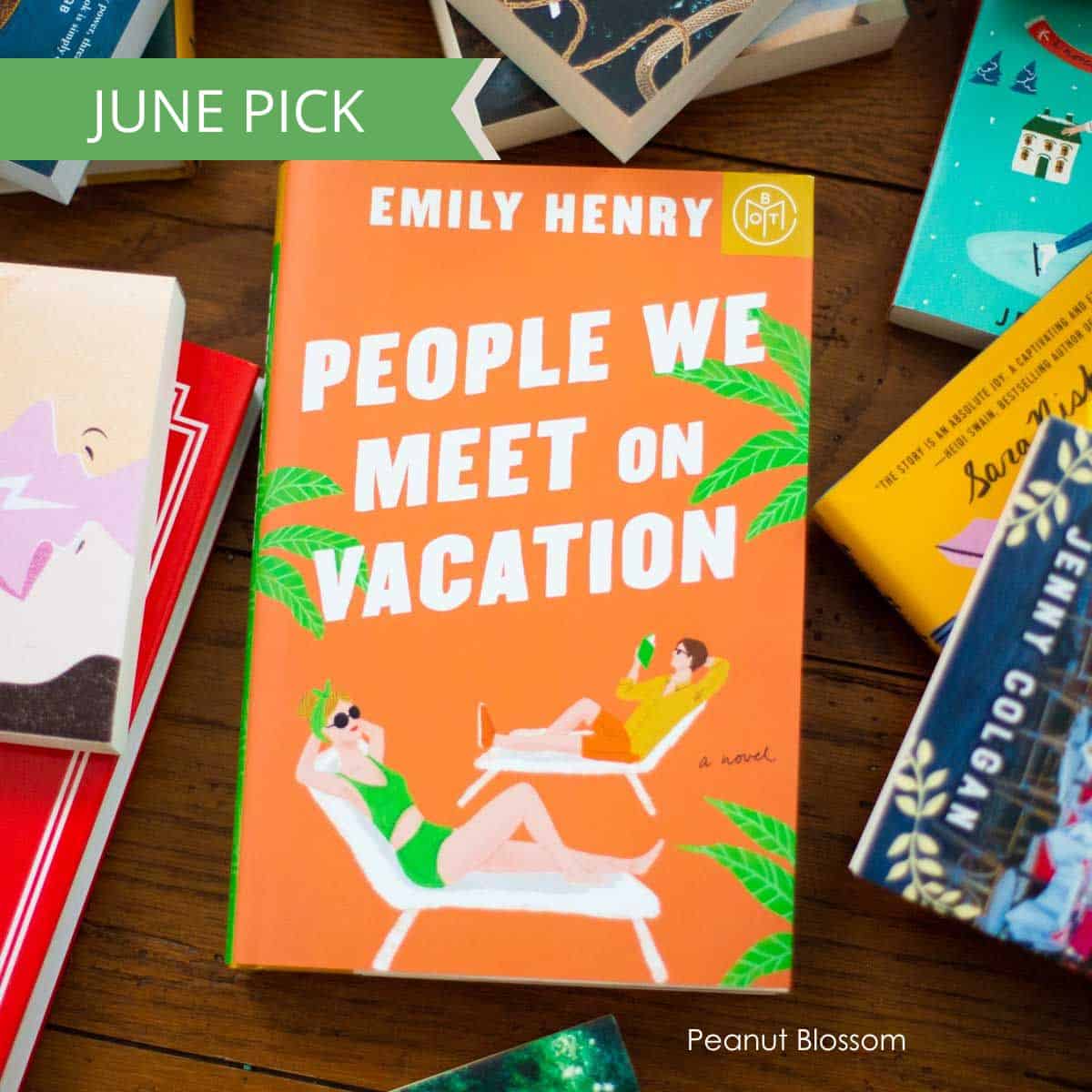 June is the month of page-flipping beach reads and a great time to remember why reading is a perfect getaway from real life.
This month's book club pick is a travel-friendly romance you'll definitely want to pack in your carry-on if you're on the go but will help you dream of your next big adventure if you're still at home.
If you already enjoyed this month's pick, you may be interested in this list of fun beach reads for summer!
Want Free Reminders for Each Book?
Sign up for my book club newsletter right here:
June Official Book Club Pick: People We Meet on Vacation
I'm pleased to announce that this is our official June Pick for this year.
Get your copy of this month's book club book:
Buy the book on Audible.
Money-saving tricks for reading this month's book:
You can get the book from your library.
You can buy a used copy here.
Check to see if the Kindle version is on sale or if it is part of Kindle Unlimited.
What is this month's book about?
"Two best friends. Ten summer trips. One last chance to fall in love.

Poppy and Alex. Alex and Poppy. They have nothing in common. She's a wild child; he wears khakis. She has insatiable wanderlust; he prefers to stay home with a book. And somehow, ever since a fateful car share home from college many years ago, they are the very best of friends. For most of the year they live far apart—she's in New York City, and he's in their small hometown—but every summer, for a decade, they have taken one glorious week of vacation together.

Until two years ago, when they ruined everything. They haven't spoken since.

Poppy has everything she should want, but she's stuck in a rut. When someone asks when she was last truly happy, she knows, without a doubt, it was on that ill-fated, final trip with Alex. And so, she decides to convince her best friend to take one more vacation together—lay everything on the table, make it all right. Miraculously, he agrees.

Now she has a week to fix everything. If only she can get around the one big truth that has always stood quietly in the middle of their seemingly perfect relationship. What could possibly go wrong?"
Discussion Questions for People We Meet on Vacation
I think the best book club questions help members to connect with one another on a personal level.
While you're free to discuss the specifics of the plot of the book, here are a few great personal questions to help you get to know each other better based on People We Meet on Vacation:
1. Do you have a vacation buddy that you love to travel with? Who are they and what makes them so great?
2. What is the worst thing that has happened to you on vacation?
3. Which of the vacations in the book would you choose to go on right now?
4. Who's the vacation planner in your family? You or someone else? Do you enjoy this division of labor?
5. What is your biggest vacation regret? How about your biggest vacation dream?
6. Would you enjoy working in the travel industry like Poppy? Why or why not?
7. What are your thoughts on Poppy & Alex's relationship as it progresses? Think they'll make it?
Book Club Party Menu
I think it is so fun to plan your book club dinner menu or dessert list based on the theme of the book.
Since this month's book is the perfect beach read, why not plan a getaway resort menu for the party?
Start with a big bowl of my poolside dip which is served cold with crispy crackers for dunking.
Then bring out a skillet of my baked shrimp scampi with bread crumbs. This is a fantastic hot appetizer to pair with a chilled glass of wine.
Finish with something sweet like my creamy Piña Colada fruit dip with fresh pineapple and strawberries for dipping.
You Might Also Like
If you LOVE this month's book, you may also enjoy one of these fun books for book club: