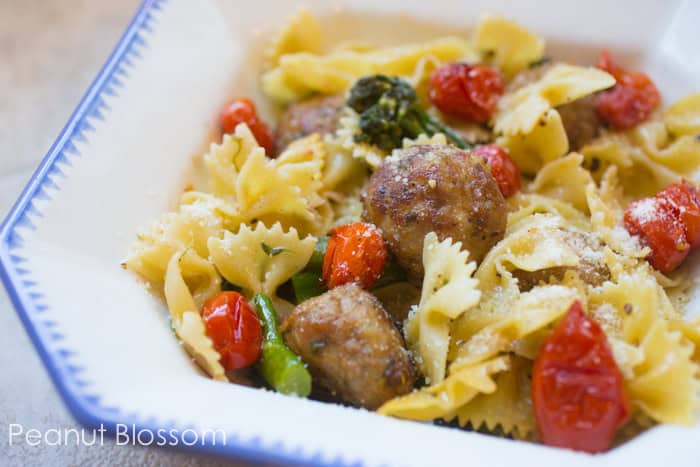 It's a Christmas Miracle! After years and years of trying, I finally got Tim to not only EAT a tomato but to go back for SECOND HELPINGS!
I have to admit, I'm a recovering veggie hater myself. So I truly do have a lot of sympathy for Tim and his picky eating ways. But I learned years ago that just because I don't like a particular vegetable prepared one way doesn't mean I won't love it prepared a totally different way. I've been on a mission to experiment with our veggies to find the way that is most pleasing to his palate ever since.
And it has been a rough road. He's had a mental roadblock against broccoli and tomatoes in particular and just refuses to think he'd like them no matter how I prepare them.
And then along came this pasta.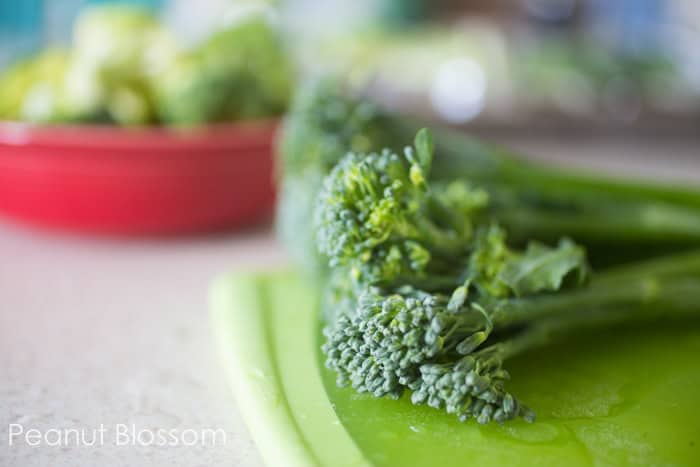 Meet my new best friend: Broccolini.
I cannot believe that as a grown woman I had never ever tasted this veggie until our most recent trip to Disney World. It came as my side dish during dinner one night and the waitress had to explain to me that it is a cross between broccoli and asparagus. I'm not kidding when I say I sought it out at every restaurant we ate at for the rest of the trip and special ordered it for my Mother's Day dinner. Disney is on a mission to get kids to try new healthy foods, I'm not sure they expected a mom to be one of their biggest beneficiaries!!
I vowed to try this veggie back at home.
On a particularly busy Saturday night when we were moments away from ordering pizza for dinner, I found myself infuriated with my family's picky eating. I was so excited to try my broccolini but worried they'd all turn up their noses. In a very rare case of, "I don't care if no one eats it, I'm making it for ME." I whipped together this dish.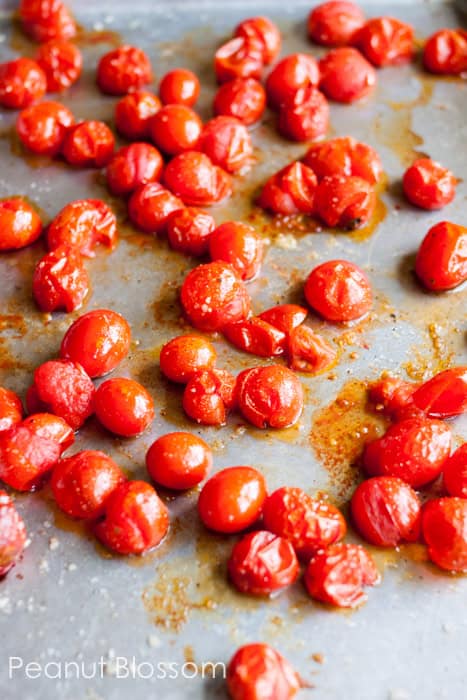 I had a package of caramelized onion chicken meatballs from Costco in the freezer. So I attempted a one-pot sauce. I added olive oil and garlic to the pan where I heated up the meatballs and sautéed the broccolini right along with them. I had a small container of cherry tomatoes from the farmer's market, so I popped those into the oven to roast while the pasta was boiling.
Everything cooked at the same time and the sauce, meatballs, & tomatoes were all ready by the time the pasta was done boiling. The whole thing took no longer than 15 minutes.
The stars must have been in alignment because every last one of them ate it. For the girls, I served the veggies and the noodles separately and COVERED them in parmesan cheese.
But for Tim and I, I tossed our bowls together. My jaw hit the floor when he took the first few bites and suffered through the tomatoes on top for the sake of the kids, paused, and went over to the stovetop and scooped a huge serving spoon of them back on top of his noodles.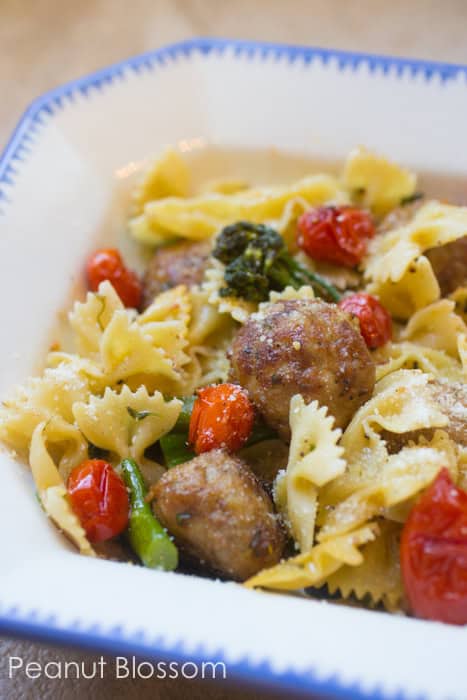 Mission Accomplished: Tim will now eat cherry tomatoes!
For how easy this dish was to make and for how many veggies it got into the family, it will be hitting the summer rotation frequently!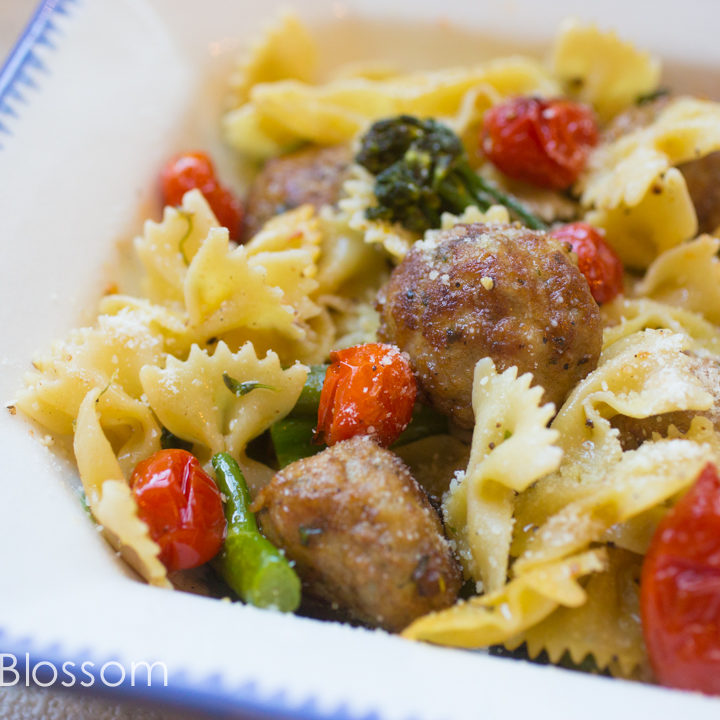 Pasta with Roasted Broccolini
This simple pasta dish is loaded with fresh vegetables and is easy enough to make for a weeknight dinner.
Ingredients
1 box of farfalle pasta
1 package of prepared chicken meatballs (We used caramelized onion flavor.)
5 tbsp olive oil
2 cloves of garlic, minced
Heavy sprinkle of roasted red pepper flakes
1 bunch of broccolini, chopped into bite size pieces
1 pint of cherry tomatoes
salt and pepper
parmesan cheese for serving
Instructions
Set a large pot of salted water to boil for the pasta. Cook according to package directions.
Preheat the oven to 425 degrees. Cover a baking sheet with tin foil. Toss the cherry tomatoes with a drizzle of olive oil, sprinkle with salt and pepper and spread them in a single layer on the baking sheet. Add them to the oven at the same time you put the noodles into the water to boil. They will cook for about the same amount of time.
In a large saute pan, heat the olive oil at medium high and add the garlic and pepper flakes. Add the meatballs and broccolini. Once the meatballs have browned and the broccolini is crispy at the edges, remove the pan from the heat and cover to keep warm.
Drain the pasta and toss with the meatballs in the pan.
Serve with the cherry tomatoes on top and parmesan as desired.