When we were little girls, my mom would make my sister and me festive holiday noodles whenever she could find them. I specifically remember Valentine's Day hearts with tomato sauce. So when I stumbled across these festive Halloween shapes, I had to pick them up for the Peanut. The bag of pasta shapes from World Market includes bats, spiders, pumpkins, and black cats. Some of the noodles themselves have even been made out of black dough.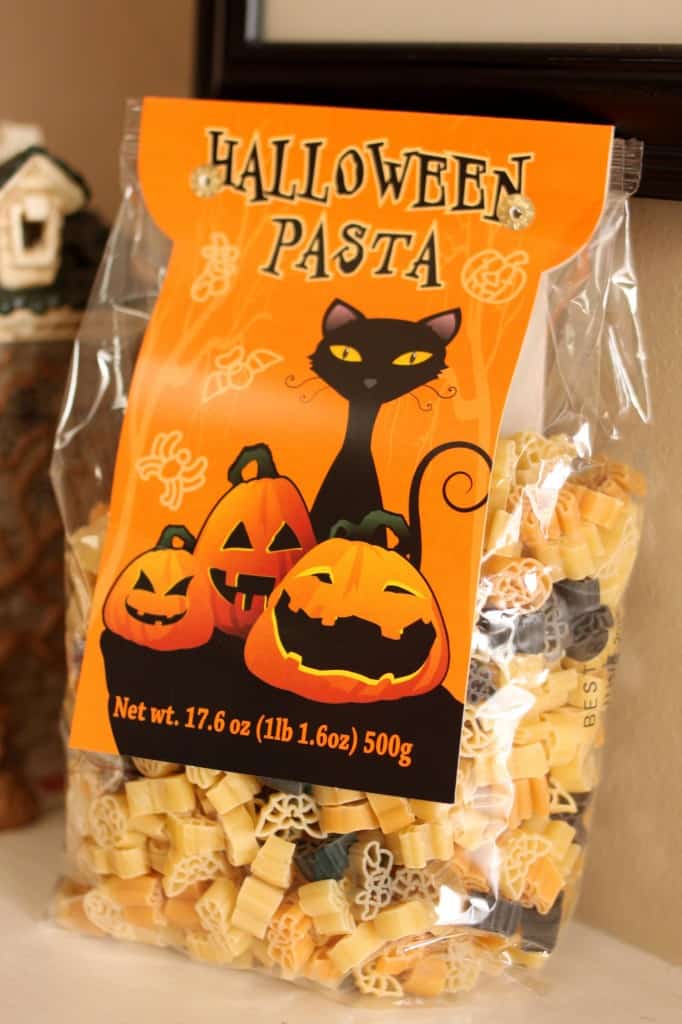 Tomato sauce felt a little too gory for this season, so what would be better than orange "macaroni and cheese" sauce? I was worried the shapes wouldn't hold up to my usual baked version, so I hunted down a stovetop version that might be similar to the famous blue box variety.
With a few tweaks, I hit on a winner. This does not even remotely compare to the Kraft taste or texture, it is much closer to my baked recipe but easier and less time consuming. Needless to say, the Peanut was thrilled with her dinner and I'll be making it again come Trick or Treat evening.
___________________________________
Stovetop Macaroni and Cheese
adapted from a recipe from AllRecipes.com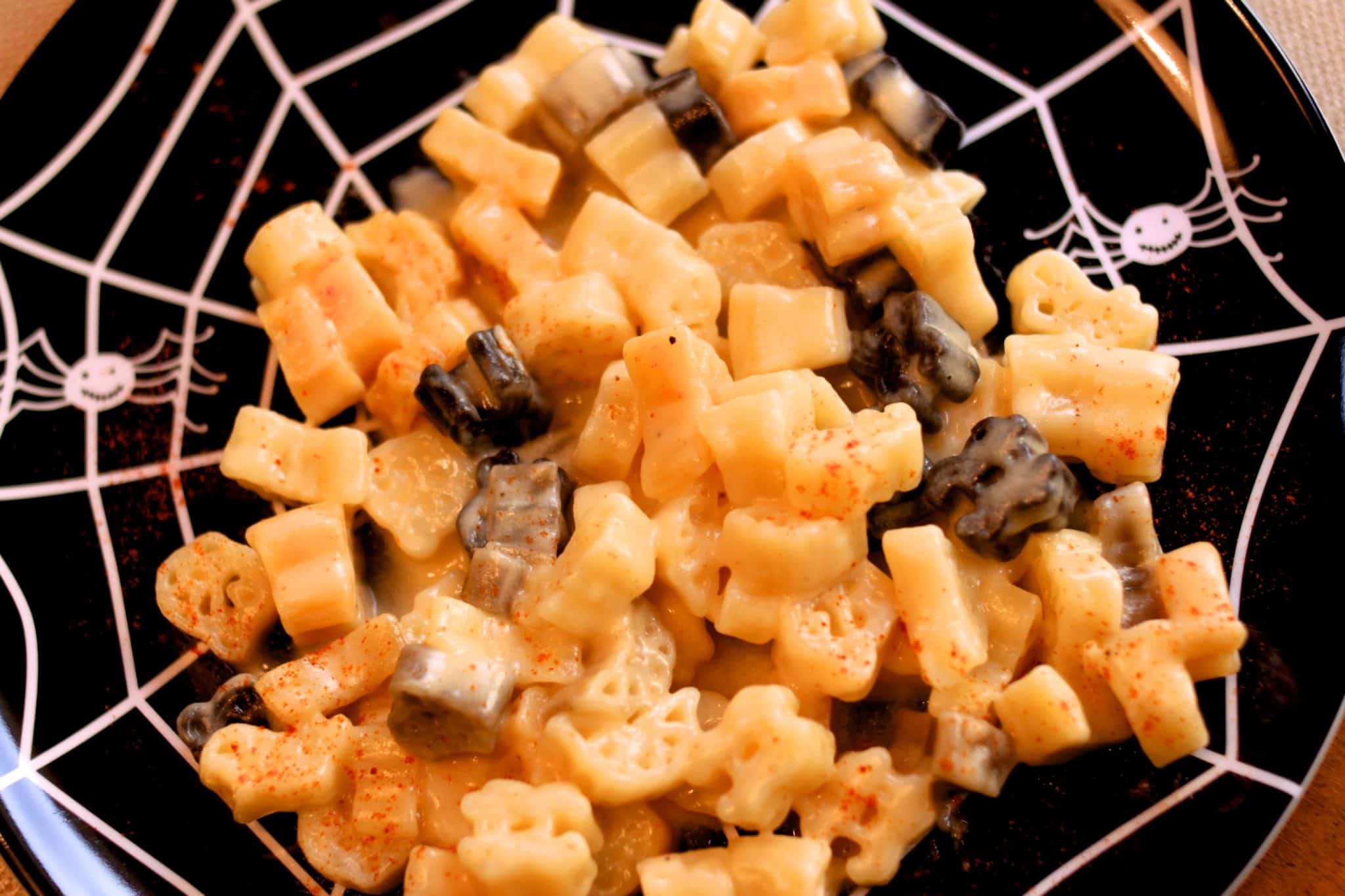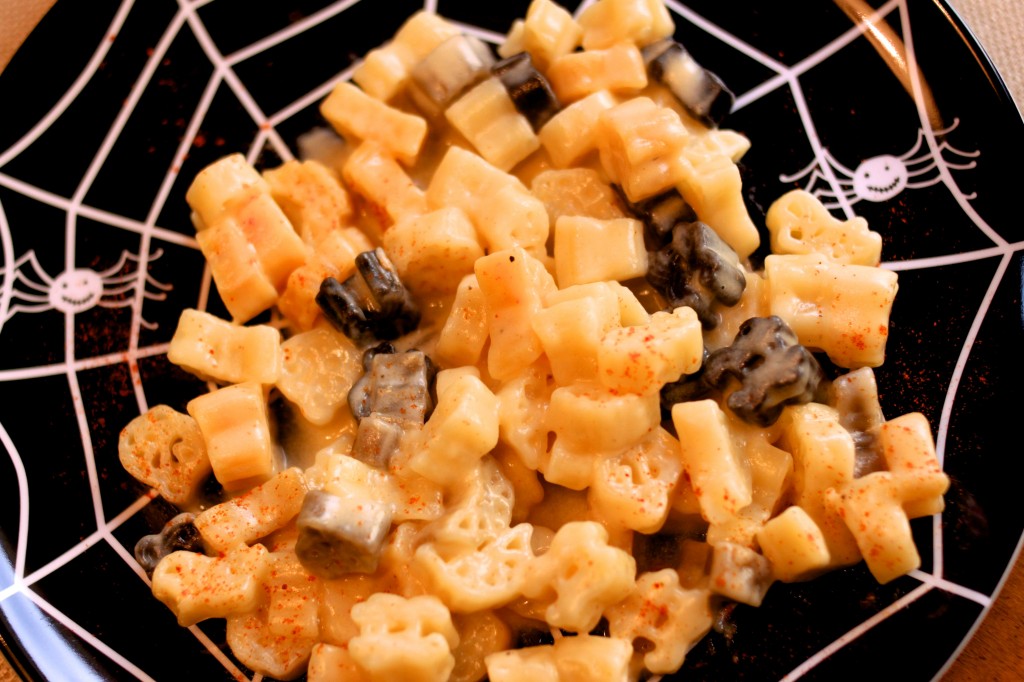 Ingredients:
1 (16 oz) package festive pasta shapes
¼ cup butter or margarine
¼ cup all-purpose flour
½ teaspoon salt
1 pinch pepper
2 cups milk
1 tsp dried mustard
healthy sprinkle of nutmeg
5 drops of hot sauce
2 cups shredded Cheddar cheese
Paprika
Method:
Cook macaroni according to package directions. (When using shaped pasta, be sure to cook just shy of underdone. You don't want it to be so soft the shapes fall apart.)
Meanwhile, in a medium saucepan, melt butter over medium heat. Whisk in flour, salt and pepper; cook until bubbly. Gradually add milk; cook and whisk until thickened. Stir in mustard, nutmeg, and hot sauce.
Remove from heat and stir in cheese until melted.
Drain macaroni; add to cheese sauce and stir to coat. I was very careful in adding the sauce to the pasta and ended up not using the entire batch of cheese sauce. We don't like our noodles to be swimming. Adjust the amount to your family's taste. Be very gentle with the shaped pasta as you stir to combine to avoid breaking the shapes.
Sprinkle with paprika if desired.