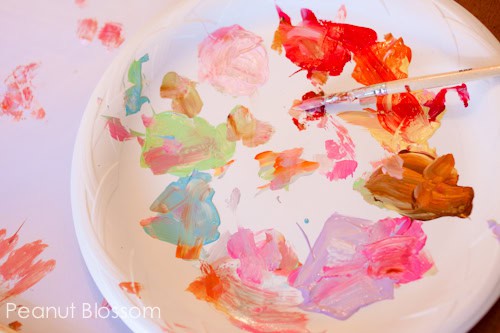 Today I'm over on Red Ted Art sharing my tips on painting up fairy houses for our garden. This was an adorable Spring Break project for us that both of my girls loved working on together. It was a wonderful way to spend the better part of an afternoon and we can't wait to put our little houses outside among our flowers.
I was particularly pleased with the materials we used for this project. I snagged 2 unfinished birdhouses from a local craft store when they were on deep discount and have had them waiting for the right moment. I don't often do big crafty projects with the girls so I was a bit nervous before we dug in. The materials worked so well that I had to share them with you.
Materials List:
sponge brush
coated paper plates (with plastic-y surface for easy mixing)
splat paper (We love to use finger paint paper!)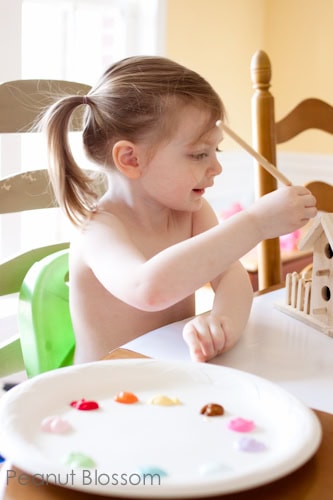 Knowing that the girls would not share the materials well at all, I had the brilliant idea to give them each their own portions of paint on waxy paper plates. It worked brilliantly. Each one had all the colors she needed and was able to mix to her heart's content. Because of the coating, the paints stayed fresh and blended beautifully.
But the thing that had me most pleased about the painting was the paint itself! The assorted mix of colors from Martha Stewart had all the right shades for my girls. The Peanut's all time favorite color is blue, she's just not a pink & pastel colored kid but Little Pea adores pink & purple. I loved that this mix had both sweet pastels and happy brights that all worked perfectly together.
The colors were super vibrant, even after they dried and they blended and swirled perfectly.  I know it may be a little ridiculous to get this jazzed about craft paints, but it was definitely worth the splurge to get the whole set.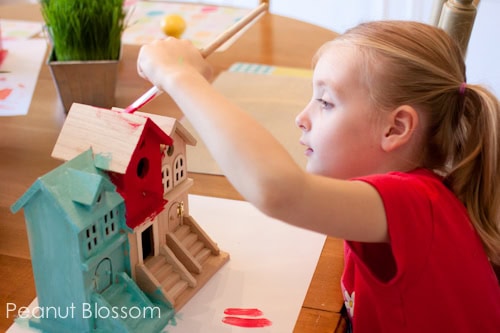 The Kid Made Modern brush set from Target has an awesome mix of shapes and sizes. This one set was perfect for the girls to share. I loved that it has both small detail brushes and larger flat brushes for doing the big sides of the houses in an easy coat. We've used them for several projects and they hold up beautifully.
And everything is better with Mod Podge & Glitter, right??
If you'd like to see the houses turned out, be sure to head over to Red Ted Art. They are just adorable!!